Boomtown New Orleans Casino Harvey
Address: 4132 Peters Rd, Harvey, LA 70058, USA
Phone Number: +1 504-366-7711
Website: https://www.boomtownneworleans.com/
Hours: Boomtown is open daily from 8 am – 5 am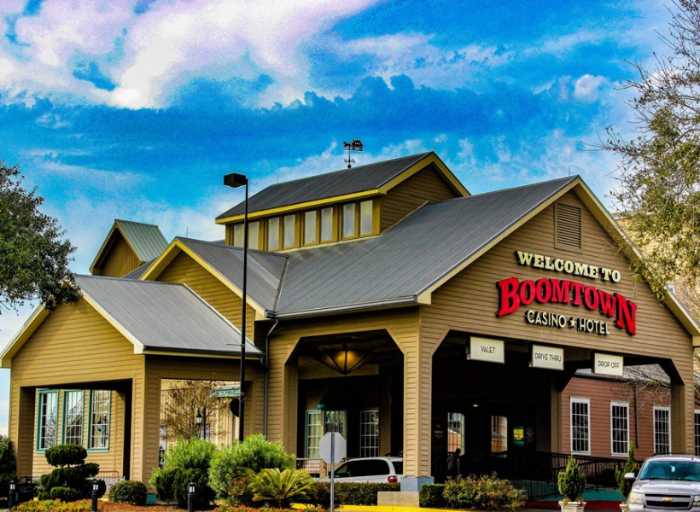 The Boomtown New Orleans was founded in 1994 as the Treasure Chest Casino. In 2004, the casino was sold to Pinnacle Entertainment and renamed Boomtown New Orleans Casino. The casino is located in Harvey, Louisiana and offers a variety of slots and table games.
Guests can also enjoy dining options at the Bayou Market buffet and grab a drink at the Boomtown Bar. The casino also offers live entertainment and promotions for players.
It offers 24-hour gaming action, with over 1,400 slots and 29 table games to choose from. Speciality games include a Poker room and Keno. The casino also offers amenities such as an on-site ATM, wheelchair accessibility, and smoking and non-smoking areas.
Whether you're a local or just passing through, come check out all the exciting gaming action at Boomtown New Orleans.
According to TripAdvisor, guests rate Boomtown New Orleans Casino with an average of 3.5 out of 5 stars. Many guests appreciate the casino's 24-hour gaming action, various slots, and table games.
However, some guests complain about the casino's noise levels and lack of customer service. Be sure to check out the casino for yourself and make your own judgment.
(Related reading: Louisiana casinos)
Gaming
This casino offers 24-hour gaming action with over 1,400 slots and 29 table games to choose from. Speciality games include a Poker room and Keno.
Table Games
This casino offers a wide variety of table games for players to enjoy. Whether you're looking for the excitement of blackjack or the thrill of roulette, we have a game to suit your taste.
If you're feeling lucky, we also offer a selection of progressive jackpot games with huge cash prizes up for grabs. Whether you're a seasoned gambler or a casual player, we're sure you'll find something to enjoy at Boomtown New Orleans.
Table game minimums vary throughout the day and week. However, average table game minimums are $5 for blackjack and $10 for other games, such as craps and roulette.
Slots
There are many popular slot machines at Boomtown, but some of the most popular include Cleopatra, Wheel of Fortune, and Zeus. Cleopatra is one of the most popular slots because it offers a progressive jackpot that often reaches into the millions.
Wheel of Fortune is another popular choice because it is a classic game that many people enjoy playing. Zeus is also a popular choice because it offers a variety of bonus features that can increase your winnings.
The slot machine payback percentage at this casino is not publicly available information. However, the average Louisiana casino has a slot machine payback percentage of around 90%. This means that for every dollar played on a slot machine, on average, it will pay back 90 cents in winnings.
Whatever your favorite type of slot machine is, you are sure to find it at Boomtown New Orleans.
Hotel/Resort
Boomtown New Orleans Resort offers a wide range of amenities to its guests. In addition to a state-of-the-art casino floor, the property features a hotel, dining options, and a number of entertainment venues.
The hotel offers a variety of room types to choose from, and guests can enjoy meals at one of the on-site restaurants or grab a quick bite at the food court.
The casino floor features a variety of table games and slot machines, and guests can also enjoy live entertainment at the property's theater. With so much to offer, Boomtown is the perfect place to stay and play in New Orleans.
The cost of a hotel room at Boomtown hotel varies depending on the time of year and availability. On average, a standard room starts at $89 per night.
However, special deals and promotions may be available that offer discounted rates. It is recommended to check the property's website or call for more information on pricing and specials.
Check-in time at Boomtown New Orleans Hotel is 4:00 pm
Check-out time at Boomtown New Orleans Hotel is 11:00 am
Restaurants & Buffets
This casino offers a variety of restaurants to choose from, so you're sure to find something to your taste. If you're looking for some down-home cooking, be sure to try the golden fried chicken. For something a little more exotic, check out Asian cuisine.
And if you just need a quick snack, the café has you covered. The Sportsbook is also a great place to grab a bite, and it's perfect for watching the big game. So whether you're in the mood for a tasty meal or just want to grab a quick bite, Boomtown has you covered.
Pools
Unfortunately, Boomtown New Orleans does not have a pool on-site. However, guests can enjoy the nearby Grand Isle State Park Beach or take a short drive to one of the many local hotels that offer pool access.
Boomtown New Orleans Casino FAQ
Does Boomtown New Orleans Casino Have A Sportsbook?
Boomtown New Orleans has a Sportsbook which is now open for all your betting needs! You can wager on football, basketball, hockey, soccer, baseball, golf and many more. With options for professional and collegiate leagues available, you'll never run out of chances to win big.
Is Poker Available At Boomtown New Orleans Casino?
Yes, this casino offers live poker action. The Poker Room at Boomtown is open 24 hours a day with daily tournaments and special events.
Boomtown has one of the best poker promotions in the area, including bad-beat jackpots and high-hand bonuses. Plus, the Poker Room offers complimentary beverages for players. So come test your skills at Boomtown New Orleans' Poker Room.
What Are The Age Requirements For Gambling At Boomtown New Orleans Casino?
You must be 21 years of age or older to gamble at this casino. Valid government-issued identification will be required upon entry to the casino floor. Persons under the age of 21 are not permitted on the casino floor, even if accompanied by a parent or guardian.
Does Boomtown New Orleans Have An Online Casino?
Yes, Boomtown New Orleans Casino has an online casino! You can play all your favorite casino games from the comfort of your own home for free. Simply link your mychoice account to the casino, and you'll be able to access all your favorite slots and table games.
Plus, you'll earn rewards as you play, so it's a great way to get started with the casino. Remember, this is just for social and entertainment purposes only and does not offer any real-money gambling.
Is There An Boomtown New Orleans Casino App?
Yes, there is a Boomtown New Orleans Casino app! The best way to get more mycash is to download the app and log in to continue getting Real-Time Rewards. On May 1, your Tier Point balance will reset, so be sure to reach 3,000 Tier Points to maximize your rewards.
The app is the best way to get the most out of your gaming experience. With more mycash, you can play more games and earn more rewards.
What Is The Dress Code At Boomtown New Orleans Casino?
The dress code at this casino is casual. However, they ask that guests refrain from wearing athletic attire, tank tops and flip-flops while on the casino floor. They reserve the right to refuse entry for those not meeting our dress code requirements.
Is There An Airport Shuttle Available From Boomtown New Orleans?
Unfortunately, there is no airport shuttle available from this casino. However, the hotel does offer transportation services for a fee. Guests can also arrange for taxi or ride-sharing services to and from the airport or anywhere in the city.
What Is The Smoking Policy At Boomtown New Orleans Casino?
The casino floor is non-smoking, but designated smoking areas are available. These smoking areas are located outside on the second floor and inside the Sportsbook lounge.
What Is The Pet Policy At Boomtown New Orleans?
Only certified service animals are allowed on the property. No pets are permitted in the hotel rooms or on the casino floor. Guests with service animals must present certification upon check-in.
Is Wifi Available At Boomtown New Orleans?
Yes, free wifi is available throughout the property for all guests. The wifi network is "Boomtown_Public." So simply select this network and enter your room number to connect. Enjoy complimentary internet access during your stay at Boomtown.
What Is The Cancellation Policy For Boomtown New Orleans Casino?
Guests may cancel their reservation up to 24 hours prior to their arrival for no penalty. Cancellations made within 24 hours of arrival will incur a fee equal to one night's stay. For more information, please contact the hotel directly.
Conclusion
Whether you're an experienced gambler or just trying out the casino scene, Boomtown has something for everyone. With a variety of gaming options, great promotions, and comfortable accommodations, it's the perfect destination for your next night out or weekend getaway.
And don't forget to download the app to maximize your rewards and mycash while you play. Have a great time at Boomtown New Orleans Casino.