Coushatta Casino Resort Kinder
Address: 777 Coushatta Dr, Kinder, LA 70648, United States
Phone number: +1 800-584-7263
Website: https://www.coushattacasinoresort.com/
Hours: N/A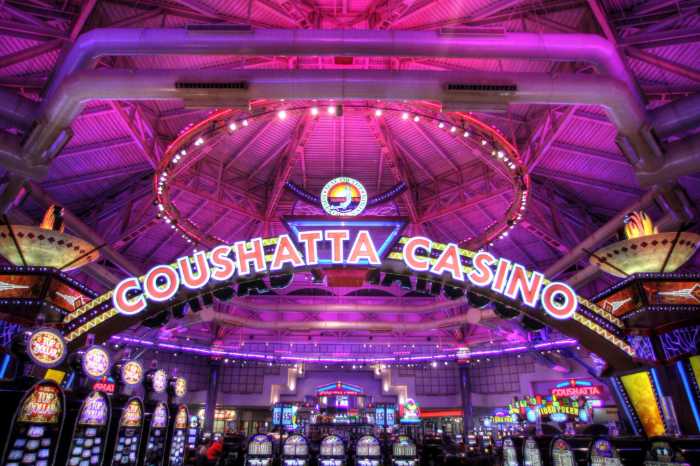 The Coushatta Casino Resort is located in Kinder, Louisiana and has been operating since 1995. The casino resort offers a variety of gaming options, including slots, table games, and poker. The property also features a hotel, spa, and several restaurants.
In addition, the resort regularly hosts live entertainment events, including concerts and comedy shows. Guests can also take advantage of various promotions and special offers.
The resort prides itself on its commitment to providing excellent customer service and creating a fun and enjoyable atmosphere for all guests.
According to TripAdvisor, the Coushatta Casino has an average rating of 4.5 out of 5 stars. Guests who have visited the casino resort generally rate it as a great place, with good food, fun activities, and great customer service.
If you're looking for a fun and exciting casino resort to visit, the Coushatta Resort is a great option.
(Related reading: Louisiana casinos)
Gaming
This casino offers over 70,000 square feet of gaming options, with over 2,800 slot machines and more than 70 table games.
Table Games
At this casino in Louisiana, you can enjoy all of your favorite table games. Whether you're a blackjack, poker, or roulette fan, we have the perfect game for you.
The friendly and professional dealers are always on hand to help you place your bets and get the most out of your experience. And with dozens of tables to choose from, you're sure to find the perfect game for your budget and skill level.
Table game minimums at the Coushatta vary depending on the specific game and time of day. However, many table games have a minimum bet of $5 during regular hours and may increase to $10 or more during peak times.
Slots
This casino is a world-renowned casino that caters to all types of players. All of their slot machines are popular because they offer exciting gameplay, great payouts, and plenty of chances to win.
Here are some of the most popular slot machines at Coushatta:
Cleopatra: This classic Egyptian-themed slot machine is one of the most popular at the casino. Players love the suspense of trying to line up the iconic symbols on the reels and the chance to win big prizes.
Wheel of Fortune: Another hugely popular slot machine, Wheel of Fortune offers players the chance to spin the wheel and win big prizes. The game is full of excitement, and the possibility of winning a life-changing amount of money always keeps players coming back for more.
Mega Moolah: This progressive jackpot slot machine has made several lucky players into millionaires. The Mega Moolah jackpot starts at $1 million and continues to grow until someone wins it. Players cannot help but dream about hitting the jackpot when playing this hugely popular game.
These are just a few of the many popular slot machines at Coushatta casino. No matter what player you are, you're sure to find a slot machine you'll enjoy playing. With so many games to choose from, there's always something new to try out.
The slot machine payback percentage at this casino is not publicly available information. However, regulators in the state of Louisiana require all casinos to maintain a minimum payback percentage of 80% on their slot machines.
So, players can expect a fair chance of winning at the casino's slot machines.
Hotel/Resort
Coushatta Resort in Louisiana offers a variety of amenities for visitors to enjoy. The all-new Grand Hotel features upscale Southern Hospitality and is reserved for guests ages 21 and up. The hotel is connected to the region's largest gaming floor, making it easy to enjoy the casino action.
The Seven Clans Hotel lobby offers comfort and is also connected to the casino. Red Shoes RV Park is located on 40 beautifully landscaped acres adjacent to the casino resort and features RV hookups, chalets, a two-acre lake, and a pier.
Park guests enjoy the privacy of your RV or chalet in a natural setting. Coushatta Casino Resort also offers a shuttle service nearby you're looking for an exciting getaway with plenty of things to do, look no further than Coushatta hotel in Louisiana.
The cost of a stay at Coushatta Casino Resort will vary depending on the room type and dates chosen. However, rates for standard rooms typically start around $129 per night.
It also offers its guests a variety of amenities to enjoy during their stay. These include the Dream Pool & Lazy River, Koasati Pines Golf Course, Kids Quest & Cyber Quest, and Sports and Recreation.
The Dream Pool & Lazy River is a great place to relax and take a dip, with a swim-up bar for the adults. Koasati Pines Golf Course is perfect for those looking to get in a round or two, rated 4.5 stars by Golf Digest.
Kids Quest & Cyber Quest offer supervised, safe environments for kids to play in and have fun. Sports and Recreation provide guests with a chance to play volleyball, basketball, tennis, and more.
Fishing is also available at the fully-stocked lake on the property. Whether you're looking to relax or stay active, Coushatta Resort has something for everyone to enjoy.
Check-in time at Coushatta Hotel is 4:00 pm
Check-out time at Coushatta Hotel is 11:00 am
Restaurants & Buffets
Looking for a great place to eat at this casino, You're in luck! There are plenty of delicious restaurants to choose from, no matter what your taste. If you're in the mood for a tasty steak dinner, head to Big Sky Steakhouse.
Or, if you're looking for something lighter, enjoy some delicious Asian cuisine at Noodles Restaurant. Craving something sweet? Order a decadent dessert at Terrace Cafe. And, of course, no visit to Louisiana would be complete without trying some gumbo at Gumbeaux's.
No matter what you're in the mood for, you're sure to find it at one of these great restaurants near Coushatta Resort.
Pools
In addition to the restaurants, this Louisiana casino also offers a great place to cool off and relax at their Dream Pool & Lazy River. This pool area features a swim-up bar for adults, water slides, and a lazy river.
The Dream Pool & Lazy River at Coushatta is a great addition to your vacation as the perfect spot for a refreshing dip or just lounging by the water.
Coushatta Casino Resort Kinder, LA FAQ
Does Coushatta Casino Have A Sportsbook?
Rez Sportsbook is the perfect place to catch all the action of your favorite games. With huge TVs and 18 betting kiosks, you won't miss a single play. You can also bet on hundreds of live and upcoming college and pro sports events.
So whether you're a diehard football fan or just looking to make some extra cash, Rez Sportsbook is the place for you.
Is Poker Available At Coushatta Casino?
Yes, the casino's Poker Room offers Texas Hold'em and Omaha games with limits ranging from $3/$6 to $50/$100. The room also features daily tournaments and special events like the Deep Stack Series.
So whether you're a seasoned poker player or just looking to try it out, there's something for everyone at Coushatta's Poker Room.
What Are The Age Requirements For Gambling At Coushatta Casino?
Guests must be 21 years or older to gamble at this casino. Valid photo identification is required for all gaming, hotel check-in, and alcohol purchases.
So make sure you bring your ID if you plan on enjoying the casino's various gaming options during your stay.
Does Coushatta Have An Online Casino?
Yes, this casino does have an online casino. And it's bigger and better than ever before. There's something for everyone with hundreds of slots, table games with live dealers, sports betting and more.
Plus, you can collect free Virtual Credits for every four hours you play, and there's a chance to win more Virtual Credits with the Daily Free Promotional Game. So sign up today and enjoy 250 virtual credits.
Is There An Coushatta Casino Resort App?
The Coushatta Casino Resort app is available on both the App Store and Google Play. The app provides interactive features, including gaming, booking, entertainment information, and more.
Get immediate access to room reservations, Advantage Club card balances, upcoming events, restaurant information, and promotions – and allow push messaging to be eligible for exclusive offers to our resort in the palm of your hand!
You can also view your Comp Dollars balance and redeem them for free play right from the app. Stay up-to-date on all the latest news and happenings at Coushatta Resort – download the app today.
What Is The Dress Code At Coushatta?
The dress code at this casino is casual attire. However, visitors are asked to refrain from wearing clothing with offensive language or images, as well as beachwear, low-hanging pants, and athletic wear like shorts, sweatpants, and jerseys.
The dress code may vary for special events and promotions – please check the website or call ahead for specific dress code information.
Is There An Airport Shuttle Available From Coushatta Casino?
Unfortunately, there is no airport shuttle available from Coushatta. However, the resort does offer shuttle transportation for guests to and from local area hotels within a 25-mile radius.
Alternatively, various car rental options are available at the nearby Lake Charles Regional Airport. Additionally, the resort offers valet and self-parking for guests.
What Is The Smoking Policy At Coushatta Resort?
Coushatta is a non-smoking facility with designated smoking areas located outside the casino. The resort also offers a smoke-free hotel wing for those who prefer a completely smoke-free environment. Electronic cigarettes and vaping are also prohibited inside the resort.
What Is The Pet Policy At Coushatta?
Coushatta Resort does not allow pets except for service animals. Service animals must remain on a leash or harness at all times and must be accompanied by the handler at all times.
Please contact the resort ahead of time if you plan on bringing a service animal during your stay.
Is Wifi Available At Coushatta Hotel & Casino?
Yes, wifi is available at this casino for a fee. The resort also offers high-speed internet access in all hotel rooms for an additional charge.
For more information on pricing and availability, please contact the resort directly. Additionally, guests can enjoy complimentary wifi in designated areas of the casino and select dining outlets.
What Is The Cancellation Policy For Coushatta Hotel?
Hotel reservations must be cancelled at least 24 hours before arrival to avoid a cancellation fee. Please contact the resort directly for group bookings and special events for information on cancellation policies.
Conclusion
Coushatta Casino Resort offers a variety of gaming, entertainment, and accommodation options for guests. With an app, a casual dress code, and designated smoking areas, the resort caters to a comfortable and enjoyable experience for all visitors.
Be sure to visit this casino resort for a unique and memorable experience.