Delta Downs Casino Vinton
Address: 2717 Delta Downs Dr, Vinton, LA 70668
Phone Number: (800) 589-7441
Website: https://www.deltadowns.com/
Hours: Delta Downs Casino is open 24 hours a day, 7 days a week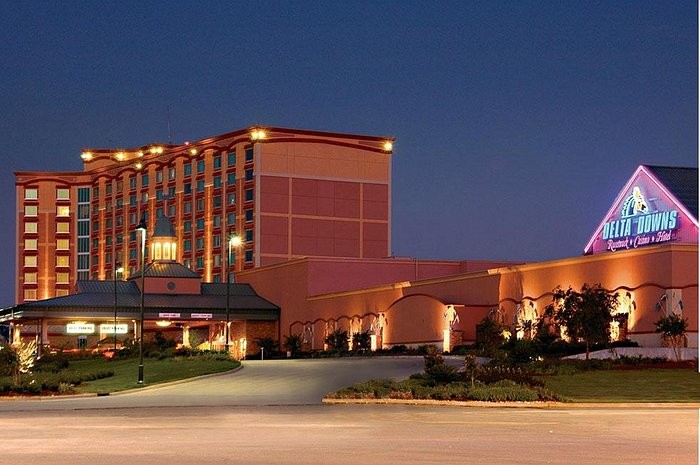 Delta Downs is a casino and racetrack in Vinton, Louisiana. It is owned and operated by Eldorado Resorts. The casino has a gaming area of over 50,000 square feet (4,600 m2), with 1,100 slot machines, 36 table games, and a racebook.
The track features a one-mile dirt oval and offers live thoroughbred racing from November to March. The season typically consists of 40 live race days, with races held on Thursday, Friday, and Saturday nights.
Delta Downs was voted a "Top 3 Favorite Casino" by 500 readers of Strictly Slots Magazine in both 2013 and 2014. It was also voted a "Top 5 Favorite Casino" by 500 readers of Casino Player Magazine in 2013.
In May 2015, the Louisiana Legislature approved a bill that would allow video poker machines at truck stops, airports, and horse and dog tracks, such as Delta Downs Racetrack Casino. The bill was signed into law by Governor Bobby Jindal.
In 2016, Eldorado Resorts announced it would add a hotel to the Delta Downs property. The hotel is scheduled to open in 2018.
Delta Downs Hotel is located off Interstate 10, about 30 miles (48 km) east of Lake Charles and about 60 miles (97 km) west of Beaumont, Texas. It is situated on 242 acres (98 ha) of land.
Delta Downs Casino Vinton has been rated 4 out of 5 stars on TripAdvisor. Guests have praised the casino for its friendly staff, clean rooms, and great location. However, some guests have complained about the noise level in the rooms, as well as the quality of the food in the restaurant.
If you are looking for a fun and exciting place to gamble and watch live horse racing, then Delta Downs Vinton is the place for you.
(Related reading: Louisiana casinos)
Gaming
This casino offers a variety of gaming options, including slots, table games, and a racebook.
Table Games
This casino offers a wide variety of table games for visitors to enjoy. While there are many popular games, such as blackjack and roulette, the casino also offers less well-known games, such as Pai Gow and Mississippi Stud.
No matter your level of experience or interest, there is sure to be a game you will enjoy. The friendly and knowledgeable dealers are always happy to teach new players the rules of the game, and the relaxed atmosphere makes it easy to have a good time.
Whether you are looking for an exciting way to spend an evening or hoping to win some big money, Delta Downs is the perfect place for you.
The minimums for table games at Delta Downs vary depending on the game and time of day. For example, the blackjack minimum may be $5 during the week and $25 on weekends.
Slots
This casino is one of the state's premier gambling destinations. The casino features over 1,600 slot machines and a wide selection of table games and video poker. Patrons can also enjoy live horse racing and simulcast betting.
With so many options available, deciding which games to play can be difficult. However, a few slots are particularly popular among visitors to Delta Downs.
One of the most popular slots at the casino is the "Buffalo Gold" machine. This game features an exciting bonus round in which players can win up to 25 free spins. The "Giant Jackpot" machine is another favorite, as it offers the chance to win a progressive jackpot that starts at $1 million.
For those looking for a more traditional gambling experience, the "Double Diamond" slots are always popular. These machines offer simple gameplay and the chance to win big jackpots. No matter what type of gambler you are, Delta Downs has a slot machine that will suit your needs.
The Louisiana Slot Machine Association reports that the payback percentage for Delta Downs is not publicly available.
While the payback percentage is unknown, guests can rest assured that they will have a fair chance to win at the casino. The games are regularly audited by independent agencies to ensure that they meet all gaming regulations.
Hotel/Resort
The Delta Downs Hotel is located onsite and offers a variety of amenities for guests. The hotel features an outdoor pool, a fitness center, and a business center. Guests can also enjoy live entertainment at the casino's nightclub, Jena Choctaw Pines Casino.
It offers a variety of room types to accommodate all guests. Standard rooms feature two queen-size beds or one king-size bed. The suites are larger and offer more amenities, such as separate living areas and wet bars.
The Delta Downs Racetrack is one of the main attractions at the casino. The track features live horse racing from October to March. During the racing season, the track is open Wednesday through Saturday.
The track also offers simulcast betting, allowing guests to bet on races at other tracks around the country. Simulcast betting is available year-round.
Whether you are a horse racing fan or just looking for a fun day at the track, Delta Downs is the perfect place for you.
The cost of a room at Delta Downs Hotel starts at $79 per night. However, the price will vary depending on the type of room you choose and the time of year you visit.
Delta Downs also offers a variety of packages that can save you money on your stay. For example, the casino often offers discounts for guests who book their stay in advance.
Check-in time at Delta Downs Hotel is 3:00 pm
Check-out time at Delta Downs Hotel is 11:00 am
Restaurants & Buffets
When it comes to dining, Delta Downs offers something for everyone. The Rosewater Grill & Tavern is a great choice for steak, seafood, and drinks, with a trackside view of live racing.
The Clubhouse at Delta Downs is now open and features an authentic fine Southern steakhouse experience. For something a little different, check out the Gator Grill for diner-style favorites, deli sandwiches, and barbecued specialties.
No matter what your taste, you're sure to find a delicious meal at Delta Downs Casino.
Pools
Looking for a refreshing escape? Look no further than the brand-new aquatic center at Delta Downs Casino. With its backdrop of stately palm trees, the aquatic center is like a little slice of paradise.
Whether you want to take a dip in the pool or lounge on the deck, you're sure to enjoy your time. And if you get hungry, there's no need to leave the pool area – they have a full food and beverage service so you can relax and enjoy yourself without having to go anywhere else.
Delta Downs Casino Vinton FAQ
Does Delta Downs Casino Have A Sportsbook?
Yes, this casino has a sportsbook. If you're looking to place a bet on your favorite team or athlete, you can do so at the Fanduel Sportsbook, which is located on the casino floor.
There are plenty of HD TVs to catch all the action on, and you can bet on all major sports and leagues, including football, baseball, basketball, soccer, golf, boxing, UFC, tennis, and motorsports.
In-play wagering and game props are offered on almost every game, so you can get in on the action even if the game has already started.
Is Poker Available At Delta Downs Casino?
Yes, this casino has a poker room with 12 tables. The games offered are Texas Hold'em and Omaha, and the stakes range from $1/$2 to $5/$10. There is also a Bad Beat Jackpot, which gives players the chance to win big even if they lose their hand.
What Are The Age Requirements For Gambling At Delta Downs Casino?
In order to gamble at this casino, you must be 21 years of age or older. This is in accordance with Louisiana state law, which requires all casinos to have a minimum age requirement of 21.
If you are under the age of 21, you will not be allowed to enter the casino floor or participate in any gambling activities.
Does Delta Downs Casino Have An Online Casino?
While Delta Downs may not have an online casino, they do offer a sportsbook. This allows gamblers to place bets on sporting events from the comfort of their own homes. The sportsbook offers a wide range of betting options, including moneyline, point spread, and future bets.
The sportsbook and loyalty program offers some great benefits that make up for the lack of an online casino.
Is There An Delta Downs Casino App?
What Is The Dress Code At Delta Downs Resort?
The dress code at this casino is casual. However, we suggest avoiding excessively baggy clothing or anything that could be considered inappropriate or offensive.
Remember, you are in a public place and should dress accordingly. Please ask a casino employee for assistance if you have any questions about the dress code.
Is There An Airport Shuttle Available From Delta Downs Casino?
No, there is not an airport shuttle available from this casino. However, plenty of taxi and ride-sharing services can take you to and from the airport.
It is recommended to call a taxi or ride-share service in advance to make sure there is someone available to pick you up when you arrive.
What Is The Smoking Policy At Delta Downs?
The smoking policy at this casino is that smoking is allowed on the casino floor but not in restaurants or bars. There are designated smoking areas throughout the casino, so you should have no problem finding a place to smoke.
What Is The Pet Policy At Delta Downs Casino?
The pet policy at this casino is that only service animals are allowed on the premises. This is in accordance with Louisiana state law, which prohibits non-service animals from being in casinos.
If you have a service animal, please ensure it is properly identified and under your control.
Is Wifi Available At Delta Downs Hotel & Casino?
Yes, this casino offers complimentary wifi to all guests. You can find the wifi network and password on the casino website or at the customer service desk.
What Is The Cancellation Policy For Delta Downs Hotel?
The cancellation policy for this casino is that all reservations must be cancelled at least 24 hours prior to the arrival date. If you do not cancel your reservation within this time frame, you will be charged for the first night of your stay.
Conclusion
In conclusion, Delta Downs is a great casino for gambling, sports betting, and poker. This casino also has a hotel attached, so you can stay and play all in one place. The dress code is casual and the smoking policy is that smoking is allowed on the casino floor but not in restaurants or bars.
Be sure to visit Delta Downs the next time you're in Louisiana.