Louisiana Downs Bossier City
Address: 8000 E Texas St, Bossier City, LA 71111
Phone Number: +1 318-742-5555
Website: www.ladowns.com
Hours: Louisiana Downs is open 24 hours a day, 7 days a week.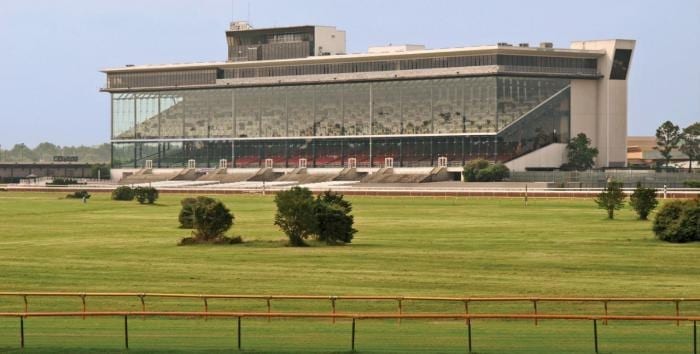 Louisiana Downs opened in 1974 as a horseracing facility. The track was one of the first of its kind in Shreveport-Bossier City and remains one of the most popular racetracks in the state today. It has continued to grow, adding a casino to its venue.
Today, their casino floor is full of action, with over 800 slots and video poker machines, as well as a racebook and off-track betting. It also hosts various live horse racing events year-round, with races throughout the spring and fall.
And if you want to grab a bite to eat, their restaurant serves up delicious Southern-style dishes and drinks. Whether you're looking for a night of fun at the track or want to enjoy a meal and watch the races, this racino has it all.
On Yelp, this racino has a 4-star rating based on over 500 reviews. One guest even commented, "Best place I've been to in the area. The casino and horse racing were great, with plenty of action and really friendly staff."
Another guest said, "We had a really great time at Louisiana Downs. The horse races were exciting and the casino was lots of fun. Plus, the food was really good too."
Gaming
Their gaming space boasts over 800 slots and video poker machines. You can also place bets on thoroughbred, quarter-horse, and harness races all year round.
(Related reading: Louisiana casinos)
Table Games
While the racino is known for its thrilling horse races, unfortunately, table game enthusiasts will be disappointed to learn that the casino only offers slot machines. However, this doesn't mean visitors won't have a fantastic time at this casino.
The slot machines are state-of-the-art and feature various games and themes. So if you want to try your luck at the slots, there's plenty of action and excitement.
Slots
If you're looking for some excitement at this casino in Louisiana, there are a few popular slot machines that visitors can't get enough of. One of the tried and true favorites is Cleopatra, where players can transport themselves back to ancient Egypt and potentially win big.
For those looking for something a bit more modern, Dynamic 7's offers a sleek and thrilling experience. Emperor Penguin is a great choice for animal lovers who also love the thrill of slot machines. And with Fu Dao Le, players can try their luck with a lucky Chinese dragon theme.
Geisha offers a unique Japanese-inspired experience, and Pirate's Pleasure lets players set sail on the high seas in search of treasure. With so many fun options to choose from, this racino is sure to provide hours of entertainment.
The payback percentage for slot machines at this casino is unknown. However, Louisiana laws require that slot machines pay back at least 80%. The actual payback percentages may vary from one casino to another.
Hotel/Resort
While this racino does not have a hotel directly on the property, there are a few great options just a short distance away for those looking to stay in the area. The Holiday Inn Express & Suites and Comfort Suites are located nearby and offer comfortable accommodations for travelers.
Whether you're racing at the track or simply in town for business or pleasure, these hotels provide a convenient and welcoming home away from home. So why hassle with driving back and forth when you can stay just a stone's throw from all the action?
Restaurants & Buffets
If you're looking for a delicious meal and a refreshing beverage after enjoying a day at this casino, look no further than the restaurants nearby. The Inside Rail is a popular choice among locals and visitors alike, serving up classic American fare with a Southern twist.
And for those looking for a caffeine boost or craft brew, Brew Coffee and Beer Bar has got you covered. But if you're in the mood for something more upscale, don't miss Pepper Rose, an elegant dining option featuring seasonal ingredients and an extensive wine list.
Even if they do not have any buffet restaurants, this casino does offer a few grab-and-go options to satisfy your snack cravings. So no matter what type of food you're in the mood for, this racino has something to fit everyone's needs.
Pools
While this casino may not have any on-site swimming pools, plenty of other fun activities to enjoy during your visit. This racetrack is a popular destination for horse racing fans, with thrilling races held regularly throughout the season.
You can also try your luck at the casino or enjoy a delicious meal at one of the on-site restaurants. Plus, there are often special events and promotions, so check the schedule for upcoming festivities.
Louisiana Downs, Bossier City, LA FAQ
Does Louisiana Downs Have A Sportsbook?
While they do not have a standard sportsbook, this racino has a racebook where players can place bets on horse races and check out the latest results. The simulcast lounge also offers a variety of betting options, including pari-mutuel wagering and advance deposit wagering.
Is Poker Available At Louisiana Downs?
No, they do not have any live poker tables available. However, they do offer video poker machines with a variety of denominations and games to choose from. This is a great way to enjoy some of the thrills of poker without having to sit down at a live table.
What Are The Age Requirements For Gambling At Louisiana Downs?
The legal gambling age at this casino is 21 years of age. Guests under 21 are not permitted to enter the casino or gamble in any way. Players must present valid identification to prove their age before being allowed to play games or place bets on any race.
Does Louisiana Downs Have An Online Casino?
No, this casino does not have an online casino. They do, however, offer simulcast wagering, which allows players to place bets remotely. Additionally, they have several video poker machines on the property for those looking to play from home.
Is There An Louisiana Downs App?
No, they do not currently have an app available. However, their official website offers plenty of helpful information, including upcoming events and promotions. Additionally, they have a social media page that can be followed for updates.
What Is The Dress Code At Louisiana Downs?
The dress code at this racino is casual. While there are no strict requirements, guests are encouraged to dress in neat and tasteful attire. This includes avoiding clothing with offensive or obscene language or images.
Is There An Airport Shuttle Available From Louisiana Downs?
No, this racino does not offer an airport shuttle service. However, there are plenty of taxi and rideshare options available for visitors wanting to travel from the casino to the airport or vice versa.
What Is The Smoking Policy At Louisiana Downs?
This racino is a smoke-free environment. All indoor areas, including the casino, simulcast lounge, and restaurants, are non-smoking. There are designated smoking areas outdoors that guests can utilize if they need to light up.
What Is The Pet Policy At Louisiana Downs?
Unfortunately, no pets are allowed on the premises. Service animals are allowed with the proper documentation. Make sure to bring any necessary paperwork to avoid any issues while entering the racino.
Is Wifi Available At Louisiana Downs?
Unfortunately, this racino does not offer wifi to guests. However, most cellular providers have service available in the area so visitors can stay connected during their visit. Make sure to check with your provider before visiting to ensure adequate coverage.
What Is The Cancellation Policy For Louisiana Downs?
Since there is no hotel on-site, there is no need for a cancellation policy. However, guests should check the schedule before making any reservations to ensure that their desired events are still taking place.
Conclusion
This racino is a great place for gambling and entertainment in Bossier City, LA. With plenty of simulcast betting, video poker machines, and other gaming options, there is something for everyone to enjoy.
And with the festive atmosphere and upcoming festivities, Louisiana Downs will surely keep you returning for more. Check out their official website or social media pages for updates on upcoming events and promotions!