Hollywood Casino Hotel & Raceway Bangor
Address: 500 Main St, Bangor, ME 04401
Phone Number: (877) 779-7771
Website: https://www2.hollywoodcasinobangor.com
Hours: Hollywood Casino Hotel is open 24 hours a day, 7 days a week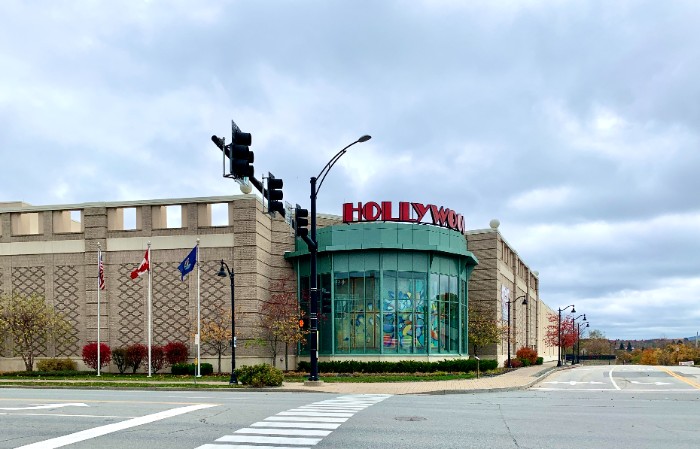 The Hollywood Casino Bangor has a long and rich history dating back to 1927, when it was founded as the Bangor Trotting Park. The track hosted harness racing and was a popular destination for Maine residents. In 1992, the track was closed and fell into disrepair.
In 2004, it was reopened as the Hollywood Casino Hotel & Raceway Bangor. The new casino featured a hotel, racetrack, and over 1,000 slot machines and table games.
The casino proved to be a popular destination, and in 2009 it underwent a $7 million expansion that added 50 new slot machines and 10 new table games.
Today, it is one of Maine's most popular gambling destinations. It features a hotel, casino, racetrack, and live entertainment venue that hosts concerts and other events.
Guests rate Hollywood Casino as a very good casino. Guests say that the casino is large and offers a wide variety of games. They also praise the helpful and friendly staff.
If you're looking for a fun place to gamble in Maine, Hollywood Casino Bangor is a great option.
(Related reading: Maryland casinos)
Gaming
This casino offers more than 1,000 of the latest slot machines and over 30 live table games, including blackjack, roulette, and poker.
Table Games
This casino offers a wide variety of table games for visitors to enjoy. Blackjack, Roulette, and Craps are just a few of the classics that can be found on the casino floor. For those looking for something a little different, the casino also offers Pai Gow Poker and Mississippi Stud.
There is something for everyone at Hollywood Casino. So come on down and try your luck at the tables.
Table game minimums at this casino can vary depending on the day and time. They start at $5 for blackjack and increase to $25 for some of the higher-stakes games. Check with the casino in advance to find out what the minimums will be during your visit.
Slots
This casino offers a variety of slot machines for its guests to enjoy. Some of the most popular machines include Game Kings, IGT, WMS, Bally, Aristocrat, and Konami. These machines offer a variety of games, including blackjack, roulette, slots, video poker, and more.
Guests can also enjoy a variety of progressives and bonuses that are offered on these machines. Additionally, Hollywood Casino Bangor offers a variety of promotions and giveaways that can be found on their website or by speaking to a customer service representative.
This casino slot machine payback percentage is not publicly available. However, the casino is located in a jurisdiction that does not require casinos to release this information. Therefore, it is likely that the payback percentage for the casino's machines is lower than the state average.
Hotel/Resort
This casino offers a hotel on its premises. The hotel has 148 deluxe rooms and is decorated in a Hollywood style. It offers a variety of amenities, including;
Free Wi-Fi
Fitness Center
24-Hour Front Desk
Concierge Service
Laundry Service
Dry Cleaning Service
Business Center
Meeting Rooms
Banquet Facilities
The cost of a room at Hollywood Casino Hotel varies depending on the time of year and the type of room you book. However, rates typically start at $139 per night.
It is a great option for those looking for a casino hotel in Maine. It offers a variety of amenities and is close to many of the state's attractions.
Check-in time at Hollywood Casino Hotel is 3:00 pm
Check-out time at Hollywood Casino Hotel is 11:00 am
Restaurants & Buffets
This casino features a variety of different restaurants to choose from, so you're sure to find something to your taste. Hops House 99 is the perfect place to catch up on the latest sports games with friends, featuring 99 different local drafts and delicious pub fare.
If you're looking for a tasty breakfast to start your day, be sure to check out Take 2 Snack Bar. They offer a wide variety of fresh breakfast items, plus hot beverages to warm you up on chilly mornings.
So whether you're looking for a quick bite or a sit-down meal, Hollywood Casino has you covered.
Pools
Unfortunately, this casino does not have a pool on its premises. However, there are a number of hotels in the area that do offer this amenity.
Hollywood Casino Hotel & Raceway Bangor, ME FAQ
Does Hollywood Casino Bangor Have A Sportsbook?
This casino does have a sportsbook. This is great news for many reasons. First, horse racing is a very popular sport, and the ability to bet on races at the casino only adds to the excitement.
Second, the potential rewards are tremendous. The huge racetrack attracts hundreds of visitors every week, and the opportunity for off-track betting is another great advantage of this place.
Is Poker Available At Hollywood Casino Bangor?
This casino offers live poker games. The games are available every day from noon until 4 am. There is a $5 buy-in for the Texas Hold'em games and a $10 buy-in for the Omaha games.
What Are The Age Requirements For Gambling At Hollywood Casino Bangor?
To gamble at this casino, you must be 21 years of age or older. This is in accordance with Maine state law, which requires all casinos to have a minimum age requirement of 21.
If you are under 21 years of age, you will not be allowed to enter the casino floor or participate in any gaming activities.
Does Hollywood Casino Bangor Have An Online Casino?
No, this casino does not have an online casino. However, they are partnered with mychoice® casino. mychoice casino is the best new social casino app.
You can earn and redeem points for dining, entertainment, and hotel stays at over 35 mychoice locations nationwide. Plus, there are no membership fees, and it's free to join.
Is There An Hollywood Casino Bangor App?
No, this casino does not have an app of its own. However, you can use the mychoice app to access your account and take advantage of all the benefits that come with being a member.
What Is The Dress Code At Hollywood?
There is no specific dress code at this casino. However, it is recommended that you dress in comfortable clothing that you would feel appropriate in any casual setting.
Is There An Airport Shuttle Available From Hollywood Casino Bangor?
No, this casino does not offer an airport shuttle. However, there are a number of taxi and ride-sharing services that operate in the area. So you should have no problem getting to and from the airport.
What Is The Smoking Policy At Hollywood Casino?
This casino is a non-smoking facility. This means that you are not allowed to smoke tobacco products anywhere on the premises. However, a designated smoking area is located just outside the casino entrance.
What Is The Pet Policy At Hollywood Casino Bangor?
Pets are not allowed on the casino floor or in any of the restaurants. However, they are welcome in the hotel rooms. So if you're traveling with a pet, be sure to book a room in the hotel.
Is Wifi Available At Hollywood Hotel & Casino?
Yes, this casino does offer free wifi. So you can stay connected while you're here. Simply look for the Hollywood Casino wifi network and connect to it.
What Is The Cancellation Policy For Hollywood Hotel Bangor?
If you need to cancel your reservation, you must do so at least 24 hours prior to your arrival date. Otherwise, you will be charged for one night's stay.
Conclusion
In conclusion, Hollywood Casino Bangor is a great place to visit if you're looking for a casino in the area. It offers a variety of gaming options, as well as a hotel and racetrack. So there's something for everyone.