Harrah's North Kansas City
Address: 1 Riverboat Dr, North Kansas City, MO 64116
Phone number: +1 816-472-7777
Website: https://www.caesars.com/harrahs-kansas-city
Hours: The casino is open from 8 am to 5 am every day of the week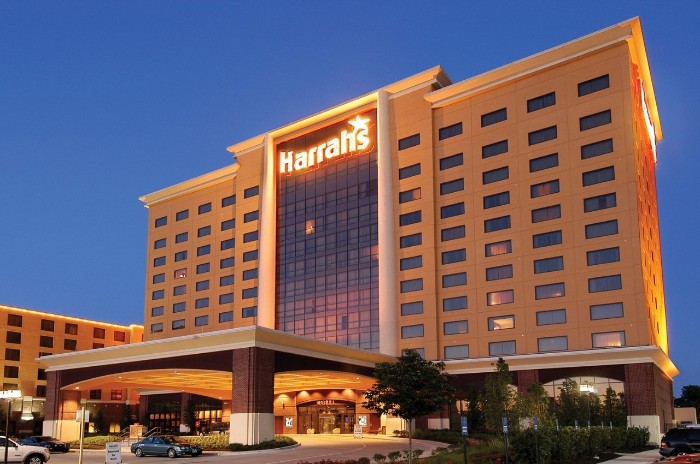 Harrah's North Kansas City is located in the heart of Missouri, situated within easy reach of some of the state's most popular tourist attractions.
The casino has been a fixture in North Kansas City since it opened its doors in 1994 and has since become one of the most beloved locations for locals and visitors alike.
The gaming area at Harrah's North Kansas City has more than 1,500 slot machines and video poker terminals spread across their main gaming floor. There are various table games, including blackjack, roulette and craps. The casino also features a poker room.
The casino also offers an impressive selection of restaurants and bars to enjoy. From fine dining to quick bites and casual eateries, Harrah's has something for every taste. They also feature coffee shops where you can grab your caffeine fix before you hit the casino floor.
The hotel features 392 luxurious rooms and suites equipped with the latest amenities. Harrah's features a raucous nightlife scene for those looking for entertainment.
The nightclub plays music from the hottest artists, and features live DJs spinning the best in-house, hip-hop and Top 40 tunes. There are also comedy shows and karaoke nights that highlight local talent.
Harrah's North Kansas City is one of Missouri's most popular destinations, and it is easy to see why. Guests praise its friendly staff, great gaming and dining options selection, and tantalizing promotions.
Whether you're looking for a night out on the town or just some exciting gaming action, Harrah's North Kansas City is sure to satisfy everyone's needs.
(Related reading: Missouri casinos)
Gaming
This casino offers a large variety of games for players to enjoy. More than 1,500 slot machines and video poker terminals will be found on the main gaming floor. Table games are also available.
The casino also features a separate poker room with tournaments for those looking for more competitive action.
Table Games
At this casino, you can enjoy a range of table games to choose from. Beginners and experienced alike will find something to their liking with Mini-Baccarat, Blackjack, Craps, Roulette, Texas Shootout and Pai Gow all available to play.
Whether your preference is for high energy or a relaxed atmosphere, you are sure to find it at this popular entertainment destination. The friendly staff is always on hand to help out and make sure that everyone has a great time. Get ready for some fun-filled gaming action when you visit.
The minimum bets vary depending on the game. For blackjack, the minimum bet is $5, while roulette and craps have a minimum of $3. Pai Gow has a minimum of $10, whereas Texas Shootout and Mini-Baccarat have a minimum of only $2.
Slots
This casino is home to a vast selection of slot machines, meaning you will find something that you love in no time. The casino offers both classic slots and the newest video slots, featuring some of the most popular titles such as:
Buffalo Link
Buffalo Chief
Cash Express Luxury Line
Dancing Drum Prosperity
Cash Burst Orb
This casino has not made its payback percentage available to the public. However, the state of Montana has a minimum payback percentage of 80% – giving you a good idea of what to expect when you gamble at this casino.
Hotel/Resort
The casino also has an on-site hotel with 392 luxurious, comfortable rooms and suites. All the guestrooms come equipped with modern amenities such as flat-screen TVs, high-speed Wi-Fi and various other conveniences to ensure that your stay is both pleasant and memorable.
A few of the rooms you can expect to find here include:
Premium King: King bed, smoking and non-smoking options, and amenities.
Premium Double: 2 Queen beds, smoking and non-smoking options, and amenities.
Boardwalk Suite: Living and sleeping space, Jacuzzi tub, and amenities.
The resort also features a business center and event spaces for guests to enjoy. Those looking for nightlife can take advantage of the live entertainment, featuring live DJs spinning the best tunes around. Comedy shows and karaoke nights are also regular events that highlight local talent.
In addition, Harrah's North Kansas City offers a variety of restaurants and bars for dining and entertainment. From fine-dining experiences to casual eateries, you'll never be short on options at this destination.
Whether looking for a night out or just some gaming action, Harrah's North Kansas City is sure to meet your needs.
Some of the amenities you can expect to find at the casino and hotel include:
Spacious rooms and suites
Smoking and non-smoking rooms
Restaurants and bars
Meeting spaces
Business center
Event spaces
Weddings
Live entertainment
Nightlife
Promotions
The cost of staying at the hotel will depend on the type of room you choose. The average nightly rate for a standard room is around $109-250 USD.
This can vary depending on the time of year and other factors. For those looking to stay longer, there are packages available that offer discounts.
Check-in time at Harrah's Hotel is 4:00 pm
Check-out time at Harrah's Hotel is 11:00 am
Restaurants & Buffets
Located in Missouri, gastronomes and foodies alike will be spoilt for choice with the dining choices available.
From the Winning Streaks Sports Bar and Grill serving up mouth-watering burgers and beers to Gordon Ramsay Steak offering a tantalizing selection of steaks and seafood dishes, there is something to satisfy everyone's palate.
In addition, Bite & Bean offers diners a unique culinary experience by combining Asian flavors with Mexican dishes. For those looking for an exotic flair, the Royal Noodle Bar is your go-to spot featuring authentic South-East Asian cuisine.
Moreover, guests can savor delightful desserts and more in Laurel Lounge while savoring Popculture Gourmet Popcorn and Ice Cream, which truly complete an enjoyable dining experience.
Pools
There is no pool available at this casino.
Harrah's North Kansas City, MO FAQ
Does Harrah's Casino Have A Sportsbook?
Unfortunately, this casino does not currently have a sportsbook. While Missouri has recently passed legislation to legalize sports betting, the process is still in progress, and there is no set timeline for when casinos will offer customers the chance to participate.
In the meantime, patrons of Harrah's can take advantage of their variety of gaming options, including table games, slot machines, high-stakes poker and many more.
Is Poker Available At Harrah's Casino North Kansas City?
If you want to try your hand at poker, you should check out this casino. This popular gaming facility offers more than a dozen different varieties of poker tables – from classic Texas Hold 'Em, Omaha and Seven Card Stud to special variants like Broad State and Three Card Poker.
The casino has excellent facilities for beginners as well as experienced players alike, making it a great destination for those who are either new or experienced with the game. With limits ranging from small stakes up to millionaire money, there is something for everyone.
What Are The Age Requirements For Gambling At Harrah's Casino?
The casino has strict rules regarding age requirements for gambling. According to Missouri law, all persons wishing to participate in casino games must be 21 years or older.
Harrah's North Kansas City offers non-gambling-related entertainment like live music and dining for anyone under this age. All guests who appear to be under the age of 30 will be asked to show valid government-issued photo identification at all times while inside the casino.
Does Harrah's Have An Online Casino?
This location has a fantastic online casino offering. Their user-friendly interactive software provides their players with an enjoyable yet secure gambling experience.
Their collection of games offers something for everyone, ranging from classic slot machines to popular table games like blackjack and roulette. All of their games are designed with excellent graphics and sound effects, giving players a truly immersive experience.
With plenty of bonuses and promotions available, playing at this online casino has never been more rewarding.
Is There A Harrah's Casino App?
Unfortunately, there is not currently an app available for this casino. However, there are many convenient methods to stay up to date with the venue and its events.
For example, guests can go online to view promotions, check out upcoming games and tournaments and sign up for newsletters with information about special activities and rewards.
Additionally, it has a loyalty program that allows frequent visitors the chance to earn excellent perks such as discounts on rooms and food.
What Is The Dress Code At Harrah's Casino North Kansas City?
The casino does not have an official dress code for guests. For the most part, casual attire is accepted in all areas of the casino. Shorts, jeans and t-shirts are allowed in designated areas. However, sneakers and sandals are not permitted.
Is There An Airport Shuttle Available From Harrah's Casino and Hotel?
No, the casino does not offer an airport shuttle service. However, there are several nearby airports that offer convenient ground transportation options.
The closest one to Harrah's North Kansas City is KCI Airport (MCI), located just 25 miles from the venue. Other options include Northwest Arkansas Regional Airport (XNA), Springfield-Branson National Airport (SGF) and Joplin Regional Airport (JLN).
What Is The Smoking Policy At Harrah's Casino?
This casino is a non-smoking venue. There are designated smoking areas outside in the parking lot, as well as near the entrance and exit of the casino.
In addition to this policy, guests are not allowed to bring any type of tobacco products into the casino. This includes cigarettes, cigars, smokeless tobacco, and electronic cigarettes. Violation of this policy can result in immediate removal from the premises.
What Is The Pet Policy At Harrah's Casino North Kansas City?
Unfortunately, pets are not allowed at the casino. This includes all types of animals, such as cats, dogs, birds and reptiles.
Service animals that have been certified by the Americans with Disabilities Act (ADA) are allowed on the premises. These service animals must be kept on a leash or in a carrier at all times while inside the casino.
Is Wifi Available At Harrah's Casino?
Yes, the casino offers free WiFi for their guests. To connect to the network, simply look for the "HarrahsNCK" signal in your device's available networks and enter the password provided at check-in.
Additionally, there are several hotspots located throughout the casino that provides fast and reliable internet access.
What Is The Cancellation Policy For Harrah's Hotel?
The cancellation policy for this venue varies depending on the type of reservation made. For standard hotel reservations, guests must cancel their booking at least 24 hours before arrival to avoid being charged for one night's stay.
A different cancellation policy may apply for reservations made through third-party sites such as Expedia or Booking.com. It is important to check the specific terms and conditions associated with your reservation before making any changes or cancellations.
Conclusion
Harrah's Casino North Kansas City is an excellent venue for anyone looking to enjoy a night of gambling, entertainment and relaxation. With its convenient location and great amenities, it is easy to see why Harrah's has become such a popular spot in the area.
Be sure to check out all of this casino's amazing features, from its great games and dining options to its pet-friendly policy and free wifi. With so much to do, there is something for everyone at Harrah's North Kansas City.