Aria Resort & Casino, Las Vegas
Address: 3730 S Las Vegas Blvd, Las Vegas, NV 89158
Phone number: +1 866-359-7757
Website: https://aria.mgmresorts.com/en.html
Hours: The casino is open 24 hours a day 7 days a week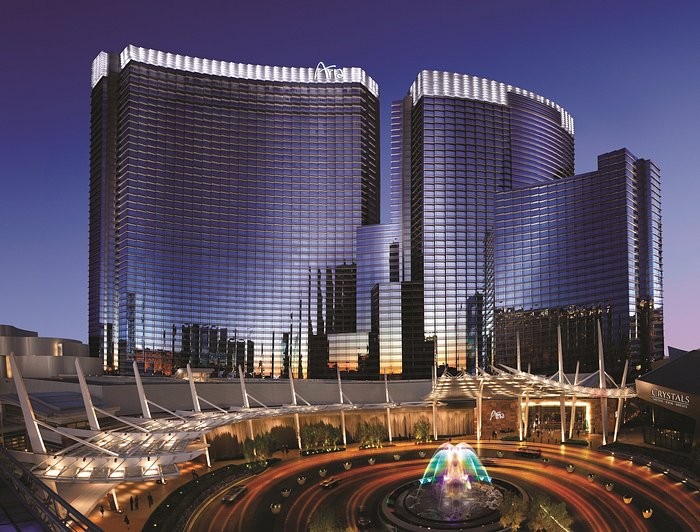 The Aria Resort & Casino is one of the premier resorts in Las Vegas. It is located on the famous Las Vegas Strip and offers top-notch amenities, fine dining, and luxury accommodations. Since its opening in 2009, it has become one of the most popular destinations for visitors to Las Vegas.
The hotel has been awarded a number of prestigious awards, including the Mobil 5-Star Award, Forbes Travel Guide 4-Star Award and AAA Five Diamond Award. It has 4,004 guestrooms and suites that offer a range of amenities.
The resort features an expansive casino, luxurious spa, several restaurants, nightclubs, bars, lounges and retail stores. There is also a pool complex, spa, fitness center, shopping, and a golf course – meaning you'll never get bored.
The Aria's casino offers 145 table games and 2,000 slot machines, and a sportsbook. The poker room is one of the largest in Las Vegas and features high-stakes cash games and tournaments.
Aria also offers an abundance of dining options ranging from casual to fine dining. There is something for everyone, with a variety of cuisines to choose from. The restaurants feature some of the best chefs in Las Vegas and offer unique culinary experiences.
The Aria Resort & Casino is one of the most luxurious resorts in Las Vegas. From its expansive casino to its 5-star amenities and fine dining, it offers an unforgettable experience for all its guests. With so much to see and do, it's no surprise that Aria is so popular in Vegas.
The Aria Resort & Casino is one of the most highly-rated resorts in Las Vegas. Guests who have visited have praised its luxurious amenities, spacious accommodations, incredible bars, and world-class dining options.
(Related reading: Nevada casinos)
Gaming
This casino offers loads of slot machines and table games. There is live poker with plenty of tables available as well. Sports betting and racebook betting are also available for a variety of sports.
Table Games
This casino offers an exciting array of table games. Whether you're a high-roller or just starting out, you'll find something to suit your taste.
The offering includes classic favourites like Blackjack, Craps, Baccarat and Roulette, with variations like European Roulette and Mini Baccarat at your disposal.
Pai Gow and Pai Gow Poker provide a unique player experience, while Three Card Poker and Ultimate Texas Hold'em give the perfect platform to show off your poker skills.
Plus, Free Bet Blackjack and Casino War add more excitement to the mix. So if you're looking for some thrilling table game action, look no further than Aria Resort & Casino.
The table game minimums at the casino vary depending on the game, time of day and the number of players. Generally speaking, there are low to mid-range minimums on weekdays and higher limits during peak times.
Slots
The Aria Resort & Casino offers more than 2,000 of the latest and greatest slot machines. No matter what you fancy, you are sure to find something that gets the excitement going and leaves you eager to see where the slots land.
Popular slots include:
Wheel of Fortune
Megabucks
Dragon Link
Egyptian Fortunes
Lucky Coin Link
This casino has not made its payback percentage publicly available. However, the payback percentage for the state of Nevada is set at a minimum of 75%. Despite this, you will find that most Vegas casinos offer 90% or higher.
Hotel/Resort
The Aria Resort & Casino offers luxury accommodations and amenities. Each room is designed with comfort and convenience in mind, and they feature flat-screen TVs, plush furniture, large bathrooms, high-speed Wi-Fi access, climate control and much more.
A few of the room types you will find at the hotel are:
Deluxe King: King bed, plenty of space, and amenities (optional views).
Deluxe Queen: 2 Queen beds, plenty of space, and amenities (optional views).
Tower Suite: Living and sleeping space, Jacuzzi tub, and amenities.
Executive Suite: Living and sleeping spaces, conference room, and amenities.
Several restaurants at the resort range from casual to fine dining, along with a collection of bars and lounges. In addition, there is an expansive pool complex, a spa and wellness centre, a fitness centre, and a golf course.
You will also find live entertainment at the resort, ranging from comedy shows to concerts. The Aria Resort also offers a variety of activities for guests, including yoga classes, cooking classes and wine tastings.
Overall, the Aria Resort & Casino offers an unforgettable experience for everyone who visits. From its luxurious amenities to its exciting gaming options, it will surely provide a vacation you won't forget.
Some of the amenities you can expect to find at the casino and hotel include:
Spacious rooms and suites
Restaurants and bars
Lounges
Three pools
Spa
Hot tub
Golf
Fitness center
Business center
Event spaces
Weddings
Shopping
Promotions
The cost of staying at the Aria Resort & Casino depends on the type of room you select and when you are visiting. Generally speaking, rates start at around $150 per night for standard rooms and can go up to over $1,000 per night for luxury suites.
Check-in time at Aria Resort & Casino is 3:00 pm
Check-out time at Aria Resort & Casino is 11:00 am
Restaurants & Buffets
If you're considering a stay at this casino and looking for places to eat while you're there, you're in luck. Here is a little look at just some of what's on offer.
Try Din Tai Fung if you're looking for an Asian food experience or Carbone for Italian fare. You can get some amazing seafood dishes at CATCH; their barley, mushroom, and chicken options are all high-quality.
Vegetarian? Stop in at Blossom and take advantage of the all-vegan menu. Of course, don't forget about Breakfast at the Aria Campus either.
If you have more of a taste for steak, try Jean Georges Steakhouse, or stick with burgers from Posh Burger. Bardot Brasserie will give you a variety of French dishes. However, Salt & Ivy has some amazing salads too.
For something on the lighter side, head over to Lemongrass for light Thai cuisine, or check out Julian Serrano Tapas for plenty of quick and tasty choices.
Moneyline Pizza & Bar is great for those looking for bar food, and Javier's also offers delicious Mexican eats.
ARIA Patisserie provides sweets perfect for satisfying your sweet tooth and delicious coffees from Starbucks or juice options from Pressed Juicery.
Pools
From the moment you step into ARIA's three pools, your Las Vegas visit will take a turn for the better. Refresh in an ambience of luxury and designer touches while treating yourself to a fabulous escape.
Take a break from exploring the city to sip cocktails or relax in one of the poolside cabanas. Enjoy exquisite dining while taking in city views and entertaining yourself with fun pool amenities, like games and activities.
At ARIA, you'll find that everything has been designed just right for an unforgettable pool experience.
Aria Resort & Casino, Las Vegas, NV FAQ
Does Aria Resort & Casino Have A Sportsbook?
Yes, this casino does have a sportsbook. The sportsbook is the perfect destination for sports fans, boasting an array of high-tech amenities, comfortable seating and multiple big screens for your viewing pleasure.
Additionally, guests are guaranteed competitive odds and lines that you can bet on worldwide. Whether you're an avid sports fan or just looking for entertainment, this casino has covered you.
Is Poker Available At Aria Resort & Casino, Las Vegas Blvd?
They offer various high and low-stakes poker cash games and special weekly tournaments. Whether you're an experienced player or new to the game, Aria's knowledgeable staff can help make your poker experience one that you won't soon forget.
On top of that, they even have several private rooms available if you want a more intimate and personalized game.
What Are The Age Requirements For Gambling At Aria Resort & Casino?
Gambling at this casino requires all players to be 21 years of age or older. This is a strict rule, so make sure to double-check IDs before playing any gambling game or using slot machines.
Does Aria Have An Online Casino?
This location does have an online casino. In addition to the physical location on iconic Las Vegas Blvd, players can log onto their website to enjoy all the casino gaming options available at the resort with the added convenience of playing from any computer or mobile device.
Playing from home or on the go has never been easier. There are table games like baccarat and blackjack, classic slot games and progressive jackpots, video poker, and other specialty games to choose from.
Plus, there are plenty of bonuses and promotions to take advantage of at Aria, so players can maximize their chances of winning big.
Is There An Aria Resort & Casino App?
Unfortunately, there is currently no app designed specifically for the casino. However, there are plenty of other ways that you can access information regarding the resort and its offerings.
The official website offers detailed descriptions of the various restaurants and shops within the resort and booking information so that guests can reserve stays.
They have a popular Rewards Program, which is free to join and provides discounts on your stay, dining experiences and spa treatments.
What Is The Dress Code At Aria Resort & Casino, Las Vegas Blvd?
At the casino, the dress code is generally upscale casual. Therefore, guests should wear formal or business attire if they visit areas such as the casino floor and certain dining establishments.
Poolside areas are more relaxed and accept swimwear with appropriate cover-ups for women; however, men are still required to wear shirts and shoes.
The spa requires that guests adhere to a more formal dress code in order to ensure an atmosphere of relaxation. For special events, the dress code may be more specific; it is best to check with the casino regarding any additional requirements before your visit.
Is There An Airport Shuttle Available From Aria Resort & Casino?
No, there is no airport shuttle available from the resort. However, many other convenient transportation options for getting to and from the casino exist.
Shuttle services such as Super Shuttle are discounted for groups of two or more. Taxis can also be found around the area, and the monorail offers a convenient way to travel around the Strip.
What Is The Smoking Policy At Aria Resort & Casino, Las Vegas Blvd?
The resort has a strict no-smoking policy which applies to all areas of the resort, including the casino floor. The only exception is in designated outdoor smoking areas near select restaurants and bars.
Smoking is not permitted in any other indoor or outdoor area of the property, and those who are caught smoking can face severe penalties, so it is important to stay within the policy.
What Is The Pet Policy At Aria Resort & Casino?
Unfortunately, pets are not allowed on the property. This policy is strictly enforced, and guests who violate the policy may face penalties or even permanent expulsion from the casino floor.
Service animals that meet ADA requirements are the only exception to this rule; all other animals must stay off-site at all times.
Is Wifi Available At Aria Resort & Casino, Las Vegas Blvd?
Yes, guests can enjoy complimentary wifi access throughout the resort. However, there may be restrictions in certain areas or for certain activities due to network security.
Additionally, some premium services and features are available for a fee – these options can be discussed with the hotel staff upon arrival.
What Is The Cancellation Policy For Aria Hotel?
Aria hotel offers a flexible cancellation policy for guests who need to change their stay. Reservations made via their website or phone are eligible for free cancellations up to 24 hours prior to arrival.
Cancellations after this time frame will incur fees and may be subject to additional restrictions, such as the forfeiture of a deposit. It is always best to check with the hotel prior to cancelling your reservation for full details on their policy.
Conclusion
Aria Resort & Casino is a premier destination for visitors in Las Vegas. The resort offers luxurious amenities and great entertainment, with plenty of restaurants and shops on-site. Before planning their trip, guests should be aware of the dress code, smoking policy, and pet policy.
Additionally, wifi access and a flexible cancellation policy are available throughout the property. With all these features, Aria Resort & Casino is the perfect place to enjoy a worry-free and enjoyable stay in Las Vegas.