Binion's Gambling Hall & Hotel Las Vegas
Address: 128 E Fremont St, Las Vegas, NV 89101
Phone Number: +1 702-382-1600
Website: www.binions.com
Hours: Binion's Gambling Hall & Hotel is open 24 hours a day, 7 days a week.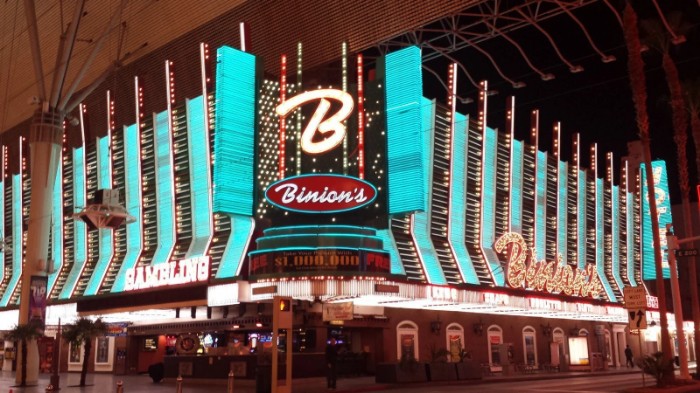 Binion's Gambling Hall & Hotel Las Vegas is a landmark in the heart of Fremont Street. Founded in 1951 by Benny Binion and formerly known as Binion's Horseshoe, it has been synonymous with Las Vegas for over sixty years.
The hotel was the first casino on Fremont Street and played host to the legendary World Series of Poker from its early days until 2004. The casino has since undergone a series of renovations and expansions, creating one of the most thrilling gambling experiences in Vegas.
Currently, the casino boasts over 77,000 square feet of gaming space with more than 800 slot and video poker machines. The property is now owned and operated by TLC Casino Enterprises and is known for its generous bonus and reward programs.
From classic table games to modern slot machines and poker tournaments, they sure to have something for everyone. In addition to the gaming options, there is also an extensive selection of restaurants and bars throughout the complex that offers a delightful culinary experience.
Additionally, the property offers a variety of entertainment options, such as live music, comedy acts, and special events. The establishment also houses the Hotel Apache, located on the second floor, which provides luxurious rooms and suites that are perfect for any occasion.
Whether you're looking to try your luck at the tables or want to enjoy a night out on the town, this casino hotel is sure to be an unforgettable experience.
Binion's Gambling Hall & Hotel Las Vegas is highly rated by guests, with an average rating of 4.5 out of 5 stars on most major review sites. One guest said, "The service was great, and the staff was super friendly. The casino was well maintained, and the games were exciting."
Another guest said, "I have stayed at Binion's Gambling Hall & Hotel many times over the years, and they always exceed expectations. I will be returning again soon!"
(Related reading: Nevada casinos)
Gaming
This casino offers an extensive selection of games, including various table games such as blackjack, craps, roulette and Pai Gow poker; over 800 slot and video poker machines; and a full range of progressive jackpots.
Table Games
This casino hotel in Nevada has everything you need for a night of thrills. They offer some of the most exciting table games including blackjack with its own sexy twist – beautiful cowgirls dealing your cards.
And for those looking for an even bigger adrenaline rush, try your beak at a 5x Odd Craps table and take home a bigger prize than you ever expected.
Roulette is on the menu too, as well as some specialty games like Progressive 3 Card Poker, Let-It-Ride, and Pai Gow. So if you're feeling lucky, visit to their gambling hall and find out why it's so well known for its table games.
The minimum bet for table games at this casino varies depending on the game and time of day. Normally, the minimum bet is $5 but can increase or decrease based on different factors.
Be sure to check with the casino staff when you arrive for the latest information on minimums and other gaming rules.
Slots
The historical and iconic Binion's never ceases to offer the most sought-after slot machines in Nevada. Patrons of the gambling hall can expect to find a special selection of time-honored classics such as Cleopatra and Double Diamonds.
In addition to these classic favorites, Binion's also has the latest in gaming technology with modern offerings like Batman and Robin, Hangover and Family Guy – all available for their entertainment.
If hitting it big is what you're after then visit their Video Poker Hideaway for some of the best pay tables in Nevada.
This casino offers its guests one of the highest slot machine payback percentages in Nevada.
Players can expect to get back on average 98% of what they put into the slots every time they play. This is higher than most other casinos in the area and makes this establishment a great place for players looking to maximize their winnings.
Hotel/Resort
This establishment offers an unforgettable experience for travellers and gamers alike. The complex houses the historical Hotel Apache where guests can stay a night, or multiple nights, to their heart's content.
Boasting 81 available rooms, they cater to every kind of traveller – from single adventurers choosing to stay in a standard room or bathroom to couples or groups who can book two double beds or two bathrooms for extra elbow room.
And for those who want to really treat themselves, there's even a suite on offer. Whether you're in town for business or pleasure, make sure you get the most out of your Vegas experience when you choose this hotel, as it won't let you down.
This hotel offers its guests a variety of amenities that will make their stay comfortable and enjoyable. Some of these amenities include:
Various dining options
Magic shows
Free live entertainment and concerts
Self-parking
Free high-speed internet access
The cost of staying at Hotel Apache depends on the type of room you choose. Typically, you can book a standard room for around $40 per night plus taxes and fees.
Prices may vary depending on the season or special offers available. Be sure to check with the hotel for up-to-date rates before making a reservation.
Check-in time at Binion's Hotel Apache is 4:00 pm
Check-out time at Binion's Hotel Apache is 12:00 pm
Restaurants & Buffets
If you're looking for delicious eats in Nevadan style, this place is the premier spot to go. With seven distinct dining options to choose from, there's something for everyone at Binion's.
For a luxurious steakhouse experience, head up to the Top of Binion's Steakhouse and enjoy western-style cuisine with unparalleled views of downtown Las Vegas.
Or if you're hungrier for some good down-home comfort food, try Benny's Smokin' BBQ & Brews – mouth-watering barbecue ribs paired perfectly with an ice-cold beer. Check out the Cowgirl Up Cantina and Whiskey Licker Up Saloon if you want an after-dinner cocktail or a late-night snack.
Also on offer are Binion's Deli and Cafe serves breakfast, lunch and dinner in a relaxed atmosphere – and don't forget the famous Whiskey Licker bar – serving signature Basque cocktails along with small plates perfect for sharing.
However, the casino does not offer any buffets at the moment. For those wanting the all-you-can-eat experience, there are many great buffet options available in the downtown area.
Pools
The casino features a swimming pool. However, it is only open for meetings and special occasions. You can house your next special event in an elevated atmosphere to make a true splash.
Binion's Pool Deck is a unique kind of outdoor venue perfect for banquets located on the 25th floor of the establishment. Each party can be tailored to your needs as they can comfortably accommodate up to 150 people, with outstanding food and beverage options available.
Binion's Gambling Hall & Hotel, Las Vegas, NV FAQ
Does Binion's Have A Sportsbook?
If you're in the mood for a fast-paced, exciting atmosphere to enjoy some sports betting, William Hill Sports Book at this casino is the place for you. Here you can bet on all your favorite teams and sporting events, with a varied wagering menu to fit any fan's betting style.
To make it even better, the Sports Book combines a fantastic atmosphere with large-screen TVs so that you won't miss out on a single play. Whether you're looking to make some serious picks or find an electric sports bar vibe while watching your team, they have you covered.
Is Poker Available At Binion's Gambling Hall?
Yes, this casino offers a range of tables with poker games. Whether you're a novice or an experienced player, there are tables for everyone. You can enjoy classic versions like Texas Hold'em or try something different, like Pai Gow or 7-Card Stud.
What Are The Age Requirements For Gambling At Binion's Gambling Hall & Hotel?
You must be at least 21 years old to gamble at this casino hotel. This includes playing poker and slot machines and betting on sports games. Players under the age of 21 are not permitted in the gaming areas or to participate in any gambling activities.
Does Binion's Have An Online Casino?
Although this establishment does not have an online casino, they do provide access to plenty of interactive gaming options through its mobile app.
Whether you prefer classic slots or table games like roulette, poker and blackjack, the app offers an entertaining and immersive gaming experience. Plus all the games use secure technology so you can feel safe when playing.
Is There An Binion's Gambling Hall & Hotel App?
Are you looking for an app that allows you to play your favorite casino games for free? Look no further than this casino's app. Enjoy a fantastic library of Las Vegas slot games and other classic casino favorites, with stunning HD graphics and animation effects.
Get in on exclusive bonuses and level up for additional rewards. Compete and share your progress with friends by way of exciting leaderboards. Best of all, the app is totally free, plus you can link your Facebook profile or play as a guest.
What Is The Dress Code At Binion's?
For those looking for a fun night out, the casino does not have a strict dress code. Casual attire is appropriate, and the staff prefers that guests feel comfortable but remain presentable.
Is There An Airport Shuttle Available From Binion's Gambling Hall & Hotel?
Staying at this casino hotel – but wondering how to make it to the airport? Unfortunately, there are no direct shuttles to the airport from this great hotel. But don't worry – you still have plenty of options.
Taxi services can get you there quickly and in comfort. And if you prefer a rideshare app such as Lyft or Uber, those are available too.
What Is The Smoking Policy At Binion's?
The establishment is non-smoking, this includes all areas of the casino, hotel and restaurants. Smoking is strictly prohibited indoors and there are no exceptions to this policy.
For those wishing to smoke, designated outdoor smoking areas are available throughout the property.
What Is The Pet Policy At Binion's Gambling Hall & Hotel?
Unfortunately, pets are not allowed in the hotel or casino. Only service animals are permitted in these areas and must be accompanied by their owners at all times.
Is Wifi Available At Binion's?
Yes, complimentary WiFi is available in all public areas of the casino, hotel and restaurants. Guests can also access this service from their rooms for a fee. You can speak with the staff at the front desk for more information about connecting to the service and any associated fees.
What Is The Cancellation Policy For Binion's Gambling Hall & Hotel?
The property is home to the historical Hotel Apache and the cancellation policy depends on the said hotel. A reservation can be cancelled up to 12 noon on the day of arrival if the booking was made directly with the hotel.
If a reservation is booked through a 3rd party website, then cancellation rules may vary slightly, so it is important to check the specific terms for your chosen website. In most cases though, you would still be able to cancel up to 24 hours in advance without any penalty.
Conclusion
Whether you're looking for a fun night out, some great gaming action or simply a comfortable place to rest your head after a long day of travel, Binion's Gambling Hall & Hotel offers it all.
With a great range of amenities and services, plus the convenience of being located in downtown Las Vegas, and a casual dress code, you can be sure that everyone at your party will feel comfortable and welcome.
So, if you are looking for a great place to stay while visiting Las Vegas, then this casino hotel is a perfect choice.