CasaBlanca Casino Mesquite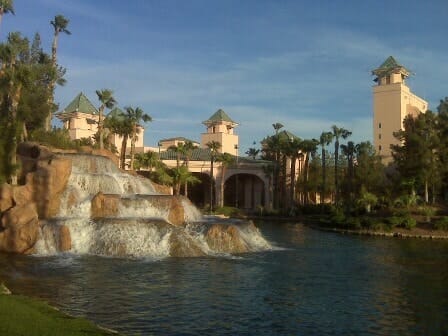 By Steve Beauregard
The Casa Blanca Hotel and Casino in Mesquite, Nevada is one of my favorite places to visit. Just about 80 miles east of Las Vegas, it's nearly the opposite of the typical Las Vegas casino environment. By that I mean, the dealers are friendly, limits are low, it's laid-back, comfortable, relaxing, and best of all: unlike say, the MGM Grand, you won't have to walk 1/2 mile to go to the bathroom or get back to your room.
It's officially called the "Casa Blanca Resort, Casino, Golf and Spa." They could also throw "RV Park" in there too, as they have a 45 site park behind the casino, complete with water, sewer, and electrical hook-ups. My parents have stayed in the park and found it reasonable and maybe quieter than you'd expect from a place adjoining a casino. Many other RV'ers just park in the expansive Casa Blanca Casino parking lot (the resort sits on 43 acres).
Inside, the hotel itself has 450 rooms. And while I've sometimes found some hints of dating, like worn bathroom wallpaper starting to tear, I've always found the rooms to always be clean and comfortable during my many, many stays there. (I'm guessing I've stayed at the Casa Blanca at least 20 different times.)
The rooms are what you'd expect from a relatively inexpensive casino hotel, (they offer rates in the $40 a night range on weekdays). It seems that nearly all rooms offer at least some sort of view. On the entrance side you can look out and see the large waterfall, pond, and palm trees, while the other side boasts pretty views of the resort's well-kept and plush pool area.
(Go here for the full: Mesquite Nevada Casinos List)
Speaking of which, the Casa Blanca has a terrific swimming pool that is perfect for either beating those long cold streaks at the craps table, or beating those unbearable 114 degree days. And no, I'm not exaggerating about the heat. One trip, our rental car outside temperature gauge read 114 degrees. The hottest temperature ever recorded in Mesquite, Nevada was when the thermometer hit 119 degrees on July day in 1998.
The swimming pool area has a beach bar type of lounge, and lots of chairs for you to use. The pool itself is curved-shaped and has a large waterfall and even a small waterside. I took my 3 year-old daughter there, and she absolutely loved it. Then again, she loves the plain old square pools at a Clarion Inn, so perhaps she's not the pickiest of swimmers. Once a month during the pool season, the resort has a pool-side concert.
Casa Blanca Entertainment
The hotel and casino's show room is the largest in Mesquite, and hosts some sort of show or performance every weekend. Often, (it used to be every weekend, but they have scaled this back somewhat), they will have free comedy nights. These are 100% free admission shows, featuring some very clever and talented stand-up comedians. My wife and I always go to these (we're suckers for "free"), and we're never disappointed. They also often have free musical acts in the show room – usually a tribute band. Other times, a known signer, such as an Eddy Raven or Terri Clark type of act, will perform in concert at the showroom. These of course, are not free.
On the gambling front, the casino is open, and inviting, with a circular layout. They offer all of the usual pit games, (craps, blackjack, Pai-Gow, etc.) along with a selection of over 800 slot machines or video poker machines.
One fun way to kill some time is to play the weekly slot tournaments on Thursday. It costs $10, but not only do you get a chance to win a lot of money (the casino adds cash to the prize pool), you receive a $7.50 food voucher to the coffee shop! Who knew sitting down and furiously pushing a "spin" button could be so fun.
The table game limits have fluctuated over the years, and – like in Las Vegas – can be subject to how busy the place is. I've played craps there not too long ago for $2 minimum bets. (They allow 10x odds). There's also a sports and race book, with plenty of seating. Sometimes in Las Vegas, all of the seats at the sports book are taken up, or filled with empty beer bottles and racing forms, however I've never had trouble finding a clean, open seat at the CasaBlanca sports book. Then again, I haven't stayed there during March Madness.
Another little room area off of the casino floor offers "High Limit" slots. And by high limit, I mean, $5 Wheel of Fortune Slots. (Hey, that's high limit in Mesquite).
The only drawback to the casino is there lack of a poker room. They had one years ago, even before the poker boom, which started in 2003. Their sister resort, Oasis, across the street had a decent sized poker room, but that casino was torn down in May of 2013, which means the poker-loving CasaBlanca guest will have to drive a few miles to the Eureka to get their Texas Hold'em fix.
From my most recent visit to the CasaBlanca, it appears they have done away with Keno. Yes, I know it's horrible odds and payback, but nothing beats anxiously watching the red numbers light up on the board and cross-checking your KENO tickets while chomping down your coffee and pancakes at breakfast.
Casa Blanca Restaurants
Speaking of which, the pancakes at the Casa Cafe, (formerly known affectionately as the Purple Fez) come highly recommended. We paid something ridiculous, like $3.99 for a large stack of delicious blueberry pancakes at the Purple Fez, which is the main, coffee-shop type restaurant at the Casa Blanca.
Previously known famously (by me and my friends at least) for a $9.99 steak and lobster special, the Purple Fez, uh, I mean the "Casa Cafe" has decent food at affordable prices. While the "steak and lob" special is no more, there are usually pretty good nightly specials.
Katherine's is the more upscale of the three restaurants on the premises. Here you'll find your crab cakes, and choice steaks, seafood, and other expensive entree's. Despite being sort of ritzy, the endless parade of guys popping in after a round of golf, still decked out in their shorts and requisite "Titleist" hats, ensures that the atmosphere isn't too formal.
Other dining options at the Casa Blanca include the Hebrew National hot dog cart by the sports book. These great hot dogs are just 75 cents each, which is the main criteria that makes them great. There's also a Starbucks near the hallway to the rooms, and Scoops ice cream parlor.
The Smorgasbord Buffet is only open on weekends. Both Friday and Saturday nights are seafood buffets that will only cost you $15 before tip. Compare that to the Bellagio Buffet, at $49.99.
Saturday and Sunday mornings feature a $7.99 all-you-can-eat breakfast buffet with even a free mimosa tossed in.
Casa Blanca Spa
I'm not a spa guy. I'll admit. I've only gotten three massages in my life, and all three were at the Casa Blanca. And all three added up to about the best three hours of my life.
The spa is located in a building in the pool area. They give you a robe to wear for the massage, and you're invited to enjoy the juices, teas, and quiet room area before your massage. Their menu of services includes facials, pedicures, scrubs, wraps and several other things I tried to read about but quit after becoming frightened. Like I said, I'm not a spa guy.
Afterwards, you can relax in the spa's steam room, and soak in the calming hot tub. Many guests are here as a result of the resort's heavily-promoted, and popular $99 Stay and Play promotion, in which you get one night's stay in the hotel, and either one round of golf, one 50 minute massage, or two 25 minute massages. This special is not good on the weekends.
As for that aforementioned golf: the Casa Blanca Golf Course is well-regarded, but is not the must-play course in Mesquite. That would be Wolf Creek. I've played the Casa Blanca Golf Course and enjoyed myself with my Dad and brother, despite being hung-over and seeing the enormous "$3.99 HAM STEAK" billboard along the interstate while playing the back nine. Trust me, when you are hung over, you do not want to see a picture of a 5 foot tall ham steak.
The Palms Course, is tougher, and more scenic, and is a few miles out of town towards St. George. It's also affiliated with the Casa Blanca/Virgin River family of Mesquite, NV casinos.
A weekend of golf, blueberry pancakes, swimming beneath a waterfall, blackjack, massages, and free comedy shows is a pretty fun way to spend a weekend. So if you want to get your gamble on, but in a more casual setting than the hustle and bustle of Las Vegas, give the Casa Blanca Hotel and Casino in Mesquite, NV a shot.