CasaBlanca Casino Mesquite
Address: 950 West Mesquite Blvd., Mesquite, NV 89027
Phone Number: +1 877-438-2929
Website: www.casablancaresort.com
Hours: CasaBlanca Casino is open 24 hours a day, 7 days a week.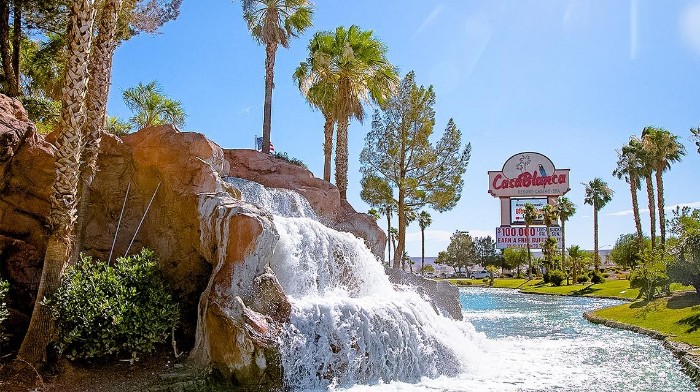 CasaBlanca Casino in Nevada is a premier gaming and entertainment destination located in the beautiful Virgin River Valley. This beloved casino has been entertaining visitors since 1995 when it first opened its doors.
Initially, the property was named Players Island by the original owners, Player's International. It was then sold to Randy Black Sr., who renamed the property CasaBlanca. Over the years, CasaBlanca has become one of Mesquite's largest and best-loved casinos.
This casino offers a wide variety of amenities, including an array of table games and slots, multiple dining options, live entertainment, golf and more. There is also the outdoor Event Center which hosts weddings, conventions and other special events.
The establishment also offers lodging options for those who are looking to stay the night. CasaBlanca Resort & Casino is home to a luxurious hotel, which consists of over 500 beautifully appointed guest rooms.
Additionally, they have an RV park that includes full hook-ups, restrooms and showers, a laundry facility and a pool. With endless entertainment and a variety of amenities and services, this casino is sure to be your go-to destination in Mesquite.
On popular travel websites like TripAdvisor, this casino has an overall rating of 4.5/5 stars with more than half of reviewers giving it a 5-star rating. One guest said, "CasaBlanca has everything you need. Great customer service, lots of machines to choose from and plenty of restaurants."
Another traveller described it, "The staff was friendly and the casino was well-maintained. The atmosphere was very inviting and I would definitely recommend this place to others."
(Related reading: Nevada casinos)
Gaming
This casino offers the latest in slots and table games. The slot machines come in all denominations, allowing you to choose the stakes that best fit your budget. They also have a variety of popular table games such as blackjack, roulette, craps and more.
Table Games
Looking for a fun night out at this casino in Nevada? They have you covered with all your favorite table games.
Whether you're a card game enthusiast and looking to get into the action with Blackjack, an adrenaline-seeker trying your luck to take home the winning at Craps, or a fan of the Roulette wheel hoping to hit it big – there's something for everyone.
If poker is more your style, try your hand with Three Card Poker or Pai Gow – both are classics and guaranteed to be loads of fun.
This casino has minimums that vary depending on the game and the time of day you are playing. Typically, minimums range from $5 to $10 and sometimes higher depending on the game.
Slots
This casino is packed with hundreds of different slot machines, but some player favorites always seem to be at the top.
Wheel of Fortune is a timeless classic that features incredible bonuses and progressive jackpots. Meanwhile, Keno offers players the chance to sample luck in a new way.
Serious gamers can also get their fix with Lightning Link for more intensive action, or try their hand at Buffalo for an exciting wild animal-themed spin.
Video Poker rounds out the selection for something a bit more strategic and with MegaBucks, those looking for life-changing money can take a shot at one of the biggest and most popular slots around.
The slot machine payback percentage at this casino is currently undisclosed. However, the Nevada Gaming Commission does require all casinos to adhere to state gaming laws that determine minimum payback percentages for slots.
Typically, slot machines in Nevada offer a minimum of 75% payback with some even offering up to 95%.
Hotel/Resort
When visiting Mesquite and surrounding areas, this casino resort provides the perfect accommodation.
Their guests can choose among 500 newly built and remodelled rooms, each outfitted with luxurious European-style bedding, hairdryers, iron and ironing boards, cable television and alarm clock radios.
Their hotel offers both smoking and non-smoking room types – Double Queen and Poolview Double Queen – so you can take your pick from whatever suits your needs best. With all these accommodations, you're sure to have an enjoyable time at this establishment.
This casino resort also offers a wide range of amenities and services to ensure that its guests have the best experience possible. Some of these include:
Various dining options
Live events
Festivals
Sports events
Golf courses and tournaments
Spa and salon services
Banquet and meeting facilities
Race and sports book
The cost of staying at this casino resort depends on which room type and amenities you choose. You can book a room for as low as $49 per night plus taxes. Depending on the season, there may be special offers or promotions available.
Check-in time at CasaBlanca is 4:00 pm
Check-out time at CasaBlanca is 11:00 am
Restaurants & Buffets
If you're looking for the perfect dining experience while visiting this casino in Nevada, why not step into one of its amazing restaurants?
Katherine's Steakhouse is classically elegant, providing fine dining in a tasteful atmosphere. For a more casual experience, the Casa Cafe is ideal – perfect for enjoying a friendly conversation.
Finally, don't forget to check out the Mesa Buffet; visitors cannot help but be impressed by its incredible weekend dinner specials and unbeatable prices.
On Fridays, you can enjoy a seafood dinner for just $19.99, and on Saturdays treat yourself to some juicy steak and crab legs at the same price.
Pools
Spend the day lounging at their Resort Pool, located conveniently within the hotel, this one-of-a-kind pool offers an unforgettable experience.
Take a dip in their heated open-air hot tub, accessible exclusively for hotel guests. Envision taking a break from the hot sun and relaxing under cabanas that offer TVs, refrigerators, tables and chairs and of course, safety.
Don't forget to stop by the poolside full bar for delicious mojitos, margaritas or any other specialty drink your heart desires. Make sure to plan your stay at this casino resort and enjoy its unbeatable poolside experiences.
CasaBlanca Casino, Mesquite, NV FAQ
Does CasaBlanca Casino Have A Sportsbook?
This casino resort is proud to offer an exciting Race and Sportsbook facility. Get ready to root for your favorite teams while taking advantage of a host of wagering options on sports events and races around the world.
Wagers can be placed up to the start of each event, and all terms are clearly listed on the betting boards so you can make informed decisions.
After placing your bet, savor the thrill as you watch your team race to victory―or come up short―and cash out at the 24-hour Cashiers Cage if you're lucky enough to win.
Is Poker Available At CasaBlanca?
If you're looking for exciting games of chance at this casino, then you'll be thrilled to know that they offer a variety of poker options. Choose from video poker, Three Card Poker and Pai Gow – each game brings its own flair to the classic game.
What Are The Age Requirements For Gambling At CasaBlanca Casino & Resort?
Gambling at this casino is restricted to guests over 21 years of age. All guests must show valid ID and credit card upon check-in, so make sure you bring them before visiting this casino.
Does CasaBlanca Have An Online Casino?
At this time, this casino does not offer online gambling. All guests must be physically present at the casino and will need to follow the age requirements for entry.
There are plenty of traditional games available on-site, so you can still enjoy a good game of chance without having to leave the premises.
Is There An CasaBlanca Casino & Resort App?
Unfortunately, at this time, there is no app for this casino. However, the website is optimized for mobile devices and can be easily used on smaller screens.
You can use the website to check out upcoming events, view the latest promotions, book a room or join their loyalty program. It's easy to navigate and has all the information you'll ever need. So, don't miss out and start browsing the website today.
What Is The Dress Code At CasaBlanca?
The dress code at this casino is casual and comfortable. You can wear shorts, trousers, collared shirts and other comfortable clothing items.
However, guests will not be allowed to wear swimwear or athletic clothing while gambling. So make sure you've dressed appropriately before visiting the casino floor.
Is There An Airport Shuttle Available From CasaBlanca Casino & Resort?
No, there is not an airport shuttle available from this casino. However, there are a number of transportation options available to get you from the airport to the hotel.
Whether you decide to take a taxi, rent a car or shuttle service, there will be plenty of options available to suit your needs and budget. It's best to check out all the different services before making your decision.
What Is The Smoking Policy At CasaBlanca Casino?
This casino has a designated smoking area for guests who wish to smoke in the casino. The establishment does not allow smoking on the gaming floor or in any food and beverage areas, so please be respectful of other guests.
What Is The Pet Policy At CasaBlanca?
Unfortunately, this casino does not allow pets on the premises. This includes both in the casino and on the hotel property.
If you are travelling with a pet, we recommend contacting pet-friendly accommodations nearby to make arrangements for your furry friend. We also advise against leaving pets unattended at any time during your stay.
If you need to bring a service animal to this casino, please get in touch with their customer service representative to make the necessary arrangements.
Is Wifi Available At CasaBlanca Casino & Resort?
Yes, wifi is available at this casino and it's free of charge. Guests can easily connect to the wireless network and take advantage of a fast, reliable internet connection.
For any additional queries or issues with the wifi connection, please get in touch with customer service at the establishment. They will be more than happy to help you out and get you connected in no time.
What Is The Cancellation Policy For CasaBlanca Casino & Resort?
Cancellations must be made at least 48 hours before the scheduled arrival date. If a cancellation is made after this time, a non-refundable fee of 1 night's stay will be applied.
It is also important to note that any reservations made through online travel agencies or other third-party websites may have different policies and fees associated with them. Please be sure to read and understand the terms of your reservation prior to booking.
Conclusion
CasaBlanca Casino & Resort is a great choice for anyone looking for a fun and exciting gaming experience. With plenty of traditional games on-site, plus easy access to nearby hotels and restaurants, you're sure to have a great time at this casino.
Be sure to check out their website or contact customer service if you have any questions about their policies or services. This way, you can ensure that your visit to this casino is as enjoyable and stress-free as possible.
With all these details in mind, why wait any longer? Make plans to visit this establishment and enjoy all the great things this gaming destination has to offer. Whether you're looking for a place to gamble or want some fun entertainment, this casino is sure to deliver.