Downtown Grand Las Vegas
Address: 206 N 3rd St, Las Vegas, NV 89101
Phone Number: +1 702-719-5100
Website: www.downtowngrand.com
Hours: Downtown Grand is open 24 hours a day, 7 days a week.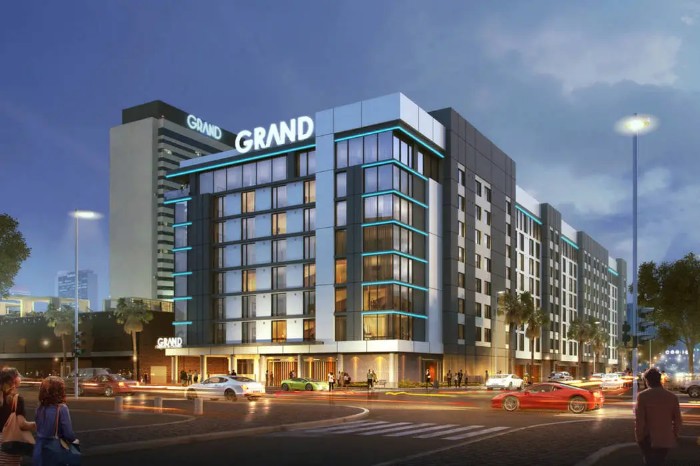 Downtown Grand Las Vegas first opened its doors in late 2013 on the former site of the Lady Luck Hotel & Casino.
The property is owned and operated by CIM Group who rebranded and remodelled the property to be a premier gaming, dining, and entertainment destination located in downtown Las Vegas.
The hotel features over 1,100 modernly designed rooms and suites, nine bars & restaurants including Citrus Grand Pool Deck – an outdoor pool area with a bar and grill that overlooks the city skyline, plus several award-winning
Their 24,000 square feet of gaming space offers over 600 slot machines, video poker and table games such as blackjack, roulette, craps and more.
The property also features several live events such as pool parties, comedy shows, live music and entertainment, plus various festivals throughout the year.
This casino is dedicated to creating a vibrant, urban gaming and entertainment experience in the heart of downtown Las Vegas. Whether you're looking for an exciting night out or just a place to relax, they have something for everyone.
On popular travel websites such as TripAdvisor, this casino has earned an average rating of 4 out of 5 stars from over 3,000 reviews. Guests say, "The staff was very friendly, and the room was clean and modern. We had a blast at the pool and in the casino! Highly recommended."
Another reviewer said, "The hotel is conveniently located downtown and close to everything we wanted to do. The staff were friendly, helpful, accommodating, and professional. Would definitely stay here again."
(Related reading: Nevada casinos)
Gaming
This casino offers a wide variety of gaming options to suit all players. They offer over 600 slot machines, video poker and table games such as blackjack, roulette, craps and more.
Table Games
When you're looking for a fun night in Las Vegas, make sure to check out this casino's options.
At this casino, you can enjoy unbeatable table games like Blackjack, Craps, Three Card Poker and Roulette. Plus, if you're a beginner to the game of craps or just want to brush up on your skills, make sure to join their free craps lessons every Friday, Saturday and Sunday from 10 am – 11 am.
With friendly dealers, easy-to-learn rules and hours of casino action, this casino is the perfect spot for Vegas gaming.
The minimums at this casino range from $5 to $25 depending on the game, time of day and table. Be sure to check with a pit manager for updated information on the minimums before playing.
Slots
If you love playing the slots, then you'll want to check out this casino's selection. Popular slot machines at this casino include:
Lightning Link
Buffalo – Gold Collection, Grand, Diamond
Tarzan
Super Star Poker
Ultimate X Poker
Wheel of Fortune
Dragon Link
88 Fortunes
Money Roll
Dancing Drums
Their slot machine payback percentage is currently unknown. However, every casino in Las Vegas is required to meet a minimum return percentage of 75%, so it's likely that this casino would be in line with that requirement.
Hotel/Resort
This casino features over 1,100 modernly designed rooms and suites that are equipped with the latest amenities.
Their rooms offer comfortable beds, a flat-screen TV and free Wi-Fi so that you can stay connected during your stay. Plus, there is also a concierge service available for any special requests or needs that you may have.
Guests must also note that all their rooms are non-smoking, so if you want to smoke within the premises, please seek out their designated smoking areas.
Guests can choose their accommodations from a variety of room types, such as the Gallery Deluxe and Studio Suite, Gallery One Bedroom Suites and Plush Penthouse Suite, Grand Suites and Grand Deluxe Rooms, Grand Studio Rooms and City Suite.
The ultimate stay comes with the prestigious Grand Suite – perfect for those seeking to truly indulge in luxury during their visit.
Additionally, they offer a variety of amenities to ensure that guests have an enjoyable stay. Guests can enjoy access to the following amenities:
High-speed internet access
Live entertainment
Rooftop pool with a swim-up bar
Onsite dining options
Various bars and lounges
Art gallery
24-hour front desk services
Free parking
Dry cleaning
ADA amenities
The prices for rooms at this hotel vary depending on the room type and time of year. You can book a room for as low as $50 per night in the low season. Prices can also go up to $250+ in peak season, so it's important to do your research on current prices before booking.
These prices exclude taxes, fees and any additional charges. You'll be able to find out the exact price when you go to book your room.
Check-in time at Downtown Grand is 3:00 pm
Check-out time at Downtown Grand is 11:00 am
Restaurants & Buffets
Although there are no buffet options at this casino, there are still a variety of on-site restaurants to choose from that will surely satisfy your hunger.
Triple George Grill is a classic steakhouse that serves up San Francisco-style steaks in true Sin City fashion. For a more unique experience, visit Freedom Beat-a restaurant and music venue that features American iTunes only, crafted from American bedrock.
Cool off at Citrus Rooftop Bar with an ice-cold cocktail from one of their many rooftop pools. Channel your inner art aficionado at Art Bar, which is full of vintage frames housing replicas of famous artwork.
The furnace combines industrial cool and accessible elegance for the perfect Vegas night out. Pizza Rock houses 11-time World Pizza Champion Tony Gemignani giving you the freshest full New York-style pie.
And don't forget Hogs & Heifers as the all-American dive bar that offers you the chance to go wild with Southern rock tunes and outlaw vibes.
No matter what type of culinary adventure you seek in Las Vegas, this casino hotel sure has something for you.
Pools
At this casino, you can retreat from the hustle and bustle of the busy streets to enjoy a day in the sun at the Citrus Grand Pool Deck.
Relax poolside with the help of shaded cabanas, luxurious outdoor daybeds and cozy fire pits. Keep your fun momentum going with your friends by challenging each other to some friendly lawn games – regardless of who wins, everyone is sure to have a great time.
With their delicious drinks, a peaceful atmosphere, and a picturesque view of Vegas' skyline – this pool deck offers an oasis right in the heart of downtown.
Downtown Grand Las Vegas, NV FAQ
Does Downtown Grand Las Vegas Have A Sportsbook?
This casino has you covered when it comes to experiencing Las Vegas-style sports betting in one convenient location. Come down to the William Hill Sports Book on the casino floor for all the hottest games, wagering, and more.
Enjoy VIP-style seating with 12 digital boards, as well as placing bets at the counter or kiosk and refreshing your drinks with their all-day cocktail service.
With point spread and money line bets, totals (over/under) parlays, futures bets, propositions and live "InPlay" wagering – there's something for everyone when you come through this casino.
They also offer a mobile app that allows you to make wagers from anywhere in Nevada. Download the app and join for exclusive rewards, promotions and more.
Is Poker Available In Downtown Grand?
If you're in Las Vegas and looking for a poker game, this casino is the perfect place to find one. The facility offers both Texas Hold Em and Three Card Poker tables where you have the chance to come out on top with your winning hand.
It's the premier spot for an exciting evening out; you can take advantage of food, drinks and friendly competition all at the same time.
What Are The Age Requirements For Gambling In Downtown Grand Las Vegas Nevada?
The age requirement for gambling at this casino is 21 years or older. This applies to both table games and slot machines.
Does Downtown Grand Have An Online Casino?
No, this casino does not have an online casino. However, you can take advantage of a number of other gaming options available on-site.
You can try your luck at one of their many slot machines or table games such as blackjack, roulette and more. They also offer a variety of sports betting opportunities through their William Hill Sports Book.
Is There An Downtown Grand Las Vegas App?
If you're looking for an app specifically for this casino, unfortunately, there is not one available. However, if you're a sports bettor looking to make bets while in Las Vegas, there is some exciting news – William Hill Sportsbook has released an amazing new app that's perfect for all your needs.
Loaded with great features and simple navigation, the William Hill Sportsbook app provides a great way to bet on games while at this casino. The app also gives you access to exclusive promotions, rewards and more.
What Is The Dress Code At Downtown Grand Las Vegas Nevada?
At this casino, there is no dress code. All attire is welcome as long as it is neat and appropriate for the environment.
The only attire that may not be allowed in certain areas of the building is swimwear or beach-style clothing. Guests are encouraged to use their best judgement when choosing an outfit for their visit.
Is There An Airport Shuttle Available From Downtown Grand?
No, there is no airport shuttle available from this casino. The closest airports are McCarran International Airport (LAS), Henderson Executive Airport (HSH) and North Las Vegas Airport (VGT).
These airports offer a variety of ground transportation options including taxis, ride-sharing services and shuttles. If you need to get to the casino from one of these airports, it is best to check with your transportation provider for pricing and availability.
What Is The Smoking Policy At Downtown Grand Las Vegas?
The casino hotel is committed to the comfort and safety of its guests and provides a smoke-free environment in all guestrooms and suites.
So, if you are a smoker and desire to have a smoking room during your stay, unfortunately, that option isn't available at the hotel. However, if you wish to partake in smoking while at the hotel, feel free to do so on the casino floor.
Please note that if any form of smoking is found in a non-smoking room there will be a fee of $350 for restoring it to its previous condition.
What Is The Pet Policy At Downtown Grand Las Vegas Nevada?
This casino has a pet-friendly hotel, so you don't have to leave your furry friend at home if you're planning a trip.
They offer special dog-friendly rooms designed to provide your pup with extra comfort and convenience during their stay. Service animals are always welcome, but they also allow non-service dogs in their Grand Deluxe room types for an additional daily fee of $50.
Is Wifi Available In Downtown Grand?
Yes, the hotel offers complimentary high-speed wireless internet access throughout the property. Guests can access the network with their personal devices or connect to the lobby workstations for internet access.
For further assistance, guests can contact the hotel staff for help with their connection.
What Is The Cancellation Policy For Downtown Grand Las Vegas?
The hotel offers a 48-hour cancellation policy. Any cancellations made within 48 hours of the reservation date will be given a full refund.
All reservations cancelled after this timeframe are subject to a one-night room and tax fee, plus any other applicable charges. All no-shows will be charged for the entire stay at the hotel.
If you booked through a third-party website, then you must contact them directly to modify or cancel your reservation.
Conclusion
Downtown Grand Las Vegas is a great place to visit, with plenty of things to do and see. The casino has an amazing selection of games and offers the convenience of mobile sports betting through its app.
There's also no dress code, so visitors can wear whatever they're comfortable in. And if you have a pet, they offer special dog-friendly rooms for an additional fee.
Plus, you can stay connected with complimentary high-speed wifi throughout the property and even take advantage of a 48-hour cancellation policy. All in all, this establishment is one of the best casinos in Las Vegas to experience a memorable gaming experience.