Harrah's Casino Las Vegas
Address: 3475 S Las Vegas Blvd, Las Vegas, NV 89109
Phone Number: +1 800-214-9110
Website: www.caesars.com/harrahs-las-vegas
Hours: Harrah's Casino Las Vegas is open 24 hours a day, 7 days a week.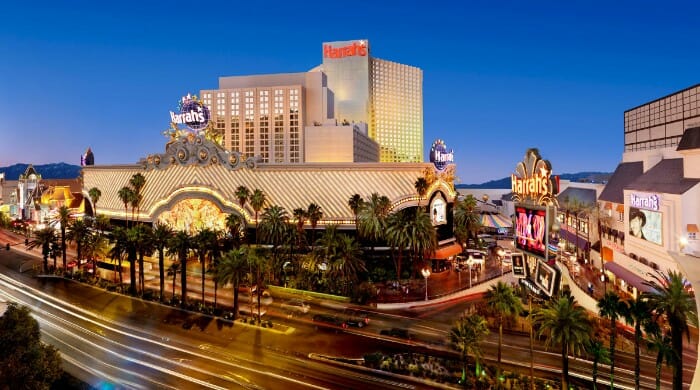 Harrah's Casino Las Vegas was established in 1972 and was known as Holiday Inn and Holiday Casino. In 1995, it was renamed Harrah's Las Vegas and became the flagship of Harrah's Entertainment company, which Caesars Entertainment later acquired.
The property is currently owned by Vici Properties and leased back to Caesars Entertainment. Their casino floor features everything from slot machines, table games and sports betting to various shows and events.
They also have a hotel connected to the casino with more than 2,500 rooms and suites and a variety of dining options. The hotel also offers amenities such as an indoor pool, spa and fitness center.
Whether you want to try your luck at the slots, enjoy a night of fine dining or take in a show, this casino has something for everyone. With 24-hour gaming and entertainment options, it is one of the most popular destinations in the city.
The average rating for this casino is 4 out of 5 stars. According to one review, "It's a great place to gamble, eat and have a good time. The staff is always friendly, and the hotel rooms are nice."
Another review said, "The casino has plenty of slots and tables for all levels of players. You can also find quality restaurants with excellent food. There's something for everyone at Harrah's Las Vegas."
(Related reading: Nevada casinos)
Gaming
Their 90,637-square-foot gaming floor offers more than 1,200 slot machines and video poker games and over 80 table games.
Table Games
This casino has all the classic table games you would expect from a luxurious casino. Whether it's blackjack, roulette, craps, or baccarat that grabs your attention, you'll find them all under one roof.
Blackjack is the most popular game in casinos and offers one of the best chances for players to win. Roulette is an exciting game of chance with a wheel full of red and black pockets. Craps allow for some creative strategies as you roll two dice to win against other players or the house.
Baccarat is a card game that pits the banker against the player – with both vying to score closest to nine points.
The table game minimums vary depending on the time of day and the specific game being played. The minimums usually range from $5 to $25, however, some games may have higher limits.
Slots
This casino has a wide selection of slots that includes classic reel games and the latest video slots. Some of the more popular slot machines include:
Double Diamond Deluxe
Geisha
Wheel Of Fortune Duo
Dragon Rising
Fate of the 8 Power Wheel
Wild Mustangs
SWEET SKULLS
Dragon Link: Happy and Prosperous
Sun and Moon
Wicked Wheel Panda
Smokin' Hot Stuff
The Lord of the Rings
Unfortunately, this casino does not disclose its slot machine payback percentage. According to the Nevada Gaming Commission, the minimum payout rate in Las Vegas casinos is 75%.
However, this number is just a guideline and can often be much higher at some of the bigger and more luxurious properties.
Hotel/Resort
This casino also houses a hotel that offers 2,500 rooms and suites. Each room is comfortable and modern, with amenities like flat-screen TVs, Wi-Fi access and 24-hour room service.
Some of their room types include:
Valley Deluxe Room – features one king or two queen beds
Mountain Deluxe Room – features one king or two queen beds
Mountain Executive Suite – features one king or two queen beds, a separate living room, a wet bar, an entertainment area, and a soak-in tub
Valley Presidential Suite – features one king bed, a separate living room, and a walk-in shower
Additionally, the hotel offers a variety of amenities, such as:
Free wifi access
Self-parking
EV charging stations
24-hour front desk
Concierge services
Fitness center
Full-service spa and salon
An outdoor pool with cabanas
Pet-friendly
Multiple dining options
Onsite bars and lounges
Shopping stores
Live entertainment and show
The cost of staying at this hotel depends on the room type, amenities and time of year. Generally, their rates start at around $33 per night, excluding taxes and fees.
Check-in time at Harrah's Casino Las Vegas is 4:00 pm
Check-out time at Harrah's Casino Las Vegas is 11:00 am
Restaurants & Buffets
Although they currently do not have a buffet, they do have several restaurants with an array of options.
Guests can enjoy Bobby Flay's savory burgers at Bobby's Burgers, tantalizing dishes concocted by Gordon Ramsay at Ramsay's Kitchen, and southern-style comfort food at Walk-On's.
If you're looking for something with more variety, check out Fulton Street Food Hall or Ruth's Chris Steak House Las Vegas for classical steakhouse dishes with a modern twist.
Last but certainly not least is Pizza Cake by Buddy V – serving Italian classics that will leave your taste buds satisfied.
Pools
Situated in the heart of the Las Vegas Strip, this casino provides guests access to a beautiful outdoor seasonal pool featuring luxurious cabanas and nearby fire pits to create a fun, resort-like atmosphere.
Enjoy your day lounging in one of the many comfortable chairs or relax in a secluded cabana, where you can order food and drinks from their poolside waitstaff.
The pool area offers an ideal setting for parties or any other special event, and with that famous Vegas sunshine shining down, it's hard to beat.
Whether you're looking for an afternoon spent sunbathing poolside or a night celebrating with friends, they are sure to exceed all expectations.
Harrah's Casino Las Vegas, NV FAQ
Does Harrah's Casino Las Vegas Have A Sportsbook?
This casino in Nevada is a great option for sports betting, as it offers its guests Caesars Sportsbook. The casino provides an action-packed betting experience, with a variety of pre-game and in-play markets available that cover all different kinds of sports.
Furthermore, gamblers can also enjoy mobile wagering through the Bet MGM App, allowing them to place their bets on the go. If you want to get in on the excitement of sports betting in Las Vegas, then this casino is definitely worth a visit.
Is Poker Available At Harrah's Casino?
From beginners to pros, their poker room casino floor offers something for everyone. Different cash games and tournaments are available, including high-stakes tables for those who want a more thrilling gaming experience.
What Are The Age Requirements For Gambling At Harrah's Casino Las Vegas?
The minimum age for gambling in Nevada is 21 years old. All players are required to present a valid ID and must be of legal age before entering the gaming area or placing any wagers. Additionally, all guests under the age of 21 must be accompanied by an adult when on the casino floor.
Does Harrah's Casino Las Vegas Have An Online Casino?
Unfortunately, the casino does not have an online offering. However, visitors can enjoy a variety of different gaming options when they visit the casino in person. From slot machines and table games to sports betting and poker tournaments, there's something for everyone here.
Is There An Harrah's Casino App?
Unfortunately, there is no mobile app for the casino. However, their official website is easy to access and navigate through mobile and desktop browsers.
On the website, you'll be able to find the latest offers and promotions, as well as information about upcoming events. In addition, visitors may also sign up for a rewards program that can provide them with additional discounts and benefits when they visit the casino.
And if you have booked a hotel room at this casino, you may use the Caesars Rewards Mobile App to check in and out of your stay.
What Is The Dress Code At Harrah's Casino Las Vegas?
The dress code at this casino is casual. However, certain venues may require more formal attire. It's always best to check with the specific venue before arriving as some areas of the casino have a more upscale atmosphere and, therefore, may require guests to be dressed in more formal attire.
Is An Airport Shuttle Available From Harrah's Casino?
Unfortunately, there is no airport shuttle available. However, there are many other transportation services available that can provide transportation to and from the Las Vegas McCarran International Airport.
These include taxis, ride-sharing services such as Uber or Lyft, shuttles operated by some hotels, and limousine services. It's best to check with the casino for more information regarding these services or research online prior to your trip.
What Is The Smoking Policy At Harrah's Casino Las Vegas?
According to Nevada state law, smoking is allowed in designated areas of the casino. These areas are typically well-ventilated and marked with "Smoking Permitted" signs.
What Is The Pet Policy At Harrah's Casino?
This casino offers pet-friendly accommodation, making sure that even your furry companions can join in the fun. You and your pup can stay together in one of their designated pet-friendly rooms.
For an added fee of $75 per night, plus a $100 refundable deposit, two small dogs up to 50 lbs are welcome. With state-of-the-art amenities alongside all the traditional comforts of home, you and your pup will have the perfect mix of relaxation and adventure.
Is Wifi Available At Harrah's Casino Las Vegas?
Yes, complimentary Wi-Fi is available throughout the casino and hotel. You'll also find charging stations throughout the casino and hotel for your convenience.
If you need help connecting to their wifi, you may contact the front desk for assistance. They can provide you with instructions on how to connect your device.
What Is The Cancellation Policy For Harrah's Casino?
The cancellation policy for the casino is based on each individual reservation type. You may review the specific details of your reservation prior to making a booking.
Generally speaking, reservations may be canceled up to 48 hours before the arrival date without being charged. If you need to make any changes or cancel your reservation after this time, standard cancellation fees may apply.
Conclusion
Harrah's Casino Las Vegas offers a wide range of amenities, activities and services to make your visit enjoyable. From the pet-friendly rooms to the complimentary Wi-Fi and airport shuttle services, this casino has everything you need for a memorable experience.
Be sure to familiarize yourself with the cancellation policy before you make a reservation, and always check with the casino for any additional restrictions or guidelines when visiting. With all that being said, you'll surely have an amazing time at this casino.