Horseshoe Las Vegas
Address: 3645 S Las Vegas Blvd, Las Vegas, NV 89109
Phone Number: +1 877-603-4390
Website: www.caesars.com/horseshoe-las-vegas
Hours: Horseshoe Las Vegas is open 24 hours a day, 7 days a week.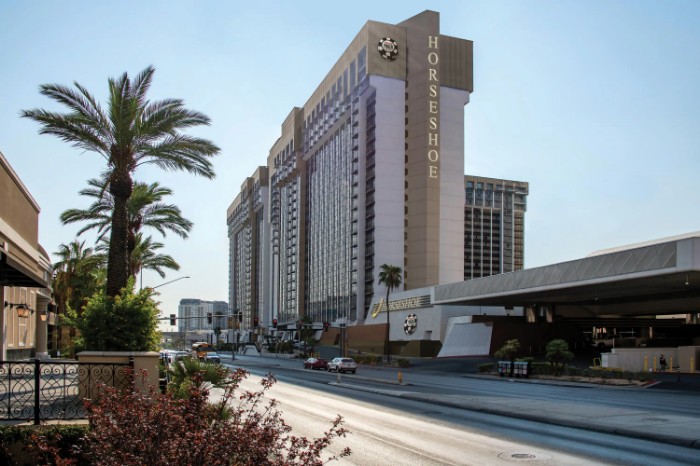 Horseshoe Las Vegas has been an iconic part of the Las Vegas Strip since its opening in 1973. It was initially opened as MGM Grand Hotel and Casino but was rebranded to its current name in 2022. Since then, it has emerged as one of the most popular and iconic casinos in Las Vegas.
This casino is known for its many games, including slots, poker tournaments, and table games. Additionally, it often hosts high-profile music acts and boxing matches, which have been enjoyed by people all over the world.
Aside from its gaming and entertainment options, this is also a popular choice for those looking for great dining experiences. From casual dining to five-star restaurants, this Las Vegas casino has something for everyone.
And if you want to stay in one of the best hotels on the Las Vegas Strip, you can book a room at this casino's hotel. It has over 2,812 rooms and suites with all the modern amenities, from flat-screen TVs to complimentary Wi-Fi.
Whether looking for an unforgettable night in the town or a great place to stay and play, this casino is the perfect destination. With its many exciting offerings, it's no wonder this casino is a favorite among locals and tourists alike.
On average, this casino is rated 4.5 stars by guests. One guest said, "I had the time of my life at Horseshoe Las Vegas. The staff was very friendly and accommodating, the rooms were comfortable and clean, and the casino itself was exciting. Highly recommend it."
Another guest wrote, "Amazing experience from start to finish. Awesome atmosphere, great food and drinks, and plenty of fun games to play. I recommend it to anyone looking for a great time in Vegas."
(Related reading: Nevada casinos)
Gaming
Their 68,375-square-foot gaming area has thousands of games, including traditional slots and video slot machines, table games, and poker tournaments. They also have multiple promotions that give you the chance to win big.
Table Games
Are you looking for a wide variety of table games to try your luck at during your next trip to Las Vegas? Look no further than this casino.
The casino floor offers classic favorites such as blackjack, roulette, craps, and baccarat, as well as more unique games like Pai Gow Poker and Let It Ride Poker. And for those who love a good game of Texas Hold'Em, this casino has you covered with multiple tables available.
Table game minimums depend on the type of game. However, most games have minimum bets of $5 to $25. Check with the dealer or pit boss to get the most up-to-date figures.
Slots
This casino has various slot machines, from traditional reels to the latest video slots. Some popular slot machines include:
Bull Rush
Aladdin And The Magic Quest
Diamond Queen
Buffalo Stampede
Enchanted Unicorn
Michael Jackson-King Of Pop
Wild Lepre'Coins
Wild Panda
Birds of Pay
Pac-Man Wild Edition
Ocean Magic Grand
Macaw Money
Triple Cash Wheel ft Quick Hit
Wild Ameri'coins
The minimum payout for slot machines at this casino is 75%. The payback percentage varies depending on the machine, with higher denominations typically providing a higher return.
Hotel/Resort
This casino offers world-class accommodations with more than 2,812 rooms and suites. Rooms have modern amenities, including HDTVs, complimentary Wi-Fi access, and luxurious bedding.
Room types include:
Resort Rooms – features one king or two queen beds
Resort Studio Suites – features one king or two queen beds, a sitting area and a workstation
Resort Executive Suites – features one king bed, a living area, a soaking tub and a workstation
Resort Premium Suites – features one king bed, a living room, a soaking tub and a bathroom vanity
Additionally, guests can enjoy various amenities, including:
Wifi access
Parking on-site
EV charging stations
24-hour front desk
Laundry facilities
Concierge services
A seasonal outdoor pool
Pet-friendly rooms
A fitness center
A sportsbook
Live entertainment and shows
Onsite restaurants and bars
Business center and meeting rooms
Retail stores
Onsite attractions
The cost of staying at this casino varies depending on the time of year and the type of room you choose. Rates start from around $30 per night, excluding taxes and fees.
Check-in time at Horseshoe Las Vegas is 4:00 pm
Check-out time at Horseshoe Las Vegas is 11:00 am
Restaurants & Buffets
This casino is home to some of the most delicious and indulgent restaurants in the area. If you're looking for a casual dining experience that delivers big on flavor, look no further than Guy Fieri's Flavortown Sports Kitchen.
With bold dishes inspired by some of America's most popular comfort foods, you're sure to leave satisfied. If you're in the mood for a more upscale dining experience, visit Jack Binion's Steak.
Featuring mouth-watering cuts of high-quality beef, Jack Binion's Steak is a carnivore's dream come true. And if you need a caffeine pick-me-up, head to Lavazza for an unforgettable cup of coffee.
But that's not all – visit M.Y. Asia for some incredible pan-Asian cuisine, and don't miss the chance to grab a classic deli sandwich from Nosh Deli. With so many options, you can find something to satisfy your taste buds at this casino.
Pools
Are you planning a vacation to Las Vegas, Nevada, in the near future? If so, add a stop at this casino to your itinerary. While it may only be open seasonally, the outdoor pool is worth visiting. With plenty of lounge chairs and umbrellas, you can soak up the sun comfortably.
Plus, the poolside service will keep you refreshed all day long. Don't forget to snap a few photos of the beautiful surroundings before returning to your room. Trust us; their pool is a must-visit destination during your stay in Sin City.
Horseshoe Las Vegas, NV FAQ
Does Horseshoe Las Vegas Have A Sportsbook?
Yes, it has the Caesars Sportsbook at this casino. It is open year-round and has comfortable seating, with plenty of TVs to watch the game.
Betting options include football, baseball, basketball, hockey, golf and more. Plus, with a BetMGM app, you can place bets on your mobile devices.
Is Poker Available At Horseshoe Las Vegas?
Yes, they offer multiple poker tables and tournaments. The poker tables at this casino feature Texas Hold'em and various other poker variations. High-stakes games are available, as well as daily tournaments with cash prizes.
What Are The Age Requirements For Gambling At Horseshoe Las Vegas?
Guests must be 21 years old to gamble at this casino. Identification will be required upon entering the casino floor. Minors are not allowed on the casino floor and must be accompanied by an adult in other areas of the property.
Does Horseshoe Las Vegas Have An Online Casino?
No, they do not have an online casino. However, you can visit their physical casino located in Las Vegas, Nevada, to enjoy a variety of slots, table games and more. Plus, they offer mobile sports betting through the BetMGM app.
Is There An Horseshoe Las Vegas App?
No, there is no dedicated app for this casino. But their official website can be accessed through your mobile device to get all the necessary information. Additionally, they have social media accounts on popular platforms like Facebook and Twitter.
What Is The Dress Code At Horseshoe Las Vegas?
The dress code at this casino is casual but neat. Shorts and sandals are permitted in all areas of the property except for the poker room, where collared shirts must be worn. While formal attire is not required, clothing with offensive language or images is prohibited.
Is There An Airport Shuttle Available From Horseshoe Las Vegas?
No, there is no airport shuttle service available from this casino. However, several taxi and ride-sharing services can take you to and from the nearby McCarran International Airport. These include Uber, Lyft, and Yellow Cab.
What Is The Smoking Policy At Horseshoe Las Vegas?
This casino does not allow smoking in any of its facilities. However, you may smoke on the outdoor patio and balcony areas if they are available. Additionally, there is a designated smoking area located off-property where guests can partake in tobacco products.
What Is The Pet Policy At Horseshoe Las Vegas?
You can bring up to two pooches if they weigh 50 pounds or less. The hotel charges an additional fee of $75 per night for each pet, and you'll also need to make a refundable $100 deposit for incidentals.
Is Wifi Available At Horseshoe Las Vegas?
Yes, this casino offers complimentary high-speed Wi-Fi access in all its facilities. You can also connect multiple devices to the internet if you have a valid account with them. Wi-Fi is accessible in the rooms, pool area, and other public spaces.
What Is The Cancellation Policy For Horseshoe Las Vegas?
The hotel's cancellation policy varies depending on the type of reservation you have. Room reservations can be canceled up to 48 hours before check-in for a full refund. For group and event bookings, cancellation policies vary and will be outlined in the contract.
Conclusion
This casino hotel offers a great experience for its guests. With plenty of betting options, poker tables and tournaments, plus various other amenities, Horseshoe Las Vegas has something to offer everyone.
Plus, guests can take advantage of complimentary Wi-Fi access, pet policies and more. Whether you're looking for a place to stay or just want to have a fun night out, this casino will satisfy you.