Longstreet Hotel Casino & RV Resort Amargosa Valley
Address: 8750 S. Highway #373, 4400 NV-373, Amargosa Valley, NV 89020
Phone Number: +1 775-372-1777
Website: www.longstreetcasino.com
Hours: Longstreet Hotel Casino & RV Resort is open 24 hours a day, 7 days a week.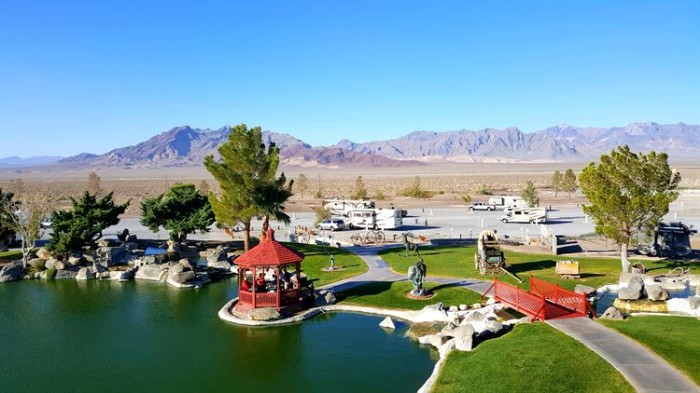 Longstreet Hotel Casino & RV Resort has served the Amargosa Valley for many years. Many visitors mistake its namesake for being the same as the nearby town of Death Valley Junction. Still, it is actually after Andrew Jackson Longstreet, an infamous gunfighter.
Over the last few decades, the property has become a popular destination for tourists and locals alike. As its name states, the resort offers both a casino and an RV park, complete with full hookup sites and access to all amenities. There are also plenty of restaurants and shops at the resort.
Its gaming space boasts several hundred slot machines and multiple electronic gaming tables. Patrons can also enjoy the nearby local attractions, such as the Death Valley Junction Opera House.
Their hotel offers a variety of rooms and suites, all with modern amenities. Guests can also take advantage of the resort's pool and complimentary WiFi access.
This casino resort is proud to provide a safe and fun experience for everyone who visits their property. With its great location and modern amenities, it's easy to see why this Amargosa Valley destination has become a popular retreat.
On popular travel sites, it currently holds an average of 4 stars out of 5. One reviewer said, "We had a nice stay at the Longstreet. The room was clean, and the staff was friendly. There were plenty of activities to do, from gambling to swimming in their pool."
Another reviewer said, "The casino floor is well laid out and has a great selection of slots and tables. We found it to be quite a good value for the money."
(Related reading: Nevada casinos)
Gaming
This casino resort offers a range of slot machines and multiple electronic gaming tables. Players can also participate in players club promotions and challenges for additional rewards.
Table Games
While you won't find any traditional table games here, they more than makeup for it with some of the best video poker and blackjack. Best of all, their low buy-in rates make these games accessible to players on all budgets.
Whether you're an experienced gambler or a rookie who's never spun the reels before, there's something for everyone at this casino.
Slots
This casino in Nevada offers a variety of popular slot machines for guests to enjoy. Among the choices are Legends Buffalo Deluxe, Fort Knox, MegaBucks and Gold Class Cash Express.
Legends Buffalo Deluxe is based on ancient American wild west buffalo legend and provides an exciting gaming experience with mesmerizing graphics and sound. Players can win up to 20 free games with massive multipliers.
Fort Knox also provides players great chances of winning as this machine's bonus feature is triggered when five bonus symbols appear in any position on the screen.
MegaBucks ensures that playing these slots will be one big adventure – land 3 or more bonus star symbols for up to 10 free games with huge potential for cash prizes. Last but not least, Gold Class Cash Express which enables players to win unique rewards in each game round.
By law, all slot machines on the premises of this casino must return a minimum of 75% of all wagers made. This makes it one of the best places in Nevada to play slots – giving players more chances to win back their bets and even walk away with extra cash.
Hotel/Resort
Their hotel and resort offer a variety of accommodations to guests, all with modern amenities. The rooms are fitted with flat-screen TVs, minifridges and complimentary WiFi access.
Their hotel resort in Nevada is the perfect destination for your next getaway. The beautiful hotel offers a variety of accommodation types to suit all needs, including Mountain View Double Queen, Lake View Double Queen and even a luxurious Lake View Master Suite.
Additionally, the hotel offers several amenities to make your stay even more enjoyable. Guests can take advantage of:
Complimentary wifi
Outdoor pool
Free self-parking
24-hour business center
Onsite restaurant and bar
RV resort
Wedding chapel
Nearby local attractions
The current pricing for a standard room at this hotel is $125 per night plus taxes and fees. This rate is based on a double occupancy room with no additional amenities included. For those looking for additional amenities, these can be added at an extra cost.
Check-in time at Longstreet Hotel Casino & RV Resort is 3:00 pm
Check-out time at Longstreet Hotel Casino & RV Resort is 11:00 am
Restaurants & Buffets
Although the hotel does not currently offer buffet-style dining, there is an on-site restaurant and bar serving various delicious dishes.
If you're looking for a delicious bite to eat while visiting this casino resort in Nevada, be sure to check out Jack's Cafe. This 24-hour eatery has all your classic diner favorites like burgers, fries, and milkshakes.
Plus, they've got something for every hour of the day – including breakfast favorites and snack cravings – so you can fill up whenever you're feeling hungry. There's also an Amargosa Valley Bar available 24 hours a day where you can enjoy happy hour specials or unwind after a long day.
Pools
Experience the peace and joy of soaking in their sparkling outdoor pool and hot tub while you stay with them. After an exciting day of exploring the resort, take a refreshing dip in either their heated pool or jacuzzi.
Swimming is the perfect way to unwind and relax, surrounded by stunning mountain views that make your time even more special. They've thought of everything from extra towels to fun activities for kids to help you have the perfect pool experience.
Longstreet Hotel Casino & RV Resort, Amargosa Valley, NV FAQ
Does Longstreet Hotel Casino & RV Resort Amargosa Valley Have A Sportsbook?
Unfortunately, no. They do not have a sportsbook, but several other nearby casinos offer real-money sports betting. Also, be sure to take advantage of their casino games. With so many options, they're sure you'll find something that suits your style.
Is Poker Available At Longstreet Hotel Casino & RV Resort?
This casino resort certainly offers a lot for visitors to enjoy. While there is no traditional table poker available, guests of the casino can enjoy different types of video poker.
With immersive graphics and realistic audio effects that provide an engaging gaming experience, playing video poker at this casino is a great way to have some fun during your visit. The selection of poker games on offer varies – so you're sure to find something that fits your taste.
What Are The Age Requirements For Gambling At Longstreet?
The minimum age for gambling at this casino is 21 years old. Guests must be able to provide a valid ID when requested. Additionally, anyone under the age of 18 is not permitted in the casino area unless accompanied by an adult.
Does Longstreet Hotel Casino & RV Resort Amargosa Valley have An Online Casino?
No, this casino resort does not currently offer an online casino. However, there are several casinos in the area that do offer online gaming options. If you'd like to try your luck at some online games, be sure to check out those other options.
Is There An Longstreet Hotel Casino & RV Resort App?
No, there is currently no app for this casino. However, you can keep up to date with all of their latest promotions and events by signing up for their email list or visiting them on social media.
Additionally, they offer several discounts and promotions to their guests, so be sure to inquire with the front desk when you check-in.
What Is The Dress Code At Longstreet?
They have a relaxed dress code. However, it is required that all visitors wear clothing that is neat and appropriate for a casino setting. Shoes must be worn at all times, and no offensive clothing, such as tank tops or t-shirts with profane language, is allowed.
Is There An Airport Shuttle Available From Longstreet Hotel Casino & RV Resort Amargosa Valley?
No, there is currently no airport shuttle available from the casino resort. However, they do offer a courtesy shuttle to take you to and from the nearby casinos in Amargosa Valley. The shuttle runs daily at regular intervals, so be sure to check their schedule for more details.
In addition, if you need assistance arranging transportation from McCarran International Airport, the concierge can help you with that.
What Is The Smoking Policy At Longstreet Hotel Casino & RV Resort?
This casino resort is a non-smoking property. Guests cannot smoke anywhere inside the casino or on the premises. Additionally, all smoking materials must be disposed of properly and in designated areas only.
What Is The Pet Policy At Longstreet Hotel Casino?
At this casino, they know that furry friends are a part of the family. That's why they have a pet policy that permits them to stay on request – for just an additional USD $50 charge. This fee is fully refundable upon check-out, provided there have been no incidentals.
Is Wifi Available At Longstreet?
Yes, wifi is available for guests at this establishment. Guests can access the internet in their rooms or anywhere onsite throughout their stay. Additionally, the casino resort also offers high-speed internet access to ensure a smooth and enjoyable connection.
What Is The Cancellation Policy For Longstreet Hotel Casino & RV Resort, Amargosa Valley?
The cancellation policy for this casino resort is a 24-hour grace period in which you can cancel the reservation without penalty. Guests will be charged one night's stay plus applicable taxes and fees if a reservation is canceled after the grace period has passed.
Additionally, if a guest does not show up for their scheduled arrival, they will be charged for the entire stay plus applicable taxes and fees.
Conclusion
Longstreet Hotel Casino & RV Resor offers guests a fun and relaxed atmosphere.
Enjoy a wide variety of gaming options, delicious food and drink, and other amenities for your convenience. Be sure to adhere to the dress code and smoking policy, bring a valid ID when asked, and make sure an adult accompanies anyone under 18 at all times.
For more information, visit the casino's website or contact them directly. If you are in the area, be sure to swing by and take advantage of all this casino resort offers.