New York-New York Casino Las Vegas
Address: 3790 S Las Vegas Blvd, Las Vegas, NV 89109
Phone Number: +1 866-815-4365
Website: www.newyorknewyork.mgmresorts.com/en.html
Hours: New York-New York Casino is open 24 hours a day, 7 days a week.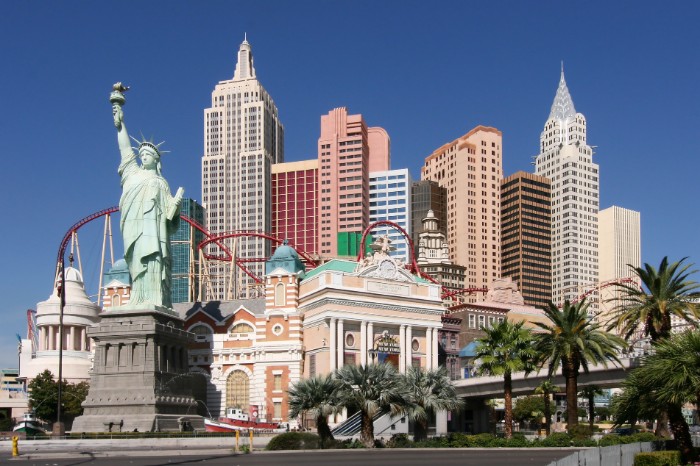 New York-New York Casino Las Vegas was opened to the public in January 1997. It was designed to capture the excitement of New York City and offer guests an escape from their everyday lives.
The casino features replicas of many famous NYC landmarks, such as the Statue of Liberty and the Brooklyn Bridge. It also has a roller coaster, an arcade and plenty of restaurants.
Each casino area is decorated to evoke the feeling of a different New York City neighbourhood – from Chinatown to Little Italy. Currently owned by Vici Properties, it is one of the most popular casinos in Las Vegas.
The casino also features a variety of games, including slots, video poker and table games like blackjack and craps. There are multiple bars and lounges throughout the casino where visitors can enjoy drinks and snacks while gambling or simply taking in the atmosphere.
Their hotel offers guests a choice of more than 2,000 rooms and suites as well as several pools, shopping outlets and live entertainment. The casino also has a fitness center for those looking to stay in shape during their stay.
This casino has a rating of 4.2 out of 5 on TripAdvisor, with most reviewers saying, "It's a great place to go for the atmosphere and all of the shows, restaurants, and attractions."
One guest also said, "The casino was great, and it is one of the best ones I've been to. The staff were friendly, helpful, and professional. There are various games to choose from, so there is something for everyone."
(Related reading: Nevada casinos)
Gaming
Their 51,000 sq ft of gaming space features over 9000 slot machines and 50 table games. The casino also has a Race & Sports Book and High Limit gaming area, which offers high-limit games.
Table Games
Are you ready for a great gaming experience? If so, then a visit to this casino in Nevada is just what you need.
You can enjoy an array of popular table games at this exciting location – from classic games like Black Jack and Roulette to more modern variations like Free-Bet Black Jack and Ultimate Texas Hold'em.
Craps and Mississippi Stud are also available for those looking for a little extra luck, while 3-Card Poker, High Card Flush, and Face-Up Pai-Gow Poker will satisfy even the most skilled players. So if you're looking to have fun while engaging in some friendly competition, this is the place for you.
The minimum bet for most games at the casino is $10, allowing players to enjoy the excitement of a real game without having to invest too much money. There are also tables with higher minimums for those looking for a bigger challenge.
Slots
This casino offers its players a great selection of slot machines to choose from. With its vibrant atmosphere, striking graphics and fantastic sound quality, you can be sure to find the perfect game for you.
Popular games include Wheel Of Fortune, which takes advantage of the exciting chance of spinning a bonus wheel for big rewards; Megabucks, where you can win with progressive jackpots.
The Jackpot Party is where you'll see the dancing party lights glow with each spin, or try your luck at Blazing 7's if you're looking for classic slot excitement. Don't forget classics like Top Dollar and fan-favourite themes like Sex & The City and Monopoly.
Lastly, take a dip in the pond and enjoy some underwater discoveries on the entertaining GoldFish or enter the world of wizardy on the delightfully enchanting Wizard of Oz.
By Nevada State Gaming Control Board regulations, all Nevada casinos must keep a minimum theoretical payout percentage (RTP) of 75% on slot machines.
This means that if you take $100 into the casino and play it through one machine, you can expect to get back at least $75 in winnings eventually. Players can rest assured that all slot machines in this casino are set to this minimum RTP.
Hotel/Resort
The hotel and resort provide a variety of accommodations with 2,024 rooms. Guests can choose from standard rooms, deluxe suites, and villas with private pools.
Amenities such as private balconies, luxury bedding, mini-refrigerators, complimentary Wi-Fi and more are all part of the luxurious stay experience at this casino.
There's something for everyone, from Park Avenue King or Two Queen rooms to the luxurious Penthouse Suite.
For those looking for an extra touch of pampering, Stay Well Park Avenue King or Two Queen rooms come equipped with aromatherapy diffusers and have access to a complimentary wellness kit.
If you're seeking a calming escape from the bright lights of Vegas, guests can also book a tranquil Spa Suite and indulge in the spa amenities.
And last but not least, if decadence is what you seek, then look no further than their Marquis and One Bedroom Luxury Suites – both extravagantly furnished and perfect for an unforgettable holiday experience.
This casino resort offers guests a plethora of amenities to enjoy. Some of their facilities include:
24-hour room service
Complimentary Wi-Fi
Valet and self parking
Multiple dining options
Bars and lounges
Concierge services
Dry-cleaning service
Daily housekeeping
Meeting facilities
Swimming pools
Fitness center
The Big Apple Coaster and Arcade
Retail stores
Spa and salon services
The cost of a stay at this casino resort depends on the room type, length of stay and seasonal rates. Rates start from $49 per night plus taxes and fees.
The resort also offers packages and promotions that can reduce the cost of your stay. Guests should check the website for discounts or speak to a representative at the hotel for more information on special deals.
Check-in time at New York-New York is 3:00 pm
Check-out time at New York-New York is 11:00 am
Restaurants & Buffets
Although the property does not currently offer buffet-style dining, its selection of restaurants offers delectable dishes from around the world. If you're feeling extra festive, grab a pint at Nine Fine Irishmen, a lively, authentic Irish pub.
Nusr-Et is for those who crave delicious steaks, while the Mexican restaurant Gonzalez y Gonzalez provides a little taste of Latin America.
Top Round serves up succulent burgers and beer in vintage style, and Gallagher's Steakhouse creates amazing Midtown Manhattan-inspired steaks you won't want to miss.
Shake Shack has juicy, gourmet, plump beef burgers made to order, and Tom's Urban offers uncomplicated American favorites. Vegans may want to check out 48th And Crepe with its delectable crepes filled with various veggies.
Il Fornaio makes unforgettable Italian dishes like polenta al funghi and chicken marsala, while Breakfast at this casino has morning meals that feel like a home away from home.
Enjoy juicy chicken wings at the Broadway Burger Bar and Grill or sushi at Chin Chin Cafe & Sushi Bar with sake flights. Plus, stars can get their fix at Starbucks or one of the many Village Street Eateries located on-site.
Pools
Fulfil your summer desires with a poolside escape. Spend a day at the pool oasis boasting chic cabanas, refreshing pools, and hot tubs. Couples can enjoy relaxation in the Jacuzzi together or snack on delicious bites before cooling off with a swim.
Whether you're out to make a splash or take a leisurely dip, you don't have to look any farther than their pools this summer.
New York-New York Casino, Las Vegas, NV FAQ
Does New York-New York Casino Las Vegas Have A Sportsbook?
Yes, they do have a sportsbook. BetMGM Sportsbook is nestled in the heart of the gaming floor and provides guests with an immersive sports betting experience. They offer a wide array of bets worldwide on professional and college sporting events.
Plus, if you're someone who prefers betting from the comfort of your own home, then you can bet on your favorite teams through the BetMGM app. The app allows you to make wagers from anywhere in Nevada with just a few taps.
Is Poker Available At New York-New York Casino?
Yes, the casino offers poker games with daily tournaments in a luxurious and comfortable environment. Their poker tables feature a variety of games, along with full-service wait staff and beverage service.
Plus, the casino also offers high-hand jackpot promotions so players can win extra cash while playing their favorite game.
What Are The Age Requirements For Gambling At New York-New York Casino Las Vegas?
Guests must be 21 years old or older to gamble in the casino. Guests under the age of 21 will not be permitted on the casino floor. Additionally, guests under the age of 18 are not allowed in any gaming areas. All guests must present valid identification upon entry to the casino.
Does New York-New York Have An Online Casino?
An online casino experience is never more than a few clicks away when you have myVEGAS Slots, the official mobile and online game of this iconic casino.
Delivering unlimited spins and daily rewards for authentic gaming experiences, this popular offering is conveniently available on both IOS and Android devices, as well as from your desktop.
To access their online casino, go to their official website and click on the "Casino" tab. From there, you will be able to find the myVEGAS link.
Is There An New York-New York Casino Las Vegas App?
For those visiting Las Vegas, the MGM Resorts App is a great resource to make the most of your trip. You can plan each day easily by offering information on all their properties, including this casino resort.
The app provides guests with casino rewards information and exclusive offers, as well as detailed maps to help you get from place to place quickly. It even has an online check-in feature, so you don't have to wait in line once you get to the resort.
What Is The Dress Code At New York-New York Casino?
The dress code at this casino is smart casual. Guests should avoid wearing athletic wear, beachwear, and offensive clothing while in the casino or restaurants.
Shoes must be worn at all times in the gaming area. Hats are not allowed in the casino unless medically necessary.
Is There An Airport Shuttle Available From New York-New York Casino Las Vegas?
Unfortunately, this casino does not offer an airport shuttle service. However, visitors can take a taxi, rideshare service, or airport shuttle to get to and from the casino.
Additionally, the resort is located on The Strip, making it easy to access different attractions and activities in the area. Visitors can also take a stroll or rent a bike if they wish to explore the city at their own pace.
What Is The Smoking Policy At New York-New York Casino?
This casino is a non-smoking facility. However, there are designated smoking areas outside of the gaming floor and within certain restaurants and bars onsite. All guests must present valid identification upon entry to the casino as well.
What Is The Pet Policy At New York-New York?
This casino resort is pet friendly, allowing you to take your fur baby on vacation with you. This is the perfect way to make sure your furry companion can join in on the fun and get a taste of all that Sin City has to offer.
Contact the hotel directly during their operating hours for more information about restrictions and additional fees. You and your pet are sure to have an unforgettable experience at this casino.
Is Wifi Available In New York-New York?
The hotel offers complimentary WiFi access, and it's available in all guest rooms. You'll be able to stay connected with friends and family by streaming movies, browsing the web, or checking your emails via a secure wireless connection.
Plus, you can use the same device to order room service or a late-night snack from outside restaurants – ensuring you don't miss out on any fun Las Vegas has!
What Is The Cancellation Policy For New York-New York Casino?
The cancellation policy for this casino varies depending on the type of reservation made. For most reservations, you can cancel your booking up to 48 hours before your arrival date without penalty.
If you cancel within 48 hours of your arrival, you will be charged one night's stay and any applicable taxes. For more information or special requests regarding cancellations, please get in touch with the hotel directly.
Conclusion
New York-New York Casino Las Vegas is a great place to visit and enjoy a fun time. Whether you're looking for gaming, entertainment, or just some relaxation, this casino resort has something for everyone.
Be sure to check out the dress code and cancellation policy before booking your reservation, and don't forget to check out all the activities in The Strip while you're at it! Have a great time at this amazing casino resort.