Park MGM Las Vegas
Address: 3770 S Las Vegas Blvd, Las Vegas, NV 89109
Phone Number: +1 888-529-4828
Website: www.parkmgm.mgmresorts.com/en/hotel.html
Hours: Park MGM Las Vegas is open 24 hours a day, 7 days a week.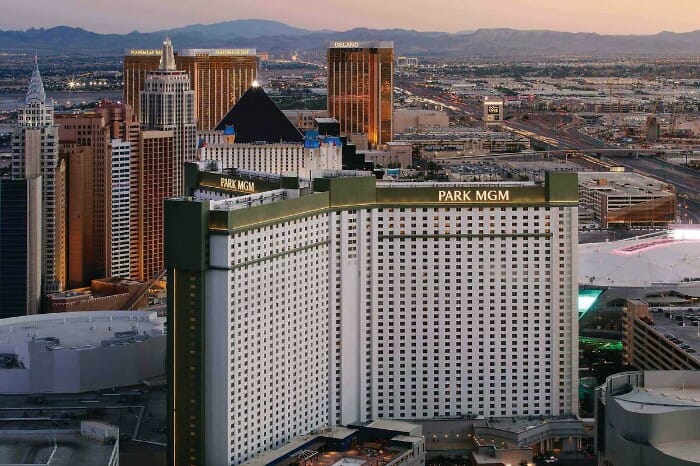 Park MGM Las Vegas is part of the operation of the renowned MGM Resorts International. The resort was formerly known as Monte Carlo Resort and Casino until its rebranding in 2018, and Vici Properties now owns it.
The million-dollar renovation began in 2016, which included the transformation of a thousand guest rooms, a new casino floor and lobby area, several restaurants and the addition of the NoMad Las Vegas.
The hotel features more than 2,700 luxury suites, all featuring sleek, modern appointments with views of the Las Vegas Strip or nearby mountain ranges. Guests can enjoy world-class dining experiences throughout the resort.
Their gaming space offers more than 1,400 slot machines and table games. They also offer an impressive pool deck, luxe spa services, live entertainment options and plenty of shopping opportunities in its Grand Canal Shoppes.
With its convenient location steps from The Park and T-Mobile Arena, there is always something to do at this casino.
According to reviews on popular travel sites, this casino has been rated an average of 4.3 stars out of 5 by guests. One guest said, "The experience at Park MGM was great. The staff were all very friendly and accommodating, and the hotel rooms were comfortable."'
Another guest said, "Overall I had a wonderful stay here! The rooms are very clean, the staff are friendly and helpful, and the casino is top-notch. I highly recommend Park MGM Las Vegas!"
(Related reading: Nevada casinos)
Gaming
This casino resort offers an array of table games, slot machines and even a sportsbook. Tournaments are held throughout the year that includes blackjack, slots and poker.
Table Games
If you're looking for some table game action at this casino, you've got plenty of options to choose from.
You can try your luck at classics like blackjack and craps or mix things up with a game of 3-card poker or Ultimate Texas Hold 'em. Roulette is always a popular choice, or you can go for something a little different with Face Up Pai Gow Poker.
The minimums for table games at this casino vary depending on the game and the time of day. Generally, you can expect a $5 minimum bet at most tables during peak times.
Slots
This casino offers a variety of slot machines to suit all tastes. Some of the most popular titles include:
Buffalo Ascension
Ultimate Fire Link Explosion
MONOPOLY – Hot Shot Water Works
Dragon Link – Happy & Prosperous
Coin Trio – Piggy Burst
Coin Trio – Fortune Trails
Unfortunately, they currently do not provide the exact payback percentage of their slot machines. It is generally accepted that Las Vegas casinos offer a lower return than other states and countries, so it may be wise to check online reviews before playing.
Additionally, the Nevada Gaming Commission requires all casinos in the state to have a minimum return of 75%. This means that, on average, you should expect at least a 75% chance of winning.
Hotel/Resort
From the luxe rooms to the world-class dining and entertainment options, this casino resort has something for everyone.
The hotel features 2,700 suites in two towers; the Park MGM Tower and the NoMad Las Vegas. Each room or suite offers sleek, modern appointments and has various amenities to make your stay comfortable.
Some of the features include flat-screen TVs, Wi-Fi, iPod docks, a mini bar, an in-room safe and much more. There's even an outdoor pool area for relaxing by the sun-drenched pool.
With various room types to choose from, we guarantee you will find the perfect suite or room that fits your style. Park MGM offers luxurious rooms like the Park MGM King Strip View, Nighthawk Suite, Peacock Hospitality Suite and Skylark Suite.
In contrast, NoMad Las Vegas provides smaller rooms, such as the NoMad Classic King and the NoMad Atelier. For those who prefer to stay healthy while traveling, there are even special StayWell Rooms available at Park MGM that are designed with your well-being in mind.
At this casino hotel, you will find a variety of amenities to make your stay more enjoyable. Some of the amenities include:
Fitness center
Private cabanas and lounge areas
A full-service spa and salon
Onsite dining
Retail stores
Nightlife venues
Concierge services
The cost of a stay at this hotel will depend on the type of room you select and the season. Generally, expect to pay anywhere from $59 per night for standard rooms to around $500+ per night for suites.
To have a more accurate estimate, you can always call the hotel directly or check the website for special offers and discounts.
Check-in time at Park MGM is 3:00 pm
Check-out time at Park MGM is 11:00 am
Restaurants & Buffets
Currently, they do not offer buffet-style dining at this casino resort. However, there are a variety of restaurants available that offer everything from fast food to upscale fare.
There's Bavette's Steakhouse & Bar if you're in the mood for steak and seafood dishes paired with a carefully crafted cocktail menu. NoMad Library is a cozy spot for light bites and cocktails all day long.
Enjoy classic Italian dishes at Toscana Ristorante & Bar, or head to Eataly to learn about Italian food culture and taste regional favorites and traditional Neapolitan pizzas.
You can also enjoy Asian-Inspired eats at Best Friend or indulge in some southern cooking at Side Betty Grill, where they serve craft beers and southern comfort food favorites like fried chicken sandwiches.
La Pizza e La Pasta has wood-fired ovens that deliver delicious thin-crust pizzas right out of the oven, and across the way, La La Noodle serves up delightful noodle bowls and other flavorful dishes.
Experience casual elegance at Primrose, the brasserie-style restaurant where you can enjoy quality wines by the glass or indulge in dinner for two featuring steak tartare.
And finally, The Crack Shack serves up chef-driven crispy fried chicken sandwiches along with an extensive selection of sides such as their famous truffle fries. If coffee is more your speed there's always Starbucks just around the corner.
Pools
At this casino, you can lounge poolside and enjoy their luxurious service. Relax in one of the three outdoor pools – a refreshing escape from the bustling Las Vegas Strip. For an extra special experience, try one of their incredible cabanas.
Get comfortable on plush outdoor furniture with prime seating overlooking the lush garden view. All cabanas come fully supplied with chilled towels, bottled water and personalized service from your own dedicated cabana host.
With spacious options for up to 10 guests, their pools & cabanas are perfect for any vacation retreat.
Park MGM Las Vegas, NV FAQ
Does Park MGM Las Vegas Have A Sportsbook?
If you're heading to this casino and looking for a place to wager on your favorite sports games, then check out the BetMGM Sportsbook & Bar.
This newly opened spot provides all of the gaming excitement Las Vegas is known for, plus a top-notch experience — with four personalized video walls, 30 HD TVs and 20 comfortable betting kiosks.
Be sure to download the BetMGM app before you get there to use their convenient mobile sports wagering options. It's the perfect one-stop shop for sports fans planning a trip to this casino.
Is Poker Available At Park MGM?
Even though they do not have a designated poker room, they offer various poker tournaments and cash games in their casino.
Various poker types are available, including Texas Hold 'Em, 3-Card Poker and more. Be sure to check the website for a complete list of tournament schedules and buy-in details before your visit.
What Are The Age Requirements For Gambling At Park MGM Las Vegas?
In order to gamble in the casino, visitors must be at least 21 years of age. If you are under 21, you will not be allowed entry into the gaming areas and may not use any gambling facilities.
Does Park MGM Have An Online Casino?
This casino is a great spot to enjoy some gaming and entertainment. One of the great features of this casino is its online presence offering access to myVEGAS Slots. myVEGAS Slots is an online casino app with real-world rewards for players through their loyalty program.
Players can take their pick from an extensive selection of slots, table games and more. Plus, whenever users play in the myVEGAS mobile app, they earn points that can be redeemed. The app is available for download on iOS and Android devices.
Is There An Park MGM Las Vegas App?
The MGM Resorts Mobile App is an excellent resource for anyone looking to maximize their stay at this casino. With the app, hotel guests have access to anything they need right on their devices.
Features include mobile check-in or out, reviewing or changing reservations, and getting directions to the resort and nearby attractions. The app also allows you to view real-time showtimes in Las Vegas and purchase tickets through your device.
Additionally, you can find shopping deals available across the city as well as delicious dining options with easy reservations.
What Is The Dress Code At Park MGM?
The dress code here is mostly informal. However, if you are planning to visit one of their upscale restaurants or bars, it is recommended that you dress in nice casual attire.
Is There An Airport Shuttle Available From Park MGM Las Vegas?
Unfortunately, this casino does not offer an airport shuttle service. However, numerous other transportation options are available to get you to and from McCarran International Airport.
Whether you opt for a taxi, bus or rental car, you can find the perfect option that fits your budget. If you plan on driving yourself, ample parking is available at the casino.
What Is The Smoking Policy At Park MGM?
Smoking is not permitted inside the casino. In accordance with Nevada's Clean Indoor Air Act, all public areas of the resort are completely smoke-free.
What Is The Pet Policy At Park MGM Las Vegas?
The hotel is pet friendly, allowing up to two dogs in each guest room or suite. Dogs must weigh less than 100 pounds combined, and there's a nightly charge of either $100 or $150 per dog, plus applicable tax.
For more information about their pet policy, give the hotel a call or visit their website. Be sure to ask about their pet-friendly amenities, such as dog beds and treats.
Is Wifi Available At Park MGM?
Yes, complimentary Wi-Fi is available throughout the resort. Guests can stay connected and stream their favorite shows or music while exploring the many attractions at the hotel.
What Is The Cancellation Policy For Park MGM Las Vegas?
The cancellation policy varies depending on the type of booking. For most reservations, cancellations must be made at least 48 hours prior to check-in time to avoid a one-night fee.
If you have booked through a third-party website or travel agency, please refer to their specific terms and conditions for more information about the cancellation policy.
Conclusion
Whether you are looking for a luxurious stay, exciting entertainment, or delicious food, Park MGM Las Vegas has it all.
With its mobile app, convenient transportation options and pet-friendly policy, this casino ensures that your stay will be comfortable and stress-free. Not to mention the complimentary Wi-Fi throughout the resort – perfect for streaming your favorite shows.
So if you are planning a trip to Las Vegas, be sure to check out this place for the ultimate casino experience. From the excellent service to the many attractions, you won't regret it.