Rail City Casino Sparks
Address: 2121 Victorian Ave, Sparks, NV 89431
Phone Number: +1 775-359-9440
Website: www.railcity.com
Hours: Rail City Casino is open Monday 9 am–2 am, Tuesday 9 am–2 am, Wednesday 9 am–2 am, Thursday 9 am–12 am, Friday Open 24 hours, Saturday Open 24 hours, Sunday Open 24 hours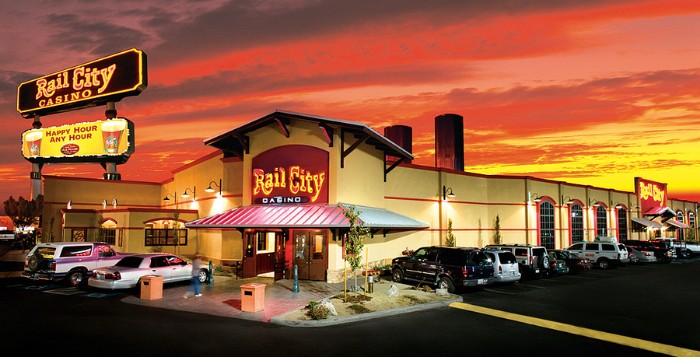 Rail City Casino first opened its doors in 1978 as the Plantation Casino by a couple of local entrepreneurs. After receiving a gaming license suspension in 1989, the casino was sold to United Gaming Inc.
In 1997, the property was reopened with its new branding and name. Eventually, the property was acquired by its current owner, Affinity Gaming, in 2007. Today, this casino remains to be a popular destination for visitors looking for an exciting gaming experience.
Their gaming space features slot machines, table games and a full-service sports book. Visitors can also find several restaurants within the casino, including a buffet and an ale house. Guests can also enjoy their live entertainment.
This casino is just located in the city of Sparks in Nevada. With its convenient location just 15 minutes east of Reno and only one mile from I-80, it's easy to get to this popular gaming destination.
Overall, guests rate this casino highly. On various travel websites, guests have given the casino an average of 4 stars out of 5. One customer said, "The casino was great; the staff was friendly and helpful. The machines were fairly up-to-date, and the restaurant service was good."
Another customer commented, "I had a great time at Rail City. The machines were paying out well, and the staff was so helpful. I would definitely come back!"
(Related reading: Nevada casinos)
Gaming
This casino features an impressive selection of gaming options. Slot machines include classic reels, video slots and progressive jackpots. Customers can also find several blackjack tables.
Table Games
This casino is home to some fun and exciting table games. Here, you can enjoy classics like blackjack, plus some other variations of this popular game.
You can try your luck with single-deck, double-deck, or shoe blackjack – or head to one of the electronic tables for a more convenient experience.
Be sure to take advantage of all the perks of playing blackjack at this casino by taking advantage of their comps and promotional offers.
Table game minimums vary at this casino. Generally speaking, table games have a minimum of $5, although some games may require up to $25.
Slots
This casino in Nevada has something for everyone. One of the most popular attractions is their wide selection of slot machines, featuring both classic favorites and exciting modern games. Popular titles include:
Buffalo
Anchor's Wheel of Gold
Betty Boop
American Pride
Bomb Shell
Top Dog
Addams Family
Wheel of Fortune Progressive Dollar Slots
Jeopardy
Unfortunately, this casino does not disclose its slot machine payback percentage. However, the minimum payback percentage in Nevada is 75% for slot machines.
This is higher than the minimum payback percentages in many other US states, so you can be sure that their slot machines are paying out more than 75%.
Hotel/Resort
Sadly, this casino doesn't have a hotel or resort attached, so visitors will need to book separate accommodations if they plan on staying overnight. However, there are plenty of hotels and resorts nearby that provide convenient accommodations for guests of this casino.
Nugget Casino Resort offers luxurious rooms with plenty of activities for everyone. The Peppermill Resort Spa Casino is another excellent option, offering opulent amenities in an inviting setting.
If you're looking for good value and convenience, Ramada by Wyndham Reno Hotel & Casino has it all with its great location and affordable rooms. Grand Sierra Resort and Casino provides unique accommodations with hospitality that can't be beaten.
Restaurants & Buffets
Looking for great dining options near this casino in Nevada? Look no further. The Ale House is a cozy restaurant located conveniently at the casino, offering mouthwatering dishes to tantalize your taste buds.
For breakfast, lunch or dinner, you are sure to find something for everyone on their varied menu. If you're looking for an all-you-can-eat buffet experience within the casino, then The Buffet is the place to go.
Be prepared to be amazed – this expansive spread offers a large selection of mouthwatering dishes at a very reasonable price of just $23.99 per person.
Pools
Unfortunately, this casino does not have a swimming pool. However, guests can still take advantage of the nearby hotel and resort pools, such as those at Nugget Casino Resort, Peppermill Resort Spa Casino, or Grand Sierra Resort and Casino.
Rail City Casino, Sparks, NV FAQ
Does Rail City Casino Have A Sportsbook?
This casino is proud to offer sports betting through its famous William Hill Sportsbook. Whether you are an experienced sports bettor looking for the thrill of a Vegas-style experience or a newcomer eager to learn, their immersive atmosphere is sure to please.
The effortless ability to wager from anywhere in the casino is another great benefit; you don't have to miss out on any of the action while exploring Nevada's most captivating gaming resort.
Is Poker Available At Rail City?
This casino in Nevada offers an exciting card game selection, but in the case of poker variations, they only offer video poker machines. These digital versions of classic poker variants bring a fun and accessible twist to the traditional casino game.
Players can get into games quickly and play against the machine or system instead of competing against other players. The casino's wide range of available games makes it easy to find something that suits any player.
What Are The Age Requirements For Gambling At Rail City Casino?
You must be 21 years or older to gamble at this casino. This age requirement applies to all forms of gambling, including slots, table games, sports betting, and poker. Proper identification will be required upon entry into the casino for verification purposes.
Does Rail City Have An Online Casino?
This casino offers an almost identical experience to their land-based casino with A-Play Online Social Casino.
The online platform has a vast selection of classic and modern video slots, table games, video poker and even live dealer versions that you can access on any smartphone or desktop device.
With the same great quality graphics, sound effects and animations as you would expect on the physical machines in the land-based casino, it offers a much more immersive experience than some other online casinos.
To access this platform, you must visit their website and find the link to A-Play. From there, you can register and get playing instantly with no downloads required.
Is There An Rail City Casino App?
No, there is no app for this casino. However, they have an A-Play Online Social Casino that you can access via their website. This online casino offers the same great games as in their land-based casino and is available on any desktop or mobile device.
What Is The Dress Code At Rail City?
The dress code at this casino is casual. You don't have to worry about wearing anything too fancy, but it is important that you follow the general rules of decency and respect.
Is There An Airport Shuttle Available From Rail City Casino?
Unfortunately, this casino does not have an airport shuttle service. The closest airport is the Reno-Tahoe International Airport, located about 20 minutes away from the casino.
However, there are a number of taxis, limousines and rideshare services that can take you to and from the casino. Be sure to check your options before booking a ride.
What Is The Smoking Policy At Rail City?
Smoking is allowed only on designated smoking floors and in designated areas on other floors. Guests must be 21 years of age or older to smoke in the casino, and certain rooms have a strict no-smoking policy.
What Is The Pet Policy At Rail City Casino?
Unfortunately, pets are not allowed in this casino. However, service animals that have been trained to assist guests with disabilities are welcome.
Please keep in mind that all service animals must remain on a leash or in a carrier and be under the direct supervision of their owners. All other types of pets must remain outside of the casino.
Is Wifi Available At Rail City?
Yes, free wifi is available throughout the casino. The wifi is reliable and fast, making it ideal for streaming content or browsing the web while at the casino. If you need further assistance, the helpful staff at the casino is always on hand to help you.
What Is The Cancellation Policy For Rail City Casino?
There is no onsite hotel at this casino, so there is no cancellation policy. However, if you have booked an event or show at the casino, please get in touch with the staff directly to inquire about any possible refunds or rescheduling options.
Conclusion
Rail City Casino is a great place to enjoy some gaming. With a wide selection of slots, table games and other classic casino fare, and an online platform for those looking for the convenience of playing at home, this casino offers something for everyone.
The dress code is casual, and the wifi is free, so you can stay connected while playing. Pets are not allowed, but service animals are welcomed with open arms.
Lastly, the staff is friendly and helpful in case you need any assistance or have questions about the cancellation policy for events. If you find yourself in Reno, be sure to check out this casino for an unforgettable experience.