Resorts World Las Vegas
Address: 3000 S Las Vegas Blvd, Las Vegas, NV 89109
Phone number: +1 833-720-0585
Website: www.rwlasvegas.com
Hours: Resorts World Las Vegas is open 24 hours a day, 7 days a week.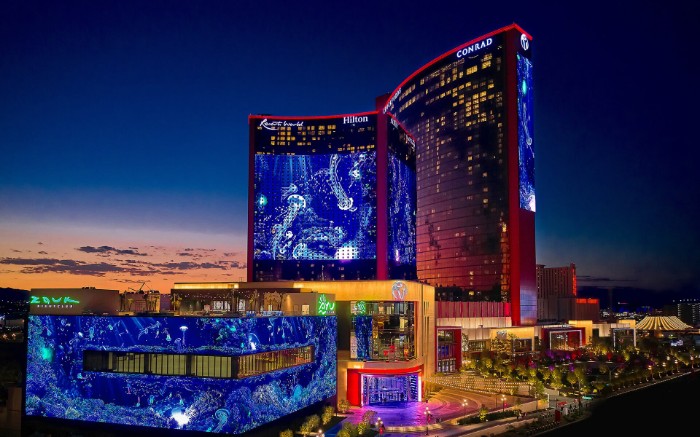 Resorts World Las Vegas, Nevada, is a brand new casino and resort that opened in 2021. The resort is the latest addition to Las Vegas' iconic Strip, offering visitors a unique and luxurious experience.
Initially, the land that the casino currently sits on was the site for Stardust Resort and Casino for many years. In 2007, the owner, Boyd Gaming Corporation, demolished the resort to make way for a new project called Echelon Place.
However, the corporation eventually announced that it would be selling its Las Vegas land holdings and development plans for Echelon Place were put on hold. In 2013, Malaysian investment group Genting Group purchased the 87-acre site.
The resort was created by one of the world's leading leisure and hospitality companies. It features a 117,000-square-foot casino that offers over 1,400 slot machines and several table games. There are also a variety of restaurants, bars, nightclubs, lounges and shopping options.
The resort offers a variety of luxurious rooms and suites ranging from deluxe rooms to the Presidential Suite. Guests can also enjoy a spa, fitness center and pool complex.
The resort is located on the famous Las Vegas Strip and is expected to attract over 10 million visitors each year. It is sure to become one of the city's top attractions and a must-see destination for any traveler.
If you're looking for an unforgettable experience in Las Vegas, this casino is the perfect place to stay. With its world-class amenities, luxurious accommodations and incredible entertainment options, this resort will make your stay truly unforgettable.
On TripAdvisor, this casino has an overall rating of 4.5 out of 5 stars from over 1,500 reviews. One guest mentioned, "The resort is amazing. The rooms are luxurious, the casino was great, and the restaurants had delicious food."
Another guest commented, "The atmosphere and energy at Resorts World Las Vegas are amazing. The staff was friendly, the casino was fun, and we had a wonderful stay!"
(Related reading: Nevada casinos)
Gaming
Their casino features 1,400 slot machines and table games, including Blackjack, Roulette, Baccarat, and Craps. Plus, they offer several gambling lessons and a sportsbook where you can place bets on your favorite professional sports teams.
Table Games
At this casino, decks are shuffled, and dice are rolled with a wide range of exciting table games for gamblers to enjoy. From the classic game of craps mixed with a modern flair to the traditional strategic game of 3 and 4-card poker, there's something for everyone.
Whether it's roulette, baccarat, Ultimate Texas Hold'em or Heads Up Hold'em that gets your heart racing, you'll find all sorts of casino action here.
Fortune Pai Gow Poker combines elements from the ancient Chinese game of Pai Gow with poker features for a whole new experience; this unique and exciting game is also available at this casino.
Minimum bets at this casino range from $5 to $25. As with all casinos, the minimum requirement will depend on the specific game being played and whether or not it is a busy time of day.
Slots
This casino offers a wide selection of slot machines to choose from. From classic favorites to cutting-edge games, you can find something for everyone. Some of the most popular slots include:
Book of Sheba
A Night Out
Starburst
Desert Treasure
Beach Life
Sevens Wild
Unfortunately, the exact slot machine payback percentage of this casino is not publicly available information. However, the Nevada Gaming Commission mandates that all casinos maintain a payout percentage of at least 75%.
Hotel/Resort
This casino offers some of the finest accommodations in Las Vegas. With rooms ranging from standard to presidential suites, there is something for everyone and every budget.
All rooms feature high-end amenities and luxurious furnishings, with some rooms featuring private balconies overlooking the city or strip. Guests can also take advantage of complimentary internet access and 24-hour room service.
Their rooms are divided into three distinct hotels: The Hilton, Conrad Las Vegas, and Crockfords Las Vegas.
Guests can choose from the luxurious Conrad Rooms and Suites featuring a Premium Room, City View Premium Room, Strip View Premium Room, City View One-Bedroom Suite and Strip View Two-Bedroom Presidential Suite.
Also, they have the stylish rooms of Hilton Deluxe Rooms with views of the city or the famous Las Vegas Strip; there's something for everyone.
For those seeking an even higher level of luxury and extravagance, Crockfords offers Rooms, Suites, Villas and Palaces – all designed with comfort in mind.
Additionally, their resort provides guests with a variety of amenities, including:
Restaurants and bars
24-hour concierge service
Outdoor pools
Fitness center
Spa services
Valet parking
Business center
Live entertainment venues
Room rates at this casino vary depending on the type of accommodation selected. Prices for standard rooms range from at least $120 per night, while suites may cost more.
Check-in time at Resorts World is 3:00 pm
Check-out time at Resorts World is 11:00 am
Restaurants & Buffets
This casino resort has some amazing dining choices for all sorts of occupants. Fuhu is the perfect spot for a lavish Asian-fusion meal, Kusa Nori for all sushi cravings, ¡VIVA! for Latin cuisine and Wally's for classic American fare.
The Agave Bar & Grill is often a guest favorite due to its outdoor terrace overlook and signature margaritas.
Other restaurants offer different options, such as the Crossroads Burger inside Crossroads, Mulberry Street Pizzeria to satisfy a craving for pizza and pasta, or Redtail, which offers an extensive selection of your favorite comfort food dishes.
For those who prefer comfort food with a little twist made with fresh ingredients, try Sun's Out Buns Out. Lastly, don't miss out on their buffet. The weekend brunch buffet at The Kitchen is just $39 and includes all your favorite breakfast options.
Plus, for an extra $15, you can enjoy bottomless mimosas to accompany your meal – an unbeatable deal.
Pools
This casino is the perfect destination for a pool day, no matter what you want. With a huge main pool, a family-friendly option and even an adults-only luxury space, there's something for everyone.
For those looking to relax in style, the Bimini Pool has lounge chairs, cabanas and daybeds available to rent. If you're feeling VIP, look no further than the exclusive VIP Pool with private bungalows that will make you feel like royalty.
So come on over and enjoy some fun in the sun – this casino surely has all that's needed for an unforgettable summer escape.
Resorts World Las Vegas, NV FAQ
Does Resorts World Las Vegas Have A Sportsbook?
Are you a sports fan looking for a betting thrill? Then you will be delighted to know that this casino has a sportsbook. The onsite sportsbook, The Dawg House Saloon & Sportsbook, is the place to go for live football, basketball, and baseball games, with numerous betting options.
Or, if you prefer to bet online, the Resorts World Las Vegas Live Betting Sports App has covered you. You can make your bets and keep up with scores in real time while enjoying food and drinks served right to your seat.
Is Poker Available At Resorts World?
Yes, poker is available at the casino. The Poker Room has daily tournaments and cash games, with varying buy-ins to suit all pocket sizes.
If you need a break from the tables, there's also a full bar and lounge with two TVs so you can keep up with all the latest games while you relax. Additionally, they offer complimentary food and beverages to ensure your gaming experience is as enjoyable as possible.
What Are The Age Requirements For Gambling At Resorts World Las Vegas?
The age requirement for gambling at this casino is 21 and over. All players must have a valid ID to enter the casino and gamble. Minors are not allowed in the gaming area, but adults in other parts of the resort can accompany them.
Does Resorts World Have An Online Casino?
Unfortunately, this casino does not have an online casino. However, you can still experience the thrill of gambling and winning big with their Live Betting Sports App.
Additionally, you can still catch all the fun of a live casino experience with their extensive selection of slots and table games.
Is There An Resorts World Las Vegas App?
If you're planning a trip to this casino, you'll be pleased to know that an app is available for your convenience. The Resorts World mobile app is designed to help you maximize your time and reduce stress when planning a visit.
Through this easy-to-use platform, you can book your stay quickly and easily, search through all of the resort's offerings, find tips and advice on how to make the most of your stay, and even access exclusive offers.
What Is The Dress Code At Resorts World?
To ensure that all guests can fully savor their dining experiences, the resort has a dress code they request all visitors abide by. The primary purpose is to create a warm and inviting atmosphere conducive to comfort and leisure.
Guests are strongly encouraged to adhere to their business casual dress policy for signature restaurants; furthermore, shorts and dress sandals may be accepted, and hats or baseball caps will not be permissible.
Is There An Airport Shuttle Available From Resorts World Las Vegas?
Unfortunately, this casino does not have an airport shuttle. However, there are many transportation services available in the area that can take you to and from McCarran International Airport.
The resort also offers complimentary valet service for all guests staying at the property. You can find more information, including rates, on their website.
What Is The Smoking Policy At Resorts World?
Smoking is allowed only in designated smoking areas. Smoking is not permitted on non-smoking casino floors, in public areas or restaurants, or in any part of the hotel. Additionally, electronic cigarettes are not allowed on the property.
What Is The Pet Policy At Resorts World Las Vegas?
Only service animals are allowed on the property. If you are traveling with a pet, there are designated pet-friendly hotels nearby that can accommodate your needs. Please be sure to check with the hotel for their pet policy before you arrive.
Is Wifi Available At Resorts World?
Yes, complimentary wifi is available at this casino. You can connect to the resort's wireless network on your device and enjoy internet access throughout the property. Additionally, the resort offers free high-speed internet in all of the guest rooms.
What Is The Cancellation Policy For Resorts World Las Vegas?
The cancellation policy for this resort may vary according to the room type and rate you book. Generally, rooms must be canceled at least 48 hours prior to check-in to receive a refund or avoid being charged a penalty fee.
Conclusion
Resorts World Las Vegas has something for everyone. From their expansive casino floor to luxurious hotel rooms, guests can find everything they need to enjoy an incredible experience.
With the help of their mobile app, you can easily book your stay and plan out your trip in no time. And with their dress code policy, complimentary wifi, and pet-friendly accommodations, all you need to worry about is having a great time.