Rio Casino Las Vegas
Address: 3700 W Flamingo Rd, Las Vegas, NV 89103
Phone Number: +1 866-746-7671
Website: www.caesars.com/rio-las-vegas
Hours: Rio Casino Las Vegas is open 24 hours a day, 7 days a week.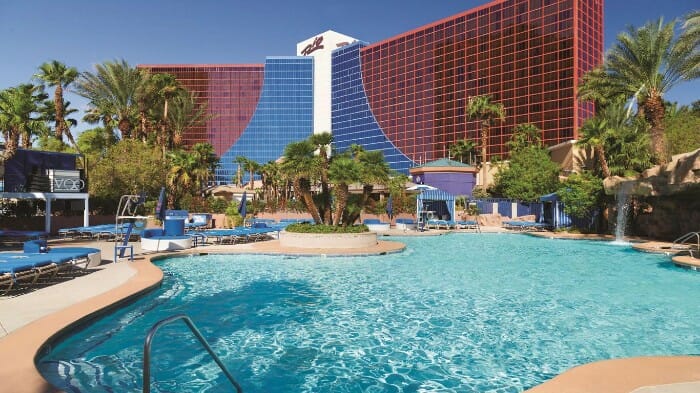 Rio Casino Las Vegas was built in 1990 and has been a fixture of the Las Vegas Strip since then. The casino is part of the Caesars Entertainment family, which owns and operates several casinos throughout the United States, including Caesars Palace and Harrah's.
Over the years, the property has undergone many renovations and updates to keep up with the constantly changing face of Las Vegas. Today, their gaming floor boasts over 1,000 slot machines and a vast array of table games.
The casino also offers a variety of entertainment options which features live music, comedy shows, and burlesque performances. Additionally, they offer 2,520 luxurious rooms and suites for guests to choose from.
They are also home to various restaurants and bars, where guests enjoy delicious food and drinks in an exciting atmosphere. There are even VIP lounges located throughout the casino that offer exclusive services such as private gaming tables and bottle service.
The casino offers guests a unique experience that blends classic Vegas glamour with modern luxury. Whether you want to try your luck at the tables or take in a show, this casino is the perfect destination for an exciting night out.
According to several reviews, guests rate this casino with an average of 4.4 out of 5 stars. One reviewer said, "From the gaming floor to the restaurants and bars, everything was top-notch. I would definitely recommend this casino to anyone looking for an entertaining night out."
Another reviewer said, "Rio Casino Las Vegas has always been one of my favorite places in town. The atmosphere is amazing, the staff is friendly, and there are so many things to do."
(Related reading: Nevada casinos)
Gaming
Their 117,330 square-foot gaming floor is one of the largest in Las Vegas. It offers an array of exciting games such as blackjack, poker, Pai Gow, and baccarat. Additionally, they also have over 1,000 slot machines with denominations ranging from penny slots to high-limit slots.
Table Games
This casino is proud to be the home of the World Series of Poker and has several poker tables available for cash games and tournaments. Their poker variations range from traditional Texas Hold'Em to Pai Gow and Three Card Poker.
For those looking to play table games, there is a wide selection of options on the gaming floor. The casino offers classic favorites like Blackjack, Roulette and Craps, plus more unique and interesting games such as Baccarat and Four Card Poker.
Let It Ride and Texas Holdem fans won't be disappointed either – take a seat at these lively tables for some healthy competition and a really good time.
The minimum bets for this casino's table games are dependent on the type of game being played. But generally, the minimum on most of their table games ranges from $5 up to $25.
Slots
If you're planning on visiting this casino, then you'll definitely want to check out some of the most popular slot machines. The Michael Jackson King Of Pop machine is an absolute must for music fans, with amazing graphics and all your favorite songs to really get you in the groove.
Or you can take a shot at turning up the Top Dollar till you hit the jackpot. For something more lighthearted, try Lulu & Luigi – full of playful bonus games and cartoon-style imagery.
All Aboard Piggy Pennies is also great fun and full of wonderful surprises, while Little Shop of Horrors will keep you on the edge of your seat.
Unfortunately, this casino does not publicly release the payback percentage for their slot machines. However, Nevada's Gaming Commission requires all casinos in Las Vegas to have a minimum payback of 75%.
Hotel/Resort
This casino offers guests a luxurious getaway with 2,520 beautifully appointed rooms and suites. Each room is outfitted with elegant furnishings and modern amenities.
Room types include:
Deluxe Suite – features one king or two queen beds
Luxury Masquerade – features one king or two queen beds and a sitting area
Carioca Suite – features one king bed, a separate living room and a dining area
Palazzo Villa – features one to six bedrooms, a fireplace, a salon, a living room, and a dining space
Additionally, guests can enjoy a host of amenities, including:
Free wifi access
Free self-parking
24-hour front desk
Concierge services
Laundry facilities
Outdoor pool with cabanas
Onsite restaurants and bars
Banquet facilities
Fitness center
Full-service spa and salon
A golf course
The cost of a stay at their hotel depends upon the type of room you choose and when you book. Prices start from as low as $74, excluding taxes and fees.
Check-in time at The Rio is 4:00 pm
Check-out time at The Rio is 11:00 am
Restaurants & Buffets
Although they currently do not offer buffet-style dining, there are a handful of exquisite restaurants onsite. When hunger strikes in Las Vegas, this casino has something for everyone.
Whether you're looking for a cozy, romantic spot like Voodoo Steak or a fun, spicy Latin-style eatery like Guy Fieri's El Burro Borracho, you won't be disappointed. If you're feeling Asian fare, then Kang's Kitchen will have all the comfort flavors that you love.
But if you're craving some unique American classics, Hash House A Go Go has huge portions and classic flavors. Mosey on over to Royal India Bistro for some killer curry dishes or drop by Pho Da Nang Vietnamese Kitchen for delicious Pho soups.
Craving some delicious dim sum or seafood? Look no further than KJ Dim Sum & Seafood. Sports Deli is sure to please with its creative sandwiches and burgers. And don't forget Starbucks and Cupola Cafe – they'll surely have your favorite coffee fix.
Pools
This casino in Las Vegas is the perfect spot for a pool day. Enjoy four swimming pools and two whirlpool spas that all have comfortable lounging chairs, refreshing drinks and delicious eats.
Forget about the hustle and bustle of the Las Vegas Strip and relax in the serenity of these calming oases. Have a splash in the striking lagoon-style pool or enjoy an intimate swim while taking in the views of The Strip.
Whether you're looking to soak up some sun, try your hand at poolside cocktails or take advantage of a private cabana – they take the relaxation up to eleven.
Rio Casino Las Vegas, NV FAQ
Does Rio Casino Las Vegas Have A Sportsbook?
Looking for a Las Vegas sportsbook experience? Look no further; this casino's state-of-the-art Caesars Race & Sportsbook offers everything you could want in a Vegas sportsbook, plus the convenience of mobile wagering through their app.
Whether you're a casual fan or someone who wants to take their sports betting to the next level, their Sportsbook has something for everyone.
Is Poker Available At Rio Casino?
Yes, you can find poker tables at this casino. They offer daily tournaments and cash games in their bustling 24-hour Poker Room. Whether you're a novice or an experienced card shark – try your luck at Texas Hold'Em, Three-Card, Pai Gow and more.
What Are The Age Requirements For Gambling At Rio Casino Las Vegas?
Guests must be at least 21 years of age to gamble or drink alcohol. Guests under the age of 21 are welcome to explore the hotel, enjoy certain amenities and dine in select restaurants with a parent or legal guardian. Minors are not permitted on the gaming floor.
Does Rio Have An Online Casino?
At this time, they do not offer an online casino. While you can find a range of Caesars-branded online casinos in other states, this one does not have an online presence.
However, guests are welcome to explore their selection of table games and slots onsite. From classic favorites such as Blackjack and Roulette to exciting new slots, you will surely find something that strikes your fancy.
Is There An Rio Casino Las Vegas App?
Are you looking for a Rio Casino app? Unfortunately, there isn't one in their own right. However, this casino partnered with the Caesars Rewards mobile app.
Through this app, you can check out exciting ways to get rewarded for your loyalty at participating outlets across the world. Plus, you may also do your check-in, reservations, bookings and more through this app.
For more updates and information, you can also follow their social media accounts or visit their website.
What Is The Dress Code At Rio Casino Las Vegas?
The dress code there is designed to create an upscale and friendly atmosphere that all its visitors can enjoy. Men should think along the lines of nice shirts, closed shoes, or dress shorts; however, hats, tank tops, athletic wear, sweats, or sandals are not allowed.
Is There An Airport Shuttle Available From Rio Casino?
Unfortunately, there is no airport shuttle from this casino. However, you can get to the hotel by taking a taxi or rideshare from McCarran International Airport.
Alternatively, you could take a limo service; however, this would be more expensive than other options. There are also ridesharing options available for those traveling alone or in small groups.
What Is The Smoking Policy At The Rio?
Smoking is prohibited inside the casino, but smoking and non-smoking areas are available outside. The facility also offers smoking lounges located throughout the property.
You may also book smoking rooms upon request, but please note that no smoking is allowed in any of the common areas.
What Is The Pet Policy At Rio Casino Las Vegas?
This casino resort allows pets for an additional fee. For more information, please get in touch with the property directly. Be sure to check the pet rules and restrictions when making your reservation.
Is Wifi Available At Rio Casino?
Yes, free high-speed wifi is available throughout the property. This includes both public areas and private rooms. If you need further assistance with wifi, you can contact the front desk anytime. They will be more than happy to help you out.
What Is The Cancellation Policy For Rio Casino Las Vegas?
Room reservations must be canceled at least 48 hours in advance to avoid additional charges. Of course, specific policies may vary depending on the type of room and rate you've chosen. For more information, please get in touch with the property directly.
Conclusion
Rio Casino Las Vegas is a great place to enjoy gaming and entertainment. Be sure to check their dress code, pet policy, and smoking policies before booking your trip. That way, you can have a smooth and hassle-free stay.
Whether you're looking for a relaxing getaway or an exciting night out, they have something for everyone. With its diverse selection of games and entertainment options, it's sure to be the perfect destination for your next Vegas vacation!