Sahara Las Vegas
Address: 2535 S Las Vegas Blvd, Las Vegas, NV 89109
Phone Number: +1 702-761-7000
Website: www.saharalasvegas.com
Hours: Sahara Las Vegas is open 24 hours a day, 7 days a week.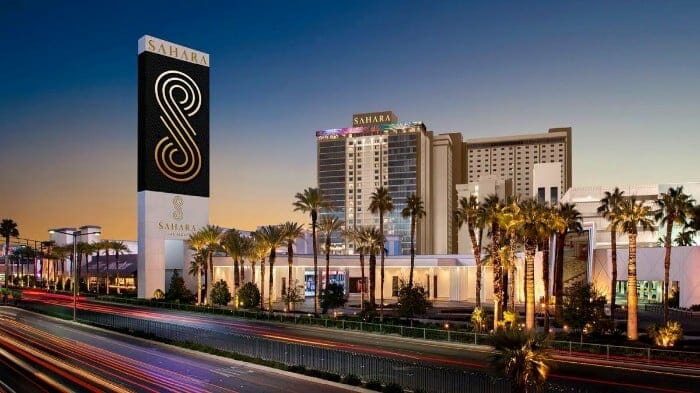 Before being known as the Sahara Las Vegas, the hotel and casino were known as Club Bingo in 1947. In 2013, the property was reopened as SLS Las Vegas after a major renovation.
After a series of more renovations and ownership changes, the iconic Las Vegas property was reborn in 2019 as its current branding by Meruelo Group. Today, their gaming space features nearly 600 slot machines and a variety of table games.
On top of their gaming space, visitors can choose from seven different restaurants to satisfy their hunger cravings. Whether it's Mexican, Italian, or Asian cuisine that catches your fancy, they have something for everyone.
And if you want to rest your weary bones, they also have a hotel that offers over 1,600 guest rooms and suites. You can also take advantage of their swimming pool, spa and fitness center for much-needed rest and relaxation.
For entertainment, you can choose from a line-up of exciting shows and concerts featuring popular artists like Celine Dion and Pitbull. There are also comedy shows, live bands, special events, and more for entertainment.
Whether you're a local looking for fun or a tourist searching for an unforgettable Vegas experience, you can find it all here in this Nevada landmark. Try your luck at the slots and tables, sample some delicious cuisine, enjoy a show and make memories that will last a lifetime.
On the review site TripAdvisor, Sahara Las Vegas has been rated 4 out of 5 stars by guests. One guest said, "I love Sahara Las Vegas. Amazing place, great service, and lots of fun. Highly recommend it."
Another guest said, "The Sahara Las Vegas is a great casino and resort. The staff was very friendly, the rooms were clean and comfortable, and we had a lot of fun in the casino. Highly recommend it."
(Related reading: Nevada casinos)
Gaming
Their 50,662 square foot gaming space features 600 gaming machines and 50 table games. And for those wanting to try something a bit out of the ordinary, they also have a sports book and a poker room.
Table Games
With plenty of table games to choose from, this casino is the perfect place for gamblers wanting to try out something new. If you're looking to go big and aim high, High Limit Blackjack is the game – with higher stakes available than many other casinos.
For a more classic experience, Blackjack or Free Bonus Blackjack can offer hours of entertainment. Prefer something more off-the-beaten path? Midi-Baccarat gives a unique twist to an otherwise traditional game.
Craps and Crapless Craps bring back nostalgic vibes from yesteryear, while Double Zero Roulette, Triple Zero Roulette, Jackpot Hold'em Poker, and 3 Card offer gamers the opportunity to win big – if luck isn't on their side that night.
Table game minimums vary daily and typically start around $10. However, late nights and weekend nights tend to have higher minimums.
Slots
With over 600 slot machines to choose from, this casino offers something for everyone. Popular slots include:
Top Dollar
Tiki Fortune
Lucky Oreilly
Patron Pays
Captain Riches
All Star II
Wheel of Fortune
Crazy Rich Asians
5 Treasures
88 Fortune
Sahara Royals Twenty-Five Cent
Quick Hits
Lightning Link
China Mystery
Ultimate X
Tiki Fire
Unfortunately, the exact slot machine payback percentage for this casino is unknown. But Nevada regulations require casinos to have a minimum 75 percent return for slot machines.
Hotel/Resort
The accommodations at this casino offer a modern and luxurious experience for those looking to relax and unwind. They are divided into three of their hotel towers: Alexandria, Blanca and Marra.
The Alexandria Tower has something for everyone, boasting luxurious and AAA diamond-certified rooms ranging from King to Two Queen Rooms and even Suites. The Blanca Tower holds all the nostalgia of classic Vegas style with a Penthouse, One-Bedroom Suite, Junior Suite, and Two Queen and One King Rooms
Last but not least is the Marra Tower, which offers Rooms ranging from Two Queen with One King Room to a Legendary Suite and Junior Suite.
Additionally, this resort offers amenities such as:
Wifi access
Valet and self-parking
24-hour front desk
Housekeeping
Fitness center
Full-service spa
Seasonal pool
Multiple dining options
Live entertainment
Banquet facilities
Retail stores
The rates for staying at this hotel vary by room type, season and special offers. Generally, you can book a room for as low as $119 a night. For a more accurate estimate, check the website for current pricing.
Check-in time at Sahara Las Vegas is 3:00 pm
Check-out time at Sahara Las Vegas is 11:00 am
Restaurants & Buffets
Although they do not have a buffet, they have several dining options available. Whether you are in the mood for Italian, American, Mexican, Vietnamese or a classic Starbucks coffee, there is something for everyone.
Start off with a savory appetizer at Balla Italian Soul and enjoy their handmade pasta and pizzas. If steak is more your thing, Bazaar Meat by José Andrés' prime meat cuts won't disappoint.
For seafood lovers, Chickie's & Pete's offers favorites like crab fries and jumbo shrimp, plus all the sports on their massive TVs.
If you're looking for a unique experience, The Noodle Den offers a modern twist on traditional Vietnamese dishes. Or head over to UNO Más Street Tacos + Spirits for their signature tacos topped with sauces made daily.
Finally, complete your culinary exploration at Zaffer's Café with their Ethiopian-influenced dishes or Casbar Lounge, where you can sit in the elevated mezzanine and have imaginative cocktails just steps away from the casino floor.
Pools
This casino offers two unique pool experiences for its guests. At the Azilo Ultra Pool, you can cool off in true Las Vegas style. This ultra pool is open daily for those 21 and over and features comfy cabanas, VIP seating areas, and DJs spinning all day.
And if you want to take it up a notch, go to the Alexandria Rooftop Pool. Put on your shades and soak up some of that famous Nevada sunshine from one of their luxury cabanas or daybeds. So get ready to kick back at this casino and enjoy fun lounging around with friends.
Sahara Las Vegas, NV FAQ
Does Sahara Las Vegas Have A Sportsbook?
Yes, the world-famous casino offers a fully-equipped sportsbook that is located on the south side of its casino floor. Operated by the well-known William Hill Sportsbook, it features screens that give guests prime access to all the major sporting events.
In addition, they also offer mobile betting through their app, which allows visitors to place sports wagers from anywhere within the casino's premises. Whether you're watching a game or taking part in one, your experience at this casino will always be unforgettable.
Is Poker Available At Sahara Las Vegas?
Yes, poker is available at the casino. Players have their own dedicated area, which includes multiple tables with varying limits for all kinds of players. Whether you're an experienced or novice player, there's something for everyone.
What Are The Age Requirements For Gambling At Sahara Las Vegas?
Guests must be 21 years of age or older to gamble at this casino. You may need to provide valid photo identification before you can enter the casino or use any of its services. So make sure to bring your ID along.
Does Sahara Las Vegas Have An Online Casino?
No, the casino does not currently offer an online platform. However, guests are welcome to visit the onsite casino and take advantage of all the amenities it has to offer. From slots and table games to sports betting and poker tournaments, this casino has something for everyone.
Is There An Sahara Las Vegas App?
Yes, this casino offers a mobile app for both iOS and Android users. With their Sahara Las Vegas Mobile App, guests can easily manage their rewards and access exclusive deals on hotel stays and dining experiences.
They can also plan their next visit with the app's easy-to-use calendar of events and stay updated with all the latest news from the casino.
What Is The Dress Code At Sahara Las Vegas?
The dress code at the casino is casual and comfortable. However, guests must be properly covered and avoid profane or offensive clothing. Shoes are required in all public areas of the casino except the pool.
Is There An Airport Shuttle Available From Sahara Las Vegas?
Unfortunately, this casino does not offer an airport shuttle. However, guests can easily book a taxi or ride-sharing service to and from the airport. They can also use the Las Vegas Monorail system for convenient transportation between casinos.
What Is The Smoking Policy At Sahara Las Vegas?
The entire casino floor is non-smoking. Cigar and pipe smoking are also not allowed in public areas. However, there are designated outdoor smoking areas for those who wish to smoke. Make sure to check with the casino staff for more details.
What Is The Pet Policy At Sahara Las Vegas?
Sadly, pets are not allowed on the premises of this casino. Service animals, however, are permitted and must be in compliance with state laws. Make sure to bring all necessary paperwork to verify the animal meets the requirements.
Is Wifi Available At Sahara Las Vegas?
Yes, the casino offers complimentary Wifi to all its guests. You can access the signal anywhere on the property, including all public areas and guest rooms. The signal is also secure and password-protected for added protection.
What Is The Cancellation Policy For Sahara Las Vegas?
The cancellation policy for this casino varies depending on the type of reservation made. Generally speaking, if a cancellation is made within 72 hours of check-in, then no charges are applied.
However, any cancellations made after that time will be subject to the hotel's standard cancellation fee.
Conclusion
This casino is a great destination for anyone looking for an exciting and unforgettable stay in Las Vegas. With its wide range of gaming options, from slots and table games to sports betting and poker tournaments, there are plenty of ways to have fun.
Additionally, the casino offers many amenities such as complimentary Wifi, an app for mobile users, and several other services for a more convenient stay. So, if you're looking for an exciting casino experience in Las Vegas, head to the Sahara Las Vegas for a memorable time.