Sharkeys Casino Gardnerville
Address: 1440 US-395, Gardnerville, NV 89410
Phone Number: +1 775-782-3133
Website: www.sharkeyscasino.com
Hours: Sharkeys Casino is open Monday 7 AM–12 AM, Tuesday 7 AM–12 AM, Wednesday 7 AM–12 AM, Thursday 7 AM–12 AM, Friday 7 AM–12 AM, Saturday Open 24 hours, Sunday Open 24 hours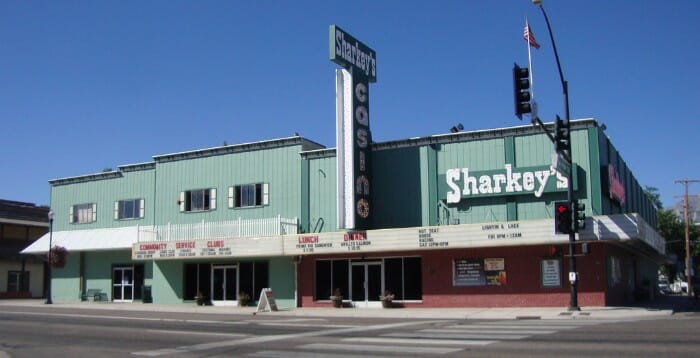 Sharkeys Casino was established in Gardnerville, Nevada, in 1971. Originally an old-style corner saloon, the casino was initially small. Still, over time, it has grown into a full-fledged gaming establishment.
Its owner, Milos Begovich, was called Sharkey by locals, hence the casino's name. In 2002, Sharkey passed away, but his legacy lives on in his casino. Today, the casino is under the ownership of Mike Pegram, who still honors Sharkey's memory.
This casino is home to various gaming options, including slots, video poker, and a sportsbook. They also have an onsite cafe that serves delicious American food. They offer a lounge area with pool tables and big-screen TVs for those looking to relax.
This casino is the perfect place for locals and visitors to get gaming fixes. With its friendly atmosphere, great selection of games, and tasty eats, it's no wonder this casino has been around since the 1970s.
On Google Reviews, the casino has an average rating of 4.5 stars; on Yelp, it has a score of 4 stars. One reviewer left a comment that said, "This casino has it all! Great atmosphere, friendly staff, and great food. I love coming here to get my gaming fix."
Another customer said, "I've been to Sharkeys Casino multiple times, and they always make sure I have a great time. They have a wide selection of slot machines, video poker, and sports betting. Plus, their cafe has really good food."
(Related reading: Nevada casinos)
Gaming
Their gaming space features 153 slot machines, several video poker games, and a sportsbook. They also host tournaments throughout the year.
Table Games
You won't be disappointed if you're looking to spend an evening at an exciting casino in this casino. With a wide variety of slot machines, you'll find something suited to your tastes and interests.
While no table games are available at this casino, the selection of slots has something for everyone. If pure excitement is what you're after, then this casino is the place to be.
Slots
This casino offers a host of entertaining slot machines for its guests to enjoy. One of the most popular ones is Queen of the Wild, themed after African wildlife and offering points which can be redeemed as prizes.
Sun and Moon have an ancient divine theme and exciting bonus rounds, making it another favorite. For those looking for an extra challenge, Wild Fury is the way to go. With eye-catching visuals, various wild symbols and 7 free spins – it's little wonder why this is a hit.
The Three Fates feature classical Greek mythology amidst engaging animations, and Super Red Phoenix lets you ride with mythical Chinese birds while searching for jackpots.
Last comes Sky Rider: Golden Amulet; this medieval fantasy-themed game follows a brave knight on his quest through magical lands.
According to Nevada law, slot machines must pay a minimum of 75%. While this casino does not publish its specific payback percentage, it is likely higher than the minimum.
As with all casinos, your mileage may vary, and you should always read and understand the rules on any machine before playing.
Hotel/Resort
When taking a break from the thrills and fun of this casino, there is no onsite hotel, but guests will find plenty of nearby options for their stay.
The Carson Valley Inn Casino offers modern amenities with a touch of classic charm, while the Historian Inn has recently been renovated to create ultimate comfort. The Holiday Inn Express & Suites Minden is a great choice for those looking for extra space during their trip.
And if you really want to enjoy luxury and style, the Hard Rock Hotel & Casino Lake Tahoe has everything you could ever need.
Restaurants & Buffets
Step into the bright lights of this casino and satisfy your cravings with various delicious restaurants. You won't find a traditional, all-you-can-eat buffet at this casino – instead, there are several tantalizing options.
Jackpot Cafe is the perfect mid-day spot with tempting burgers, salads, shakes and more. From burgers and fries to salads and sandwiches, they have something to please everybody. The staff members are also very helpful and friendly – they will ensure you get what you need.
Pools
This casino is a great place for entertainment and excitement. Every guest will surely have a great time, from the vibrant slots to the lively tables. Despite being one of the best casinos in Nevada, this casino does not have a pool on-site.
However, plenty of other amenities offer more than enough entertainment for those looking for an amazing night out. With all this casino offers, you're sure to enjoy your stay at this exciting casino.
Sharkeys Casino, Gardnerville, NV FAQ
Does Sharkeys Casino Have A Sportsbook?
This casino is a great spot for sportsbook lovers. It has various options to choose from, with bets on NFL and NCAA Football, NHL Hockey, Major League Baseball, and NASCAR Monster Energy Cup Races.
You will have your pick of which games you want to watch or bet on at this casino – no matter your fandom or preferred sport. And if you're looking for an added thrill during the game, just place your bets on the available odds you see in the sportsbook.
Is Poker Available At Sharkeys?
Unfortunately, they do not currently offer traditional poker games- instead, they offer a selection of video poker machines.
Video Poker is an entertaining variation of the classic game that incorporates all of the fun and challenge of the original format with more modern gaming mechanics.
What Are The Age Requirements For Gambling At Sharkeys Casino?
Anyone who is 21 years of age or older can gamble at this casino. As with all gambling laws in Nevada, all players must have valid identification when entering the casino and playing on any machine or gaming table.
Does Sharkeys Have An Online Casino?
No, this casino does not offer an online casino. However, guests can still catch all the fun and excitement of the casino floor – just take a trip to Gardnerville in Nevada and enjoy all the action in their physical casino.
Is There An Sharkeys Casino App?
No, there is no app for this casino yet. But you can still access all their promotions and offers from their official website. Also, you can stay up-to-date on all their latest news and announcements by following them on social media.
What Is The Dress Code At Sharkeys?
The dress code at this casino is casual. As long as you keep it modest and comfortable, you are sure to have a great time. So don't be afraid to show up in your favorite jeans, khakis, and a nice shirt – the staff members will welcome you with open arms.
Is There An Airport Shuttle Available From Sharkeys Casino?
No, no airport shuttle goes to or from this casino. However, guests can easily get around the area with a rental car, taxi, or rideshares such as Uber and Lyft.
Additionally, there are several local bus and shuttle services that can be taken to get around Gardnerville. So no matter where you're headed, you'll find a way to get there.
What Is The Smoking Policy At Sharkeys?
Smoking is only allowed in designated areas. This means that smokers must ensure that their cigarettes and cigars are only smoked in designated areas.
Additionally, vaping is prohibited on the casino floor, and guests will be asked to leave if they violate this policy. This helps keep all guests safe and healthy while at this casino.
What Is The Pet Policy At Sharkeys Casino?
Unfortunately, pets are not allowed in this casino. If you require service animals for assistance, you must have appropriate documentation from a licensed veterinarian or doctor. Additionally, you will need to call ahead and notify the casino if you plan on bringing your service animal with you.
Is Wifi Available At Sharkeys?
Unfortunately, there is no free wifi available in the casino. However, many nearby restaurants, hotels and other establishments offer free wifi that guests can access while in Gardnerville.
You can also purchase a prepaid wifi card from convenience stores to use when you are out and about in the area. This is a great way to stay connected while you explore the city.
What Is The Cancellation Policy For Sharkeys Casino?
There is no need to reserve any particular table or game at this casino, so there are no cancellation policies. Once you enter the casino, all bets and wagers are subject to the house rules and standard gaming regulations.
Conclusion
Sharkeys Casino is a great place to spend an evening, with plenty of exciting games, promotions and entertainment options.
With its convenient location in Gardnerville and relaxed dress code, this casino can be the perfect spot for a night out with friends or family. Whether you're looking to play some video poker or just enjoy the atmosphere, this casino will not disappoint.
So get ready to spin the wheel and grab your lucky seat at the tables – this casino is sure to provide a fun night.