Silver Nugget Las Vegas
Address: 2140 Las Vegas Blvd N, North Las Vegas, NV 89030
Phone Number: +1 702-399-1111
Website: www.silvernuggetlv.com
Hours: Silver Nugget is open Monday 8 AM–12 AM, Tuesday 8 AM–12 AM, Wednesday 8 AM–12 AM, Thursday 8 AM–12 AM, Friday 8 AM–12 AM, Saturday 8 AM–12 AM, Sunday 8 AM–12 AM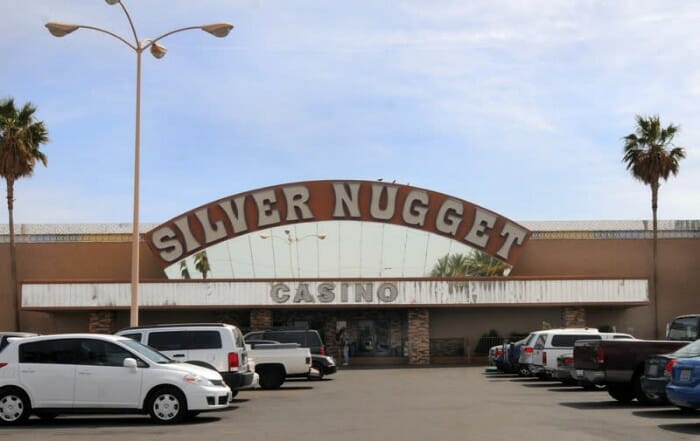 Silver Nugget has been a staple in the Las Vegas community since it opened its doors in 1964. Located on the north end of Las Vegas Boulevard, this classic casino and hotel offer all the amenities you'd expect from a top-notch establishment.
Major Riddle, the founder of the casino, built the property to provide Las Vegas with a place for locals to go and gamble without the hassle of traveling to the Strip. Additionally, the casino was known to be the first to hire female dealers in the city back then.
Today, the property is owned by Fifth Street Gaming and continues to be a favorite amongst Las Vegas locals. With its vibrant casino and friendly staff, this casino is one of the few remaining locally owned casinos in Las Vegas.
Its gaming space boasts some of the latest slot machines, including video poker, progressive slots, and several blackjack tables. Additionally, the casino also has a sportsbook and an onsite restaurant.
Whether you're looking for a classic gaming experience or just a place to hang out with friends, this casino is sure to provide an unforgettable experience.
Guests give this casino an overall rating of 4.2 stars out of 5. One guest claimed, "The Silver Nugget is always clean, the staff friendly and helpful. The slots are enjoyable, and I like that there is a sportsbook."
Another guest wrote, "I had so much fun at Silver Nugget. The staff was very friendly, and the atmosphere was lively and exciting. I would recommend this place to anyone looking for a great gaming experience in Las Vegas."
(Related reading: Nevada casinos)
Gaming
Their gaming space offers some of the latest slot machines, including video poker, progressive slots, and several blackjack tables. Additionally, they have a sportsbook offering betting on all major sports.
Table Games
This casino offers a great variety of gaming opportunities. They have something for everyone, from the classic blackjack game to multi-layered poker tournaments.
With one of the most stylish gaming rooms in the city, you can also enjoy some of their more modern table games, such as special roulette and baccarat versions. Blackjack is a popular choice at this casino with many variations making it a great challenge for experienced players.
Their minimums vary depending on the game and the time of day. Generally, their table game minimums start at $5, but they can go up to $20 in some cases.
Slots
This casino offers various popular slot machines, sure to keep your attention and wallet full. There are penny and nickel slots available if you want a smaller gamble.
For those wanting to really try their luck out, why not check out dollar slots? If you are feeling daring, progressive slots and video poker can let you bet more and potentially earn more as the major jackpots continue to build until someone wins them.
Lastly, if basic slot machines aren't enough, try out video keno for something different.
According to the Nevada Gaming Commission, all slot machines at this casino should have a minimum payback percentage of 75%. This means you can expect to get at least 75% of your money back in winnings.
Hotel/Resort
This casino is the perfect spot for anyone looking for an exciting excursion without the commitment of spending multiple nights at a hotel.
Although there's no on-site hotel accommodation, guests can check nearby spots such as the Downtown Grand Hotel & Casino, Santa Fe Station Hotel and Casino, Golden Gate Hotel & Casino or Cannery Casino & Hotel.
Whatever your preference may be, you are sure to find something nearby that will suit your needs. The casino's staff is always ready to point you in the right direction to find the best place to stay during your visit, so don't hesitate to ask questions and get helpful recommendations.
Restaurants & Buffets
This casino offers some amazing options for foodies. Take the Hot Streak Restaurant and Sports Bar, for example.
Here you can enjoy unique deep-fried chicken breast sandwiches served on a Hawaiian bun, delicious chicken tenders and sliders or even hot chicken or vegetarian black bean sliders. But that's not all – their signature wings come with an array of unique dipping sauces.
And, of course, no visit is complete without a full selection of beer and bar drinks to complement your meal. Whether you're looking for something fast or something to really satisfy your taste buds, this casino has it all.
Unfortunately, this casino does not offer buffet options at the moment, but their onsite restaurant is sure to make your experience a memorable one.
Pools
Unfortunately, this casino does not have a pool to cool off during your stay. Don't let that get you down, though – there are plenty of alternatives if relaxing by the pool is a must-do on your vacation.
Just nearby, many other hotels offer pools or public beaches where you can take a dip on those hot Las Vegas days.
Silver Nugget Las Vegas, NV FAQ
Does Silver Nugget Las Vegas Have A Sportsbook?
This casino is a great place to watch your favorite sports events. Not only do they provide several big-screen TVs, but they also have an exclusive William Hill Sportsbook where you can place your bets.
This ensures that your gambling experience is top-notch. And if you need to place a last-minute bet or want to monitor the action while away, you can use the William Hill mobile betting app for even more convenience.
Is Poker Available At Silver Nugget?
Yes, this casino offers its players a great selection of video poker. You will find something to fit your style with traditional video poker machines and the latest multimedia gaming technology.
You can play with coins, bills or a card. Whether you're a beginner looking for an introduction to the game or a veteran who wants to test their mettle against the best in Vegas – you can find something to challenge your skills at this casino.
What Are The Age Requirements For Gambling At Silver Nugget Las Vegas?
All guests must be 21 years or older to enter the casino and participate in any gambling activities. This includes playing slots, table games, poker, or betting on sports.
In addition, all guests must show a valid government-issued photo ID, such as a driver's license or passport, upon entry for verification purposes. Failure to do so could result in denied entry into the casino.
Does Silver Nugget Have An Online Casino?
No, this casino does not currently offer an online casino. However, players can access the William Hill Sportsbook app from any mobile device and place bets on sports from all around the world.
The app lets players watch their favorite games and check live scores virtually. This is a great way for guests to stay connected while away from the casino floor.
Is There An Silver Nugget Las Vegas App?
No, no official app is available now for this casino. However, guests can access their official website and view the latest promotions and upcoming events.
In addition, guests can also follow them on social media to stay up-to-date on the latest news and announcements. Guests can also access the William Hill Sportsbook app for sports betting action from anywhere in the world.
What Is The Dress Code At Silver Nugget?
The dress code at this casino is casual yet stylish. Guests must wear shirts and shoes, though athleticwear is allowed. Hats and sunglasses may not be worn inside the casino unless medically necessary.
Is There An Airport Shuttle Available From Silver Nugget Las Vegas?
Unfortunately, no shuttle service is currently offered by this casino. However, plenty of transportation options available near the casino can take you to and from the airport.
The McCarran International Airport is just a short drive away, and public transit or taxi services can easily get you to your destination quickly. Guests can also arrange a private car service to pick them up in style.
What Is The Smoking Policy At Silver Nugget?
The casino allows smoking in designated areas only. This includes the smoking lounge and other specifically marked locations.
Smoking is not allowed in any of the restaurants, bars, or public restrooms. Vaping and e-cigarettes are also prohibited unless used within a designated smoking area.
What Is The Pet Policy At Silver Nugget Las Vegas?
Only certified service animals are allowed on the property. All other pets must be left at home or in a pet-friendly hotel during your stay. Service animals should be identified and accompanied by their owner at all times.
Is Wifi Available At Silver Nugget?
Yes, free wifi is available throughout the casino and its surrounding areas. Guests can connect to the network with their mobile devices or computers, allowing them to stay connected while enjoying their visit.
What Is The Cancellation Policy For Silver Nugget Las Vegas?
The casino has no hotel and therefore does not offer a cancellation policy. Guests should contact the third-party booking website or company from which they booked their room to inquire about canceling their reservation.
Additionally, if guests wish to cancel any tickets purchased for an event on the property, they must contact the ticketing service through which they made their purchase. Cancellation policies may vary depending on the service used.
Conclusion
Silver Nugget Las Vegas is a great destination for casino gaming, sports betting, and entertainment. The casino offers a casual yet stylish dress code and only allows smoking in designated areas.
Free Wifi is available throughout the property, making it easy for guests to stay connected. The casino does not have an official app, but guests can access their website and social media channels for updates on events and promotions.
If you are looking for a fun night out, this casino is the perfect place to try your luck and enjoy everything they offer.