Silverton Las Vegas
Address: 3333 Blue Diamond Rd, Las Vegas, NV 8913
Phone Number: +1 702-263-7777
Website: www.silvertoncasino.com
Hours: Silverton Las Vegas is open 24 hours a day, 7 days a week.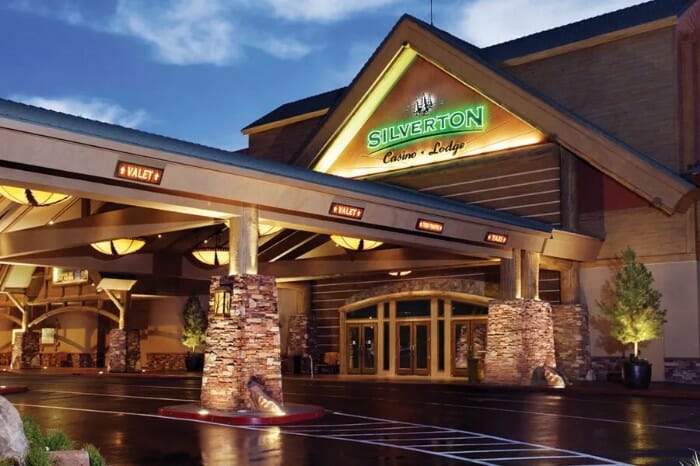 Silverton Las Vegas has been serving customers since 1994. It is a mid-sized casino resort located on the south end of the Las Vegas Strip, near I-15 and Blue Diamond Road. It was initially called Boomtown Las Vegas and was built by Ed Roski Jr. and Boomtown, Inc.
Several years later, Roski had to buy out Boomtown's casino share, and he renamed the property Silverton. Today, the casino is still run by Roski, his family, and his company, Majestic Nevada.
The casino resort offers a variety of casino gaming, including slots, table games, bingo and keno. The property also features an extensive sportsbook and many other amenities, making it one of the most popular places to play in Las Vegas.
Their hotel features 300 guest rooms and suites, a pool, spa and fitness center. There are also multiple restaurants within the casino complex. In addition, they have a live entertainment theater and aquarium.
This casino is a great place to visit if you're looking for various gaming options and many other amenities. With its 24-hour casino floor and extensive amenities, it's no wonder why so many people choose to stay here when visiting Las Vegas.
This casino has earned a 4-star rating from its guests. This is thanks to its 24-hour casino floor, extensive amenities offered, and convenient location near the Strip. One guest said, "The Silverton is a great place to stay. The staff is friendly, and the rooms are very comfortable."
Another said, "The casino has all the games you could want, and the location is ideal for getting around on the Strip."
(Related reading: Nevada casinos)
Gaming
Their 65,556-square-foot casino offers a wide variety of gaming options, including slot and video poker machines, multiple table games such as blackjack and roulette, a sportsbook and keno.
Table Games
While exploring the casino floor at this casino, you will find a surprisingly extensive selection of table games. Whether you are a blackjack enthusiast or prefer to try something new like Pai Gow Progressive, there is something for everyone.
Ultimate Texas Hold'em Progressive and 3-Card Poker are great opportunities to test your card game skills, and Roulette is a perfect game for those eager to take a risk. With several choices in stimulating and fun table games, this casino will surely have an option that suits your needs.
At this casino, table game minimums vary depending on the game and the time of day. Generally speaking, most tables offer a $5 minimum during peak hours and a $2 or $3 minimum during off-peak times.
Slots
This casino has some of the best slot machines around. Whether you are looking for old-school classics or cutting-edge new releases, their selection has something for everyone. Some of the more popular games include:
Clash for Cash
Buffalo Link
Good Fortune
Wheel Of Fortune
Lightning Link Lounge
Dancing Foo
Wheels Go Round
Scarab
Unfortunately, the casino does not disclose its slot machine payback percentage. However, the Nevada Gaming Commission requires all slots in the state to have a minimum return of 75%.
Hotel/Resort
This hotel/resort offers 300 rooms and suites with a range of amenities designed to make your stay as comfortable and enjoyable as possible.
This hotel offers Resort Rooms to accommodate any guest, featuring either one king or two queen beds, along with amenities like large flat-screen TVs, comfortable armchairs, and coffee makers.
The property also offers a variety of amenities that will surely make your stay more enjoyable. These include:
On-site dining options
A pool and spa
A fitness center
Live entertainment theater
Aquarium
Extensive sportsbook
Valet parking
The cost of lodging at this casino varies depending on the time of year and the number of guests. Standard room rates begin at $40 plus additional taxes and fees. Suite options may also be available for an additional cost.
Check-in time at Silverton is 3:00 pm
Check-out time at Silverton is 12:00 pm
Restaurants & Buffets
This casino boasts a tantalizing array of restaurants to choose from, guaranteeing a stellar dining experience no matter what your taste buds crave.
Start with a lunch stop at Twin Creeks, where you can enjoy classic American cuisine or take in the vibrant flavors and Mexican flair of Mi Casa Grill Cantina. For dinner, explore unique tastes at Su Casa Sushi before taking a delicious evening stroll to Sundance Grill.
After that, WuHu Noodle is perfect for late-night cravings with its extensive menu of tempting Asian fusion dishes. Starbucks and Johnny Rockets are great places to grab a casual bite. With so many options nearby, this casino is the ideal spot for your culinary journey.
Pools
This casino is the perfect place to cool off in the desert heat. With an outdoor pool on-site, guests can relax and soak in some rays or take a refreshing dip to beat the heat. The pool area provides shade umbrellas, lounge chairs and drink service from the nearby bars.
For those looking for a more private experience, cabanas can be rented for the day with additional amenities such as flat-screen TVs and food service included.
With plenty of colorful landscaping and an inviting atmosphere, this casino offers a unique and luxurious poolside experience that can't be found anywhere else.
Silverton Las Vegas, NV FAQ
Does Silverton Las Vegas Have A Sportsbook?
This casino is home to The William Hill Race & Sports Books. This place is a great option if you're looking for a place to enjoy wagering on your favorite teams and sports.
With seven betting windows and over 100 televisions throughout the facility, their sportsbook is prepared to celebrate with you when your team takes the lead.
This full-service sportsbook also offers two kiosks for betting on horses at any race track in the nation and live odds boards that keep tickers so that you'll always know how your bets are doing.
Is Poker Available At Silverton?
Yes, this casino features poker tables with daily tournaments, cash games and special events. With state-of-the-art tables, helpful staff and plenty of amenities, it's the perfect spot for all poker enthusiasts.
What Are The Age Requirements For Gambling At Silverton Las Vegas?
The minimum age for gambling at this casino is 21 years old. All guests must provide valid identification before accessing the gaming areas.
Does Silverton Have An Online Casino?
No, they do not currently offer an online casino. However, this casino has partnered with several other casinos and slot machines to allow guests to try their luck while they visit the property.
Is There An Silverton Las Vegas App?
No, there is currently no app available for this casino. However, their website provides plenty of information about the amenities and services offered at this casino.
Additionally, guests may follow the casino on social media for updates and promotional offers.
What Is The Dress Code At Silverton?
This casino has a dress code to ensure everyone dresses appropriately while enjoying the casino floor. Casual attire and comfortable shoes are recommended.
The casino reserves the right to deny service to anyone wearing inappropriate or offensive clothing, such as clothing depicting violence or profanity.
Is There An Airport Shuttle Available From Silverton Las Vegas?
Yes, this casino offers a complimentary shuttle service to and from McCarran International Airport. To arrange shuttle service, guests should contact the hotel directly to arrange pick-up and drop-off times.
You can call the hotel's toll-free number if you need more information or have questions before your visit. They are available to answer any questions and ensure your stay is perfect.
What Is The Smoking Policy At Silverton?
This casino is a non-smoking facility. Smoking is not allowed in any of the gaming areas or dining establishments.
The casino also has designated smoking areas outside, located away from the gaming areas and restaurants, to ensure guests can enjoy their visit without being exposed to smoke.
What Is The Pet Policy At Silverton Las Vegas?
Unfortunately, pets are not allowed at this casino. This rule applies to all animals, including service animals. Guests who require a service animal should contact the hotel directly for alternative accommodations.
Is Wifi Available At Silverton?
Yes, this casino offers complimentary WiFi for all guests. The network is easy to access and available throughout the facility, so you'll always stay connected when you visit.
For further assistance, the hotel's friendly staff can help you set up and show you how to access their WiFi network.
What Is The Cancellation Policy For Silverton Las Vegas?
The cancellation policy for this casino depends on the type of room booked. Guests can cancel up to 48 hours prior to their arrival date for standard rooms, although some promotional rates and special offers may have different policies.
For more information, guests should review the cancellation policy on the hotel's website or contact them directly.
Conclusion
Silverton Las Vegas is a great place to try your luck and have some fun. From their gaming areas to their restaurants, plenty of activities and amenities are available for guests.
The casino also has a dress code and smoking policies that must be followed. Additionally, there is complimentary WiFi available on the premises for all guests. Contact the hotel directly if you have any questions or need more information before your visit.
With the right information, you can ensure your visit is safe, comfortable, and enjoyable. Check out all the amenities Silverton Las Vegas offers and enjoy your stay.