The Palazzo Las Vegas
Address: 3325 S Las Vegas Blvd, Las Vegas, NV 89109
Phone Number: +1 702-607-7777
Website: www.venetianlasvegas.com/towers/the-palazzo.html
Hours: The Palazzo Las Vegas is open 24 hours a day, 7 days a week.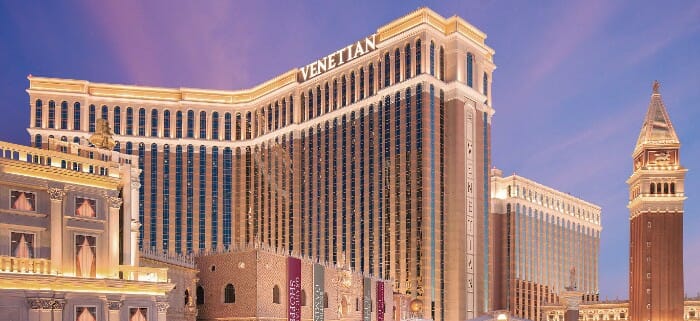 The Palazzo Las Vegas was opened in 2007 and is part of the Venetian Resort Hotel Casino complex. It is one of the most luxurious resorts on Las Vegas Blvd and features spacious suites, exclusive shopping, world-class entertainment and gourmet dining.
Their gaming space boasts a variety of table games and slots, with games ranging from blackjack, baccarat and roulette to multi-line slots. It always offers something for every guest, from its world-class shows and performances to an array of fine dining establishments.
The chic atmosphere is enhanced by award-winning architecture and decor, while the resort also features a hotel, full-service spa, salon and fitness center. It is the perfect place for a romantic getaway or an unforgettable family vacation.
With its luxurious atmosphere and amenities, it's no wonder why it is one of the top resorts on the Strip. From its breathtaking views of the Las Vegas skyline to its full-service amenities, the casino is a must-see for anyone visiting Sin City.
It has received an overall rating of 4.6 out of 5 stars from guests on Tripadvisor. One guest said, "Amazing staff. The rooms are beautiful, spacious and spotless. I could go on forever about how great this place is."
Another said, "The Palazzo Las Vegas is a great hotel with many amenities and friendly staff. Highly recommend!"
(Related reading: Nevada casinos)
Gaming
Their 105,000 sq ft casino floor features a variety of table games and slots, with games ranging from blackjack, baccarat and roulette to multi-line slots. The casino also offers several special promotions throughout the year.
Table Games
For those seeking high-stakes entertainment, this casino is a great destination to indulge your gaming interests. This luxurious casino is home to an impressive variety of table games that not only give high chances of winning but also serve as a means of relaxation and entertainment.
With options like Baccarat, Caribbean Stud Poker, Pai Gow Poker, and Let It Ride, to mention a few, getting bored is out of the question. Other exciting choices like Blackjack, Roulette, Ultimate Texas Hold'Em, 3 Card Poker, and Crazy 4 Poker will leave you spoiled for choice.
The casino's table game minimums vary depending on the type of game and the time of day you are playing. Generally, during peak times, the minimum bet can range from $15 to $25.
Slots
The casino offers various slot machines to suit all budgets and preferences. Some popular games include:
Wheel of Fortune
Ghost Busters 4D
Game of Thrones: Fire & Blood
Monopoly Millionaire
Lord of the Rings – Rule Them All
Sex and the City
Big Bang Theory
Bier Haus
Dynamic 7s
Buffalo Grand
Unfortunately, this casino does not release its slot machine payback percentages. However, Nevada's official minimum return for slot machines is 75%.
All casinos in Vegas must report their payback percentages so you can be sure that this Las Vegas casino is within the legal requirement.
Hotel/Resort
This casino offers a variety of accommodations and amenities that are perfect for any traveler. Each accommodation is designed to make you feel right at home while also providing the ultimate level of luxury.
Room types include:
Luxury King Suite – features one Grand King bed, a separate living room and a Roman tub
Luxury Two Queen Suite – features two queen beds, a separate living room and a Roman tub
Premium King Suite – features one Grand King bed, a sitting area, a Roman tub and a view of the pool or the Strip
Grand One Bedroom Suite – features a marble foyer, a powder room, a living room, a dining area, a wetbar and a jetted tub
Additionally, the hotel offers a variety of amenities to make your stay even more enjoyable. These include:
Internet access
Valet and self-parking onsite
EV charging stations
24-hour front desk
Concierge services
Daily housekeeping
Business center and meeting rooms
Outdoor pools
Full-service spa
24-hour gym
Onsite restaurants and bars
Banquet facilities
The cost of staying at their hotel depends on the type of room and season. During peak times, rates can range from $100 – $1,000 per night. Off-season prices are typically lower.
Check-in time at The Palazzo is 3:00 pm
Check-out time at The Palazzo is 11:00 am
Restaurants & Buffets
Looking for the tastiest Las Vegas has to offer? This casino has got you covered with its outstanding selection of restaurants.
At Emeril's Table 10, you'll get to experience the finest dining with dishes that feature the freshest ingredients. For something unique, SushiSamba is a must-visit for their Japanese and Brazilian-inspired dishes.
If you're on the hunt for the best steak in town, Carnevino has got it covered, with its dry-aged beef cooked to perfection. Cut is another steakhouse that is worth trying, and they have an extensive wine list to pair with your meal.
Morel's French Steakhouse has a casual atmosphere, with lively music and a classic Parisian feel. If you're in the mood for Italian, LAVO is worth the visit and offers an excellent weekend party brunch.
ZINE is a stylish restaurant with an emphasis on modern American cuisine, while Buddy V's Ristorante is your one-stop-shop for all things Italian, with dishes that are perfect for sharing with friends and family. No matter your taste, it has restaurants that will satisfy all your cravings.
Pools
If you're looking to cool off from the desert heat in style, you can't go wrong with this casino's pools. With seven outdoor swimming options, you're sure to find the perfect spot to soak up some sun and take a dip.
Enjoy a poolside cocktail as you lounge in a luxurious cabana or take a refreshing swim in the pristine blue waters. Whether you're looking for a quiet oasis or a lively party scene, the casino has got you covered.
The Palazzo Las Vegas, NV FAQ
Does The Palazzo Las Vegas Have A Sportsbook?
Yes, this casino offers an extensive sportsbook with plenty of betting options. The location of their sportsbook is a great spot to watch the latest game while enjoying food and drinks.
Additionally, many TVs throughout the casino make it easy to follow your favorite teams and stay up-to-date on all the action.
Is Poker Available At The Palazzo Las Vegas?
Yes, they offer a wide selection of poker games for players to enjoy. You can find cash games and tournaments running daily, with varying stakes and buy-ins available. There are also plenty of amenities such as free snacks, drinks and TVs to make your experience even more enjoyable.
What Are The Age Requirements For Gambling At The Palazzo Las Vegas?
The legal age for gambling at this casino is 21 years old. All guests must present valid ID upon check-in to prove they are of legal age.
Underage gambling can result in penalties, so it's important to follow the rules and regulations when participating in any type of gaming activity at the casino.
Does The Palazzo Las Vegas Have An Online Casino?
No, they do not offer an online casino. However, you may visit the casino in their physical location to enjoy all of their gaming amenities. Guests can also take advantage of their full-service spa, onsite restaurants, and outdoor pools while they are there.
Is There An The Palazzo Las Vegas App?
No, there is no official Palazzo Las Vegas app. However, the casino does offer a mobile-friendly website for their guests to take advantage of. Guests can use this site to book reservations, view their special offers and promotions, check out upcoming events and much more.
What Is The Dress Code At The Palazzo Las Vegas?
The dress code at this casino is casual, yet stylish. Guests must be wearing shoes and shirt and all attire should be neat and presentable. Swimwear, exercise clothing, sleepwear, tank tops and hats are not allowed in the main areas of the casino.
Is There An Airport Shuttle Available From The Palazzo Las Vegas?
No, they do not offer an airport shuttle service. However, guests can use public transportation such as the bus and monorail to get to and from McCarran International Airport. Taxis are also available at the airport for those who would like a direct ride to the casino.
What Is The Smoking Policy At The Palazzo Las Vegas?
This casino hotel is a non-smoking property. Smoking is only allowed in designated outdoor areas. Guests must adhere to the smoking policy and are liable for any damages caused by their actions. All guests are encouraged to respect the health and comfort of other guests.
What Is The Pet Policy At The Palazzo Las Vegas?
Unfortunately, this casino does not allow pets. However, service animals are welcome and must be registered with the hotel at check-in. All service animals must remain on a leash or in a carrier at all times while inside the casino.
Is Wifi Available At The Palazzo Las Vegas?
Yes, this casino offers free wifi throughout the property for all guests to take advantage of. Guests can connect their devices to the wireless network and enjoy fast and reliable internet access during their stay.
What Is The Cancellation Policy For The Palazzo Las Vegas?
Guests can cancel their reservation up to 72 hours before their arrival date in order to avoid a cancellation fee. Any cancellations made within 72 hours of arrival will be subject to a one-night charge plus any applicable taxes and fees.
Conclusion
This luxurious casino hotel in Las Vegas offers a huge selection of gaming options, as well as plenty of amenities for guests to enjoy. From poker games and slot machines to outdoor pools and full-service spas, this casino has something for everyone.
Guests should take note of the age requirements, dress code policy, pet policy and more before visiting this iconic destination. With plenty of gaming options, a wide range of amenities and convenient policies, The Palazzo Las Vegas is sure to be an unforgettable experience for all.