The Venetian Las Vegas
Address: 3355 S Las Vegas Blvd, Las Vegas, NV 89109
Phone Number: +1 702-414-1000
Website: www.venetianlasvegas.com
Hours: The Venetian is open 24 hours a day, 7 days a week.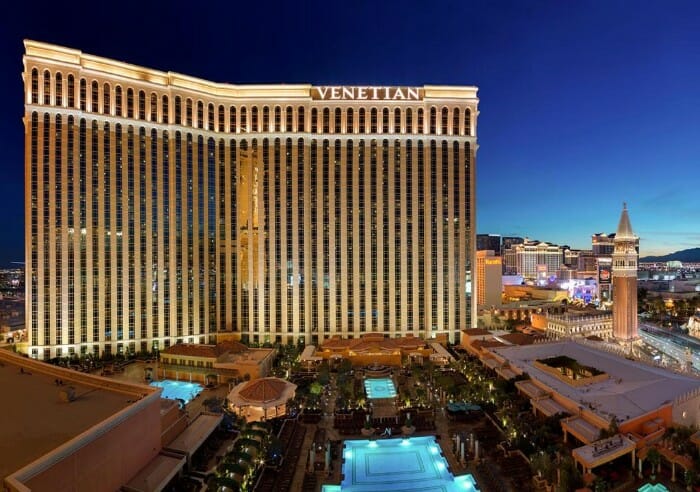 The Venetian Las Vegas was built by the Las Vegas Sands Corporation, owned by the Vici Properties. The hotel-casino opened its doors on May 3rd, 1999 and played host to many famous celebrities for their grand opening celebration.
It was built by Sheldon Adelson and initially owned by the owners of The Interface Group, but after several years, the property was sold to its current owner in 2022. To date, the casino is still known for its stunning Renaissance architecture and luxurious amenities.
It features a state-of-the-art casino that boats over 1,800 slot machines and table games, as well as more than a hundred poker tables. Their luxurious hotel has thousands of suites and over 40 restaurants, making it one of the most impressive resorts in Las Vegas.
The property is also home to many entertainment shows, events and attractions. It has an indoor shopping mall with several designer shops and boutiques, along with several bars and lounges for guests looking to relax and enjoy a night in Las Vegas.
The casino continues to be one of the most popular resorts in Las Vegas and is sure to provide visitors with an unforgettable experience. No matter what your reason for visiting is, you can be sure of finding something at the casino that will meet your needs.
On most review sites, guests rate this casino highly — with an average score of 4.5 out of 5 stars. One guest said, "The Venetian is an amazing resort and well worth the cost. The rooms are luxurious, the restaurants offer great food, and there's plenty to do.'"
Another said, "The Venetian Las Vegas has a great atmosphere, and the staff are friendly and helpful. There's always something to do on any given day, and you can't beat their casino. The rooms were clean and comfortable too."
(Related reading: Nevada casinos)
Gaming
Their 120,000 square foot gaming space offers more than 1,800 slot machines and table games across its four levels. From classic slots to blackjack, roulette and poker, they have something for all players.
Table Games
When you're in Las Vegas, this casino is the place to be for all your gaming needs. This world-class casino offers some of the finest table games, including Baccarat, Blackjack, Roulette, Craps, Pai Gow, Omaha and both Poker and Texas Hold'Em.
With a wide variety of games to choose from and professional pit bosses ready to answer any questions to get you playing comfortably and securely, they have something for everyone.
This casino offers table game minimums for all levels of play. Whether you are a new player or an experienced one, the casino provides an experience that suits your level of play.
Typically, most table games have minimum bets of $10. Some games may have higher minimums depending on the day.
Slots
Slots are often some of the most popular games at a casino, and this casino is no exception. For all types of players, the casino provides several options to choose from. Some of the most popular slot games at the casino include:
Willy Wonka
Buffalo Zones
Mystical Mermaids
88 Fortunes
Jungle Vip
Action Dragons
Heidi's Bier Haus
Kronos: Father of Zeus
Unfortunately, this casino does not disclose this information to the public. However, the Nevada Gaming Commission requires all casinos in the state to maintain an average payback of at least 75%.
Hotel/Resort
This casino is a 23-story hotel with over 4,049 total suites. Their accommodations are divided into two towers, the Venetian and Palazzo. Each suite offers amenities such as plasma TVs, a piano bar and luxurious bathrooms.
From their elegant and luxurious Luxury Suites to the spacious Grand One Bedroom suites and up to the exclusive Presidential Suite, every corner of this casino hotel holds something special.
If you're looking for extra amenities, the Premium Suite offers comforts such as premium bedding and LCD TVs. Plus, with access to a private lounge, pool and spa area, the Executive Suite could make your trip especially prosperous.
Additionally, this hotel offers several amenities for guests to enjoy. Some of these include:
24-hour front desk
Concierge services
Daily housekeeping
Business center and meeting rooms
Spa and sauna
Onsite restaurants and bars
Live entertainment
Outdoor swimming pools
Wifi access
Fitness center and gym
Car rentals
The cost of a stay at The Venetian depends on the time of year and type of accommodation. However, generally speaking, their suite accommodation starts at about $112 a night and can go up to around $800 for the luxury suites.
Check-in time at The Venetian is 3:00 pm
Check-out time at The Venetian is 11:00 am
Restaurants & Buffets
Although this casino does not offer any buffet-style restaurants, there is no shortage of delicious dining options. From traditional Italian dishes to American-style barbeque, this casino has something for every palate, with over 60 onsite restaurants.
From the contemporary French cuisine at Bouchon to the Italian favorites served at Canaletto, the casino has something for everyone. Cut specialty is steak, complemented by a world-class selection of wines by the glass or bottle.
Delmonico Steakhouse offers up classic steaks in a rustic yet refined atmosphere, while Estiatorio Milos brings its unique style of modern Mediterranean seafood dishes direct from Mykonos, Greece.
For an unforgettable Far Eastern experience, Mott 32 serves traditional Chinese specialties crafted with a modern twist. Experiments await at Villa Azur, where eclectic and cosmopolitan flavors are blended with island-style hospitality.
Wakuda showcases some tantalizing Japanese dishes, including sushi creations from Japan's great sushi masters. To finish your meal in style, visit The X Pot and pick from mouth-watering desserts like their signature Glowing Chocolate Soufflé that boasts flavors from around the globe.
Pools
Visiting this casino is a truly incredible experience. There are three different pool decks to choose from, including The Venetian Pool Deck, The Palazzo Pool Deck and Tao Beach Day Club.
With each offering a unique atmosphere, there is something for everyone. From the large infinity pool at The Venetian Pool Deck to the lively relaxation of The Palazzo Pool Deck and the chic beats of music at Tao Beach Day Club, you will feel like you have stepped into an oasis.
Enjoy cabanas and day beds that provide the perfect rest spot, or grab some food and drinks to enjoy with friends while you take in the stunning views. Regardless of what atmosphere you're looking for, these luxurious pools will not disappoint.
The Venetian Las Vegas, NV FAQ
Does The Venetian Las Vegas Have A Sportsbook?
This casino will surely be the destination for sports fans looking for all their sportsbook needs. Whether you're in the mood for a night out to watch games on the big screens or want to lay down some bets, William Hill Sportsbook has you covered.
It offers on-site bookie and betting lines as well as a mobile wagering option through the William Hill Nevada Mobile Sports app. So no matter where you are in Las Vegas, you can place your bets easily and conveniently.
Is Poker Available At The Venetian?
Yes. One of the most popular poker rooms in Las Vegas, their poker room is home to some of the best players in the world.
From Texas Hold'em to Omaha, guests can find the perfect game for their skill level. And the poker room hosts daily tournaments and special events throughout the year.
What Are The Age Requirements For Gambling At The Venetian Las Vegas?
Guests of this casino must be 21 or older to gamble. All guests are subject to ID verification upon entry into the casino. Visitors under 18 are prohibited from entering the gaming areas, though they may accompany their parent or legal guardian in other areas of the property.
Does The Venetian Have An Online Casino?
Unfortunately, no. They currently do not offer an online casino. Guests must visit the property in person to experience all that the casino has to offer. Additionally, guests must be 21 or older to access the casino.
Is There An The Venetian Las Vegas App?
As of now, there is no app for this casino. However, guests can stay updated on all the latest news and events by following them on social media and visiting their website.
They also offer a concierge service that guests can access in person or over the phone to get answers to any questions they may have.
What Is The Dress Code At The Venetian?
Planning a trip to this casino? Before you start packing, it's important to familiarize yourself with their dress code.
The casino atmosphere is casual but still stylish, so although shorts and t-shirts aren't allowed, jeans and pullover shirts are acceptable. As long as your outfit isn't torn (and properly covered!), dressing for your night at this casino should be a breeze.
Is An Airport Shuttle Available From The Venetian Las Vegas?
Unfortunately, this casino does not offer an airport shuttle service. However, there are plenty of other transportation options available. Guests can take a taxi or rideshare to the property or rent a car from one of the many rental companies at McCarran International Airport.
What Is The Smoking Policy At The Venetian?
Smoking is only allowed in designated areas of the property. Guests can find smoking lounges near the casino floor and at restaurants and bars. E-cigarettes are also allowed in these areas, provided they meet all state requirements.
What Is The Pet Policy At The Venetian Las Vegas?
Unfortunately, pets are not allowed on the property. The only exception is service animals, which must be identified with proper documentation. Guests who need to bring a service animal should contact the hotel in advance for further instructions.
Is Wifi Available At The Venetian?
Yes, free wifi is available throughout the property. Guests can connect to their wifi network and start browsing the internet. Additionally, if you need to print or fax documents, the hotel offers a business center to help you with this.
What Is The Cancellation Policy For The Venetian Las Vegas?
Their cancellation policy is 72 hours in advance. If you cancel within 72 hours of your scheduled check-in time, you may be charged for one night's stay. Guests should contact the hotel directly to learn more about their cancellation policy.
Conclusion
Whether you're looking for a place to gamble, relax, or explore the Las Vegas Strip, The Venetian Las Vegas is the perfect destination. With its luxurious accommodations and amenities, this casino offers something for everyone.
From its stylish dress code to its friendly staff and wide selection of games and activities, there's no better place to experience the glamour and excitement of Las Vegas. So what are you waiting for? Start planning your trip today!