Inn of the Mountain Gods Resort & Casino Mescalero
Address: 287 Carrizo Canyon Rd, Mescalero, NM 88340
Phone number: +1 575-464-7059
Website: www.innofthemountaingods.com
Hours: Inn of the Mountain Gods Resort & Casino is open Monday 8 am–12 am, Tuesday 8 am–12 am, Wednesday 8 am–12 am, Thursday 8 am–12 am, Friday 8 am–2 am, Saturday 8 am–2 am, Sunday 8 am–12 am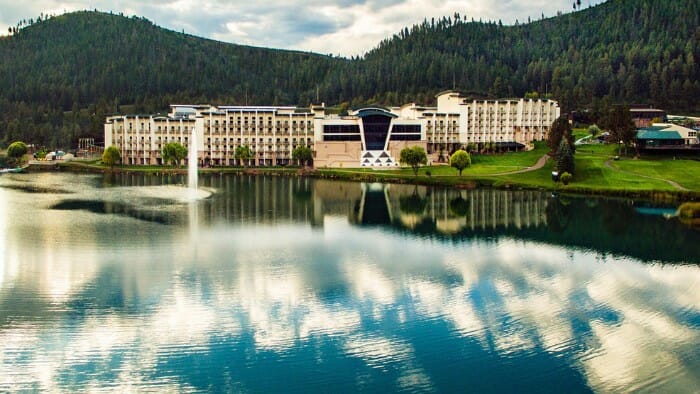 Inn of the Mountain Gods Resort & Casino was established in 2004 by the Mescalero Apache Tribe with the support of local and state governments.
Located within the boundaries of a tribal reservation, this first-class resort is situated 8 000 feet above sea level on beautiful Lake Mescalero.
The resort offers guests a unique experience, featuring world-class gaming, luxurious accommodations, golf courses, skiing, equestrian events, live entertainment and a variety of outdoor activities.
Their casino features slots, table games, poker and bingo. They also have an onsite hotel that houses hundreds of rooms and suites, a full-service spa and salon, several restaurants, an 18-hole championship golf course and other recreational activities.
With its warm hospitality and stunning landscape, this casino is sure to exceed all expectations. From pampering spa treatments to thrilling nightlife – it's an unforgettable escape. If you find yourself in Mescalero – don't miss a chance to explore all that they have to offer.
On popular travel and review sites like TripAdvisor, guests rate this casino with 4.5 out of 5 stars, based on more than 4,600 reviews. One guest mentioned, "This is an amazing casino, the service is top-notch and all of the staff were friendly".
Another guest stated, "The casino is well-maintained and the staff was very helpful. The gaming options are varied and exciting. Highly recommend!"
(Related reading: New Mexico casinos)
Gaming
Their casino floor is always buzzing with excitement. With more than 600 slot and video poker machines, a wide variety of table games, and an exclusive poker room and a bingo hall – you'll be sure to find something that fits your style of play.
Table Games
This casino in New Mexico has all the classic casino table games you could ask for. The perfect spot for a night out, or a weekend break, why not try your luck at one of their many blackjack tables?
Or perhaps you're more of a poker player? With weekly and monthly tournaments to join, there's always something new to get stuck into. Craps is also available, with regular players enjoying the energy of spinning and throwing around the dice.
Finally, roulette fans can enjoy some double-zero American roulette games suited to all levels. Typically, players can find minimum bets ranging between $5 and $25.
Slots
This casino is one of the top spots for gaming fun! It is known for having an incredible selection of slot machines that offer a variety of themes and denominations to suit any budget. Among the most popular slots are:
Fu Dao Le
Colossal Wizards
Li'l Red
Dancing Drums
Spartacus Gladiator of Rome
Forbidden Dragons
Buffalo
Queen of The Wild II
Three Little Pigs
Lazer Lock Ice Sapphire
Unfortunately, the payback percentage of each individual slot machine is not publicly available, but according to the New Mexico Gaming Control Board, the average payback percentage of all casinos in the state should be 80%.
Hotel/Resort
This casino also offers guests a luxurious hotel and resort experience. It features a lakeside hotel with hundreds of rooms, including suites with kitchenettes. The resort also offers complimentary WiFi, an indoor pool and hot tub, a fitness center and more.
Room types include:
Standard Room – features one king or two queen beds
Superior Room – features one king or two queen beds with a more spacious room
Luxury Room – features one king or two queen beds, a sitting sofa and a balcony
Deluxe Suite – features one king bed, a working desk, a balcony, a Whirlpool tub, and a walk-in shower
Royal Suite – features one king bed, a working desk, a Whirlpool tub, a walk-in shower, a wet bar and a private balcony
Presidential Suite – features one king bed, a working desk, a Whirlpool tub, a walk-in shower, a dining area, a living room a wet bar and two private balconies.
Additionally, visitors can enjoy the hotel's range of amenities, including:
Daily housekeeping
Live entertainment
Wifi access
Full-service spa and salon
A golf course
Golf Course
Wildlife hunting
Meeting and banquet facilities
Nearby local attractions and activities
Onsite dining and bar
Indoor pool
The cost of a stay at this casino in New Mexico can vary depending on the time of year, type of room and other amenities. Standard rooms start from as low as $99 per night while Suites range up to $269 per night.
Check-in time at Inn of the Mountain Gods is 3:00 pm
Check-out time at Inn of the Mountain Gods is 11:00 am
Restaurants & Buffets
Even though the casino does not currently offer a buffet, there are several restaurants on-site that serve up delicious dishes. Enjoy fresh seafood, juicy steaks and other exquisite meals at Wendell's Steak And Seafood.
Get your happy hour buzz in style at Wendell's Lounge. Looking for an incredible game day atmosphere? Big Game Sports Bar offers your favorite drinks and plenty of TVs that let you follow all the action.
Want to catch up with friends over some excellent pub grub? Visit Broken Arrow Tap House. Red Hat Grille is bringing an old-school diner feel to their tables. If a quick bite is what you need, Apache Tee has an enormous selection of snacks and light meals perfect for any time of day.
Pools
Whether you're looking for an exciting night out or a chance to relax and unwind, this resort can make your dreams come true. Enjoy their outdoor pool, complete with water activities including a lazy river and water slide, or head inside for a dip in their heated indoor pool year-round.
With heated jets, steam saunas, and comfortable lounge chairs surrounding the indoor pools, you can find that perfect spot to relax and enjoy a much-deserved break from the hustle and bustle that life often throws our way.
Inn of the Mountain Gods Resort & Casino, Mescalero, NM FAQ
Does Inn of the Mountain Gods Resort & Casino Have A Sportsbook?
The resort's casino boasts one of the biggest and best sportsbooks in New Mexico; William Hill's Sportsbook. This premier sports betting and gaming experience is by far one of the finest you'll find in the state.
The sleek and modern facility includes TVs for game-watching and bet review, kiosks for quick wagering access, tons of comfortable seating, a full-service bar and lounge offering signature cocktails and drafts on tap, plus delicious food options that will make your visit memorable.
Is Poker Available At Inn of the Mountain Gods Casino?
Yes, poker is available here. Their dedicated Poker Room offers cash games, tournaments, and more. With several tables, high-stakes poker is always on the menu at this casino. Enjoy your favorite Texas Hold'em variant or Omaha Hi/Lo and see if you can beat the house.
What Are The Age Requirements For Gambling At Inn of the Mountain Gods?
All guests must be 21 years or older and have valid government-issued photo ID to play. Those under 18 are allowed in public areas as long as an adult accompanies them. Guests aged 18 – 20 may enter the casino, but cannot play games of chance or collect winning payouts.
Does Inn of the Mountain Gods Resort Have An Online Casino?
Unfortunately, they do not currently have an online casino. However, you can still enjoy all your favorite games in person by visiting their physical location. Whether you're looking for slot machines, table games, or a sportsbook – you'll find it here.
Is There An Inn of the Mountain Gods Resort & Casino App?
Unfortunately, an app for the resort does not currently exist. However, you can easily find their website on any mobile device.
The site is optimized to offer a great experience and provide easy access to all the information you need. From making reservations and booking packages to checking out upcoming events – it's all just a few clicks away.
What Is The Dress Code At Inn of the Mountain Gods Resort?
Guests are asked to be dressed in a manner that is respectful of the casino environment. Shirts and shoes must be worn at all times, no matter what area you're visiting. While there is not a strict dress code, guests should wear clothing that is suitable for the occasion.
Is There An Airport Shuttle Available From Inn of the Mountain Gods?
Unfortunately, they do not currently offer an airport shuttle. However, there are several nearby transportation companies that may be able to assist you in arranging a shuttle service to and from the resort.
Additionally, taxis and rideshare services are available for guests who need additional assistance getting around town. Be sure to ask the resort staff for more information on finding transportation services nearby.
What Is The Smoking Policy At Inn of the Mountain Gods Resort & Casino?
The resort is a non-smoking facility. Smoking is prohibited in all indoor areas, including the casino floor and hotel rooms. Guests may smoke outside of designated outdoor smoking areas only. Additionally, e-cigarettes and vaping are also not allowed in any indoor space.
What Is The Pet Policy At Inn of the Mountain Gods Resort?
Unfortunately, this casino does not allow pets. If you plan on bringing a pet with you, please confirm in advance that your chosen accommodation allows for it. There are several pet-friendly hotels nearby so be sure to look into those options before booking your stay at this resort.
Additionally, service animals are allowed in all areas of the resort in accordance with ADA regulations.
Is Wifi Available At Inn of the Mountain Gods?
Yes, wifi is available throughout the entire resort. Guests may connect to the hotel's free wifi that has a strong signal throughout the property.
What Is The Cancellation Policy For Inn of the Mountain Gods Resort & Casino?
Cancellations must be made at least 48 hours prior to the scheduled arrival date in order to receive a full refund. Cancellations made within 48 hours of the scheduled arrival date will result in a charge equivalent to one night's reservation.
Conclusion
Inn of the Mountain Gods Resort & Casino is a great destination for anyone looking to have an exciting and unique vacation experience. With their stunning mountain views, a wide variety of gaming options, and an abundance of amenities, it's no wonder so many people come back year after year.
Before you book your stay at this resort, be sure to check their website for the latest updates on their dress code, pet policy, wifi access, and cancellation policy. With these tips in mind, you're now ready to book your stay at this world-class resort