Hamburg Gaming
Address: 5820 South Park Ave, Hamburg, NY 14075
Phone number: +1 716-646-6109
Website: www.hamburggaming.com
Hours: Hamburg Gaming is open Monday 8 am–4 am, Tuesday 8 am–4 am, Wednesday 8 am–4 am, Thursday 8 am–4 am, Friday 8 am–4 am, Saturday 8 am–4 am, Sunday 8 am–4 am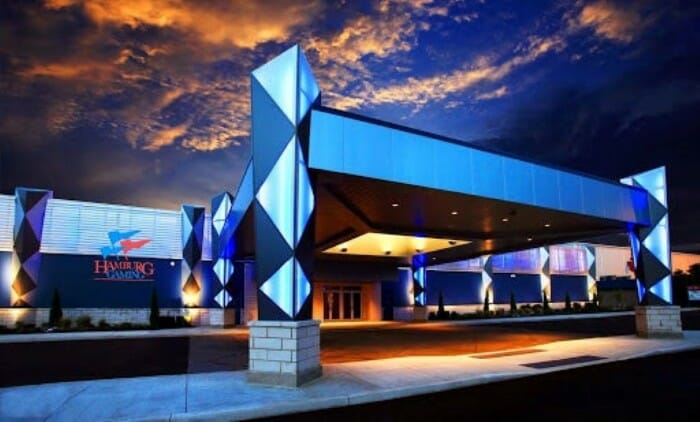 Hamburg Gaming, located at the historic Fairgrounds in New York, opened its doors in 1942. Originally, the facility was intended to be used as a horse-racing track. Over the years, it evolved into an entertainment venue that offered multiple types of gaming.
By 2000, it had become one of the premier game destinations in New York State. The property is currently owned and operated by Buffalo Trotting Association, Inc., and is one of the largest gaming facilities in New York State.
They offer over 900 modern slot machines spread out over their gaming space. They also have video lottery terminals, and simulcast wagering for both thoroughbred and harness racing. They even offer promotions and special events on a regular basis to keep their customers entertained.
And for people who want to take a break from the action, the casino also houses multiple restaurants that will surely satisfy your hunger.
This casino is a great destination for both locals and tourists looking to experience some gaming fun. With all the amenities, promotions, and events that they offer, it is clearly one of the best places in New York to visit.
On popular review sites, guests rate this casino with 4.4 out of 5 stars. One guest described it as "a great place to come and hang out," while another commented that "the slots are pretty good and the staff is friendly."
Another guest also said, "I love Hamburg Gaming – the machines are up to date, the staff is friendly and helpful and it's just a fun place to be. Also, their restaurants serve great food. I highly recommend it!"
(Related reading: New York casinos)
Gaming
Their gaming space has 900 modern slot machines and video lottery terminals. They also have simulcast wagering for both thoroughbred and harness racing.
Table Games
With a great selection of games and large jackpots, it's no wonder that visitors from all over flock to this premier gaming facility. While the casino does offer plenty of exciting slots and video poker options, unfortunately, they do not currently offer any table games like blackjack or roulette.
That being said, with an endless variety of slots and other games such as keno and bingo, you can still find plenty of ways to have fun and earn exciting rewards at this casino.
Slots
This casino's slot machines are always a top pick for all the gamers out there. Among their most popular games are Lucky Fountain, Wonder World, Gremlins, Golden Relics, Fireball and Lobstermania.
Each of these games offers something unique to players, from colorful graphics in Lucky Fountain and Lobstermania to exciting bonuses in Gremlins and Wonder World. Fireball features an amazing bonus wheel full of prizes that you don't want to miss out on.
This casino is committed to providing its customers with a safe and secure gaming experience. The casino's slot machines have a payback percentage of 91.5%, which means that players have a higher chance of winning on these slots.
Hotel/Resort
This casino is a great destination for fun and entertainment. While there's no onsite hotel, there are several nearby locations for guests to stay during their visit.
Enjoy the convenience of the Holiday Inn Express & Suites, Hampton Inn, Comfort Inn & Suites, or Quality Inn. Whether you're looking for the luxury of a hotel onsite or exploring accommodations within the local area, this casino has you covered.
Restaurants & Buffets
When you're looking for an exciting night out in this casino, you'll want to check out its amazing restaurants. Start your evening with dinner and drinks at the Blue Ribbon Grill, which is known for its unique flavors and great customer service.
If you need a pick-me-up after a long night of gaming, head over to the Winner's Circle Cafe and get an energy boost from their famous espresso cups. When it's time for a quick snack or drink, try the Cyclone Bar for tasty treats and an extensive beer selection.
And if it's breakfast you're after, don't forget about Tim Hortons where you can enjoy classic Canadian food all day. Here, you can indulge in delicious pastries, baked goods and hot cups of coffee.
Unfortunately, their Midway Buffet is currently closed, but they have plans to reopen it in the near future.
Pools
If you're looking for a new way to satisfy your gaming interests, take a look at this casino in New York. It offers an eclectic mix of electronic gambling machines and live harness racing that can provide hours of entertainment.
There are no pools at the facility, but this leaves plenty of room for fun without the risk of losing too much money or feeling overwhelmed.
With amenities like top-notch service from qualified and friendly staff and delicious food choices, along with ongoing promotions and events, you're sure to have an amazing experience when visiting this casino.
Hamburg Gaming, NY FAQ
Does Hamburg Gaming Have A Sportsbook?
Unfortunately, this casino does not currently offer a sportsbook. However, they do feature simulcast wagering for both thoroughbred and harness racing at their facility. Also, guests can check out their racetrack and off-track betting facilities in the area.
Is Poker Available At Hamburg Gaming?
A visit to this casino in New York is sure to satisfy anyone looking for a fun gaming experience. Although they do not offer traditional poker games, they do offer video poker, which provides the same excitement of competing against other players from the comfort of your own seat.
Video poker is available 24/7, so no matter when you come through the door, there's sure to be an enjoyable game waiting for you.
What Are The Age Requirements For Gambling At Hamburg Gaming?
Anyone over 18 is allowed to gamble at this casino in New York. However, for those under 21, there are certain restrictions and limitations which must be observed in order to ensure a safe and responsible gaming environment.
Does Hamburg Gaming Have An Online Casino?
Unfortunately, this casino does not currently offer an online gaming platform. However, guests can still enjoy the traditional aspects of the casino and its racing facilities from the comfort of their own homes.
Is There An Hamburg Gaming App?
No, there is not currently an app available for this casino. However, guests can take advantage of the casino's website to learn more about their gaming offerings and promotions. Also, they can stay up to date on what's happening around the casino through their social media sites.
What Is The Dress Code At Hamburg Gaming?
The dress code at the casino is casual. Guests are encouraged to wear comfortable clothing and shoes while they enjoy their time in the casino. However, those attending special events or dining at one of the restaurants may need to adhere to a stricter dress code.
Is There An Airport Shuttle Available From Hamburg Gaming?
Unfortunately, there is not currently an airport shuttle available from this casino.
However, guests may be able to find a taxi service or other local transportation options near the casino that can provide transportation to and from the nearest airports. There are also ridesharing services available that can provide transportation to and from the casino.
What Is The Smoking Policy At Hamburg Gaming?
Smoking is not permitted within the casino, but there is a designated smoking section available for guests who wish to enjoy their cigarettes or cigars.
This area is located outside of the main casino floor, so it's important to remember that if you are looking to enjoy a smoke while playing games, you must stay within this area.
What Is The Pet Policy At Hamburg Gaming?
Only service animals are allowed in the casino. All other pets must remain outside and cannot be brought into the main gaming area.
Is Wifi Available At Hamburg Gaming?
Unfortunately, there is no wifi available at the casino. However, guests may be able to access the internet from their mobile devices or through public wifi hotspots in nearby restaurants and other establishments.
What Is The Cancellation Policy For Hamburg Gaming?
There is no need to reserve a space at the casino, so no cancellation policies apply. Guests are welcome to come in and enjoy the gaming amenities whenever they wish, subject to availability.
If there is an event or promotion happening at the casino that requires tickets or reservations, then those policies may differ depending on what is being offered. It's important to check with a member of the casino staff to clarify any questions or concerns.
Conclusion
Hamburg Gaming offers a unique and enjoyable experience for those looking to enjoy a day out at the casino. Guests can find all of their favorite gaming options, as well as delicious dining experiences, exciting entertainment, and more.
With all the information provided here, you should have a better understanding of what to expect from your experience at this casino. From the dress code to pet policies, you can be sure that your visit will be safe and enjoyable.