Saratoga Casino & Raceway
Address: 342 Jefferson St, Saratoga Springs, NY 12866
Phone Number: +1 518-584-2110
Website: www.saratogacasino.com
Hours: Saratoga Casino & Raceway is open Monday 9 am–5 am, Tuesday 9 am–5 am, Wednesday 9 am–5 am, Thursday 9 am–5 am, Friday 9 am–5 am, Saturday 9 am–5 am, Sunday 9 am–5 am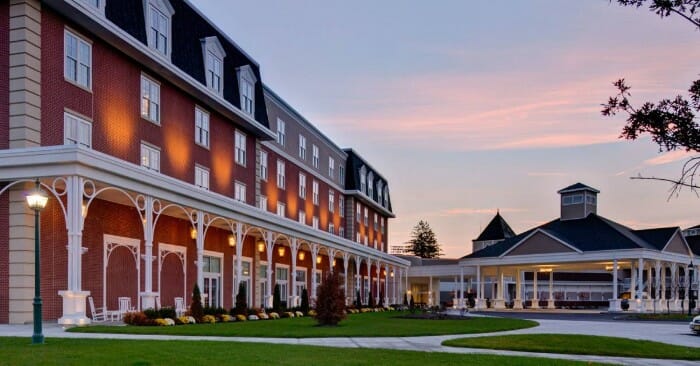 Saratoga Casino & Raceway has a long, rich history in Saratoga Springs. The track first opened in 1941 and has been entertaining guests ever since with its exciting harness races.
In 2004, the facility was expanded to include casino gaming, making it one of the most popular entertainment destinations in upstate New York.
Since then, this racino has continued to be a leader in the gaming industry, offering guests an unmatched level of entertainment and service. Today, the property is currently owned by Saratoga Harness Racing, Inc.
The facility is also home to year-round live harness racing, which includes stakes races such as the Adios and Messenger Stakes. Their casino space includes more than 1,200 slot machines, video poker and electronic table games.
The property also houses a luxury hotel that offers guests comfortable accommodations, and the award-winning Morton's The Steakhouse is open daily for dining. Live entertainment is even offered in the venue's various lounges and bars with events such as trivia, comedy, and live music.
Whether you're looking for a night out at the harness races or a weekend of casino gaming, this casino offers something for everyone. From its long history to modern amenities and entertainment, this is one destination that you won't want to miss.
This racino has earned a 4.4/5 rating on TripAdvisor, with visitors praising the property for its lively atmosphere and great gaming options. One guest said, "It was a great evening! The raceway was awesome and the slots were so much fun."
Another reviewer noted, "This is an excellent entertainment destination that offers something for everyone. I recommend it if you're looking for a great night out."
(Related reading: New York casinos)
Gaming
Their gaming space includes 1,200 slot machines, video poker and electronic table games. They also offer a variety of promotions, giveaways and other specials throughout the year to reward their loyal players.
Table Games
This casino offers a unique gaming experience featuring only slot machines and electronic table games. However, there are no traditional table games played at this casino. But there are thousands of slots to choose from, giving visitors plenty of choices to make.
Not only do they offer the traditional three-reel slot machines but also hundreds of video poker options as well as progressive jackpots. With so many ways to play and have fun, this casino is an exciting destination for those looking for a great time and some luck at the tables.
Slots
Whether you're looking for a classic slot with your favorite characters or something new and exciting, there's likely something here that will suit your needs. Take 'Friends', a pop culture phenomenon; the 'Lock It Link' with thrilling features; or the classics like '88 Fortunes'.
Fans of the television quiz show can take a spin on the 'Wheel of Fortune' machine. You might be feeling lucky with Ultimate Fire Link', the Black and Gold Quick Hit, IGT Double Diamond Red Hot Respin and many more.
There are even special machines like Ocean Magic Grand, Babooshka, Playboy Quick Hits, Golden Gecko and Jinse Dao Hexogems for an extra bit of fun.
According to reports, this racino pays out an average of 92% on their slot machines. The state's minimum payback for slot machines is 90%. That means this racino is above average in terms of payout percentages.
Hotel/Resort
The property also features a luxury hotel that offers guests comfortable accommodations. Guests can enjoy spacious suites with stunning views of the racetrack and casino floor.
Each room features modern amenities such as flat-screen TVs, free Wi-Fi, and a mini refrigerator. There's also an onsite restaurant and lounge area for guests to relax in after a long day of gaming or racing.
Room types include:
Standard Room – features one king or two queen beds
Executive King – features one king bed and a sitting area
Morris Suite – features one king bed, a sitting area, a dining area, and a bathtub
Bostwick Suite – features one king bed, a sitting area, a dining area, an oversized bathroom and a bathtub
Harriman Suite – features two rooms, a living room, a dining area, a parlor room and a soaking tub
Additionally, there are a variety of amenities available to guests, including:
Free wifi access
Free self-parking
EV charging stations
24-hour front desk
Concierge services
Dry-cleaning service
24-hour business center with meeting spaces
Fitness center
Retail stores
Onsite restaurants and bar
Live entertainment and shows
Free local area shuttle
Indoor pool and whirlpool
The cost of staying at this hotel varies depending on room type and time of year. Typically, the standard room rates range from $139 excluding taxes and fees.
Check-in time at Saratoga is 4:00 pm
Check-out time at Saratoga is 11:00 am
Restaurants & Buffets
Although they currently do not offer buffet-style dining, they do have a couple of restaurants onsite. With a range of restaurants catering to different tastes and occasions, there's something for everyone.
Get a taste of fine steaks at Morton's The Steakhouse known for its incredible selection of cuts and extraordinary service. As an alternative to steak, Lucky Joe's offers delicious contemporary American fare while Mane Bar serves up classic pub grub with a welcoming atmosphere.
If you're looking for Asian fusion dishes with a twist, Fortunes is the place to go. Wherever you choose to dine, you'll be sure to have a memorable time at this casino.
Pools
Located in Saratoga Springs, this racino is home to a professional horse racing track and one of the most magnificent indoor pools in the area.
Whether you're just looking for a leisurely dip or want to take advantage of the aquatic recreation area, visitors can enjoy a great deal of splashing fun surrounded by natural beauty and plenty of luxurious amenities.
Taking a plunge into the sparkling blue pool waters followed by a relaxing soak in the whirlpool spa is the perfect way to refresh your day. Get ready for an outdoor adventure with amazing entertainment amenities located at this casino.
Saratoga Casino & Raceway, NY FAQ
Does Saratoga Casino & Raceway Have A Sportsbook?
Unfortunately, this racino does not have a sportsbook. However, guests can participate in live horse racing and wager on the races. Plus, they also have a sports bar with plenty of TVs so you can watch the latest games while enjoying a drink.
Is Poker Available At Saratoga Casino?
Only video poker games are available at this casino. Guests can try their luck on a variety of machines with different variations. Additionally, they can also take part in regularly scheduled tournaments, which offer great prizes.
What Are The Age Requirements For Gambling At Saratoga Casino & Raceway?
Guests must be 18 years or older to participate in any gaming activities at this casino. Alcoholic beverages will only be served to guests who are 21 and over. A valid state or government photo ID must be presented to enter the casino.
Failure to comply with these age requirements, or providing false ID may result in expulsion from the premises. Make sure to bring your ID and be ready to show it upon request.
Does Saratoga Have An Online Casino?
Unfortunately, because of local laws and regulations, they do not currently have an online casino. While guests cannot play online, they can visit the casino in person to enjoy a wide selection of games in their dedicated gaming area.
Is There An Saratoga Casino & Raceway App?
Looking for an easy way to keep up with all your favorite offers and rewards from this casino? Download the Saratoga Casino Hotel App. Utilize this convenient app to view your rewards, offers, account balances and access to special in-app-only offers.
Plus, make room and restaurant reservations while being kept up-to-date on the latest updates regarding promotions, entertainment and events. Download today so you never miss a chance to take advantage of all the great things this casino has to offer.
What Is The Dress Code At Saratoga?
The dress code for this casino is casual, however, guests must wear appropriate clothing and observe good hygiene. Inappropriate attire such as offensive logos or graphics, ripped jeans, torn shirts, tank tops, athletic wear and hats are not permitted.
Is There An Airport Shuttle Available From Saratoga Casino & Raceway?
Unfortunately, this casino only offers local area shuttle services and does not offer any airport shuttle options. You may be able to find a taxi or ride share from the local airport to take you to or from this casino.
What Is The Smoking Policy At Saratoga Casino?
Smoking is only permitted in designated areas inside the racino. All other areas are non-smoking and guests must adhere to this policy or risk being asked to leave. Guests must also be aware of this policy if they are visiting the casino for drinks or a meal as smoking is not allowed.
What Is The Pet Policy At Saratoga Casino & Raceway?
Sadly, they do not allow pets inside the casino or on the gaming floor. Any guest found with a pet may be asked to leave and/or escorted off the premises. Service animals of course are welcomed but must remain under control at all times.
Is Wifi Available At Saratoga?
Yes, this casino offers free WiFi access throughout the facility. Guests can easily connect to their secure, high-speed network and browse the web while enjoying all that this casino has to offer. You can access the WiFi from your mobile device, tablet or laptop.
Enjoy an uninterrupted connection and take advantage of all the amazing features this casino has to offer with a secure, high-speed connection. So make sure to keep your devices charged so you can stay connected for longer.
What Is The Cancellation Policy For Saratoga Casino & Raceway?
Cancellations must be made 72 hours prior to your visit. If you do not cancel within the allotted time frame, you may be subject to a cancellation fee. Please refer to the casino's website for more information regarding their cancellation policy.
Conclusion
Saratoga Casino & Raceway is a great place to enjoy all the fun and excitement of casino gaming. With its convenient location, secure WiFi connection, and exceptional customer service, this racino offers a memorable experience for any visitor.
From its dedicated gaming area to its in-app rewards and offers, it's easy to see why this casino is a popular destination for those looking for an entertaining night out.
Overall, this racino is the perfect destination for a night of fun and entertainment. Download the app today to get all the latest updates and access exclusive offers!