Harrah's Philadelphia
Address: 777 Harrah's Blvd, Chester, PA 19013
Phone Number: +1 484-490-1800
Website: www.caesars.com/harrahs-philly
Hours: Harrah's Philadelphia is open 24 hours a day, 7 days a week.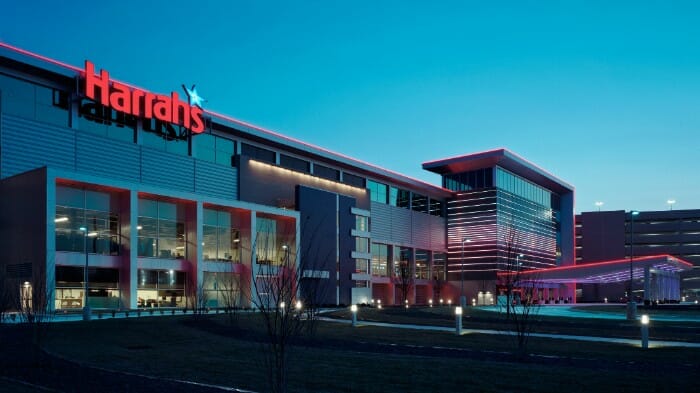 Harrah's Philadelphia was opened in 2007 by Caesars Entertainment Corporation in Chester, Pennsylvania. The property first opened as a racetrack, but in 2006 the Pennsylvania Racing Commission approved a slot machine license for the facility.
However, the ownership of this racino changed in 2018 when it was acquired by Vici Properties. Today, even though Vici Properties is the owner, Caesars Entertainment Corporation still manages and operates the property.
Their gaming floor consists of over 1,700 slot machines, electronic table games such as roulette and blackjack, and various live table games, including poker. They also offer promotions and tournaments to their players.
Apart from gaming, they also offer various dining options, ranging from quick snacks to sit-down restaurants. They also have live entertainment where guests may enjoy live music and comedy shows.
Whether you're looking for a fun night of gaming or just a great place to dine and relax, this casino is the perfect spot for you. With its exciting atmosphere, delicious food, and world-class entertainment, it's sure to be an unforgettable experience.
On TripAdvisor, they have an average rating of 4/5 stars based on over 2,000 reviews. The same applies to Google Reviews, which also has a 4/5-star rating. According to one reviewer, "The casino at Harrah's Philadelphia is a great spot to visit with friends and family to have some fun."
Another reviewer said, "The experience was wonderful; the staff was friendly and helpful. I don't usually gamble, but they were so accommodating that I felt like a VIP."
(Related reading: Pennsylvania casinos)
Gaming
Their 106,100 square foot gaming floor offers over 1,700 slot machines and live table games such as roulette, blackjack and poker. They also offer various promotions and tournaments to their players. They even have a sportsbook for those who want to bet on sports.
Table Games
At this racino, you can enjoy all the classic table games. Blackjack will provide endless hours of fun, allowing you to test your luck against the dealer's hand and take home some big wins.
Roulette offers excitement as well with its fast-paced wheel-spinning moves and nail-biting finishes. Craps are a bit more intricate but still easy to learn, which makes them great for both seasoned gamblers and newcomers.
Last but definitely not least is baccarat, one of the most sophisticated table games that helps create a luxurious atmosphere – both professional players and casual casino fans can appreciate this timeless game.
Table game minimums can vary depending on the day, time, and type of table game. Generally, the minimums are between $5 and $10. You may also check with the dealer for a more accurate figure.
Slots
This racino in Pennsylvania is a great destination for slot machine enthusiasts due to its wide array of games. Popular games include:
Bier Haus
Liberty Link Diamond Burst
Hot Shot Yours Mine And Ours
Mighty Cash Double Up
Moon Goddess
Wonder 4 Tall Fortune
Stinkin Rich
50 Lions
Van Helsing
Code Red
Devilicious
Dolphins
This casino has been reported to have a payback percentage of 89.47%, according to the Pennsylvania Gaming Control Board. This means that for every dollar you wager, the casino will return 89.47 cents in winnings.
Hotel/Resort
This casino is a great destination for fun and entertainment, but you'll need a place to stay the night if you're traveling from out of town. Unfortunately, this racino does not have a hotel or resort. Don't worry, though, as there are a few nearby lodging options for guests to choose from.
Best Western Plus Philadelphia Airport South At Widener University features beautifully remodeled guest rooms with convenient amenities like high-speed internet access, refrigerators and microwaves.
Comfort Inn Philadelphia International Airport West is another great option and is just a 15-minute drive away from this casino. Candlewood Suites Chester – Philadelphia offers an extended hotel stay with its fully-equipped suites.
At the same time, Wyndham Garden Philadelphia Airport provides travelers with many onsite amenities like a free shuttle, complimentary parking, and exercise facilities.
With so many good accommodation choices nearby, rest assured your stay at this casino will be as comfortable and enjoyable as possible.
Restaurants & Buffets
Even though they currently do not have any buffet restaurants, they still offer plenty of delicious dishes. Their mainstay dining option, Caesars Eats, has an array of delicious entrees that are sure to satisfy even the pickiest of appetites.
For guests looking for lighter fare or a quick snack, Market Express is ideal with its selection of smoothies and pastries.
Mien Noodles also offers a wonderful option for an on-the-go Asian fusion experience, while Philly Tap & Tavern's offerings include classic pub fare with a modern twist. For breakfast (or any time!), The Market is your destination for delectable sweet and savory dishes to start the day off right.
Pools
This racino in Pennsylvania is a great place to visit for those who are looking for an exciting casino experience. However, one thing that visitors should remember before they arrive is that there are no pools on the premises.
If you want to enjoy a refreshing dip while visiting the area, there are hotels nearby that feature swimming pools. So no need to worry; you can still go for a swim before or after your gaming session at this racino.
Harrah's Philadelphia, PA FAQ
Does Harrah's Philadelphia Have A Sportsbook?
This casino is certainly a great place for those looking for the ultimate sports betting experience. In addition to the casino floor itself, it is home to the wonderfully equipped Caesars Sportsbook.
There you'll find multiple TVs broadcasting your favorite games, comfortable seating and plenty of live-action betting opportunities. You can even participate in mobile wagering using their Bet MGM app, making it easier than ever to get in on the action.
Is Poker Available At Harrah's Philadelphia?
If you're looking for a great poker room to play at, this casino certainly has something for you. This casino offers four popular types of poker: Four Card Poker, Let It Ride Poker, Texas Hold'Em, and Pai Gow Poker.
Whether you're an experienced poker pro or just starting out, there's something for everyone. The lively atmosphere is sure to provide excellent entertainment along with the chance of winning big jackpots all day long.
What Are The Age Requirements For Gambling At Harrah's Philadelphia?
The minimum age to play at this racino is 21. Guests must be able to provide valid and acceptable identification in order to access the casino floor. This includes a driver's license or any other form of government-issued ID.
Does Harrah's Philadelphia Have An Online Casino?
Yes, this establishment has an online casino that Caesars Interactive Entertainment powers.
Through this platform, you can enjoy a wide range of slots, table games and more from any device with an internet connection. Visit their official website to access this virtual casino and take your gaming experience to the next level.
Is There An Harrah's Philadelphia App?
No, there is no Harrah's Philadelphia app available for download at this time. You can still access the online casino via their website, where you will be able to enjoy the full suite of games and services.
You can also visit their official website or social media pages for up-to-date information regarding their promotions and events.
What Is The Dress Code At Harrah's Philadelphia?
The dress code at this casino is relaxed and casual. While there is no strict dress code, guests are encouraged to look their best when visiting. Jeans and sneakers are perfectly acceptable, but please avoid wearing clothing that is overly revealing or inappropriate.
Is There An Airport Shuttle Available From Harrah's Philadelphia?
Unfortunately, there is no airport shuttle available from this racino. However, there are several alternatives for travelers looking to get to and from the airport. These include taxi services, Uber, and other public transport options such as buses or trains.
What Is The Smoking Policy At Harrah's Philadelphia?
The smoking policy at this casino is strictly enforced. All areas of the gaming floor, including restaurants and bars, are smoke-free environments. There is a designated outdoor smoking space for guests who wish to light up.
What Is The Pet Policy At Harrah's Philadelphia?
At this time, they only allow service animals in their casino. All other pets are not permitted on the premises due to health and safety regulations. Make sure to bring proper documentation if you plan on bringing a service animal to avoid any issues.
Is Wifi Available At Harrah's Philadelphia?
Unfortunately, there is currently no public wifi available at this racino. However, you can access free wifi from nearby businesses and establishments. You can also purchase a hotspot device that will provide you with an internet connection during your stay.
What Is The Cancellation Policy For Harrah's Philadelphia?
As there is no onsite hotel at this location, there are no cancellation policies in place. Any reservations made at nearby hotels or other accommodation providers will be subject to their own terms and conditions.
However, if you have a reservation for a special event or show at this racino, you may need to contact their customer service team for more information regarding cancellation policies.
Conclusion
Harrah's Philadelphia is a great place to enjoy some gaming and entertainment. With its relaxed dress code, smoke-free environment, and wide range of casino games, there's something for everyone.
Make sure you check out their online casino before your visit and take advantage of their promotions and events. With all of these great amenities, you will surely have a memorable experience at this casino.