Circus Circus Adventuredome Theme Park: Prices & Hours 2023
Updated January 1st, 2023
In a city designed as a playground for grown-ups, there's at least one family-friendly zone on the Las Vegas Strip where kids (and their parents), can run and play without having to worry about drunks, racy fliers, or being shooed away by casino security guards.
It's the Adventuredome theme park at Circus Circus Las Vegas Hotel and Casino.
The air-conditioned oasis at the back end of the resort is five acres of fun, all under a large pink glass-enclosed dome.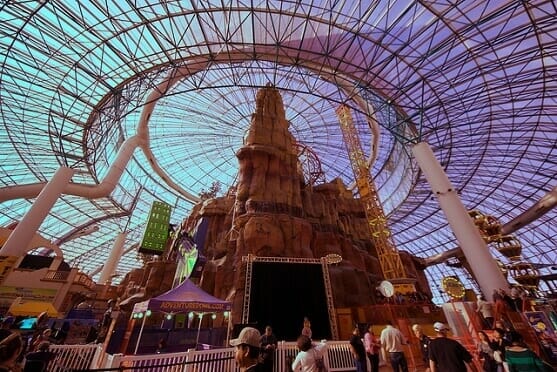 Opened in 1993 at a cost of $90 million, the Circus Circus Adventuredome welcomes over 3 million visitors each year.
Circus Circus Adventuredome Rides
As for attractions? Circus Circus says the park has 25 attractions.
These include everything from the standard carnival-style mild carousel, to an Ice Age 4-D movie, to the wild El Loco roller coaster, in which riders are inverted, while experiencing 1.5 vertical G forces.
In addition to spinning-type rides, there is a sling-shot ride, bumper cars, and one of those large fake boats that swing back and forth way up in air.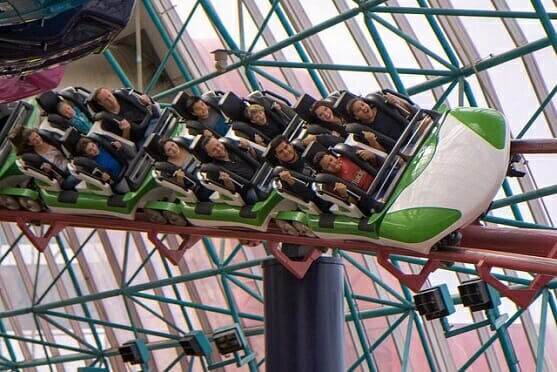 Perhaps the most popular ride is the Canyon Blaster roller coaster, which reaches speeds up to 55 miles per hour. Circus Circus promotes this as, "the world's only indoor double-loop double-corkscrew roller coaster."
In November of 2020, a new ride was added. It's your typical tall "arm" ride with gondolas on each end that rise and fall. Called NebulaZ, you've seen these before at carnivals. The ride is described this way: "Spin through the air on this action packed ride and catch huge air with amazing views of The Adventuredome!"
Of course, many of these rides are for the older (and braver) among us. Those of you with young kids, (9 or under in my book), may wonder if the Adventuredome is worth it for little ones.
I believe it is, as there is plenty for the 9 and under set to ride. A couple of the mini-roller coasters (The "Road Runner" and "Miner Mike") are fast enough to put smiles on the face a smaller child, yet without the big drops that can make a ride frightening.
In October of 2021, a new Disney-style little teacup ride (called the "Twistin Tea Cups") was introduced.
Overall, between the four "Family rides," the three "Junior rides" and the three different 4-D movies, (including a new Scooby Doo film), your little one will have enough to do to make the admission price for a child's unlimited pass worthwhile in my view.
Speaking of which….
Circus Circus Adventuredome Ticket Prices 2023
There is no admission fee to get into the Adventuredome. You simply walk right in, although you do have to sidestep one of those photographers who wants to take your picture behind a backdrop then sell it to you for a very high figure.
Up until recently, you could purchase individual ride tickets. Now however, they only sell all-day passes. Prices were recently raised.
The all-day pass ticket prices (without the $3 online processing fee) are as follows:
| | |
| --- | --- |
| Junior Wristband | $30 (Must be under 48 inches tall) |
| Regular Wristband | $60 (48 inches tall or higher) |
| Toddlers Under 33 inches tall | Free (with paying adult) |

Even if your child is just, say, five years-old, you'd have to pay the full price if they happen to be 4 feet tall or taller. Also note, that you can purchase tickets in advance online at the official Circus Circus website, however you will have to pay a $3 per ticket service fee, making the adult all-day ticket $63 after fees.
Adventuredome Coupons
Guests staying at Circus Circus often receive a coupon packet at check-in, good for Adventuredome discounts, Midway game discounts or both.
If you're not staying there, you can find these same coupons that people put up for sale online. As an example: for $3.80, (including shipping), we recently purchased a coupon on Ebay that entitled us to $4 off an all-day pass (one coupon is good for up to four people.)
In other words, buying this one $3.80 coupon on Ebay reduced our ticket expenses by $16 total, since we had four people in our family.
I've also seen "2 for 1 all-day pass" coupons for sale on Ebay. However the ones I have seen are only good Monday through Friday. Still, if you plan on visiting the Adventuredome during a weekday, these 2 for 1 coupons would be a better deal than the $4 off coupon.
Recently the Adventuredome begun a Tik-Tok promotion. If you show the cashier that you are following the official Circus Circus Tik-Tok account, you will receive 10% off the ticket price.
Adventuredome Military Discount
Circus Circus graciously offers our military servicemen and women a discount. When you present a military i.d. at the will call windown, you are entitled to $2 off your ticket.
One other money-saving tip:
On a recent visit, my 5 and 8 year old were able to go on the kiddie rides alone, but were either too short, or unwilling, to go on the more grown-up rides. In this scenario, you can save a lot of money by not even purchasing adult tickets.
That's what my wife and I did. We sat on benches in the air conditioning, taking a little break, watching the kids go on rides, while saving $80 in the process. Of course, I blew that $80 and then some on the Wheel of Fortune machine later, but that's not the point.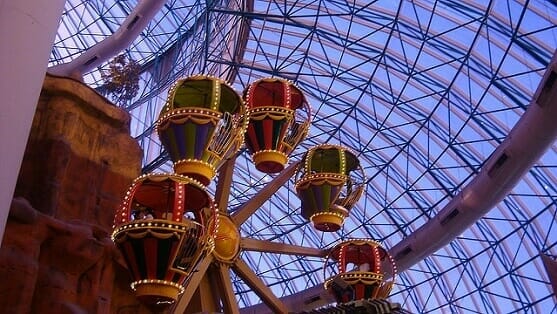 Circus Circus Adventuredome Hours
Please note, hours may vary, but posted winter hours are as follows:
| | |
| --- | --- |
| Monday – Thursday | Noon – 7 PM |
| Friday & Saturday | 10 AM – Midnight |
| Sunday | 10 AM – 9 PM |
These are standard hours, subject to change based on holidays, demand, etc. You can find the most recent calendar and hours they post by going to the official site here: Circus Circus Adventuredome
In addition, you can always call the Adventuredome directly to get an update on any closures, at (702) 794-3939.
As with Disneyland, Disney World, Universal Studios and other theme parks, you can avoid lines by getting there early.
If you're visiting Las Vegas during the school year, you may want to try to avoid weekend afternoons when a fair share of local residents visit the park.
Saturday afternoons are particularly busy, as you combine the typical Las Vegas tourist traffic with a plethora of birthday parties. The Las Vegas valley has a population of two million people, and the air-conditioned fun under the Adventuredome tent makes for a natural, and popular venue for local kids' birthday parties.
Parking at Circus Circus Adventurdome
Parking at Circus Circus is free, and is one of the few Las Vegas casinos to offer free parking.
Conclusion
Overall, I am usually pleasantly surprised at the cleanliness and value found at the Circus Circus Adventuredome.
Even if your kids are older and over 48 inches tall, a family of four will spend around $240 dollars for hours and hours of unlimited rides, all in a family-friendly, five-acre, air-conditioned setting.
And considering I can drop $240 in a Wheel of Fortune machine by myself in no time, a full day of rides for the entire family seems like a pretty good Las Vegas value indeed.
(By Steve Beauregard. Photos courtesy of Allie Caulfield, Josh Grenier and Austin Nguyen via Flickr.)