Circus Circus Parking Fee 2023, Map & Valet
She's been a North Las Vegas Strip institution since 1968. And while she may not be as pretty or new as in her glory days, her fun factor and affordability make her still as popular as ever.
I am of course, talking about the prostitute named "Gladys."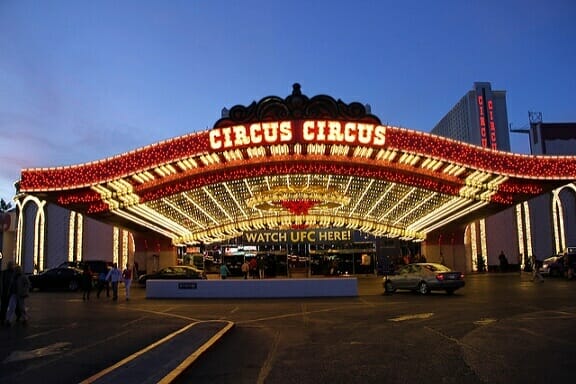 No, actually, I'm talking about Circus Circus – a Vegas icon that draws crowds with low limit games and some of the most affordable rooms on the Strip.
With a huge casino, over 3,800 rooms, an RV park, indoor amusement park, all set on 68 acres, there is a huge need for parking at Circus Circus. Fortunately there is plenty of parking here, with three different parking garages, and lots of outdoor, uncovered parking to boot. All of the parking is free.
In fact, there is so much parking that sometimes the resort closes off access to the parking in the back and to the south.
Unless you are staying in what is called the "Skyrise Tower," or the "Manor" you'll access the parking from the main hotel parking entrance.
Parking Map
(The black pin is the entrance to both self-parking garages and the valet entrance. The red star is the entrance from the Strip, while the purple star shows you the back entrance to self-parking).
Circus Circus Parking Fee
Free!
There are no fees to self-park at Circus Circus Hotel and Casino in Las Vegas.
Most casinos along Las Vegas Boulevard have begun charging for parking, however Circus Circus has always been one of the few Las Vegas Strip casinos with free parking.
Using the self-park parking garages and spaces at Circus Circus remains free of charge. It's free whether you are a hotel guest or just a casino customer. There is, however a fee to use the valet parking services. (More on that later).
There is also a fee for oversized vehicles. It's $20, and the oversized vehicle must be parked in the RV area.
Main Parking
If staying in the Casino Tower, or West Tower rooms, (or if just visiting the casino and/or Adventuredome Theme Park), you'll access the hotel's main parking garages and outdoor parking spaces from the main entrance off of Circus Circus Drive. This road goes from the Strip to Sammy Davis Jr. Boulevard.
From the Strip, you take this road towards the resort. About 700 feet down the road, you'll pass under pedestrian bridge. Hotel self-parking and valet services will be on your left. Signs indicating "Adventuredome Parking" will be on your right, however you can use the hotel self-parking garage on your left for a shorter walk.
Skyrise Tower Parking
This six story parking garage is to the north of the resort, and is easier and closer to use for those of you staying in the Skyrise Tower. The Skyrise Tower is the 29 story white building to the right of Circus Circus when you're looking at it from the Strip.
To get to this parking garage, just enter the property from the Strip in Circus Circus Drive. About 600 feet up the road, just past a since-closed bungee jumping area, you'll see a large sign pointing you to the right, reading "Skyrise Parking."
Manor Motor Lodge Parking
This odd set of buildings are to the north and slightly west of the main Circus Circus buildings. There are five buildings total, all which have three stories of rooms.
The self-parking here is free too, but outdoors. You simply park outside the particular building in which you are staying, motel style. There is a large white parking garage to the north, but that's deceiving, as it is Circus Circus employee parking.
You get to the Manor from Circus Circus Drive, via either the Strip, or Sammy Davis Jr. Boulevard, although Sammy Davis Jr. Boulevard is much closer to the rooms.
Circus Circus Valet Parking Fee
| | |
| --- | --- |
| 0 – 2 Hours | $12 |
| 2 -4 Hours | $14 |
| 4 – 24 Hours | $16 |
| Each Additional Day | $16 |
There is one valet area at Circus Circus, and it's NOT under the open, very colorful awning in front of the resort, (see photo above). It's actually behind the resort, and it shares the same entrance as the hotel's main self-parking area. You access this rear valet from Circus Circus Drive.
Unlike with the self-parking, there is a fee to use valet parking at Circus Circus. You should also tip the driver when dropping off your vehicle and when picking it back up.
Although it no longer has a KOA Campground attached to the property, there is still an RV parking area at Circus Circus, located to the north of resort, and north of the Skyrise Tower parking garage.
However unlike all of the other parking at Circus Circus – there are fees when using this facilities, as you would have with most RV parks with utility hook-ups. RVer's should contact the resort to check on availability before your stay. The RV park has 170 spaces.
One last note, there is also plenty of free parking at the Resorts World parking garage, just to the south of Circus Circus.
Circus Circus Address, Phone & Website
2880 S. Las Vegas Blvd
Las Vegas, NV 89109
(702) 734-0410 or (800) 634-3450
Website: CircusCircus.com
(By Steve Beauregard. Photo courtesy of Steve Floyd via Flickr.