Circus Circus RV Park – Directions, Cost, Amenities and Information on the Closing of the KOA Campground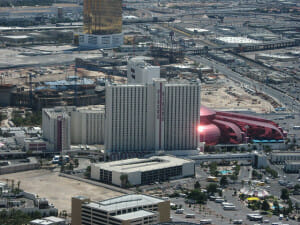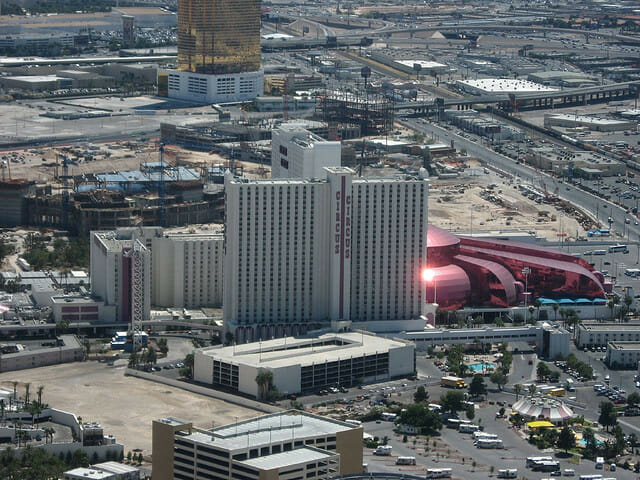 By Steve Beauregard
Among the many features of Circus Circus that stand out (an indoor theme park, $5 blackjack, a giant clown on their billboard), their RV park next to the resort may be one of the most popular.
After all, it is the only RV Park on the Las Vegas Strip. It's also likely to be the last RV Park that will EVER be on the Strip, considering that the new mega resorts going up around it are making vacant parcels of land on the Strip increasingly valuable.
The resort's total land mass, (including hotels, parking, casino, etc.), consists of a total of 68 acres. And while Circus Circus has lots of parking for regular sized vehicles, their RV resort is in a separate area, north of the casino and hotel (but within walking distance). It's about a ten minute walk from the RV park to the casino.
Amenities
The RV Park consists of 170 spaces. Electricity (50 amp), water and sewer hook-ups are provided, and there is free Wi-Fi. There is no cable television hook-ups however.
There are also laundry facilities, showers, a community room, small park for kids, a small park for dogs, a free dog wash, and, what Circus Circus says are spaces with "grass, patios, and outdoor furniture."
The park has its own check-in area, gift shop, and swimming pool and hot tub that are open seasonally. This is a separate pool for just RV park guests. In other words, you won't have to share it with guests staying in one of the 3,700 plus rooms in the main hotel.
While the drive into the park isn't much to look at, the setting itself is fairly nice, as it offers great views of the Stratosphere to the north, and of the surrounding Vegas high-rises. That being said, most reviewers on third-party sites like TripAdvisor call it basically a tree-less, green-less parking lot. There are also many complaints about the slowness of the RV Park's Wi-Fi.
Circus Circus RV Park and the KOA Campground
As many of you may know, there used to be separate KOA campground just to the north of the Circus Circus RV park. Open for 35 years, (the last 13 as a KOA campground), the KOA park closed (or rather moved), in October of 2014, when Circus Circus Hotel and Casino owners MGM Resorts canceled the lease so that they could use the valuable land for their Rock n' Rio concerts.
The park was once featured on the Travel Channel's show about the most unusual RV parks in America.
Those of you still wanting to park at KOA campground can do so at the new KOA location at Sam's Town Hotel and Gambling Hall, which is about 6 ½ miles away from the Strip.
Some people erroneously believe that the closing of the KOA campground meant the end of RV parking at Circus Circus, however that's not true. Your Coachmens, Winnebagos, Airstreams and Newmars are welcome at Circus Circus.
Directions to Circus Circus RV Park
Those of you not wanting to drive an RV down the Strip and have tight turning radius may want to use the back entrance, off of Industrial Road, to the west of the resort.
There are actually two entrances off of S. Industrial Road. The one marked as "RV" sign is actually the more confusing of the two, but taking the Circus Circus Drive offers good signage. You'll simply take the first left at the "RV Park" sign. You'll see the registration office (the circus tent shown here in the photo), up ahead, along with a green sign that reads: "RV Park Registration and General Store."
You can, however, still access the RV park from the Strip. Simply take Circus Circus Drive from the Strip, driving under the pedestrian bridge and past the hotel registration area. Signs will point you to the R.V. parking on your right.
Circus Circus RV Park Cost
The nightly price you'll pay at the Circus Circus RV Park will vary depending on the time of year, and on how big of space you'll need.
A recent search on their website for pull in spaces and back-in spaces 30 or 40 feet long showed a nightly price of between $29 and $61, not including the resort fee. (More on that below).
This $29 to $61 nightly fee range seems pretty standard, as I searched for random nights over the course of several months. Weekends are more expensive than a Monday, as you might expect. In addition, as with other places in Las Vegas, prices jump on New Year's Eve and other busy holidays. Rates at the RV park, for example, were $81 per night on New Year's Eve last year.
(Here's the r.v. park pool (on the left), and registration/gift shop on the right).
A pull through space costs slightly more. Rates I saw for these spaces were consistently, and exactly, $7 more per night. These spaces are at least 40 feet in length, and can go up to 80 feet in length.
Regardless of time of year, or size of your space, a $24.00 daily resort fee (before tax) is added to the cost of each stay for each night.
This covers your free Wi-Fi, and access to the fitness center at the hotel next door, use of on-site pools of course, as well as access to the park's community room, which as big screen TVs.
Circus Circus RV Park Address and Phone Number
500 Circus Circus Drive
Las Vegas, NV. 89109
Phone (800) 444-2472
(Photo courtesy of Ken Lund via Flickr).