Circus Circus Show Times 2023 for Free Acts on the Midway
It's exciting, it's entertaining, it's free, it's air conditioned!
We're talking about the circus acts show held daily at the Circus Circus Hotel & Casino in Las Vegas. The shows are fun and free, but now only performed on weekends (more on that below).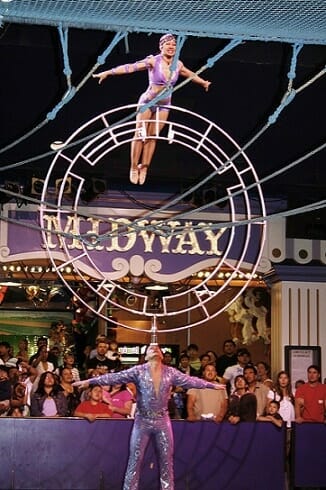 Since the resort's inception back in 1968, the casino has used the allure of good old fashioned circus performers as its unique lure to bring in, (and keep) customers, both young and old.
Circus Circus Free Show
Back then, acrobats performed over nets just feet above the gaming floor. You could be playing blackjack and see an acrobat jumping into a net right above you!
And while the set-up has changed since then, (there's now space between the performers and the gamblers), the free shows remain – just as kitschy, cheesy, and as cool as ever.
The shows provide that rare Las Vegas opportunity to just sit and relax and be entertained – without spending any money.
The show area is upstairs, in the Carnival Midway area above the casino floor. I's a very kid-friendly area with hundreds of video games and countless carnival style games of old.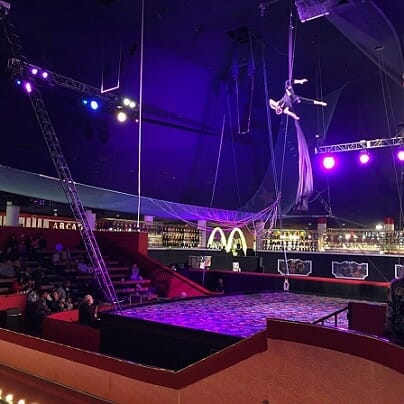 In the middle of the Midway sits a platform stage fronting a small grandstand area. There is a relatively little seating, perhaps sixty people. However if it gets crowded, there are plenty of viewing options next to the stage, as well as in Midway area.
If you happen to be there on a weekend, or a very busy day in Las Vegas, you may want to get there five to ten minutes early if you want to ensure you have a seat.
Circus Circus Show Times 2023
While the shows ran every day of the week for decades, performances have been cut back to weekends only as of October 2022. The Circus Circus official website hasn't updated their schedule since March of 2021, and several shady Las Vegas travel sites haven't made updates either, but as of this early 2023 update, there aren't any weekday shows.
The current schedule is as follows:
| | |
| --- | --- |
| Friday – Monday | 2:30 PM – 9:30 PM |
The shows are completely free, and are appropriate for all ages. I took our five and seven year-olds, and they enjoyed it. (At least more than they did standing with their mother from a distance watching me throw dice).
The type of acts run the gauntlet, from your basic silly clown show to incredibly athletic acrobatic displays. Circus Circus calls it "The World's Largest Permanent Circus."
While the lineup will change based on who Circus Circus hires (and keeps), you can expect a steady stream of acrobats, gymnasts, clowns, contortionists, jugglers, trapeze artists, balancing acts, and animal shows. The dog rolling a guy in a barrel was especially amusing to me for some reason.
International Acts
It seems most of the globe is represented, with acts from Argentina, China, and all points in-between. In the past, acts have include Ma Yu, who performs, "Artful skills with multiple umbrellas." There's also the "Free Laddermen", who performed, "Fantastic feats of balance and skill using a ladder and the German wheel from Russia."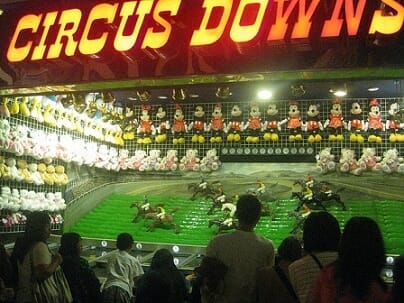 For a free show, many of the acts are pretty impressive. I will say that the shows were much more entertaining that I thought they would be, and that there are some very talented performers here. A recent show involved two women from China, who used their feet to toss bowls on the other person's head, all the while riding tall unicycles!
Circus Circus Midway Acts Hours and Schedule
The schedule is posted near the entrance to the stage and a large clock informs guests as to the time of the next performance. In the past, there was a new show either every ½ hour, or every 45 minutes, depending on the time of day.
Each show lasts around ten minutes. The schedule is subject to change. Although dated when I last check, you can find an official schedule direct from the resort itself here: Circus Circus Acts
Circus Circus Midway Games and Hours
Surrounding all sides of the circus stage is the famous Circus Circus Midway.
While home to over 200 modern video games, it's the classic, old school state fair type of games that you're more likely to remember.
Hours can change, but most recently that I saw were as follows:
Sunday – Thursday: 11 AM – 9 PM
Friday – Saturday: 11 AM to 11 PM
We're talking about the games of skill, such as a ring toss, or football toss, or my favorite, the horse racing/skeet ball game, in which your horse runs as fast as the points you accumulate.
Midway Playcard
Rather than cash, you play the games by purchasing and loading a pre-paid "Midway Playcard," available at several kiosks.
You then use the Playcard to play any arcade game, or midway game.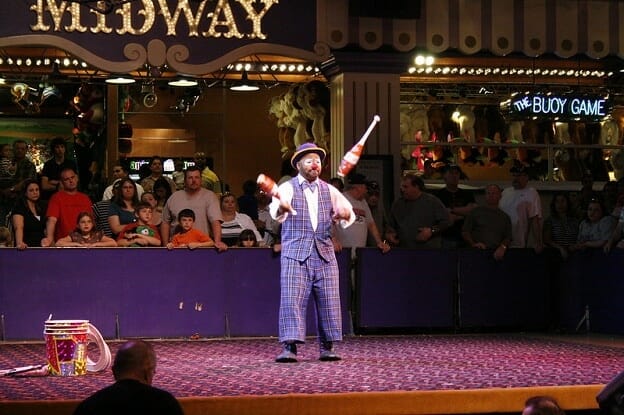 Most of the live skill games end up being in the $2 range. And as long as there are two or more players, a prize is guaranteed. Granted, the prize may be a stuffed animal worth 28 cents, but the satisfaction and look of happiness on the face of my 5 year-old after he beat his big sister at the horse race game was worth much more.
The Midway is also home to a souvenir shop and a McDonald's, as well as the Horse-A-Round Snack Bar (which is now closed). The bar was carousel that was used in the filming of the 1998 Johnny Depp movie, "Fear and Loathing in Las Vegas."
Overall, the Midway games and free circus acts upstairs at Circus Circus is a cheap, pleasant diversion, and great way to spend time on the Strip with kids.
In a town where drinks can run you $18, and where you get charged resort fees, parking fees, and get squeezed to blow money at every turn, a chance to sit in air-conditioning and watch an entertaining circus show completely free of charge is a nice change of pace.
Other
Another perk of spending a few hours at the Circus Circus Midway? Unlike most Strip resorts, there is no fee to park at Circus Circus.
(By Steve Beauregard. Photos courtesy of Chris Yunker, Michael Ocampo, and Suzy S. Photographyvia Flickr.)