Cracker Barrel in Las Vegas, NV – Map, Hours & Closest One to the Strip
You know them for their rocking chair-adorned front porches, cute gift shops, friendly waitresses, and their hearty portions of good old fashioned down home comfort food.
They are the Cracker Barrel Old Country Stores. And the popular nationwide chain (with 645 restaurants across the USA), has two locations in Las Vegas.
Both opened in 2016 and both have been very popular from day one.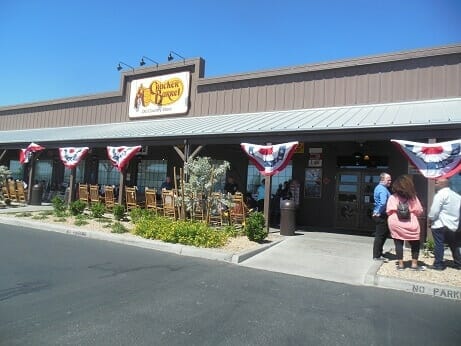 One is located a little over 7 miles north of downtown, while the other is far south, in the shadows of the Silverton Hotel & Casino off of Interstate 15. We'll label these two restaurants "North Las Vegas" and "South Las Vegas."
South Las Vegas Cracker Barrel
Opened July 25, 2016, this was the first Cracker Barrel restaurant in Las Vegas.
Just off of Interstate 15, the restaurant is a tad south of the Silverton Hotel & Casino. It's a very easy five to ten minute walk.
As an added bonus, there is an enormous Bass Pro Shops store attached to the Silverton Casino, so after your hearty meal, you hop on over and go shopping.
Address and phone:
8350 Dean Martin Drive
Las Vegas, NV 89139
(702) 474-1120
Their website for to-go orders, or to get on the waitlist is here: CrackerBarrel/DeanMartin
(Here's a map showing you the two Cracker Barrel restaurants in Las Vegas. The black star is the one by Silverton, while the red one is the north one.)
North Las Vegas Cracker Barrel
This store opened October 24, 2016, a few months after its cousin to the south.
It's located on E. Craig Road, just down from the Cannery Hotel & Casino. If you're getting off at I-15, go west.
It also happens to sit right next to another cult-favorite that people often go out of their way to visit: In-N-Out Burger.
This is the closest Cracker Barrel restaurant to Fremont Street, as its 7.5 miles north of downtown Las Vegas. It would take you between 10 to 15 minutes to drive there from the Fremont Street casinos downtown.
Address and Phone:
2815 E. Craig Road
N. Las Vegas, NV 89030
Phone: (702) 457-1200
Their website to get on a wait list or for a to-go order is here: CrackerBarrel/Craig
Las Vegas Cracker Barrel Hours
Both of the Las Vegas Cracker Barrel Old Country Stores have the same hours of operation:
| | |
| --- | --- |
| Sunday – Thursday | 7 AM – 9 PM |
| Friday and Saturday | 7 AM – 10 PM |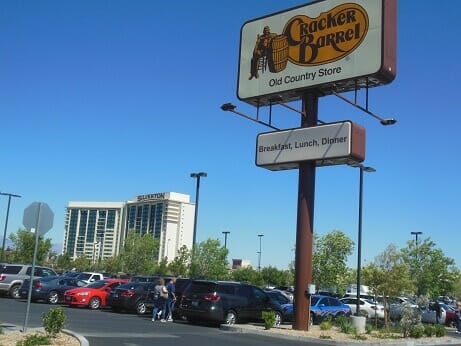 Closest Cracker Barrel to the Las Vegas Strip
The Dean Martin location (black star on map), next to the Silverton Hotel & Casino, is the closest Cracker Barrel to the Las Vegas Strip.
This location is 4.5 miles south of Mandalay Bay, which is the southern border of the Strip. This equates to just a 10 minute drive (normally).
This Cracker Barrel is 7 miles south of the heart of the Strip (i.e. Caesars Palace, Bellagio, Flamingo, etc.)
Other Cracker Barrel Tidbits
* The first restaurant opened in Lebanon, Tennessee in 1969. The founder, Dan Evins designed Cracker Barrel to resemble the general stores he'd frequent as a child growing up in rural Tennessee.
* Each restaurant is approximately 10,000 square feet.
* Each year, Cracker Barrel serves over 200 million customers. A typical location can seat around 200 people.
* There are now 664 Cracker Barrel restaurants in the United States. All are owned by the company, rather than by franchisees.
* Popular items on their all-day breakfast menu include everything from the old timer's breakfast (two eggs, grits, gravy, biscuits, bacon or sausage and hashbrown casserole or fried apples) to biscuits n' gravy, apple and cinnamon oatmeal, and pecan pancakes.
* Lunch and dinner menu items (which start at 11 AM), include maple pecan fried chicken, turnip greens, meatloaf, lemon pepper trout, turkey n' dressing, and my favorite: the open-faced roast beef sandwich (with mashed potatoes & gravy and coleslaw).
By Steve Beauregard. Photos owned by gamboool.com