Downtown Las Vegas Casinos List & Map
With nine casinos on Fremont Street, and another three on nearby, surrounding streets within easy walking distance, there are 12 casinos in downtown Las Vegas.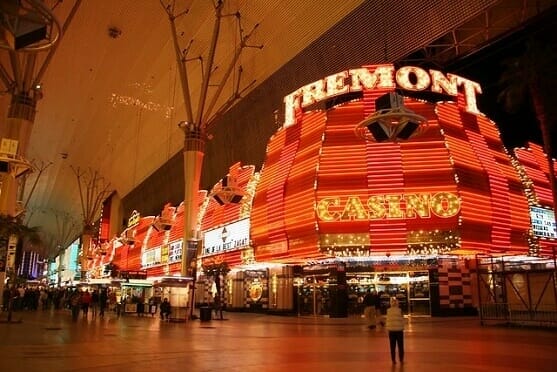 These twelve downtown casinos range from small, old school joints, to large, modern casinos rivaling the nicest casinos found on the Strip.
The nice thing about downtown Las Vegas casinos compared to Strip casinos is that downtown is more player friendly. By that I mean the minimums are lower, the drinks flow more freely, and the games have better odds. You'll find 3:2 blackjack here, even at the lowest limits.
Map of Casinos in Downtown Las Vegas
(Each of the black dice represent one of the casinos in downtown Las Vegas)
Below is a list of the casinos you'll find in downtown Las Vegas. Please note that this list contains only downtown casinos in safe, tourist-friendly areas on, or very nearby Fremont Street.
El Cortez
A frequent winner of the "Best Locals Casino," award, as voted on by readers of the Las Vegas Review-Journal, the El Cortez draws a sizable locals crowed.
Built in 1941, the El Cortez is located on Fremont Street in the trendy new Fremont East District.
Among its selection of slot machines are two hundred of the old school coin-in, coin-out machines.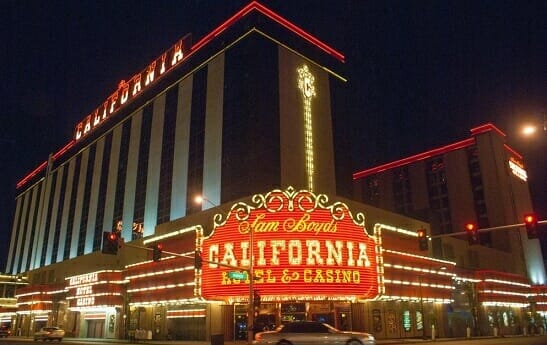 The very player-friendly casino has $3 minimum bet single deck blackjack (paying 3:2).
Roulette has $1 minimum bets total, but allows you to place individual fifty cent bets (so long as you bet a total of $2 on the board). Their $3 minimum craps table gives players the option of betting 10x odds.
And in keeping with this old casino's old school vibe, Keno is available in the restaurants and in the Keno lounge. It often gets voted as the "Best Keno" by readers of the Las Vegas Review-Journal.
Although its former owner, Jackie Gaughan, used to play low limit poker there almost daily, the El Cortez no longer has a poker room. The casino does have a modest sports book.
(Go here to get the exact Fremont Street light show times.)
The D Las Vegas
The D Las Vegas Casino has $5 minimum craps (with 10x odds) and 3:2 blackjack. Great games, so long as you're not distracted by the casino's pulse-pounding music or bevy of sexy "dancing dealers."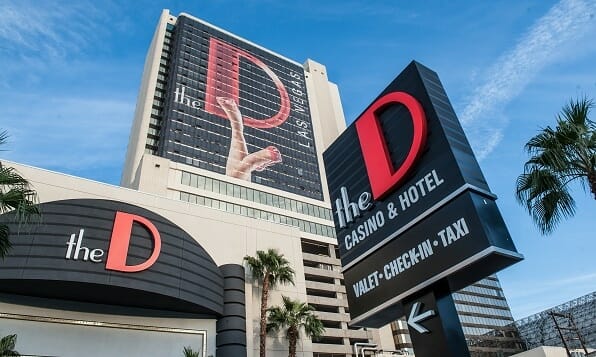 There's also live Keno here. Upstairs, on the second floor of the D, are old-school slot machines and the fun, (and highly addictive), Sigma Derby pretend horse racing game.
Four Queens
This icon in the heart of Fremont Street has roughly 1,000 slot machines, and 27 table games. These include: blackjack (single deck that pays 3:2), Blackjack switch, roulette, craps, Let-it-Ride, Mississippi Stud, 3 card poker, and Ultimate Texas Hold'em Bonus Poker.
The Four Queens Casino does not have a poker room, but does have a Keno lounge with a William Hill sports book.
Main Street Station
This Victorian-era themed casino resort has 28,000 square feet of gambling space. It's just a block or so north of the western end of Fremont Street.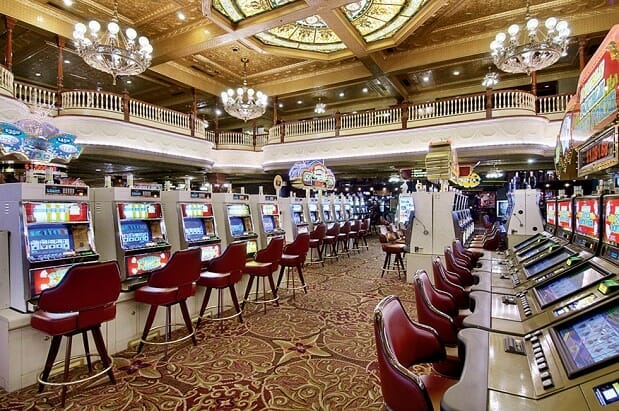 Main Street Station has 800 slot machines and video poker machines, including MegaBucks of course, along with plenty of nickel slots. There are 25 table games here with the usual suspects, (BJ, Pai Gow, etc.). There is neither a sports book, nor poker room here.
California Hotel and Casino
Situated across the street, the California shares ownership with the Main Street Station. The two casinos are connected by an overhead pedestrian walkway.
The California has over 1,000 video and reel slot and video poker machines, and 28 table games. The 36,000 square foot casino has a modest sports book and Keno lounge too.
Yet it is craps that has made this place famous.
Any craps player worth his weight owes it to himself to shoot some dice here. That's because the California was the site of the greatest craps roll in the history of the game, when Stanley Fujitake rolled the dice for just over 3 hours without crapping out, early in the morning hours of May 28, 1989.
Downtown Grand
A relatively new kid on the block, the Downtown Grand, (which opened in October 2013), boasts 30,000 square feet of gaming space on a casino floor dubbed "industrial chic."
It's situated just north of the Fremont Street Experience, across from the Mob Museum. The Downtown Grand has over 500 of the newest slots, and thirty table games.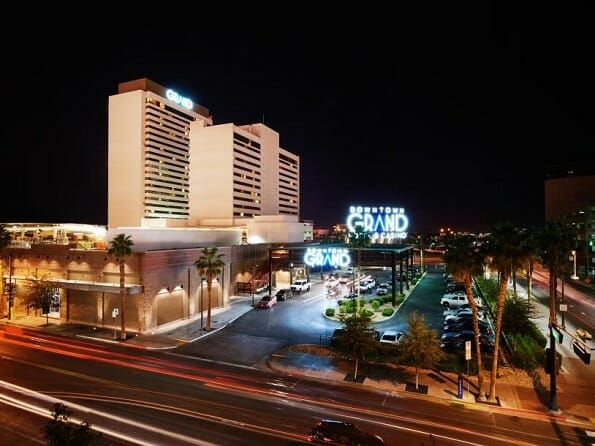 These include blackjack tables (paying 3 to 2), as $5 craps tables with 10x odds.
The casino also has a William Hill Sports Book. It does not have a poker room.
Golden Nugget
With over 50,000 square feet of gaming floor space, the Golden Nugget is the largest casino in Downtown Las Vegas.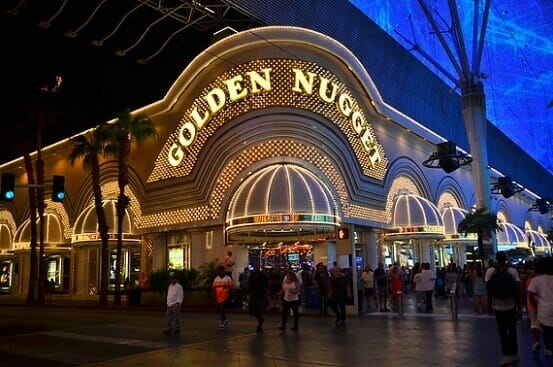 Besides having over 1,000 slots and video poker machines, the Golden Nugget has over 50 table games, including blackjack, craps, roulette, Let-it-ride, Pai Gow, 3 card poker, and the fun Mini-Baccarat. There's also a sports book.
The Nugget's beautiful poker room is downtown's plushest, with 13 tables and TVs to keep you entertained between folding bad hands.
In addition to tournaments, Golden Nugget's poker room has fun high-hand promotions and a bad beat jackpot.
Binion's
"Good whiskey. Good Food. Good Gamble." Binion's founder Benny Binion's motto has been adapted by the current ownership.
It's a casual, friendly casino. Its website boasts of 90,000 square feet of casino floor, but much of that is empty space in the back, so we're not counting it as the biggest casino downtown. It does have your usual slots and table games, and even offers single deck blackjack.
The casino's craps game has 5X odds, but as with the other table games here, you'll be able to enjoy $5 minimums.
Binion's was also the site of poker history, when Chris Moneymaker won the 2003 World Series of Poker, ushering in the poker boom. Binion's poker legacy continues today, with a historic, if modest, ten table poker room that spreads games as low as $2/4 limit.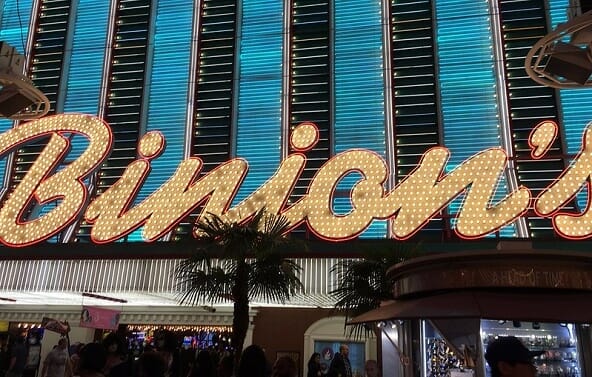 Binion's also has a small, William Hill Sports book.
Fremont Hotel and Casino
A non-descript casino in the heart of the action on Fremont Street, the Fremont Hotel and Casino has 32,000 square feet of casino space with all of the typical slots and table games.
You may recognize this place as the spot where Vince Vaughn and Jon Favreau played small stakes blackjack after going bust at a fancier Strip casino in the 1996 cult classic, "Swingers."
Up until recently, The Fremont Casino offers some of the lowest table limits in Las Vegas, with $3 blackjack and $3 craps, all day, seven days a week. However I'm not sure that is still in effect.
They also have live Keno and decent sized race and sports book.
Golden Gate Hotel and Casino
A fun little small casino on the west end of Fremont Street, across from the Plaza, the Golden Gate buzzes with rocking music and dancing girls.
(Related: Hotels in Downtown Las Vegas)
Having recently had a multi-million dollar face-lift and expansion, the casino now has a high-limit area and sportsbook.
The table games (3:2 blackjack and 10x odds on craps) and slots are pretty standard for downtown Las Vegas, but the decor and vibe here make it more fun that your run-of-the-mill downtown casino.
The Golden Gate was the site of the largest single roulette bet in the history of Las Vegas (and maybe the world), when the guys from MTV's "The Buried Life" placed a bet of $250,000 on one spin of the wheel. (They lost, but were given a $3 off buffet coupon as a comp.)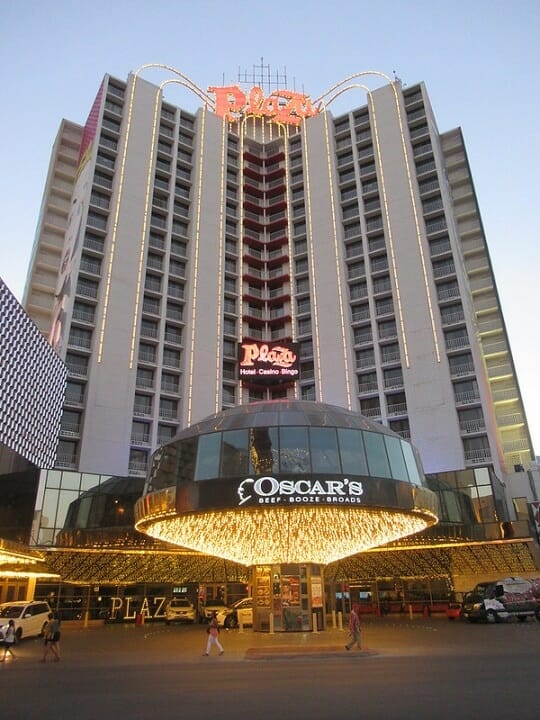 The Plaza Hotel and Casino
Situated at the far west end of Fremont Street, The Plaza has 700 slots and video poker machines. They even host slot tournaments three days a week.
Their selection of table games includes blackjack, craps, roulette, 3-card poker, progressive pai-gow and mini-baccarat, which offers some of the best odds for table games in town.
The Plaza has the only bingo parlor in downtown Las Vegas, along with a William Hill sports book.
Downtown Las Vegas casinos are fun, and affordable, and worth a visit on your next trip to Sin City.
Circa Resort & Casino
Opened in October of 2020, this glitzy, 1.2 million square foot property has become the largest casino/resort in downtown Las Vegas.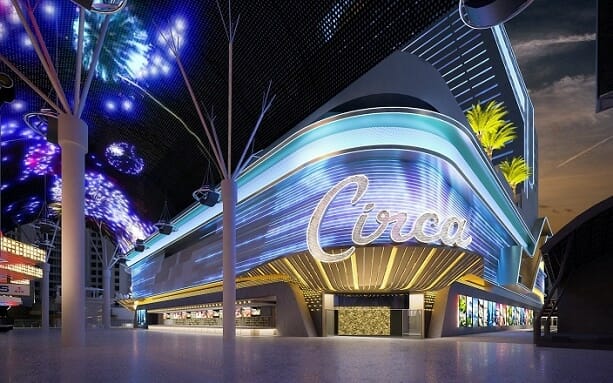 Circa's two story casino boasts 1,350 slot machines and 55 table games. There are additional 138 bartop video poker machines, along with 55 games in Circa's high limit room.
If you're the type to prefer electronic versions of craps and blackjack over the live version, you'll find 18 of these electronic games.
In addition to being the biggest resort in downtown Las Vegas, Circa lays claim to the largest sportsbook in all of Las Vegas, with a mammoth three-level sportsbook that boasts a capacity of 1,000 bettors.
Recently closed
(Below are the original write-ups of downtown Las Vegas casinos that have recently closed)
La Bayou
Tucked away on Fremont Street is the smallest casino in downtown Las Vegas, La Bayou.
This fun, friendly little dive casino doesn't have a poker room, sports book, or even table games. The Louisiana-themed casino just has coin-operated slots. They also have fast drink service, and are known for the two lovely ladies out front who hand beads to passing guests.
Mermaids
Similar to La Bayou, Mermaids only has coin-operated slot machines and video poker machines (around 200 total between the two).
At the back of the casino, you can get your snack on, with tasty treats such as fried Twinkies and fried Oreos. There is also a large daiquiri bar, serving very strong drinks.
Las Vegas Club
Sort of a fading star, (if it ever were a star), on Fremont Street, the Las Vegas Club has 400 slot machines and video poker machines – of which 100 are progressive.
The table game selection includes roulette and Pai Gow, and very player-friendly blackjack rules. In fact, for years the marquee out front read, "Most liberal 21 in Vegas."
They share a player's card promotion (Royal Rewards) with the Plaza Hotel and Casino across the street, so you can use your card at either place for comp points.
(By Steve Beauregard. Photos courtesy of matze_ott, and Anthony G. Reyes, Jared and Alex Liivet via Flickr, and Boyd Gaming, and VisitLasVegas).