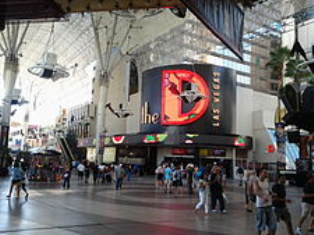 By Steve Beauregard
From a rundown, dated, somewhat forgotten downtown has-been called "Fitzgeralds," to a newly refurbished hip and modern resort, the D Las Vegas Hotel and Casino has added a much needed new spark to the Fremont Street hotel scene.
The D is one of the last remaining casinos in Las Vegas in which there's a chance you could actually run into the owner at the bar. In this case, the owner's name is Derek Stevens. He also owns the Golden Gate Hotel and Casino on the opposite end of Fremont Street.
What Does the "D" in the D Las Vegas Hotel and Casino Stand For?
After a lot of speculation as to its meaning, Stevens tells reporters the "D" stands for a combination of "Derek," "Downtown," and "Detroit," (Stevens' hometown).
After purchasing Fitzgerald's in 2011, Stevens and his brother poured $22 million into fully renovating the joint. The result is a fun, (if not large casino), nice restaurants, pulsating indoor and outdoor bars, and 638 well-appointed rooms, with a funky black and red color scheme that somehow seems to work.
Perhaps the signature feature of the 34 story resort is the "Long Bar" in the main casino. Billed as the longest bar in Nevada, the bar runs nearly the entire length of the casino and has too many 60 inch plasma high-definition TVs to mention. It's also known for its well-stocked bloody Mary bar, where you can get your hangover cured with garnishes ranging from your standard celery to bacon, to jalapenos to more. It's a "meal in a drink" as they say.