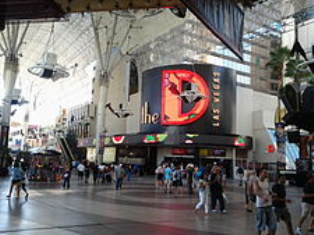 By Steve Beauregard
From a rundown, dated, somewhat forgotten downtown has-been called "Fitzgeralds," to a newly refurbished hip and modern resort, the D Las Vegas Hotel and Casino has added a much needed new spark to the Fremont Street hotel scene.
The D is one of the last remaining casinos in Las Vegas in which there's a chance you could actually run into the owner at the bar. In this case, the owner's name is Derek Stevens. He also owns the Golden Gate Hotel and Casino on the opposite end of Fremont Street.
What Does the "D" in the D Las Vegas Hotel and Casino Stand For?
After a lot of speculation as to its meaning, Stevens tells reporters the "D" stands for a combination of "Derek," "Downtown," and "Detroit," (Stevens' hometown).
After purchasing Fitzgerald's in 2011, Stevens and his brother poured $22 million into fully renovating the joint. The result is a fun, (if not large casino), nice restaurants, pulsating indoor and outdoor bars, and 638 well-appointed rooms, with a funky black and red color scheme that somehow seems to work.
Perhaps the signature feature of the 34 story resort is the "Long Bar" in the main casino. Billed as the longest bar in Nevada, the bar runs nearly the entire length of the casino and has too many 60 inch plasma high-definition TVs to mention. It's also known for its well-stocked bloody Mary bar, where you can get your hangover cured with garnishes ranging from your standard celery to bacon, to jalapenos to more. It's a "meal in a drink" as they say.
Another popular, unusual twist not often seen in modern day Las Vegas is the D's "Vintage Vegas" floor on the second level. It's an area devoted to the old school coin-operated slot machines and video poker games. These coin-dispersing slots are a blast for us old timers who fondly recall the smile-inducing sounds of silver clanking loudly against metal trays after a slot win.
Included here is the super-popular Sigma Derby game. You'll remember it as the cheesy little mechanical horse racing game, in which you drop a quarter and watch your little plastic horse race against other horses. They used to have this at Caesars Palace, where my buddies and I drank while playing this for hours – making it one of the most fun and memorable parts of our bachelor party. (In other words, we weren't the inspiration behind "The Hangover.") The Sigma Derby game is a cheap, addictive thrill, and if you haven't tried it already – you must.
(Here's a look at some of the sexy dancers employed by The D Las Vegas)
Downstairs on the main level are the traditional, modern slots and usual assortment of table games. The D Las Vegas spreads $5 black jack, which pays 3 to 2 on blackjacks, unlike the evil Caesars Entertainment, which pays 6/5. The D's craps tables offer 10x odds.
If the gambling doesn't hold your attention, the pulse-pounding music and sexy dancing dealers found throughout the casino most certainly will.
And although it may be one of the newest casinos in town, the D does it old school, by having live Keno action. It seems Keno is becoming a dying breed on the strip and at other casinos, so this is a welcoming development for degenerates like me who can't even take a break to eat breakfast without gambling.
(Go here to help you decide if you should stay on the Las Vegas Strip or on Fremont Street)
As for actual breakfasts and meals…
Restaurants at the D Las Vegas Hotel and Casino
On the eating front, the D has four restaurants:
Andiamo Steakhouse – an Italian steakhouse with Italian dishes and a huge wine selection. It's the kind of place where a New York Strip Steak will set you back $40.
American Coney – Like owner Derek Stevens, American Coney is an American-born import from Detroit. It's the ultimate late night "drunk food" (chili cheese dogs and fries), that taste almost as good during the day while sober.
The D Grill – Open from 7 a.m. to 10 p.m., this is your typical casino coffee shop. It serves breakfast all day, and has your usual menu assortment of items like hamburgers, sandwiches, salads, steaks, fish and chips, etc. More than one person has raved about their French Dip.
McDonalds – For those of you like me who have lost all of their money and need cheap eats, McDonalds can be found near the west side casino entrance. It can draw a rough-looking crowd in the morning, as it seems many of the sketchy Fremont Street people hang out here in the morning.
The D Las Vegas Hotel and Casino Swimming Pool
Perhaps the one drawback to the D is its swimming pool. If pool time is a big part of your Vegas vacation, you'll want to stay elsewhere. The D's basic, rectangular-shaped pool is small, surrounded by concrete with a vibe that doesn't exactly conjure up images of the tropics.
The only other downside to the D I can see is that rooms on the north end, directly above the Fremont Street light show can get noisy at times. Just know this ahead of time if you are one who goes to bed early.
On the more positive side is the D bar outside. I'm not sure if they are the ones who started the trend, but as is now the case with other Freemont Street Casinos, the D has a high-energy, welcoming sidewalk bar outside, full of very sexy dancing bartenders, numerous daiquiri machines, and great seats for people-watching.
This fun outdoor drinking establishment is another example of how the D Las Vegas has helped revitalize downtown, and brought some buzz to the eastern end of Fremont Street. The D has accomplished this through games and promotions unique to Las Vegas, and by creating a new, fun vibe that seems to target a younger, party-loving crowd.
For example, the D Las Vegas became the first hotel and casino to accept digital currency bitcoins for hotel rooms and gift shop purchases. In May of 2014, the hotel introduced the first Bitcoin ATM machine in its casino.
Also in the summer of 2014, the D began construction of a live music stage, called the Downtown Events Center where concerts and events will be held, and which will hold up to 18,000 attendees. It also provides another example of how the D Las Vegas is helping to bring a new level of excitement and energy to downtown Fremont Street.