Derek Stevens – Owner of The D Las Vegas Hotel and Casino and Golden Gate Casino
By Steve Beauregard
With a an accountant's eye for figures and a promoter's salesmanship flair, Derek Stevens is helping transform Fremont Street in downtown Las Vegas back to the electric and fun gambling center it used to be.
What may rightfully be called this generation's Steve Wynn (I mean that in a good way), Derek Stevens is the majority owner of both the Golden Gate Hotel and Casino and The D Las Vegas Hotel and Casino – casino bookends on opposite sides of Fremont Street in old downtown Las Vegas.
He's currently building a new casino on the land he owns on what used to be the Las Vegas Club Hotel & Casino. He owns several other buildings in downtown Las Vegas.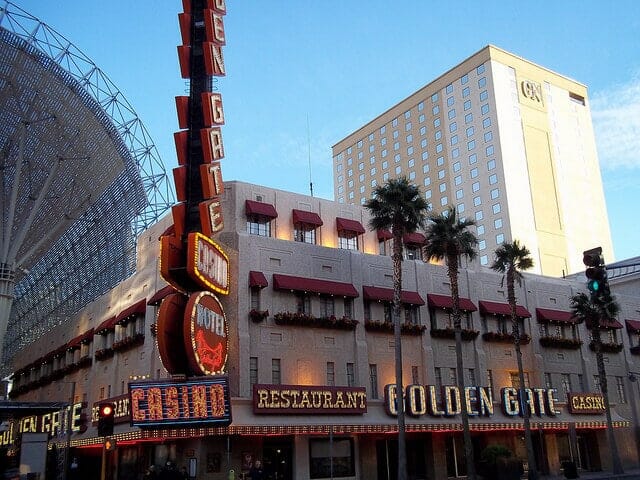 Stevens is a Detroit native who graduated from the University of Michigan in 1990. He later obtained his MBA from Wayne State University in 1994.
According to a story in Crains Detroit Business magazine, Derek Stevens took over as CEO of The Cold Heading Company in 1994. The company was started by his grandpa, and manufactures nuts and bolts for the automobile industry.
In 2008, the Stevens' brothers starting moving west, forming an affiliate that purchased Las Vegas' minor-league baseball team, the 51's.
It was also that year the brothers Las Vegas offshoot, Desert Rock Enterprises, purchased a 50% share in the Golden Gates, later upping the stake to 60%. They also own a 19% interest in the Riviera Hotel & Casino.
Derek and his brother Greg immediately went to work renovating the historic Las Vegas hotel (built in 1905, it had the city's first phone number "1"), by putting $12 million into remodeling.
In 2011, Stevens sold the baseball team for $20 million, while setting his sights on more gaming opportunities.
He found one in the aging Fitzgerald's, when Fitz owner Don Barden passed away in May of 2011.
(Derek Stevens, on the right, with "Mr. Peterman" from Seinfeld fame, and Dana White from the UFC)
Fitzgerald's had originally opened in 1979 under the name "Sundance." At that time, it was co-owned by Moe Dalitiz – a mobster who had previously owned the Desert Inn and Stardust. Barden purchased the hotel/casino in 2001, rebranding it as Fitzgerald's.
(Go here to find out the show times for the Fremont Street experience)
Five months after Barden's death, on October 28, 2011, The two Stevens boys purchased the Fitzgerald from Barden's trust. (The price was not made public).
What we do know however, is that Derek Stevens took ownership of 78% of the D, while his brother Greg owns the remaining 22%. This, combined with their ownership of the Golden Gate, and the land and buildings previously occupied by the Glitter Gulch, Mermaids, Le Bayou and Las Vegas Club means that the Stevens boys control a lot of Fremont Street real estate.
Stevens remains proud of his Detroit roots (after all, he named a casino "The D"), and TV's at the Long Bar at the D broadcast Detroit Lions, Tigers, Pistons and Red Wings games. He brought in a popular Detroit-based restaurant, American Coney Island to The D to serve up their famous tasty hot dogs and chili-cheese fries to hungry drunk and hung-over patrons. (Sober customers are allowed as well). Stevens has found memories of American Coney Island, having frequented the iconic Detroit restaurant while studying at Wayne State.
Being from Detroit of course, also means supporting American-made cars, and Stevens' economic patriotism seems to run deep. He's told reporters that goes out of the way to buy American products for his hotel, and is proud to source large hotel purchases from Las Vegas area distributors. He told the Las Vegas Sun that all of the hotel room furniture at The D was manufactured in the United States.
Stevens is a very friendly, down-to-Earth casino owner, but one with a sharp business eye for what the customers want. He's told the Las Vegas Review Journal that he enjoys talking with the customers and that his 110 foot long Long Bar at The D was built because it's the kind of place where he'd like to sit and watch football.
Some of his out-of-the box innovations have been great successes. Take the One Bar at Golden Gate for example. The success of Fremont's first outdoor bar started a trend – and one that Stevens himself continued with his popular "D Bar" outside the D Las Vegas. The combination of outdoor people-watching, flair bartenders, and sexy dancers brings energy and crowds to a bar just within steps of Stevens' gaming machines and tables inside.
On the second floor of The D, Stevens created "Vintage Vegas," where you can find the old school casino coin machines. While the idea of installing dated, old fashioned slot machines would sound idiotic to a 20-something marketing "expert" conducting a focus group, Stevens knew there was a segment of people (like my wife and I for example), who fawn for the sweet sound of coins hitting the tray.
(Here he is with his wife Nicole)
Ready for #SB50 @DLVEC @theDlasvegas w/ @dereksnicole pic.twitter.com/D4eiU5Kooy

— Derek Stevens (@DerekJStevens) February 7, 2016
He also purchased a Sigma Derby machine that has become immensely popular as well. The arcade-style mechanical horse racing machine is always crowded and noisy with the encouraging shouts of bettors filling the second floor.
Beside his innovations, Stevens has a knack for getting the D Las Vegas positive press into the news. For example, the D Las Vegas has made national headlines for becoming the first casino hotel to accept the digital currency, Bitcoin, (but only for hotel room, restaurant and gift shop purchases). They also became home to the first Bitcoin ATM machine.
And in the spring of 2014, after actor Ben Affleck was kicked out of the Hard Rock Hotel & Casino for allegedly counting cards, Derek Stevens made headlines once again by giving Affleck a public invitation to come down and play blackjack at The D.
More recently, Stevens made news by placing a $25,000 bet on his alma mater, the Michigan Wolverines to win the 2018 NCAA men's basketball tournament at 40 to 1 odds. Michigan pushed its way through the bracket of 64 teams to make it to the championship game, where they unfortunately lost to Villanova.
And in case you're interested, the bet was NOT made at The D. Derek placed it at the Golden Nugget, after talking it over with his friend, Golden Nugget owner, Tilman Fertitta, per a story in the Detroit Free Press.
Like the Steve Wynns, and Benny Binions before him, Derek Stevens is using smarts and hustle to not only succeed in the Las Vegas gaming market, but to put a refreshing and much-needed new life into America's favorite desert playground.
(Photo courtesy of time anchor via Flickr).