By Steve Beauregard
From Gatorade, to beer and liquor, to ear plugs, feminine products and over-the-counter drugs, a CVS is a much-needed stop for many people staying on the Las Vegas Strip. There are three CVS Pharmacy locations on the Strip: by Park MGM, Bally's, and Treasure Island.
A CVS visit will save you tons and things like bottled water, as opposed to buying those in the hotel's gift shop, or even worse, drinking one of the bottled waters the hotel "conveniently" leaves for you to consume (at a hefty price) in your room.
(Go here for the Walgreens locations on the Las Vegas Strip)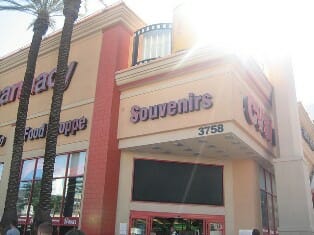 Each CVS has a Chase ATM, and (of course), a pharmacy. There are self check-out lanes in addition to staffed ones.
There is a pretty good selection of liquor brands to choose from. While the bottles of Grey Goose vodka won't be as cheap as you may find back home, it will definitely be cheaper than what you find in the hotel room mini-bar, or at a hotel gift shop.
Like at the Walgreens on the Strip, CVS stores sell deli sandwiches, fruit, and other pre-packaged food items.
Here are the three CVS stores on the Las Vegas Strip:
CVS Pharmacy Park MGM – 3758 S. Las Vegas Blvd.
I call it the Park MGM CVS Pharmacy, when in reality, this very busy stand alone store is located right on the Las Vegas Strip, between the Park MGM and the Waldorf Astoria.
It's the closest CVS to the MGM Grand, Luxor Las Vegas, Excalibur and Aria. It's open 24 hours a day.
It's a great spot to stop by to get cheaper beer or booze than the outrageous prices found out casino bars. Due to its location, it gets a ton of pedestrian traffic. And while the store seems always busy (at least from mid-morning until the wee hours), there are numerous self check-out lines to ease the flow of customer traffic.
One downside is that a number of customers have complained about all of the porn-card slappers and tour guide sellers out front.
CVS Bally's
This uniquely-designed Strip CVS is a massive store right in-between Bally's Hotel & Casio and Paris Las Vegas. Boasting 20,000 square feet, it may be not only be the largest CVS Pharmacy you ever visit, it may also hold the CVS record for "best view" as at times, you can see the beautiful Bellagio fountains show shooting up into the air.
Besides Bally's and Paris, it's also the closest CVS for those of you staying at any center Strip hotel like the Flamingo, Caesars Palace, or the Bellagio.
Besides a big selection of alcohol, water, snacks, medicine, etc, they have a good selection of grocery items, including fresh fruits. There's also tons of Las Vegas souvenirs available here as well.
The pharmacy is open from 8:30 AM to 8:30 PM, Monday through Friday, but only open until 6 PM on weekends. The store is also home to a Minute Clinic.
The address is 3645 S Las Vegas Blvd, Las Vegas, NV 89109, while their phone number is: (702) 474-4089
CVS Pharmacy Treasure Island
This newer CVS is right in front of the T.I., in what many describe as an unattractive addition to the Strip. It's bland, ugly brown suburban office park design replaced the pretty palm tree, rock and pirate ship decor that previously had welcomed guests to T.I. since its opening.
The Treasure Island CVS opened in March of 2015. It has 12,000 square feet, and occupies the ground level of the three-level retail complex on the north end of the resort. You can access either from the Strip sidewalk outside, or from inside the T.I., by near the sports book.
In addition to its large size, it is almost more grocery store than pharmacy. It's open 24 hours a day.
The address is 3300 S. Las Vegas Boulevard, Las Vegas, NV. 89109, and its phone number is (702) 866-2350.
Other
As a side note, for those of you staying at the Hard Rock, there is another CVS Pharmacy nearby. It's 1 and ½ miles east of the Strip, at 4490 Paradise Road – just right across the street from the Hard Rock Hotel and Casino.
You won't be able to purchase cigarettes, chewing tobacco, or other tobacco products at any of these Las Vegas Strip CVS locations however. The company has decided to stop the sale of tobacco.
(Photo courtesy of Lynn F via Flickr).