Distance from Las Vegas to Hoover Dam – Driving Time, Directions and Address
By Steve Beauregard
Completed March 1, 1936 (just in time for March Madness betting in nearby Las Vegas), the Hoover Dam is Nevada's second most stunning and amazing feats of engineering – second only to Holly Madison's breasts.
A total of 21,000 men worked on this project, (the dam I mean), and the government-funded depression-era project is widely considered to have helped begin Las Vegas's first gambling boom.
Approximately one million people each year visit the Hoover Dam. If you're planning on a trip to Las Vegas, you should too.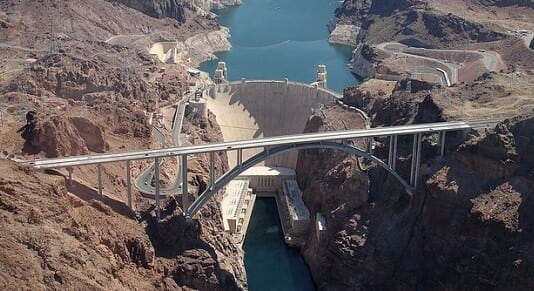 Besides being an architectural and engineering marvel, a tour of the Hoover Dam provides a nice respite from the bustle and madness of Las Vegas. Besides getting outside and away from the smoky, dark, soul-sucking casinos, the Hoover Dam can add a touch of history and education to your Sin City vacation. It should be on your bucket list.
Tour operators in Las Vegas offer a multitude of ways to get to this attraction, whether it be by charter tour bus, limo, or even helicopter. But this article is for those of you who plan on getting to this impressive structure via their car, or rental car.
Driving Distance from Las Vegas Strip to Hoover Dam
The driving distance from Las Vegas to Hoover Dam is 39 miles (or 63 kilometers). And here I'm talking about starting off from the center of the Las Vegas Strip at Caesars Palace to the visitors' center.
The driving time from Las Vegas to Hoover Dam is between 45 to 55 minutes, depending on traffic and your route.
(Below "A" is the center of the Las Vegas Strip. "B" is the start of the new Boulder City Bypass, "C" is where you get on the Hoover Dam Access Road, and "D" is the Visitors' Center)
The easiest, fastest way to get to and from Hoover Dam and the Las Vegas Strip is to make your way south on either I-15, or south on the Las Vegas Strip.
You'll want to get on Interstate 215 going East. From the Strip, this intersection is about 2 miles south of Mandalay Bay, past the airport, and past Town Square shopping plaza. You'll access 215 by getting in your left lane and turning left on George Crockett Road.
Once on Interstate 215 Eastbound, (also called the Bruce Woodbury Beltway), you'll stay on it for just over ten miles, at which point you'll arrive in Henderson, Nevada.
You'll want to get on Interstate 11 south. In typical confusing highway fashion, this road is also called I-515. Either way, you'll be heading right, towards Boulder City, and the signage is pretty big and clear.
On August 9, 2018, the new Interstate 11 extension, called the Boulder City Bypass opened. Previously one would have to drive through the town of Boulder City, (and stop at stoplights), but that is no longer the case.
Instead, you'll continue to cruise on I-11 on this new Boulder City Bypass as it meanders south of Boulder City and towards the dam.
Just as I-11 intersects with Highway 93, you'll want to get off (on your right lane), at Exit 2, to NV-172, otherwise known as the Hoover Dam Access Road.
If you don't get off here, you end up staying on the Great Basin Highway as it crosses the Mike O'Callaghan-Pat Tillman Bridge going into Arizona. (O'Callaghan was a former Nevada governor, while Pat Tillman was an Arizona State graduate who played professional football for the Arizona Cardinals. He bravely gave up his lucrative NFL career to enlist in the Army. He died in action in Afghanistan).
The Mike O'Callaghan-Pat Tillman Memorial Bridge opened in 2010. With this alternative route, commercial vehicles are no longer allowed on the actual Hoover Dam road itself. This new bridge also significantly reduces the travel time for people traveling from Phoenix to Las Vegas.
But once you're on the Hoover Dam Access Road, you'll drive just over 2 miles, where you'll see the signs pointing you towards the parking and visitors center on your left.
Again, from the Las Vegas Strip to the Hoover Dam, the distance is just about 39 miles.
Hoover Dam Address For GPS, The Visitor Center, and Parking Area
The Hoover Dam doesn't need a physical address of course, (most people know it when they see it), so it doesn't have an address to type into GPS systems. If typing in "Hoover Dam" doesn't work on your mapping system, you can always punch in these coordinates:
N 36.016222, W -114.737245.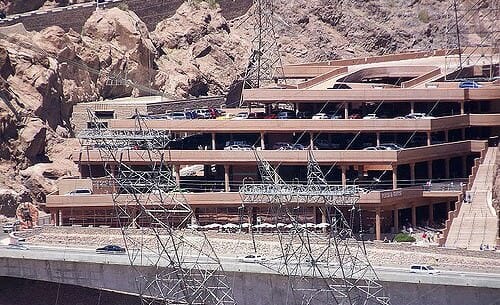 The Hoover Dam's parking garage and attached gift shop is just about a 400 foot walk to the visitors center, (and down either an escalator or elevator), so the GPS address above will cover you on those fronts.
The Hoover Dam's parking garage has room for 459 cars. Please know that while your taxpayer dollars already paid for all of this, they still have the gall to charge you $10 to park here.
As for busses, there are plenty of charter, tour-type buses that will take you right to the dam and back to the Strip. Cheaper, public buses like the Deuce or SDX won't get you there, although the Las Vegas bus system does go to nearby Boulder City, Nevada.