Distance From Palm Springs to Las Vegas, Nevada – Driving Time & Directions
By Steve Beauregard
It's 228 miles, (or 366 kilometers) from Palm Springs to Las Vegas.
Here we're measuring from downtown Palm Springs (by the Convention Center) to the Aria Hotel and Casino in the center of the Las Vegas Strip.
Assuming normal traffic conditions, it would take you just about four hours to get there.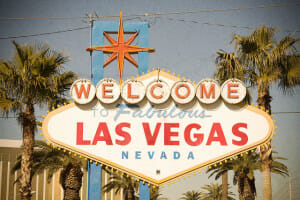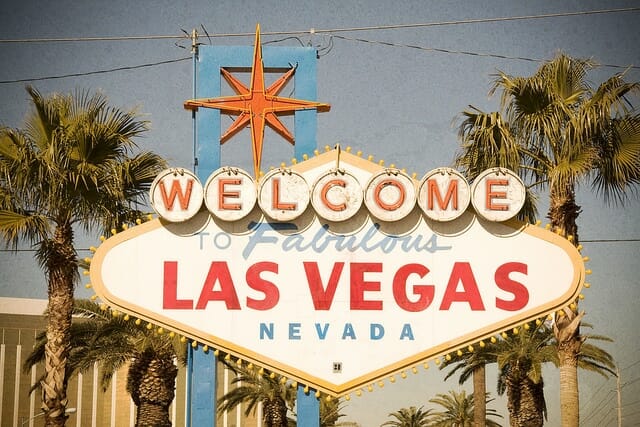 Actually, Google maps says it would take you exactly 3 hours and 51 minutes to drive there by car, assuming there are no stops for food or bathroom breaks.
Directions from Palm Springs to Las Vegas
The quickest route from Palm Springs is usually found by taking Highway 62, (or State Route 62) which is just west of Palm Springs. The highway is also called Twenty-Nine Palms Highway.
It's the shortest route in terms of miles, but is only slightly faster in terms of time spent in a car. (More on that below).
(Here's a map showing you to shortest drive from Palm Springs to Las Vegas)
Highway 62 will meander north and east in very desolate desert country for about 179 miles before merging into Interstate 15. You'll drive through very scenic desert landscapes, while driving through the Mojave National Preserve.
Once you connect with I-15, your just 10 miles from the California/Nevada state line at Primm, Nevada, and your just about 48 miles to Las Vegas.
Keep in mind that this route can be desolate and lonely, and you may not have cell phone service. If you need gas, water or snacks, be sure to fill up in the town of Twenty-Nine Palms, as there aren't many spots for services on this drive.
Alternative Ways to Las Vegas from Palm Springs
There are two other ways, other than Highway 62, to get to Sin City from the Palm Springs area.
1) You can take Interstate 10 west for about 25 miles until it connects with I-215. The 215 will turn into Interstate 15, which will take you all the way to Las Vegas. It is exactly 274 miles this way.
2) You can also take the aforementioned Highway 62 north 28 miles to Yucca Valley.
From there you'll go west (yes, I know Las Vegas is east), but taking Highway 247 north and east at Yucca Valley will connect you with Interstate 15 at Barstow, California. From Barstow, I-15 will lead you straight to Las Vegas. This route is 257 miles.
(Related: Where is Las Vegas located?)
Summary
On paper at least, there is not much difference in time between the three routes. Key words, "on paper."
In reality, taking Interstate 15 before you have to can lead to congested traffic conditions. Las Vegas tourism officials estimate that up to 1/3rd of visitors to Sin City come from Southern California. Which means a great many of these millions will be driving from Los Angeles to Las Vegas on I-15.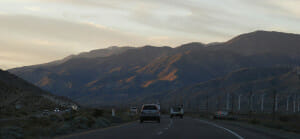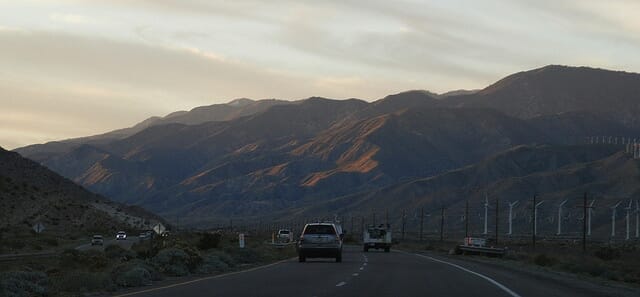 This is especially true on I-15 to Las Vegas on Friday afternoons, and westbound I-15 on Sunday afternoons, when everyone is going back home.
Distances from Indio and Other Nearby Towns to Las Vegas
Cathedral City: 236 miles
Thousand Palms: 237 miles
Palm Desert: 243 miles
Indio: 248 miles
Coachella: 253 miles
Rancho Mirage: 240 miles
(Photos courtesy of ADTeasdale and Joe Wolf via Flickr).