Flamingo Hotel and Casino Food Court – List of Restaurants and Hours
By Steve Beauregard
Just off the casino floor, towards the back of the casino, the foot court at the Flamingo Hotel and Casino in Las Vegas has four different quick stop restaurants and brightly-lit seating area.
While it's an affordable, convenient and fun place to stay and play, the Flamingo has never been known for its food. Its food court is really no exception, as you'll find newer, more plentiful options at places like the new Caesars Palace food court and the Harrahs Fulton Street Food Hall just down the Strip.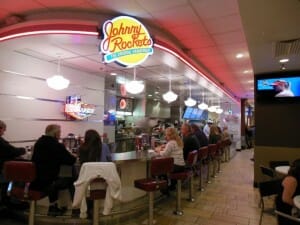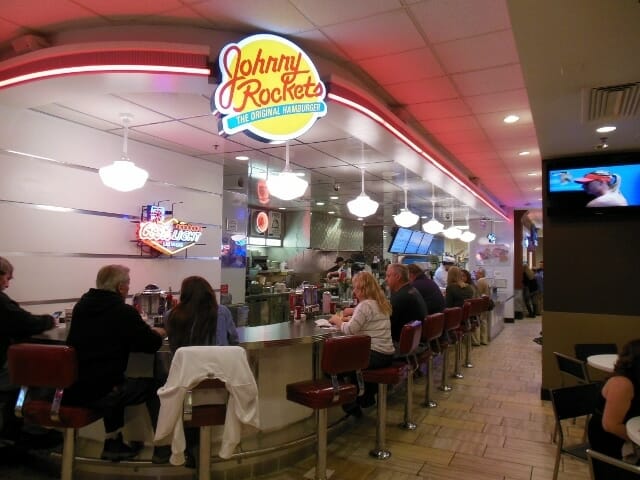 Here is a breakdown of the four restaurants at the food court:
Johnny Rockets
The California-based burger chain has 330 restaurants world-wide, and the Flamingo food court is home to one of the eleven Johnny Rockets in Las Vegas.
There's a retro feel to this burger stand, which resembles a 1950's-era diner.
Menu items include hamburgers, cheeseburgers (with different topping options, such as bacon or jalapeno), cheese steak sandwiches, chicken sandwiches, hot dogs, salads, onion rings, fries (including sweet potato fries), chicken tenders, hand-dipped shakes, floats, malts and apple pie.
Being just steps away from the slots on the Flamingo floor, this place can get very busy at lunch and dinner. Others try it later at night, as their chili cheese fries may be the ultimate drunk food.
Just a warning, for a fast food counter service type of place, a full meal (burger, fries and drink) will cost you at least twice as much as a normal McDonald's value meal.
(Go here to find a McDonalds on the Las Vegas Strip)
Bonanno's New York Pizzeria
According to their website, Bonanno's serves up authentic New York-style "hand-tossed brick-oven pizza." This sounds pretty good for a food court where the pizza can sit under a heat lamp for a while.
In my experience there, the pizza was fresh, as they typically toss a pre-made slice in the oven for a few seconds. The slice of cheese and pepperoni was large and decent value (considering Las Vegas prices).
Other pizza flavors include meat-lovers, a couple of vegetarian pizzas, (including a broccoli spinach and tomato), and a barbeque chicken pizza.
In addition to your standard pizza, Bonanno's serves up well-regarded garlic knots, baked ziti, Stromboli, spaghetti, lasagna, chicken cutlet parmigan, and Caesar salads.
They also serve wine and six different types of beer.
In the mornings, Bonanno's serves breakfast from 6 a.m. to 11 a.m. The limited breakfast menu consists almost entirely of egg McMuffin-type of sandwiches, along with both a waffle dish and French toast plate.
In addition to the Flamingo, Bonanno's has outlets in the food courts at MGM Grand, the Luxor, Mandalay Bay and at the Palace Station Hotel and Casino.
Pan Asian Express
This is a local fast food chain similar to Panda Express. The choose-your-combo menu is full of the usual suspects: fried rice or noodles with kung pao chicken, beef and broccoli, orange chicken, etc. My wife and I had the orange chicken with fried rice, and were happy with it.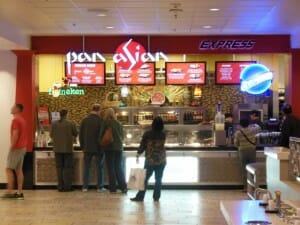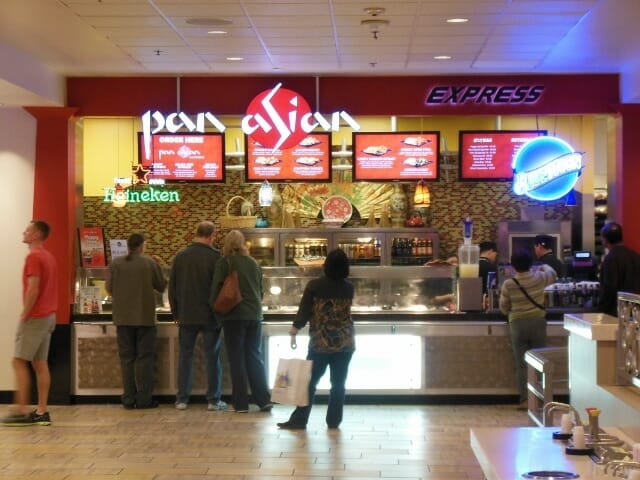 There is a small, and expensive, beer selection.
The Flamingo Food Court Pan Asian Express is one of four on the Strip – the others being located inside food courts at Bally's, Mandalay Bay, and at the MGM Grand.
L.A. Subs and Salads
Perhaps the healthiest alternative in the Flamingo Food Court, this chain serves up everything you'd expect from their name: deli sandwiches, salads, along with wraps, like a chicken Caesar wrap, grilled panini sandwiches.
L.A. Subs and Salads has a small beer selection, including Mike's Hard Lemonade. There's another location of this chain in the Luxor Hotel and Casino.
The Flamingo's food court is open 24 hours a day. When walking in the front doors (which face Caesars Palace), you'll find the food court on your left hand side, towards the back of the casino. Those of you with Total Rewards comps can use them here.