Rainmaker Buffet at Foxwoods – 2023 Price, Hours & Menu Items
(Please note: The Rainmaker Buffet remains closed and appears to be a permanent Covid casualty. If and when the resort announces a re-opening date, we'll update this article accordingly.)
As one of the biggest casinos in the United States there's a huge demand for dining options at the Foxwoods Resort Casino.
The resort seems to meet that need just fine, with 35 different restaurants and quick serve counters. Included in this 35 is the newly revamped Rainmaker Buffet (previously known as the Festival Buffet).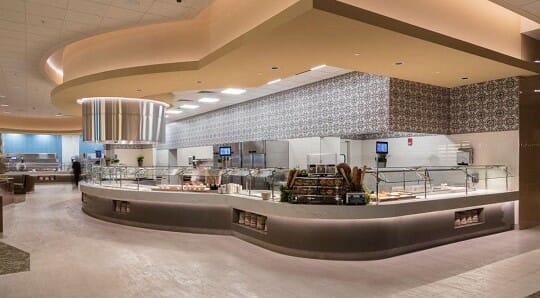 Located in Rainmaker Square, the beautiful new buffet re-opened in late May of 2019. The open feel and curved counter layout will remind some of you of Mohegan Sun's Seasons buffet. The spacious facility here at Foxwoods has room for 300 diners – all at tables as there are no booths here.
While certainly more modern, the new contemporary look of the Rainmaker replaces what was the charming, more cozy atmosphere of the prior Festival Buffet – with its brick exterior, foliage and patio seating with views of the Indian-themed light show in the plaza.
Menu Items
We'll focus mostly on lunch and dinner buffets here, as the breakfast buffet consists of most of the standards, including eggs, bacon, hash browns, pastries, pancakes, waffles, fruit, and a made-to-order omelet station.
What's new is that a an LCD screen above the dishes tell you exactly what you have to choose from. However please note from the start that these are subject to change, based on the chef's whims.
Nevertheless, here's a basic run down of dishes you will likely find:
Salad
There is a somewhat confusing, made-to-order salad area here. There are also pre-made salads, breads, vegetables and fresh fruits, including watermelon, melon, cantaloupe and pineapple.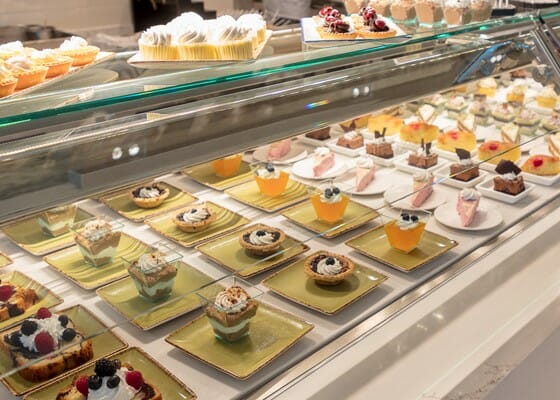 Seafood
The New England seafood bar has fresh crab, oysters, mussels, peel n' eat shrimp, and seafood salad. There are also baked and fried fish options.
Carving Station
Here you carnivores will find Prime rib (after 5 PM), ham, sausage, roasted turkey, slab bacon and rotisserie chicken.
Sauce options include everything from your standard horseradish and cranberry sauce, to chimichurri and mango chutney.
Also, T-bone steaks are not part of the standard buffet price, however for an extra $12, you can upgrade and get one 12 ounce grilled-to-order T-Bone Steak.
Asian Area
There is a Pho Asian soup station here, along with a few Asian dishes, including crab rangoons.
Comfort Food
Chicken wings, clam chowder, green beans, corn on the cob, squash. baked potatoes, broccoli and other cooked vegetables, fried chicken, fingerling potatoes and more.
Italian Station
You'll find a small selection of pasta dishes. Pizzas are prepared on a rotating grill and there were four different kinds I believe.
(Related: Foxwoods Casino Resort Parking Fee & Map)
Dessert Station
All eyes here are drawn to the two large dessert fountains.
But instead of having to dip your treat into the gooey goodness of the chocolate fountain, there are pre-dipped marshmallows, Rice Krispie treats, and strawberries on skewers for you to take. There are also caramel apples on a stick.
Other highlights include individual slices of various pies, (such as Boston cream pie), cakes, hand-dipped ice cream, (with sundae toppings), numerous varieties of cookies, brownies, tarts and the like. The gluten-free chocolate chip cookies have gotten good early reviews thus far, for those of you who avoid gluten.
As for drinks, you do get waited on here, rather than go to a self-serve station. There are Pepsi products to choose from, along with iced tea, coffee and the like. You may also order alcoholic drinks from your server.
Foxwoods Rainmaker Buffet Prices & Hours
The Rainmaker Buffet is open seven days of week of course, and the prices below are the same for every day of the week. On some holidays however, the more expensive dinner pricing starts at 11 AM, rather than at 5 PM.
Breakfast: 7 AM to 11 AM (7 days a week)
Adults: $15 (Kids 6 -12: $8)
Lunch 11 AM to 4:30 PM (7 days a week)
Adults: $25 (Kids: $14)
Dinner
Sunday – Thursday: 4:30 PM to 9 PM
Friday: 4:30 PM to 10 PM
Saturday: 4:30 PM to 11 PM
Adults: $29.00 (Kids: $16.00)
For all meals, children aged five and under eat free. Also, please keep in mind the prices above do not include tax and tip.
I believe the restaurant tax is 6.34%, meaning a dinner for two adults would cost you $61.68 after tax (but before tip).
Dinner Buffet Add-ons
Not included in the standard $29 dinner buffet price, you can upgrade your buffet meal with the following add-on options:
1 pound of Alaskan Snow Crab Clusters – $10
1 1/4 pound Fresh Maine Lobster – $18
One 7 ounce Char-Grilled to Order Filet Mignon – $9
Festival Buffet at Foxwoods Resort Casino Phone Number
The main number is: 1-800-369-9663.
However those of you planning on eating with a group of ten or more should call the following number: (860) 312-8450. There is separate seating for up to fifty people if you have a meeting or special occasion you'd like to celebrate.
Also, the closest parking garage to the buffet at Foxwoods is the Rainmaker garage.
Rainmaker Buffet Senior Deal?
The former Festival Buffet's "Young and Fun" days seniors special pricing has been discontinued with the opening of the new buffet.
However, per their Facebook page, Foxwoods says that, "We will be unveiling our new senior program soon." We will update the pricing on this page as soon as that happens.
Previously, those aged 55 on up were only charged $9.99 for Tuesday lunch and Thursday night dinner.
(By Steve Beauregard. Photo courtesy of Foxwoods Resort Casino)