Free Parking Close to the Bellagio Las Vegas
(Editor's note: Unfortunately Planet Hollywood and the Miracle Miles shops have implemented paid parking, rendering most of this article moot. As such, the closest free parking to the Bellagio now is valet parking at The Shops at Crystals, a ten minute walk, or quick free tram ride away. Below is our original article).
Good news for those of you looking to park free near the Bellagio Hotel & Casino in Las Vegas.
While there is a hefty fee to park at the Bellagio, (both for self-parking and valet), there is, fortunately, free parking a relatively short walk away.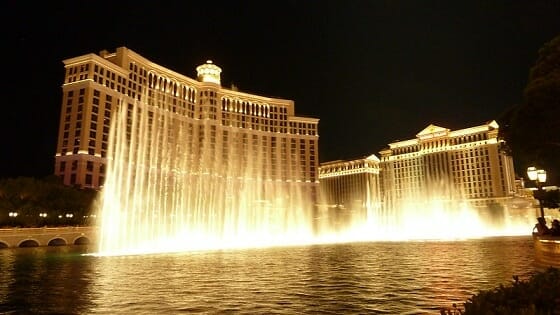 You'll find it across the street, at the Planet Hollywood Hotel & Casino.
The self-parking garage here is spacious and completely free to everyone. If you're willing to make the trek across the Strip, you'll save the Bellagio parking fee, which (as of this update), starts at $15 for one to four hours of self-parking, all the way up to $35 for an entire day of valet parking on weekends.
Free Parking Close to the Bellagio Hotel & Casino
As it stands now, the PH Casino Resort is one of the few places to park free on the Las Vegas Strip.
The parking garage is located behind the Miracle Miles shops at Planet Hollywood. I've actually measured it, and it's just a tad over ½ mile from the garage to front door of the Bellagio. This is, by far, the closest free parking to the Bellagio.
The walk is mostly air-conditioned, as you'll cut through the Miracle Mile shops to the exit out in front of the Las Vegas Strip. From there you'll cross the Strip over to the Bellagio side.
A few steps south will lead you to an escalator which will takes you up to a covered walkway, which leads you up to the Bellagio's front steps.
Alternatively, you can cross Bellagio Drive to walk along the sidewalk by the walk. A path meanders up to the front doors.
Either way, not stopping to shop or get frozen daiquiris at the Miracle Mile Shops, the free parking is around a fifteen minute walk to the Bellagio's front door.
Map of Free Parking Near the Bellagio
Here's the walking route from the parking garage behind Planet Hollywood "P" and the front entrance into the Bellagio (red star).
Free Parking by Bellagio Fountains
If you're looking just to catch the famous Bellagio Fountains Show, the best viewing spot (in the center on the front sidewalk of the resort along the Strip), is roughly the same distance (a 15 minute walk) from the free parking.
(By Steve Beauregard. Photo courtesy of Sheila Thompson via Flickr.)