Golden Corral Buffet Las Vegas Locations, Hours, and Directions
Las Vegas may be a city known for its buffets, but for your money, you can't beat the solid quality, selection and value of a Golden Corral Buffet and Grill.
With a variety of comfort food options, the famous chocolate fountain, cotton candy, and prices much lower than you'll find on the Strip, the Golden Corral has been a hit since opening in east Las Vegas in 2013.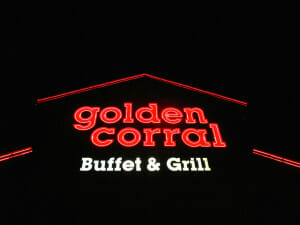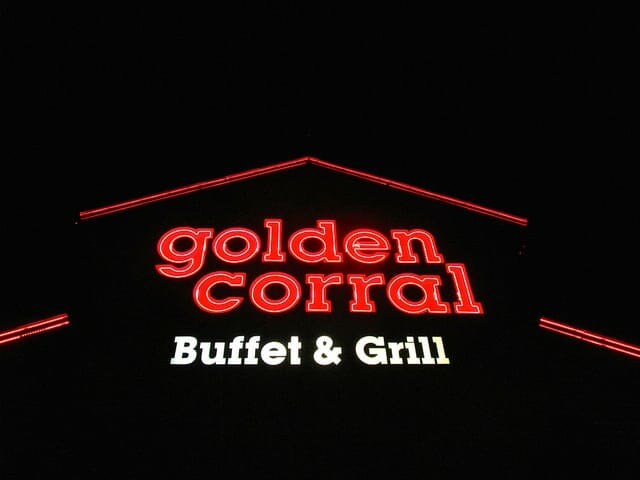 There is another Golden Corral in the Las Vegas area, however it's located in Henderson, a suburb southeast of Las Vegas.
Both restaurants are similar in style, appeal and menu to the other 500 plus Golden Corrals spread out across the country.
(On the map below, the red star is the Las Vegas Golden Corral Buffet location, while the black star is the one in Henderson)
That is to say, the menu features familiar favorites, such as the Bourbon Street chicken, grilled-to-order sirloin steaks, meatloaf, fried chicken, sweet potatoes, yeast rolls, Awesome pot roast, along with the salad bar of course, and dessert station, with the aforementioned cotton candy.
Golden Corral Buffet Las Vegas
The one Golden Corral located in Las Vegas city limits is the restaurant is located on the east side of town on S. Lamb Blvd, south of Charleston, (S. Lamb is found in-between the 515 and N. Nellis Blvd).
It's located just south of the Home Depot on S. Lamb, and across the street from William Snyder Elementary School.
Golden Corral Las Vegas Address, Phone & Website
1455 S. Lamb Blvd
Las Vegas, NV. 89104
Phone: (702) 685-9595
For To-go orders, delivery and more, this location's website is here: Goldencorral.com/Southlamb
Golden Corral Las Vegas Hours
| | |
| --- | --- |
| Monday – Thursday | 10 AM – 9 PM |
| Friday | 10 AM – 10 PM |
| Saturday | 8 AM – 10 PM |
| Sunday | 8 AM – 9 PM |
Henderson Golden Corral Buffet
This Golden Corral is just a half mile west of the Sunset Station Hotel & Casino.
The bright red building is easy to spot off of Sunset Road. Opened in 2018, it's 12,000 square feet in size.
Henderson Golden Corral Address, Phone & Website
1445 W Sunset Rd
Henderson, NV 89014
(702) 476-6323
For more information, delivery, or to-go orders, you can go here: Goldencorral.com/Sunset
Hours (same as the one up north)
| | |
| --- | --- |
| Monday – Thursday | 10 AM – 9 PM |
| Friday | 10 AM – 10 PM |
| Saturday | 8 AM – 10 PM |
| Sunday | 8 AM – 9 PM |
Side Notes:
The two buffets in the Las Vegas valley are the only Golden Corral restaurants in the entire state of Nevada.
The Las Vegas restaurant opened on December 19th, 2013. According to a story in the Las Vegas Review Journal, there had been a Golden Corral in town two decades prior, but it had shut down.
For those of you from out of town who may want to, for whatever reason, go to this Golden Corral, it is 8 miles from the center of the Las Vegas Strip, and would take you about 25 minutes to drive to it.
The very first Golden Corral opened in Fayetteville, North Carolina in 1973. There are now over 500 locations across the United States.
More information can be found at the buffet chain's official website here: GoldenCorral.com
(By Steve Beauregard. Photo courtesy of Daniel X. O'Neil via Flickr).