Golden Nugget Las Vegas Buffet Price, Hours & Menu 2023
Updated January, 2023
(Please note: The Buffet at the Golden Nugget shut down during Covid, and remains closed now. If and when re-opening plans are announced, we'll update this article accordingly. Below is the original article.)
Fremont Street's most upscale hotel is also home to the nicest buffet in downtown Las Vegas.
The Golden Nugget Hotel & Casino's buffet, (simply called "The Buffet"), is not as large and elaborate compared to most Strip buffets, however it's also more reasonably priced.
And since there aren't a lot of buffets in downtown Las Vegas, the Golden Nugget may be your best option for you buffet-seekers staying on Fremont.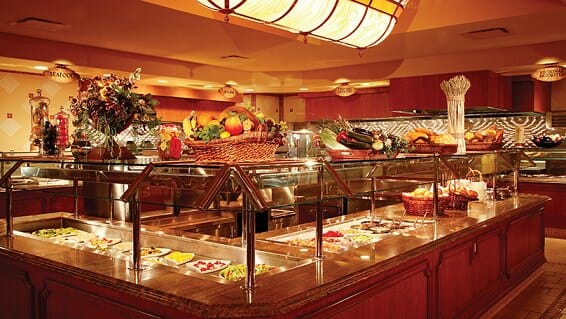 Located on the second floor, the décor is plain, but serviceable, with Victorian touches and lots of lighter wood paneling, all circling the inner food stations.
Some seats offer a good view of the swimming pool and sunning area below. Please note that the buffet is closed on Mondays and Tuesdays.
The Buffet at Golden Nugget Las Vegas Price & Hours
Prices are as follows, with the adult price followed by children's prices.
Breakfast – Wednesday to Friday: 7 AM to 10:30 AM $17.99 ($11.99 for kids)
Brunch – Saturday & Sunday: 7 AM to 3:30 PM $23.99 ($13.99)
Lunch – Wednesday to Friday: 10:30 AM to 3:30 PM $17.99 ($12.99)
Dinner
Wednesday & Thursday: 3:30 PM to 10 PM – $23.99 ($16.99)
Saturday & Sunday: 3:30 PM to 10 PM – $25.99 ($16.99)
Friday (Seafood night): 3:30 PM to 10 PM – $28.99 ($17.99)
On top of these prices, there will be an 8.38% Clark County sales tax added. This means that a Saturday or Sunday night dinner for two would cost you a total of $56.26 after tax (but before tip).
Please also note that as with almost every other buffet in Las Vegas, prices will go up during holiday periods. For example, last Mother's Day Brunch was $24.99 – an increase of $2 over the normal brunch cost.
The Buffet at Golden Nugget Children's Prices
The children's prices above apply for kids ages 4 to 8 years old.
Nine year-olds on up will pay full adult prices, while kids three and under eat free.
The Buffet at Golden Nugget Las Vegas Menu Items
These are always subject to change, and special nights (like the Seafood Buffet on Friday), will feature different items, however for most dinner visits, you're likely to find dishes below, all of which were present during a recent visit.
Salad Bar
Your basic buffet salad bar here, starting with five types of fresh fruit: apples, watermelon, cantaloupe, melon and pineapple.
After choosing among four types of lettuce: romaine, mixed greens, spring mix and spinach, I counted twelve different salad condiments and six different types of salad dressing.
Some of the pre-made salads included a tomato & cucumber salad, marinated artichoke, a pasta salad, tomatoes & mozzarella, macaroni salad, cole slaw and potato salad. There were nine different condiments to add to these salads as well.
Soup choices included chicken noodle and cream of spinach on this visit.
In a nearby food island, you'll find chicken salad, tuna salad, some cheese plates and pickles.
This is next to the sandwich area, which has pre-made Subway-style sandwiches with different types of mustard/mayo condiments.
Asian Section
To the right of sandwiches the buffet quickly transitions into its Asian station.
There are four different types of sushi here, including spicy tuna and spicy crab and a Philly roll.
Next to the sushi is where you'll find pot stickers, steamed rice, fried rice, lo mein, Mongolian Beef and General Tao Chicken.
Meat Station
The main meat section is to the right of this, and includes beef sirloin steak, sausages, honey-glazed ham and roasted turkey.
Next on down the line are dishes such as fried shrimp, mashed potatoes, baked chicken, grilled steak, steamed carrots, collared green, baked cod, and potatoes au gratin.
Pork chops, baked potatoes, green beans, corn-on-the-cob, beef fajitas mix, fried cod, pinto beans and Spanish rice.
Italian Area
Here you'll find a seafood tortellini dish, Macaroni n' cheese, cioppino (an Italian fish stew for those of you unaware), and chicken parmesan.
To the right of these dishes is a made-to-order pasta station, next to which are meatballs and garlic bread. In addition, I counted four different types of pizza available.
There's also chilled peel'n'eat shrimp every night, and the Friday night more expensive seafood buffet features crab legs (both hot and cold).
Dessert
Sweet offerings include apple cobbler, bread pudding, several different varieties of pies and cakes (ten I believe), in addition to some tarts, brownies, eclairs, flan and parfaits on individual plates.
There was also a decent variety of sugar-free pies and desserts.
The choices of eight ice cream flavors included the standard chocolate, and vanilla bean, along with cookies-n-crème, caramel swirl, an orange sherbet, raspberry sorbet, and a sugar-free butter pecan ice cream.
Breakfast
Nothing really stands out here that you won't find at most other Las Vegas buffets.
There is the usual made-to-order omelet station with nine different ingredient/topping options, and all the typical breakfast buffet offerings, such as waffles, eggs and egg dishes, biscuits and gravy, potatoes (several different varieties), fruit, yogurt, etc.
Other
The buffet is completely non-smoking. There's also a dress code, in that men have to wear shirts with sleeves on them.
(Related: Golden Nugget Las Vegas Parking & Fee)
The Buffet at Golden Nugget Phone Number
(702) 386-8152
You can also get answers to buffet questions by emailing them at: guestservices@goldennugget.com
(By Steve Beauregard. Photo courtesy of the Golden Nugget Las Vegas)