Golden Nugget Las Vegas Parking Fee, Valet & Map 2023
As one of the most luxurious hotel/casinos downtown, the Golden Nugget Hotel & Casino is popular option for visitors wanting to stay on Fremont Street.
And unlike most of the larger Strip casinos to the south, the Golden Nugget does not charge a parking fee for guests staying at the hotel.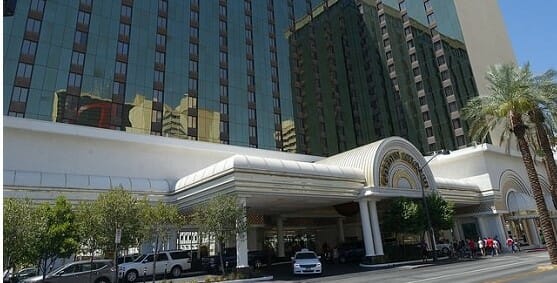 Instead, they charge a hefty resort fee ($38 per night as of this update), and the hotel says that free parking is one of the benefits included in the resort fee.
For anyone not staying at the hotel, there is a charge to self-park with conditions. (More on that below).
The Golden Nugget is one of the larger and busier casinos on Fremont Street. As such, there is a big demand for parking here.
On busier days, the resort's large six-story parking garage on the southwest corner of the property can fill up quickly.
Golden Nugget Las Vegas Parking Fee
For registered guests staying at the Golden Nugget, self-parking is completely free. It's also free for those with the Golden Nugget's Players card, (called the "24K Select Club") who have reached one of the top 3 of the 4 levels.
As for everyone else, I reached out to a representative of the Golden Nugget, who told me, "We do not have a set price unfortunately." However, during a recent visit, signage showed the parking rates to be as follows:
| | |
| --- | --- |
| Hotel Guests, Premier, Chairman & Elite Members | Free |
| First 10 minutes | Free |
| 10 Minutes – 2 Hours | $10 |
| 2 – 24 Hours | $20 |
| Each additional 24 Hour period | $20 |
Please note that during special events (which may include busy 3 day weekends), the 24 hour fee jumps to $50. Also, a lost ticket will cost $40.
Free Parking at the Golden Nugget
For non-hotel guests, you can get free parking with validation after spending money at the resort.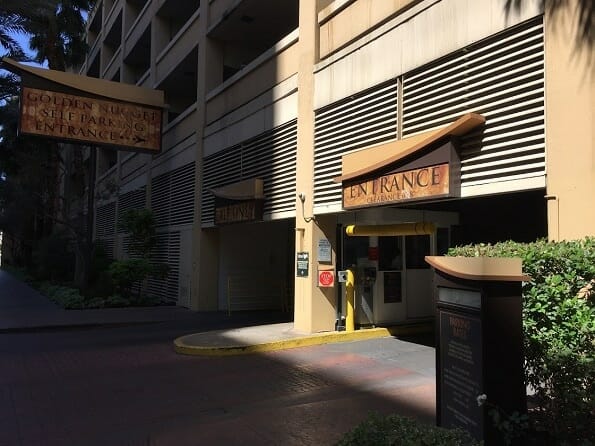 You can get your parking validated after dining at a restaurant, going to a concert or show, or after earning 20 slot points on the Golden Nugget's 24K Select Club player's card. Drinks at a bar do not count towards validation.
You'll want to get your parking validated at the casino cashier desk. You can park all day with the same validation. (Previously it was 3 hours max).
(On this map, the black "P" is the entrance into the Golden Nugget's self-parking garage. The yellow star is the Gold Tower valet, while the red star is the Rush Tower valet, which is not always open).
Those of you wanting to self-park will enter the garage off of 1st Street. One you're on 1st Street the large garage will be on your left.
The structure is six stories, with the top level being uncovered. So if you don't want your car, truck or SUV to fry in the Las Vegas sun, seek a lower level covered parking spot.
You won't find a pedestrian bridge here, instead, you'll take the elevator or stairs down to the first level then cross on over to the hotel/casino.
(Related: Fremont Street Experience Light Show Schedule)
Golden Nugget Las Vegas Hotel & Casino Valet Parking & Fees
The cost to valet park at the Golden Nugget is $20 per day.
This applies to both hotel guests, and non-guests alike. However registered hotel guests do have unlimited in-and-out access, whereas non-guests would have to be a new valet valet if leaving and returning.
There are two valet areas.
1) Gold Tower Valet Parking (yellow star on map): this is easily accessible right off of Casino Center Boulevard just south of Fremont Street.
You'll use this if you're staying at the either the Gold or Carson Tower rooms.
2) Rush Tower Valet Parking (red star on map): South of the resort, you'll get here by going under the huge "Golden Nugget" sign at the corner of 1st Street and Bridger Avenue.
Alternatively, you can use the entrance off of Main Street and E. Carson Avenue. Either way, this valet is not always open, whereas the Gold Tower valet is always available.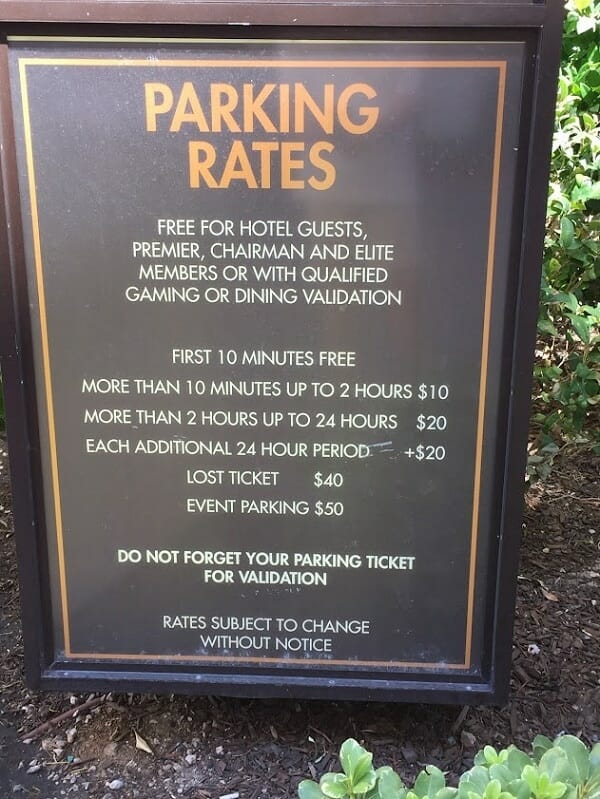 Either way, this is the valet you'll want to use if you are going to an event at the showroom, (or staying in the Rush Tower of course).
Other Notes
* The Golden Nugget's parking garage has a clearance of six feet, seven inches.
* The resort's three hotel towers combine to have 2,419 rooms and suites.
* The newest tower, the Rush Tower, opened in 2009.
* The Golden Nugget Las Vegas, along with its sister properties in Atlantic City, Biloxi, Laughlin and Lake Charles, Louisiana are all owned by Landry's Incorporated.
* The Golden Nugget originally opened in 1949. At one time it was owned by Steve Wynn.
* The Golden Nugget is 8 miles from McCarran International Airport. The casino has over 1,000 slot machines and 80 table games, not including the 13 table poker room.
* All total, the resort has nine restaurants (including a buffet), and a Starbucks. There are also 8 bars and a 600-seat showroom.
(By Steve Beauregard. Top photo courtesy of: Jeremy Thompson via Flickr. Bottom two are copyright gamboool.com).