Updated May 21st, 2021
With 2,500-plus rooms spread out over 5 towers, a convention area, and 157,000 square feet of casino space, Harrah's Resort Atlantic City is one busy place. In fact, based on monthly gaming revenue, it's the second busiest casino in AC, (after the Borgata).
Fortunately the first casino in the Marina District has plenty of parking, with two spacious garages that can handle over 4,000 vehicles.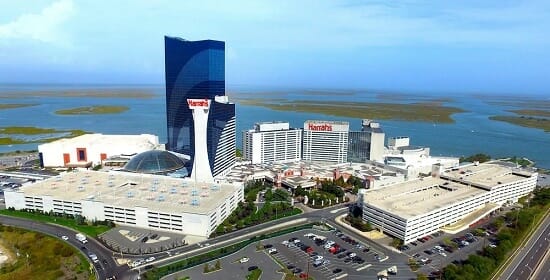 Harrah's Hotel & Casino Atlantic City Self-Parking Fee
Free!
Before the Covid shut down, hotel guest paid $5 to park, while non-hotel guests paid $10 on weekdays, and $25 on weekends. However as of this update, self-parking remains free. Fees are a one-time daily rate. In other words, it's not by the hour.
We expect those prices to return, along with what Harrah's Atlantic City calls "Peak" pricing. They don't specify what times are "Peak" vs. "non-peak" but you should assume most of the time, you will be charged this peak pricing. Certainly all summer will be peak pricing.
Also pre-Covid, parking rates for non-peak times (think slower winter months), were the same during mid-week, $10. However non-peak self-parking rates are "only" $15 for weekends and special events, (a savings of $10 from peak season prices).
Those of you with Caesars Rewards cards at the Platinum, Diamond or Seven Stars level, receive free self-parking.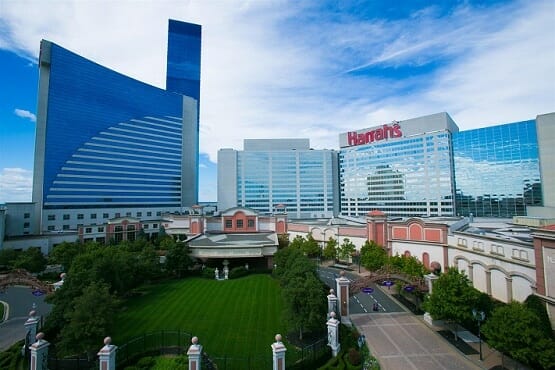 Harrah's Resort AC Valet Parking Fee
Free, (as of this update), however my understanding is that valet parking is currently is only available to Diamond and 7 Star Caesars Reward members.
First please note that while you drop off your car in the valet circle off of Harrah's Blvd, you retrieve car from the Waterfront/Bayview Tower garage. So it's a little bit more of a walk, especially if you're staying in one of the three older towers.
These were prices pre-Covid, which we expect to return. We'll try to update this article accordingly.
As is the case with self-parking, valet parking is complimentary for those of you at Platinum, Diamond or Seven Stars.
Hotel Guests: $10
Non-hotel guests:
Mid-week: $15 per day

Weekend: $30

Special Events: $30
As with self-parking, the rates listed above are for "Peak" times. Off-peak pricing is the same fee for hotel guests and for mid-week parking. Parking on weekends or events during off-peak periods will be $25 – a $5 savings from peak times.
Harrah's Resort Atlantic City Parking Map
Harrah's AC has two parking garages: one on the southeast side of the resort – the other on the southwest side. Since they're not formally named, we'll just call them the "East Garage" and "West Garage."
East Garage (Orange "P" on the map)
Across the street from the casino, this older garage has seven levels. It's also seen better days.
You enter this off of Harrah's Blvd, which is the main road in front of the resort.
(Related: Borgata Casino parking fee)
There is an enclosed pedestrian skyway (on the second level) to connect you to the casino, however once on the casino side, you have to take an escalator down – not always the easiest while hauling luggage.
Those staying in either the Coastal Tower, the Atrium Tower, or the Laguna Tower (formerly the Marina Tower), will want to self-park in this garage. It's also the parking garage you'll want to use if you're just here to play poker, as it's the closer one to the poker room.
West Garage: (The black "P")
Those of you staying at either the Bayview Tower or the Waterfront Tower (the newest and the tallest one at 45 floors), will want to use this west parking garage.
The massive garage was expanded to now 700,000 square feet in size.
This long 5-level parking garage has total room for 2,100 vehicles. (1,250 cars for the Bayview section of the garage, and 850 parking spaces on the Waterfront Hotel parking garage side).
There is direct access into the resort here. It's also the garage where the valet guys will park your car.
More about Parking at Harrah's AC Hotel & Casino
* Seven Stars members (Caesars Rewards top players' card tier) have their own gated parking area.
* Maximum clearance into the parking garages is 7 feet. There is no oversized parking.
* The large surface parking lot on the west side of the resort, (700-plus spaces), is for employee parking.
* While I haven't used it personally, I believe there is a passenger drop off for those attending a meeting at the 100,000 square foot Harrah's Waterfront Conference Center on the northwest corner of the resort. I also believe you can access the West Parking Garage from the Conference Center.
* The Waterfront/Bayview parking garage on the west side of the resort took seven months to build. The construction company, TN Ward, had to build a methane gas ventilation system inside the garage, since the garage was built on land previously used as a dump.
* Because of Atlantic City building requirements, there are decorative, colorful umbrella stands at the top of the western parking garage.
* At 525 feet, Harrah's AC's Waterfront hotel tower is the second tallest building in Atlantic City. Only the Ocean Resort hotel (710 feet) is taller.
(By Steve Beauregard. Photos courtesy of Caesars Entertainment)