Ikea Las Vegas Location and Hours
Las Vegas is home to one Ikea. In fact, it's the only Ikea in Nevada.
The Swedish-based furniture retailer has close to 400 stores across the globe, and now there's one in Sin City. The Las Vegas store is the 42nd Ikea in the United States. There are now fifty total in the country.
The colorful bright blue and yellow multi-level store is located in the southwest part of Las Vegas, on a large parcel at the corner of W. Sunset Road and S. Durango. It opened on May 18, 2016 and employs almost 300 local residents.
Previously the closest Ikea was a 4 hour plus drive away, in Covina, California, just east of Los Angeles.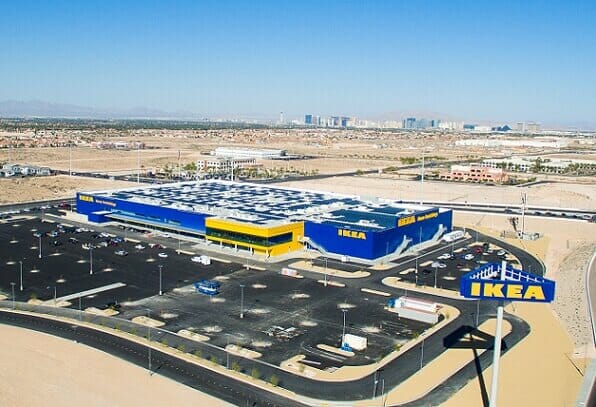 The Las Vegas Review Journal reports this Ikea is the largest store ever built in Las Vegas. It has 351,000 square feet, 24 check-out lands, and parking for over 2,000 cars.
Among its features are 3,650 solar panels atop the roof. Underneath that roof, the store's 300 odd employees help shoppers navigate an endless array of showrooms, displays and even five realistic-looking apartments – all decorated in Ikea furnishings of course.
Ikea Las Vegas Location, Phone & Website
Ikea sits on a 26 acre parcel located right of the 215 Beltway. It's exact address is as follows:
6500 Ikea Way
Las Vegas, NV. 89148
Phone: (888) 888-4532

Website: www.ikea.com/us/en/stores/las-vegas
(The Yellow Dot marks the spot of the only Ikea in Las Vegas)
A children's play area (called Smaland) provides shoppers with free childcare, to help keep the little ones occupied as their parents spend their college funds. My understanding is that you can leave your child there for up to an hour.
The Scandinavian-based behemoth is more than just a furniture retailer of course. It's developed a cult-like following with its colorful exterior and signs, incredibly wide selection of desks, chairs, couches, cabinets, home furnishings and accessories, along with their signature Swedish Meatballs served fresh and warm at their in-house restaurant.
Here you can get everything from beds and mattresses to dishwashers. From cookware to kids toys to pet accessories. In addition to the iconic blue Ikea bags, there's even backpacks and travel bags available.
Ikea Las Vegas Store Hours
Sunday: 10 AM to 8 PM
Monday – Saturday: 10 AM to 9 PM
Ikea Las Vegas Restaurant and Hours
Banked by tall glass windows offering views of the mountains and desert landscape below, the 450 seat restaurant is open, modern-looking, and offers very low priced breakfasts, lunches and dinners. And by "low" we do mean low.
Recently a breakfast of eggs, sausage, Swedish pancakes and potatoes was advertised as costing just one dollar. (This doesn't include the $3,000 worth of furniture you'll buy immediately after.)
Exact hours for the restaurant are as Follows:
Sunday – Saturday: 11 AM to 7 PM
In addition, there's the Exit Bistro, where you can pick up quick food on the go, such as hot dogs, pastries, pizza, ice cream, pop, etc.
The Swedish Food Market
Next to the Exit Bistro is The Swedish Food Market. It's the part of the store that is sort of like a little gourmet grocery store within a store. There a Swedish snacks, cheeses, treats, and food-to-go that you cook and prepare at home.
Other IKEA Las Vegas Tidbits
* The store provides complimentary wheel chair rentals. (See the customer service department).
* There are computer kiosks throughout the store that will enable you to quickly look up the location of items you're seeking.
* The Swedish Food Market sells packages of frozen meatballs advertised as the same delicious ones served in the restaurant.
* There are three electric vehicle charging stations outside the store.
Ikea History
Rumors of Ikea store in Las Vegas had been circulating for at least a good decade prior to the opening in 2016. With the city's population reaching 2 million, those rumors became more realistic, as the company reportedly requires a population base of that before considering a new U.S. location.
Ikea was founded by Ingvar Kamprad, in Sweden, in 1943. In fact, the "I" and "K" in Ikea are the founders initials. The "A" and "E" are initials of the area where Ingvar grew up: Elmtaryd, Agunnaryd Sweden.
The first Ikea in the United States didn't open until 1985.
By Steve Beauregard. Photo courtesy of Clara T via Flickr.)