Lon McEachern – ESPN's WSOP Announcer and The Voice of Poker
By Steve Beauregard
He's bright, likeable, and ultra-smooth. For over a decade now, he's been THE voice of poker for a generation of poker enthusiasts, a roving jack-of-all-trades for ESPN, and once was the play-by-play announcer for a SCRABBLE tournament of all things. He's none other than WSOP legend Lon McEachern.
Born in Memphis, Tennessee in 1957, McEachern grew up in the Bay area, and graduated from the University of California at Santa Barbara (UCSB) in 1980. He, (naturally), majored in communications.
After getting his professional broadcasting start at KCOY TV in Santa Maria, California, Lon worked his way up to the position of sports anchor at ABC and CBS affiliates in the large San Francisco TV market.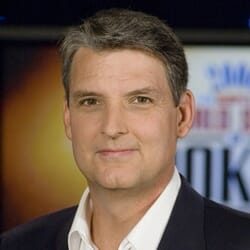 From there, McEachern became a freelance announcer at ESPN for a variety of events for much of the 1990's. He covered MMA fights, martial arts, billiards, the X games, the Tour de France, skiing, kickboxing, and other events regular ESPN announcers didn't want to cover. He admits that he really wasn't into poker at all prior to his WSOP announcing gigs.
In 2002, Lon teamed up with actor and experienced poker player Gabe Kaplan to anchor ESPN's coverage of the final table of that year's WSOP Main Event – the one won by amateur Robert Varkonyi. McEachern's 2002 WSOP job was to be a one-time gig.
In fact, the freelance announcing gigs were becoming so few and far between, McEachern took a job as a mortgage banker to pay the bills.
In 2003, however, ESPN called McEachern (at his mortgage job no less), asking him to return, this time in a greatly expanded format involving many more hours of coverage spread out over six nights of valuable ESPN prime time real estate.
It was fortuitous timing, as the event, which started the Chris Moneymaker poker boom, was dramatic, fascinating, and drew incredible ratings.
All during the tournament, Lon knew Moneymaker's dream run was special, however he and the ESPN crew did not know how magical the impact the Moneymaker win would create.
While he has a research team, He and co-host Norman Chad study up on players and stories and talking points for the show.
When not announcing, Lon enters some events himself – almost always playing in the WSOP Senior's Event. Lon says he tries to play it every year as it's around father's Day and his kids can cheer him on instead of buying him a present. McEachern has also been seen playing WSOP Circuit Events, along with numerous tournaments on the Heartland Poker Tour, including stops in Blackhawk, Colorado.
In 2013, Lon final tabled a $365 buy-in tournament at the WSOP Circuit event in Lake Tahoe. His 4th place finish was good for $11,598.
In addition to the World Series of Main Event, McEachern broadcast all of the smaller events ESPN used to air back during the poker boom. (Remember when they aired $1,500 No-Limit events?)
As ESPN's go-to guy for poker, McEachern has been the play-by-play announcer for the U.S. Poker Championships in Atlantic City, the Poker Player's Championship, the One Drop, ESPN's Grudge Matches series, the heads up $25K Event, along with the main events for the WSOP Europe and WSOP Asia.
In 2012, McEachern joined a poker travel business called MainEventTravel.com, as their spokesman.
Lon McEachern Tidbits
He Loves golf and fly-fishing. Lon also played college baseball and set out on a career path to play professionally, but says baseball scouts ignored him.
Over the years of ESPN coverage of the WSOP, Norman Chad has nicknamed a pair of Jacks in the hole (for reasons I cannot recall), as the "Lon McEachern Memorial Hand."
He also anchors ESPN coverage of the Professional Bowlers Association Bowling Tour.
Lon has professional acting credits, acting as himself in ESPN's short-lived poker drama, "Tilt."
He was nominated for an Emmy for his work on the X Games.
He continued to work as a mortgage banker for five years after that famous 2003 WSOP Main Event.
Lon was in Candlestick Park on October 17, 1989 during the famous Bay area earthquake before game 3 of the 1989 World Series. Lon was assigned to be the scorekeeper for none other than Al Michaels.
He has two grown children. His father was a TV broadcaster in Memphis in the 1950's.
Lon McEachern's website and blog can be found at http://lonmceachern.com, while his Twitter handle is simply @lonmceachern.