Main Street Station Casino Parking Fee, Valet & RV Parking 2023
With a 4 level parking garage and surface parking both on property and across the street, the fun and unique Main Street Station Hotel & Casino in downtown Las Vegas provides plenty of parking for guests and visitors alike.
Parking is free for registered hotel guests. However, as with most other casinos around Fremont Street, Main Street Station charges a parking fee for others.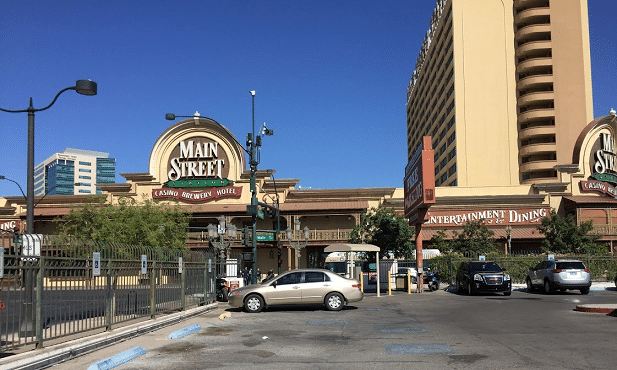 There are a few ways to have that validated, which we'll cover below.
A four-story garage is located just a few steps north of the casino. A little further away, there is surface parking north of the garage. Across the street, a spacious surface lot boasts around 750 parking spaces.
Main Street Station Casino/Hotel Parking Fee
Hotel Guests receive free self-parking as part of the nightly resort fee. All others pay the following:
| | |
| --- | --- |
| First 30 Minutes | Free |
| Monday – Thursday | $10 per 24 Hours |
| Friday – Sunday | $20 per 24 Hours |

Please note that these prices are subject to increase during special events. These may include 3-day weekends, Super Bowl Sunday and the like.
You'll collect a ticket when arriving, then – before leaving – you'll insert it into a self-pay kiosk to pay before leaving. Be sure to keep your ticket, as there is a lost ticket charge of $25.
Lastly, if you're needing longer-term parking, Main Street Station offers a monthly parking pass for $60.
Free Parking at Main Street Station Las Vegas
In addition to hotel guests, self-parking is free for those who have reached a certain status with their B-Connected Card. The B Connected card is the player's card for Main Street Station, and other Boyd Gaming casinos.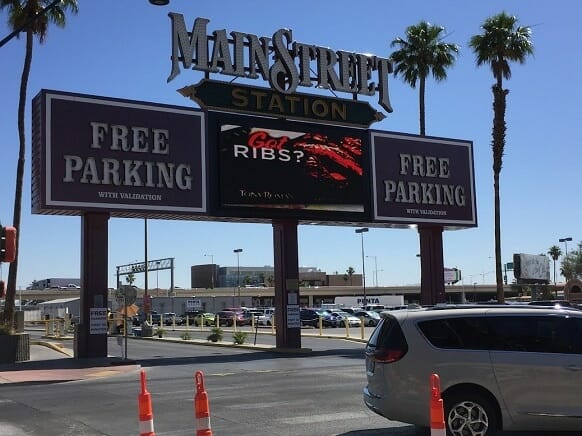 The card has five levels, (starting at Ruby, then Sapphire), but those who have reached the upper three levels: Emerald, Onyx, or Titanium, receive free parking.
You'll just want to take your B-Connected card, parking ticket, and I.D. to the B-Connected desk on your way out to your vehicle to have it validated.
You can also receive free self-parking by spending $30 at any Boyd Gaming restaurant. I assume this means spending money at any Boyd restaurants at the Cal, Fremont Hotel & Casino, and Main Street Station.
The last way to obtain free parking is to use a B-Connected card to play enough to earn 10 tier credits. If you go this route, you'll want to use the kiosk to print out your voucher, before taking it (and your parking ticket) to the B-Connected desk inside Main Street Station.
Valet Parking at Main Street Station in Downtown Las Vegas
A recent call to the hotel confirmed that valet parking remains unavailable. I'll try to update this as soon as it returns.
When it does, we assume valet parking will cost the same as Main Street Station's sister property across the street, the California Hotel & Casino, where valet prices are as follows:
Monday – Thursday: $15
Friday-Sunday: $30
Valet parking here is complimentary for hotel guests and for those who have a B-Connected card at the Emerald level or higher.
Main Street Station Las Vegas RV Parking
With 72 spaces, the Main Street Station is the only casino to offer RV parking in downtown Las Vegas.
With limited vegetation and bordering both a fire station and Interstate 515, this five acre lot is not the quietest or most scenic RV Park you'll ever use, but at least it's within walking distance to all the action on Fremont Street.
In fact, those using the Main Street Station RV Park get to use the swimming pool and fitness center at the nearby California Hotel & Casino south of the RV Park. (The Cal is Main Street Station's sister property). You'll have to stop at the Cal's front desk to gain access.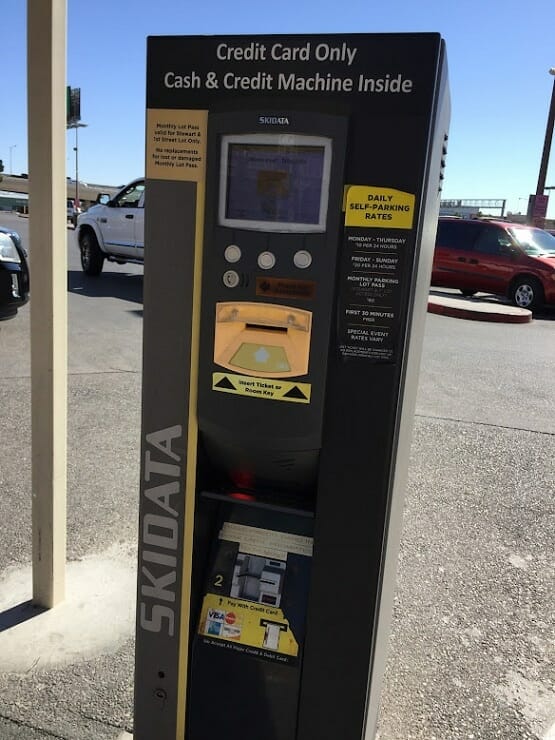 The r.v. park has 72 spaces, 65 of which have full hook-ups. There are back-in and pull-through spaces, and both 30 amp and 50 amp hook-ups are available. There are also contemporary bathrooms, showers and a pet area.
The laundry facilities have seven washing machines and ten dryers.
The park is a five minute walk south of Main Street Station, but you'll have to check-in at the hotel's front desk first. There is a maximum two-week stay, and children are allowed.
Main Street Station RV Parking Fee
As of this update, standard fees for a 27 foot space are $45. The 33 foot spaces are $6 extra and the 35 foot pull-through spaces are $10 extra.
Please also note that dogs are charged a $5 fee (actually the owners are charged the fee, as the dogs have a hard time paying). There are two small dogs allowed per r.v. Large dogs are not allowed.
Reservations can be made at the casino's official site here: MainStreetCasino.com
Map of Parking at Main Street Station Casino, Brewery & Hotel
The green "P" is the parking garage and motorcycle parking. The black "P" is the entrance into the large surface parking lot. The purple star shows the valet parking area, while the brown RV at the top is well, the RV parking area.
Other
Clearance into the parking garage is 6 feet, 8 inches.
Just steps north of the casino, along N. Main Street, are a few spaces you park in while checking into the hotel. Signs indicate parking here is limited to just 15 minutes.
(Related: California Hotel & Casino parking fee)
Motorcycle parking is available in the surface lot under the highway, just north of the parking garage.
(By Steve Beauregard. Photos copyright gamboool.com)