Closest Casinos to Miami, Florida – Map & List of South Florida Casinos
Miami is known for its fun and sun, beaches, parties and international vibe.
What it's not really known for is its casinos.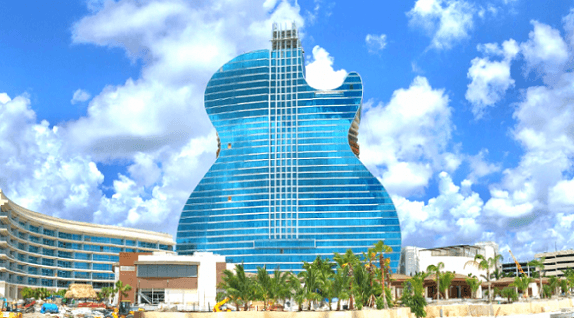 So it surprises many visitors, (and some locals alike), to learn that there are ten casinos in the Miami area.
These ten Miami casinos range from less-than-fancy slot only joints, to beautiful casino resorts that would fit right in on the Las Vegas Strip. All of them are less than 25 miles from downtown Miami.
Many started as either greyhound tracks, horse racing tracks, or jai alai courts, but later added electronic gaming devices to their facilities.
Because they either are located in converted tracks, and/or don't offer live table games, most of these casinos won't resemble the traditional casino most of us are familiar with. The one major exception is the Seminole Hard Rock Casino Hollywood.
(Here's a map of the ten casinos in the Miami area)
Hard Rock Casino Miami
It's actually the Seminole Hard Rock Hotel & Casino Hollywood (The black star on the map), and it's far and away the grand dame of South Florida casinos, (and the most popular).
The Seminole Hard Rock Hollywood is 21 miles north of downtown Miami, or roughly a 30 to 45 minute drive.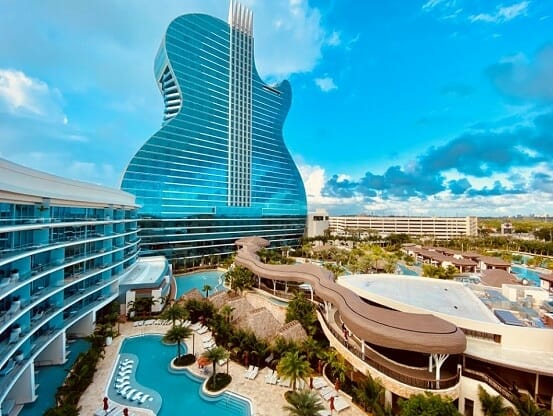 It's the largest of the Miami area casinos, and in fact, is one of the largest, most distinctive casinos in the United States. After all, not every casino has a 450 foot tall hotel tower shaped like a musical instrument visible from 15 miles away.
A $1.5 billion dollar expansion of the resort was completed in October 2019, bringing the casino floor space to 195,000 square feet alone.
The Seminole Hard Rock Hollywood now has over 3,100 slot machines/video poker machines, 193 table games ( blackjack, Three-Card poker, mini-baccarat, etc.) and a popular 45 table poker room. It's by far the most Las Vegas-like of any of the Miami-area casinos.
Besides the 36 story signature guitar tower, there are two other hotel towers. All combined, the Hard Rock now has 1,271 rooms.
(Related: Seminole Hard Rock Hollywood Parking Fee)
You'll also find 19 restaurants (including the food court), twenty bars and the 7,000 person Hard Rock Live concert venue.
The resorts massive 13 1/2 acre pool complex is like no other casino resort, with three different pool areas including a beach, and room for kayaking and paddle boarding.
The Seminole Hard Rock's expansion also means the resort now has 150,000 square feet of convention space, a 42,000 square foot spa and fitness center, in addition to retail shops and a luxury nightclub/dayclub.
Address, Phone & Website
1 Seminole Way
Fort Lauderdale, FL 33314

(866) 502-7529

Website: SeminoleHardRockHollywood.com
Seminole Classic Casino (Red star)

This 73,000 square foot casino is located just south of its much bigger Hard Rock sibling.
This older casino has nine hundred slots, table games, and a 250 seat bingo hall. Like the Hard Rock Hollywood, (and unlike the casinos closer to Miami), the Seminole Classic Casino is able to spread live table games, such as live blackjack, baccarat, Three-card poker, Pai Gow, War, and the like.
4150 North State Road 7
Hollywood, FL. 33021

(954) 961-3220
Casino Miami (Yellow Star)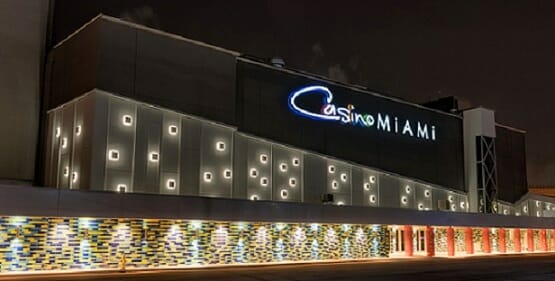 Just a few miles east of the airport, nobody will confuse this with the Wynn or Bellagio.
Still, there has been some remodeling, and the building holds 1,000 slot machines and electronic table games. Next door is their Jai Alai arena. The casino has a modest live poker room that opens at 10 AM daily.
There's also a 2,300 square foot William Hill race book with ten big screen TVs, so you can bet on dogs and ponies. Alas, you cannot bet on sports as sports wagering isn't legal in Florida (yet).
3500 NW 37th Avenue
Miami, FL. 33142

(305) 633-6400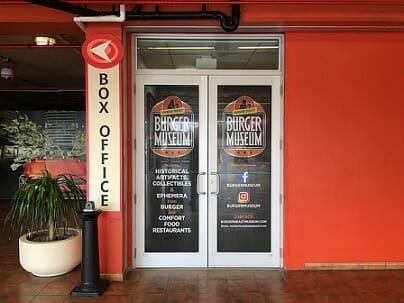 Magic City Casino (Purple star)
South east of Miami International Airport, this small casino features 800 slots, and electronic blackjack, craps and roulette.
The poker room's 19 tables are a mixture of real poker tables and carnival games like 1 card poker and Ultimate Texas Hold'em.
They offer live Jai-Alai simulcast racing on dogs and ponies.
Magic City also hosts fairly big name musical acts and comedians.
One other note: the casino is home to The Burger Beast Museum, which is billed as "The only museum dedicated to burgers and comfort food."
450 NW 37th Avenue
Miami, FL. 33125

(305) 649-3000
Gulfstream Park Racing & Casino (Turquoise star)
Famous for its national horse racing prominence, Gulfstream Park is a pretty casino/shopping/dining and entertainment venue, with 20 restaurant/bars and over 20 retailers.
Its two story casino holds 800 slot machines, while the casino's 20 table poker room spreads the usual no-limit and limit hold'em games, along with Omaha Hi-Lo and Seven Card Stud.
901 S Federal Hwy
Hallandale Beach, FL 33009

(954) 457-6190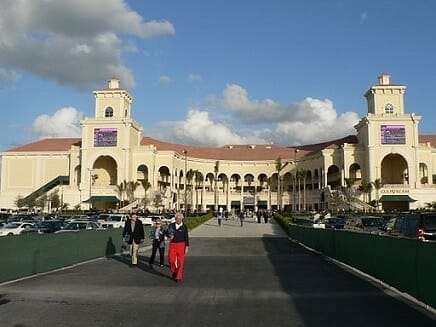 Calder Casino (Light green star)
Just north of Hard Rock Stadium. Calder is affiliated with the Gulfstream Park West thoroughbred race track on the property.
The casino itself has 1,100 slots, electronic blackjack and roulette.
21001 NW 27th Avenue
Miami Gardens, FL. 33056
Phone (305) 625-1311
The Casino at Dania Beach (Orange star)
This opened in January of 2016, after a $60 million renovation of the Jai-Alai stadium. It's right off of E. Dania Beach Boulevard (or Highway A1A), 25 miles north of downtown Miami.
This newly remodeled casino has 750 slot machines. They have a few carnival games (like 3 card poker), but not the traditional table games. Instead you'll find electronic versions of popular table games. You've seen them, and they included electronic blackjack, craps and roulette.
In addition, upstairs is where you'll find a 24 table poker room, with No-limit Texas Hold'em games ranging from $1/2 no-limit up to $10/$25. Limit hold'em games range from $2/4 to $10/20 and there are daily tournaments (ranging from $80 to $150 buy-ins).
Other amenities include the Luxe Buffet, a grill, lounges and bars, and of course, they still have Jai-Alai matches.
301 E. Dania Beach Boulevard
Dania Beach, FL. 33004
(954) 920-1511
Hialeah Park Racing & Casino (Dark green star)
This Miami icon opened in 1925 and sits on 200 acres. Seabiscuit ran here back in the day, and the racing tradition continues with both live racing betting and simulcast betting.
The casino part of the complex includes 880 slot machines, a shiny new 33 table poker room, and electronic versions of blackjack and roulette.
100 E. 32nd Street
Hialeah, FL. 33013

(305) 885-8000
The Big Easy Casino (Brown Star)
Formerly known as the Mardi Gras Casino, this casino used to have live dog racing, but not only offers simulcast wagering.
The casino section has 700 slot machines, and a beautiful 30 table poker room.
831 N. Federal Highway
Hallandale Beach, FL.
(954) 924-3200
Miccosukee Resort & Gaming Casino (Grey star)
The most western of the Miami-area casinos, the Miccosukee is a large Indian casino 24 miles directly west of downtown Miami.
It has 2,000 electronic gaming machines, and a 1,000 seat bingo hall. In addition the resort boasts six restaurants, a 302 room hotel, and a 1,200 seat "entertainment dome." They used to have a poker room, however it has since closed.
500 SW 177th Avenue
Miami, FL. 33194

(305) 222-4600
*****************
So there's a quick look at the ten casinos in the Miami area.
There are other popular South Florida casinos, such as the Isle Racing & Casino Pompano Park, and Seminole Casino Coconut Creek, however this article is just focusing on casinos closer to Miami.
(By Steve Beauregard. Photos courtesy of the Seminole Hard Rock Hollywood, Mardi Gras Casino, Phillip Pessar via Flickr and Aht820 via Wikimedia Commons).